Given the unprecedented economic impact of the Covid-19 health crisis, we think it's more important than ever to encourage our communities to support small businesses, mom-and-pops, independent artists, creatives and makers and help them bounce back strong.
Often people want to buy from and support local entrepreneurs and makers but don't know how.  They might want to get in shape but don't know how to learn about non-chain gym fitness options.  They might want family portraits but don't know how to find the right photographer.  The Bounce Back Strong Campaign is about highlighting local businesses, creatives and makers, because learning about the local options is the first step someone can take towards supporting them.
Ashley Hence | Realtor

I am a local Realtor® in the DFW metroplex, and I work primarily with first time home buyers and sellers in residential real estate sales. I am best known for always trying to go a step above to listen to my client's vision, understand their long term goals and delivering the results my customers are happy with. I think I am most known for how personable I am in a transaction with my clients. I care and I'm honest. I'm not your normal sales person. I do have sales goals and numbers I aim to reach, but my main goal is to have a happy client and a forever friend, after each transaction. I am easily accessible and I take the time to educate my clients so that they have the knowledge that they need to approach the home buying or selling process with confidence. In the end, my goal is to ensure that my clients are always happy and that they walk away with having a great experience.
E-mail: ashleyhence@dreamboxrealty.com
fb.me/ashleyhsellstexas
Amy James | Greeting Card Designer
Image Credits: JC Oliveira Photography
Hi, my name is Amy James, I am the owner and card designer of Amy's Social Butterfly. I make custom, handmade 3D greeting cards for any occasion. My cards were given to the Oscar Nominees, they were also featured at the MTV Movie Awards and Emmy Awards Gifting Suites, as well as being featured in InStyle Magazine. My cards are unique because they are One of a Kind because they can be customized and personalized with any theme you may have in mind. This allows the card to be made specifically for the recipient and there will not be another card like it. So visit my website at www.AmysSocialButterfly.com and see my work which has made many people smile.
Shanell Monique | Serial Entrepreneur Shanell Monique I'm an author… But I'm so much more
A native of New Orleans, Shanell Monique could be appropriately described as a "serial entrepreneur
I'm a Oklahoma City-based writer also authored "Broken Silence" and "Love & Confidence Journal," which were released in December 2017 and in April 2018, I was inspired to compose "The Wife Between Us" in the wake of my divorce. However, I am the mastermind of three books to date, most notably "The Wife Between Us," my latest and emotionally-driven project that debuted in April 2019. An empowerment extraordinaire in her my own right, I am the proud owner of Love & Confidence and Founder of every child is a story yet to be told foundation. I've just released a lash line — or my newly-established eyelash business — as well as Stay Glossy, my rising lip gloss venture — a pair of newly-erected endeavors I hopes will reap a considerable amount of success now that the national economic landscape is reopening amid the COVID-19 pandemic. For what's it worth, I don't shy away from the notion that I'm overwhelmingly giddy in that I have a number of irons in the fire. To put it more precisely. So, connect with me. . I'll surely hook you up with a few compelling reads, not to mention some dope lashes and lip gloss.
Amy Berthelet | Designer/Maker & Small Business Owner
Image Credits: Amy S Berthelet
My name is Amy Berthelet, and I am the owner of Amy's Handmade Gifts in Arlington TX. I handcraft beaded jewelry, tapestries, greeting cards, and other assorted gift items. Since starting in 2009, I personally create each and every piece by hand. Customer orders are 100% bespoke – I let them select absolutely every element, whether it is glue-on rhinestones or rough diamond beads! My beaded tapestries are hand-stitched one bead at a time to form unique one-of-a-kind works of art. I also offer jewelry repair, for beaded and forged jewelry. There is something in every price range, from assembled kit pieces all the way to professionally mounted and framed beaded art.
Ashley Ram Gosnell, M. Ed. | Tutoring Agency Owner & Educator

Hey everyone! I started my company Tutor Revolution™ LLC in 2011, shortly after graduating from college (SMU); I was unsatisfied with the status quo of tutoring agencies. Nine years later, we are dealing with our most significant challenge yet! Immediately in March, we had to shift to only tutoring in our online classrooms. We use a sophisticated platform, which the students enjoy; however, it was not an easy adjustment. Unfortunately, we lost a few clients because parents lost their incomes, or the workload was suddenly too easy and students did not need our assistance anymore.
Typically our goal is for our students to stop needing our assistance, but this past semester did more harm than good. Too easy is almost as bad as too hard for development. I kept hearing how students were not completing their assignments and were missing social interactions. I knew I had to offer those parents some solutions, so I would text help those students for free. Sometimes students needed daily reminders of what to do for their assignments, and sometimes they just had quick questions. I also began tutoring one student via our online platform for free, since his parents had some setbacks. Additionally, I started an online family forum where parents can connect and collaborate authentically. Through that, I started a twice-weekly reading group for 4-6-year-olds. This is not in my normal age range (usually 4th-college), but I saw the need. Each time, I read a short picture book out loud, then we play a game to get to know each other like "Show and Tell," and we will also play an active game like "Simon Says." Head to our facebook page to join the Family Forum group!!
Nancy Peham | I'm a Certified Professional Organizer and owner of Helping Hands Personal Services,. I've been creating order, relieving stress and improving the lives of my clients in the Dallas area since 2001.

Hi, I'm Nancy and I feel so lucky to be doing the work I love while changing the lives of my clients through organization. I never get tired of helping people regain a feeling of calm after organizing an area of their home. Many of my clients tell me they feel a weight has been lifted, or that finally they can breathe again! It took me a few years to realize that my skill which I took for granted, was something that others were longing for. Basically, what I do is work with my clients to de-clutter and organize any room in their home. This could be reorganizing your kitchen and pantry to be more functional, or reworking your wardrobe closet so that you see at a glance where all of your clothing categories "live" in color-coded harmony. If you have kids, we can make their playroom a place that can be put back together after a play date with a minimum of stress. Everyone seems to have issues with papers, bills, and outdated filing systems. Together we can figure out what will work for you and put a system in place. And if you're getting ready to move we can downsize, de-clutter, and get your excess to the proper donation site. If you need help packing or unpacking at your new home I can help with that too. If you've wondered what it's like to work with an organizer, don't be shy. I offer a free consultation and would be happy to meet with you in your home to see how we can work together to transform your life.
Robert Ostrander | Weightloss

Robert's got an incredible weight loss story and he is helping others.
They are offering a great promotion until the end of the month!! $9.95 wholesale enrollment normally $39.95. Also receive 10% off a purchase of a welcome pack to get you started on your health journey. Os get you started today!!
Note: Always consult your physician or a qualified medical professional prior to making any health or fitness decisions.
Desree Robinson | Artist (own cartoon ) creating a Art School for overlooked artists and give back to community on Sundays

Hey my name is Desree Robinson my product is LOST KIDS " I was once lost now I am found" and will be In galleria mall sometime July dates may vary due to covid-19 and a LOST KIDS ART SHOW IN JULY
Danielle Roy | Salon Professional
Hey ladies! I'm Danielle and I'm a salon professional located in Dallas! I specialize in balayage and Brazilian blowouts! Also with any color services, you receive a cbd hair treatment that is the ultimate relaxer! Take the stress away from the day and book an appointment with me!
My Instagram is 
@droyz_
 for all of my work! Can't wait to meet all of you!
 Alexis Scott-Boster | Educator/Entrepreneur/Engineer
Alexis M. Scott-Boster is a Triple E: Educator, Entrepreneur, and Engineer. She founded AMS Academic Solutions to share her gift of numbers and education that she has possessed since an early age. She currently works at a major defense company as a Senior Principal Systems Engineer. For 3 years, she was the Section Manager in Dallas, Tx of the Systems Security Engineering Group (i.e Cyber Security). She has been teaching Mathematics for over 30 years including 18 years as a college professor. She has an undergraduate degree in Mathematics from Spelman College and a graduate degree in Mathematics from the University of North Texas. She is a 2017 NSBE Hidden Figures Awards recipient for her contributions in STEM. She also received a Congressional Certificate of Special Recognition for her contributions to STEM. She published one book in 2017 called Embracing STEM Smarts: an encouraging guide for young ladies to be bold in their intelligence. In 2019, she published volume 2 of Embracing STEM Smarts. She is featured in several books as a STEM model. She was honored by her Alma Mater, University of North Texas as a featured alumnus in their July 2017 newsletter. She was also honored by Zakat Court #133 as their Woman of the Year for her contributions in STEM. Finally, she created the blog post called Breaking the Curse of Invisibility for Herdacity.org which was also the subject of her TedX talk (https://youtu.be/mPohBFk6SV0) in February 2018.
AMS Academic Solutions is an Educational Services Company that provides tutoring in a variety of subjects. We also provide standardized test preparation. We focus on foundational understanding of materials. We want to build a strong foundation for our clients that will help them at all levels vs. one stop passing of one test. We focus on 5 C's to success: Conversation: Each session begins with a conversation. We want to engage the students so that it is slightly more than a tutor client relationship. This conversation also gives the tutor some information on the client so that they will more adequately be able to tailor the sessions to each client. Every client has a different learning style and the conversation will allow the tutor to make that assessment. Connection: The initial conversation provides a connection between the student and the tutor. Clients are more apt to learn and become engaged when there is a connection made. Also, a connection is made between the homework and the test and quizzes. Many times with the tutors, clients understand everything but when they go on their own, things are forgotten. We want to make sure that the clients are connecting what we are doing in our sessions to what they are doing in the classroom. Comfort: This connection leads to the student becoming comfortable with the material. We are there for the students but ultimately, we want to send them out to the wild so that they can perform the material on their own. Confidence: Once comfort is there and the student can do the work, it builds their confidence. Courage: Once confidence has been built, the student has the courage to tackle and conquer the remaining material and advance toward higher level academics.
Ultimate goal for our clients is to reach the courage and confidence to be successful at all levels.
William B Harris Jr | Entertainment Manager, Publicist, Small Business Owner
Image Credits: Rodney Glenn Photography
Hloyal Management and PR is doing some serious work, implementing some of the most important, yet groundbreaking methods, resources for their clientele. Such as retirement plans, small business management because this management, pr firm makes it a point that all client's have ownership, not only industry-standard but business-standard. No one's brain works like William B Harris Jr.
Tray Ivory | credit Consultant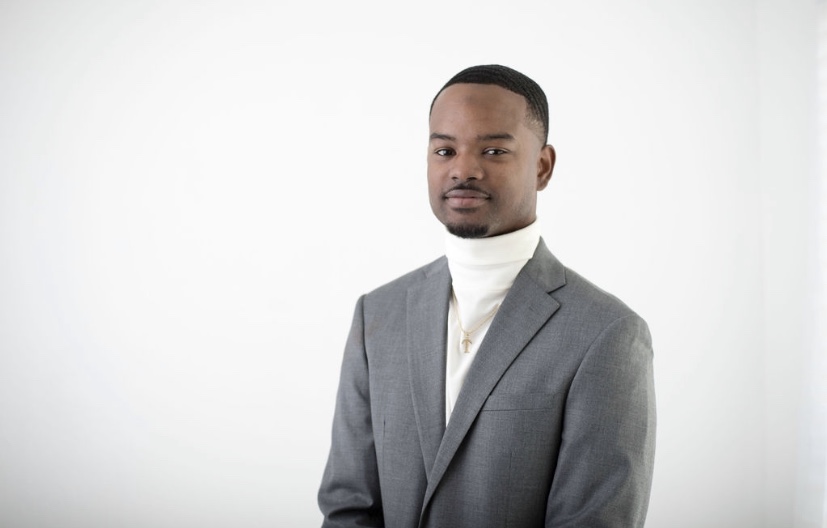 I am Tray Ivory . I'm a Local Credit Consultant that has gain clients from all over the US. I have a service that helps other invest into fixing there name. What I mean by that is I help people fix there credit from what happen in the past . I help educate them on credit , how credit works, how to read a credit report. More important how to utilize there credit. Because I wasn't educated on credit and I gain the passion on wanting to help people in General . This is my way of building relationships with family's meeting new encounters to progress and sharpen my growth. You do not want to pass on what I can do for others
Fatima Jalloh | Donut Creator
Hi! My name is Fatima and I'm originally from West Africa (Sierra Leone). In 2003, I moved to Texas to start a new life. One of my passions since childhood is cooking, especially nutritious meals. A healthy lifestyle is top priority of mine and believe that it starts with the food we eat. Because I love what I do, I have a tremendous amount motivation that drives me to create the best. I think this motivation and self-discipline I carry has a lot to do with my African upbringing, where self-sufficiency is a must for survival. Zioso Donuts came to light when my boyfriend and I were talking about how it is difficult to find good gluten-free food options here in Dallas. One day I started experimenting in the kitchen to make the perfect gluten-free donut, and can say with confidence that Zioso Donuts are some of the most delicious in all of Dallas.
The donuts are made from scratch, using the finest ingredients and cooked in vegetable oil, and served fresh to the customer. Our signature flavors are Strawberry, Chocolate, and Original. Most recently, we have started selling Donut Kabobs that includes fresh fruit. The kabobs are a big hit with kids. After seeing success around DFW farmers markets we have expanded to offering delivery seven days a week. Due to COVID-19, we are offering free delivery through July.
People should check out Zioso if they want to eat something that tastes amazing and also is healthier. For some, gluten-free has a negative perception, I'm not really sure why that is but they won't be disappointed.
Connect with Fatima