Today we'd like to introduce you to Blake Atwood.
Blake, please kick things off for us by telling us about yourself and your journey so far.
I moved to Dallas in 2010 following the breakup of my first marriage. If creation requires pain, I was ready to create. I stayed with family and friends for almost a year while looking for writing-related work. I landed a freelance gig on Craigslist, of all places, that turned into a full-time job. Then I landed a dream job as an editor for a faith-based website. Sadly, the website closed shop three years later.
During that time, I met and married the incredible and encouraging woman who's now my wife. When my editorial job ended, we discussed my going into full-time freelance work as an editor and writer. Ultimately, she was the one who pushed me off the cliff. I was given six months to see if my career choice would be viable.
One ghostwriting gig led to another. One edited book led to another. Somehow, it was working. Then my wife unexpectedly ran through my home office and into the nearby bathroom. Once done, she came back through my office with a plastic bag in hand.
Confused, I asked, "What's that? What are you doing?" She hesitated for a second. "We're pregnant." She'd planned a more surprising reveal, but I'd caught her off guard, so she spilled the beans about our little bean. We were seven months into my freelancing career. Now it had to work. With more appreciation than I can convey, it has. I celebrated my fourth full year of freelance editing, writing, and ghostwriting in July 2018.
Can you give our readers some background on your art?
I edit and write for a variety of clients, from a news organization that reaches more than 100,000 readers to self-published authors looking to get their work into the world.
I've written two books of my own: The Gospel According to Breaking Bad and Don't Fear the Reaper: Why Every Author Needs an Editor.
I've co-authored three books, including The Father Effect: Hope and Healing from a Dad's Absence.
And I've ghostwritten five books, which I can't tell you anything about. Even if I did, you wouldn't know the authors. They're not famous, but they're doing good work that helps people. My unspoken framework for taking on clients is that I want to help people who help people. This help can be informative, and I mainly work with nonfiction authors. But it can also be entertaining, as every good book, at its core, ought to tell a compelling story.
Above all, if I had to assess the message that my words and my work seek to convey, it's that words can be transformative. If you let the right words seep into your marrow at the right time from the right author, your life can change. And for an author writing their first book?
Professionally speaking, nothing changed my life more than writing my first book, which I wrote while still working a full-time job. The self-confidence I gained from completing that book, even before it went on sale, allowed me to believe I could do more with my words than I ever thought possible. To the writers and would-be authors: Your words can change a life. That life just might be your own.
Any advice for aspiring or new artists?
Connecting with other artists is vital to your survival. That's not an understatement. Upon arriving in Dallas, I would have been lost as an artist and as an individual were it not for Art House Dallas. When I was low, they were instrumental to building me up creatively, socially, and professionally.
After my first meeting, I distinctly remember thinking, "These are my people." I left more inspired than I'd been in a long time. With every subsequent meeting I'd attend, I'd leave with the same feeling. I remain grateful for their influence, and particularly the first Awaken Creativity writers' group.
In 2017, I challenged my introverted self to become a public speaker. This manifested itself in two ways: I began teaching at Writing Workshops Dallas, founded by Blake Kimzey, and I began co-leading the Dallas Nonfiction Authors Association.
I expected to be uncomfortable, but I didn't expect to learn so much and to be encouraged so much by the authors and writers I'm honored to teach and facilitate. Even though I'm in a leadership position within these organizations, they still provide me with a much-needed community of authors who likewise believe their words can change the world. Maybe that's laughably hyperbolic, but books have changed my world. I still can't believe this is what I get to do.
What's the best way for someone to check out your work and provide support?
A sampling of the books I've written, co-written, or edited can be seen at blakeatwood.com/books. My books are also available on Amazon. https://www.amazon.com/Blake-Atwood/e/B00EBR84JW/
I'd like to bring special attention to Sins of the Five Fathers, a modern murder mystery novel with a Western flair in the vein of Craig Johnson's Longmire series. My late pastor uncle wrote it but passed away before its publishing. I was given the manuscript and allowed to publish it. An excellent Audio book version https://www.amazon.com/gp/product/B07BFHT93H is also available.
Readers can support my work and my authors' work the same way they'd support their favorite authors: buy our books, post fair reviews, and share a tweet or a gram or a post. And, maybe, instead of grabbing your phone one last time, reach for that book on your nightstand—unless you were getting your phone to buy a book online.
Contact Info: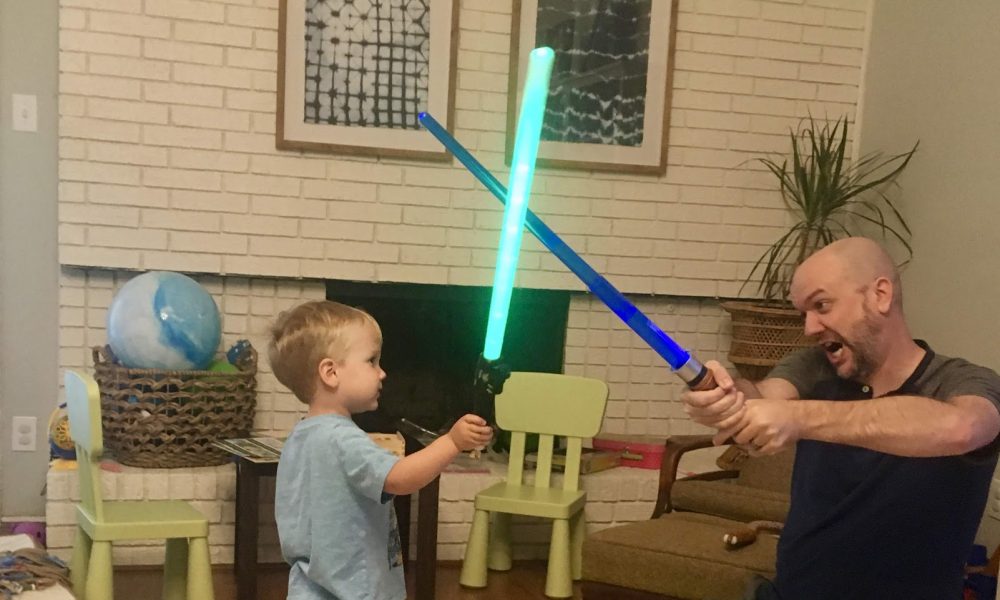 Image Credit:
Jennifer Roberts
Getting in touch: VoyageDallas is built on recommendations from the community; it's how we uncover hidden gems, so if you know someone who deserves recognition please let us know here.