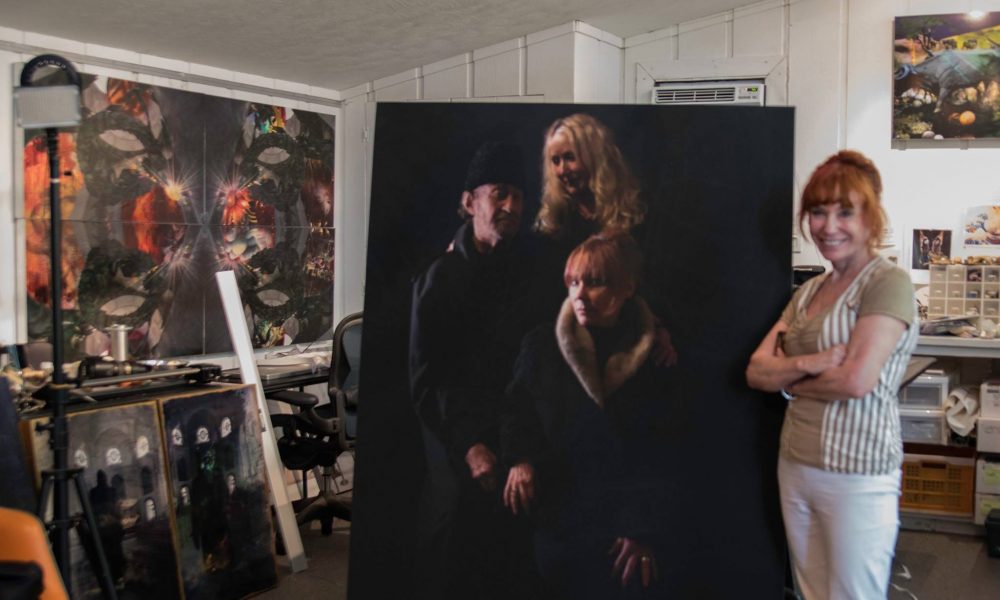 Today we'd like to introduce you to Sharon O'Callaghan Shero.
Sharon O'Callaghan, please kick things off for us by telling us about yourself and your journey so far.
Ever since I learned to write cursive, way too many years ago to recount, I've been a storyteller.
Sometimes the narratives take the form of poetry, other times prose, but as soon as I was given the gift of a camera at age 19, my stories began to unfold into visual stories.
Can you give our readers some background on your art?
Narratives act as a fulcrum for my work, whether expressing it as photomontage (collaging my photography digitally into histories that do not exist), experimenting with painterly expression (for example, single-light chiaroscuro photography, or rewriting, via imagery, dreams, incidences from literature, or simply making up a story because I happened to have a decommissioned Christmas deer in my backyard that triggered a mote of an idea.
Following the rigor of fine art photography, the foundation of most of my work is assembled into a series of loosely related imagery. That's about as consistent as I can bear; the rest of the process is messy and pretty indefinable.
I use friends as models, balking family members, my dog, and even the cedar waxwings I could not save from fatal accidents. They're hanging out in the studio freezer.
These days, I most often self-model. I've been thinking a lot about why lately. Because I was always "the" photographer, there's a whole history of me that's gone by unrecorded. Time to correct that. And, in consideration of Time, it also plays a role. Photographing myself I see myself more as others do than who I see in the mirror. That's given me pause. A lot. It's also because I can have pretty goofy subject matter–who'd want to model as Heidi anyway? Besides, my closet is a trove of costuming and since I'm petite, not too many people, particularly men, could/would want to don my not-so-gay apparel.
HOW is a four-letter word, as in WHAT? I don't know HOW. Every project is seeded by a different means/message/inspiration: ∙Recalling an Irish tale my Mother told me as a child, I scampered down a research rabbit hole of Irish tales which resulted in The Sacrifice series. ∙Facing down an exhibition competition, I will just start producing (deadlines are a duel-edged machete for me). ∙Or jumping into the car and heading down to New Orleans with my toy cameras in tow after overhearing my hairdresser's assistant talking about an amusement park that was abandoned post-Katrina. …Just a few examples.
When people see or read my work, my intent is multifaceted: to tease, please, make them think, and interpret it through their own life experiences.
Occasionally I offend, I admit. But then, I'm working some things out, so, heck, it's palliative for me and those offended should walk on by.
Why do I create? Because there's always something in my brain that wants to come out. To turn things over, to rephrase, reimagine. Sometimes it's as simple as watching an ad on TV and riffing on it, other times, it's literally bigger than me. Which, ok, is not too hard to achieve.
What responsibility, if any, do you think artists have to use their art to help alleviate problems faced by others? Has your art been affected by issues you've concerned about? That is a question that requires some thought. Artists have always assumed political and religious sides. I don't think that's too much different today, although the media, of course, is different, more expansive with current technologies. Perhaps in some critical circles, political work is considered more relevant today, but this is speculation since I am not sure whether earlier critics favored this bias.
As consumed as I am with the events of the day, to the point it dulls my creative instinct, I try not to introduce that into my art. I have enough personal drama to work through without another layer of mayhem.
What's the best way for someone to check out your work and provide support?
The most efficient way to see my work is on my website, sharonocallaghanshero.com. Much of my portfolio is posted there along with an exhibition listing when my work has been selected or curated for a show.
I would love to have people support my work! This way I would be able to cut back on my freelance creative work and spend more time conjuring my next series. The best way to support my work is to purchase something, but just going to my shows or visiting my studio (by appointment) would be most gratifying.
Contact Info:
Image Credit:
Sharon O'Callaghan Shero
Getting in touch: VoyageDallas is built on recommendations from the community; it's how we uncover hidden gems, so if you know someone who deserves recognition please let us know here.