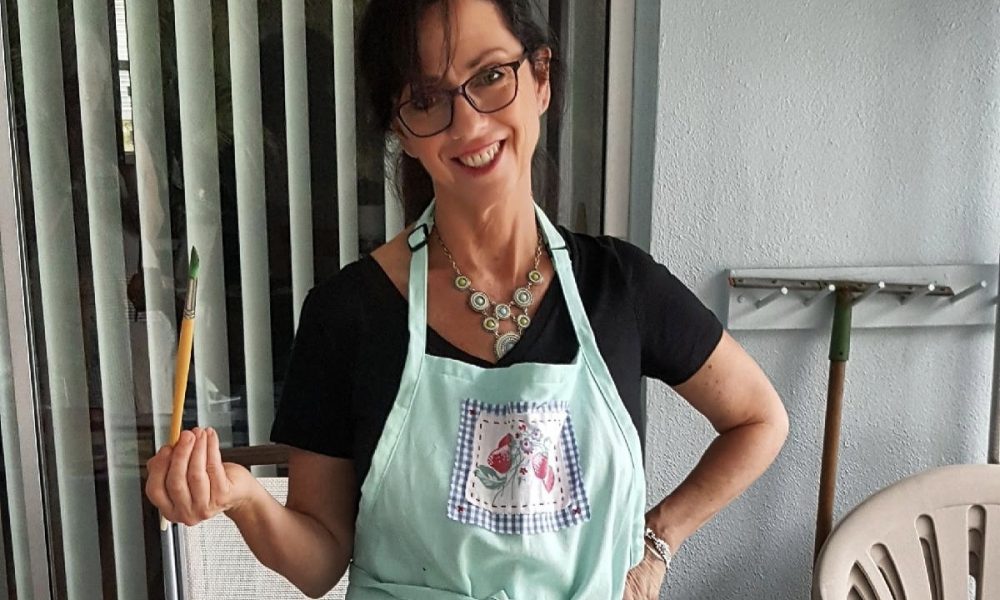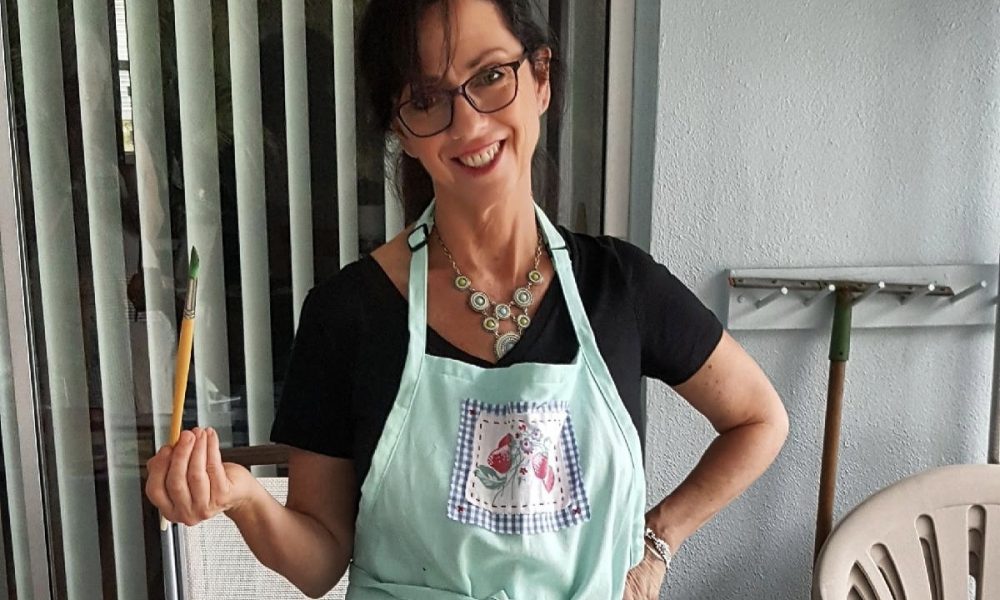 Today we'd like to introduce you to Debi Sementelli.
Debi, we'd love to hear your story and how you got to where you are today both personally and as an artist.
In the early part of my lettering career, I enjoyed a variety of client projects: addressing envelopes, making posters for local hotels, creating lettering for catalogs and doing 3D signage for event companies. When I had my first son, I found a way to create a balance of work and family life. However once the second child came along, the demands got greater and I found myself frazzled and tired all the time!  So I made the decision to stop my freelance business and be a stay at home mom. Fortunately we were financially able to do this, which is not always the case for many families.
Though it took some adjusting, I was happier with myself and my family was happier too.
After about a year, I had an unexpected opportunity to become a facilitator of a parenting class that I took to help me navigate the challenges of parenting. I was so passionate about the information I was learning, that I decided to go through the training so I could provide classes to other parents who were struggling. That opportunity blossomed into a part-time 15-year career as a Parent Educator for the "Developing Capable People" program. In addition, I was asked to bring the program to a local private school, where I worked part-time helping kids to be empowered.
At the end of that 15 year period, when my sons could drive themselves around, I came back to my love of lettering. The art world had evolved drastically. So I took classes at a Community College in Adobe Photoshop and Illustrator and restarted my career. I'm not ashamed to say, I cried through some of those classes! It was, at the time, like learning rocket science:) While I initially got back into doing wedding work, it wasn't long before I saw the opportunity to create fonts out of my hand lettering. That became my bigger focus, and I now have created five font families with a total of 23 individual fonts.
My sons are now out of the house and "off the payroll." At this stage of my life, I want to share my love of brush lettering. Not only as a fun skill for everyday people to use but also as a relaxing, creative hobby. So I have created a series of Brush Lettering Classes on Skillshare. If you're not familiar with it, Skillshare is an online learning community with thousands of classes on a huge variety of topics. I also share my lettering knowledge through video tutorials on my YouTube channel and my Instagram Stories and Highlights videos.
We'd love to hear more about your art. What do you do and why and what do you hope others will take away from your work?
I basically do three things:
I make hand-lettered fonts that I sell on my website (www.debisementelli.com).
My fonts are primarily designed for the wedding market. I love to help brides ( and their parents) save money by using my beautiful script fonts to create their wedding invitations and signage. I've had lots of mothers of brides share their beautiful designs with me and thank me for the money they were able to save by doing it themselves. I also have a lot of  stay at home mom crafters who use my fonts to make signs and products for their online shops. It's nice to know I'm helping moms do something that allows them to use their creativity and make a little money as well!
I teach brush lettering to beginners and professionals.
I enjoy introducing people to the art of brush lettering. It's not only a practical skill to learn but a fun, relaxing hobby as well. I teach lettering workshops at professional conferences and have a series of Beginner Brush Lettering classes at https://www.skillshare.com/user/debisementelli. I also contract with private groups to conduct workshops for people in homes and the workplace who want to try their hand at being creative with letters. No experience necessary!
If time allows, I still do some commissioned projects. One of my favorites is watercolor and ink wedding maps! These are usually printed from an original that I create then put in 8" x10" frames and placed around the venue. This allows guests to see what's available and where it's located as well as when important events of the night will be happening…like special dances, cake cutting and sending off the newlyweds!
Everything that I do is for the purpose of inspiring, encouraging and celebrating where people are at in their lives. I want to inspire people to bring out their creativity and try something new, whether it be through my lettering classes and workshops or by designing something with one of my fonts. It's such a thrill to bring a creative spark into people's lives. It always lifts up their spirits and lets them see they are capable of much more than they thought.
The stereotype of a starving artist scares away many potentially talented artists from pursuing art – any advice or thoughts about how to deal with the financial concerns an aspiring artist might be concerned about?
Take the time to develop your skills, so you stand out. If you are going to work for yourself, you will likely need a "day job" to support yourself until you can make enough from your art skills.
Identify the market you want to be in. Design and sell T-Shirts or posters and greeting cards? Do web design or logo design? These are all different markets that require different strategies. Know who you're selling to.  It's not about you. It's about providing a service or product that they need and want. So take the time to understand what that typical person is like.
Look at other artists who are doing what you do and see what they are charging. If your skill level is not on par with theirs, adjust your price. This can help you get work, which will help you practice your skills. Once your skill level improves, you can increase your price. Just be sure not to price yourself out of the marketplace. Understand how to navigate social media. As an artist you must get yourself and your work in front of people. Social media is one of the most important ways to do that.
Contact artists who are doing what you want to do and ask them if they'd be willing to offer some advice. You might offer to do something helpful for them in exchange for their time. Consider asking them if you can intern for them. Even if you're not paid, the experience will be worth it.
Don't get discouraged. If you find a need and a unique way to fill it, you will find people who want to pay you for what you do.
Do you have any events or exhibitions coming up? Where would one go to see more of your work? How can people support you and your artwork?
While I don't exhibit my work,  I'll be a guest on Design Cuts "Community Hangout" on April 11 talking about the most common mistakes beginning letterers make. https://community.designcuts.com/
I'll be attending the TypeCon Conference ( Where font designers from around the world get their geek on!) in August and may also be teaching a Brush Lettering workshop there.
I'll be teaching a Brush Lettering Workshop in Los Angeles at the Adobe Max Conference in November. This will be my 5th year. I'm honored to say I have the title of "Adobe Max Master".  This is an honor given to the top 20 speakers voted by attendees.
To see my work:
You can find my fonts on my website: www.debisementelli.com 
You can also sign up for my newsletter there.
Watch my video tutorials on YouTube: https://www.youtube.com/user/Letteringartstudio
Follow me on Instagram : https://www.instagram.com/debisementelli/
Facebook: https://www.facebook.com/sementellidebi
Twitter: https://twitter.com/Letterheadgirl
Pinterest: https://www.pinterest.com/debisementelli
Here's how you can support me:
Follow me on Social Media. Comment and share my posts with your friends!
Sign up for Skillshare and take some of my Brush Lettering Classes.  You can get a 2 month Free membership with this link. Just create a membership. Take as many classes as you like. Cancel the membership before the 2 months is up and you pay nothing!: https://www.skillshare.com/user/debisementelli
Interested in learning brush lettering? Gather a group of 6 or more and we can set up a workshop in your home or my studio. Want to bring a fun creative workshop to your workplace? Just provide the room and I'll bring all of the needed supplies. Want to try to learn on your own? Check out my Skillshare classes.
Need an invitation for an upcoming event, consider purchasing one of my fonts to design it yourself!
Need an illustrated event map? Contact me by email.
Sign up for my newsletter to hear about my newest classes, fonts and lettering tips. Just go to my website to sign up!
Contact Info:
Image Credit:
Debi Sementelli
Getting in touch: VoyageDallas is built on recommendations from the community; it's how we uncover hidden gems, so if you know someone who deserves recognition please let us know here.