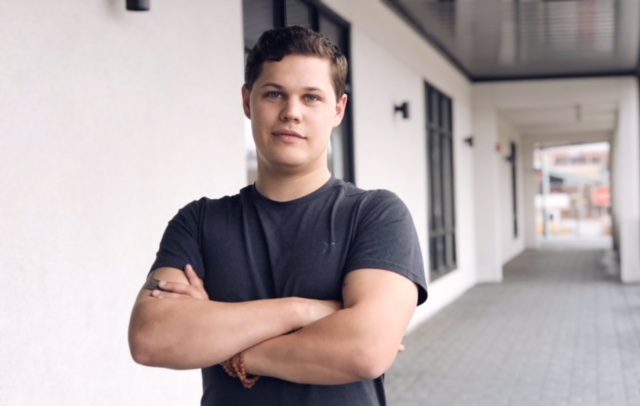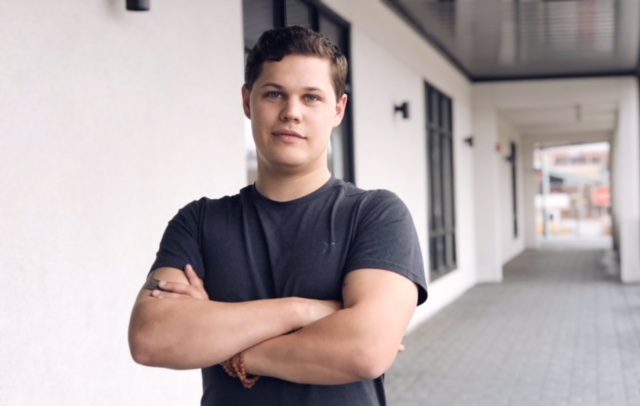 Today we'd like to introduce you to Jacob Gries.
Jacob, we'd love to hear your story and how you got to where you are today both personally and as an artist.
My yoga practice began almost ten years ago. Back then, I wanted to challenge myself physically, but I did not enjoy sports or rigorous workout plans. Because I had a background in martial arts and gymnastics, I was naturally drawn to yoga. Purely a physical endeavor, my practice was self-taught and in solitude. In a way, I felt shame for enjoying something that (from my perspective) was girly and not as macho as other physical disciplines. However, I was not discouraged to the point of quitting. There was something mysterious about getting on the mat. There was something that made sense of things. I found peace in my BODY just as much as I could in my heart, mind, and soul. I found more of God as He revealed Himself. See, around the time I started practicing yoga, I was also beginning to follow Jesus – I had trusted Him to be my Lord and Savior. So when I would pray, journal, sing songs of worship or read the Bible, I grew that relationship with Him. Never did I think my faith concerned my body. Surely God was more concerned with other things. I was astonished by what happened when I invited God into those moments on the mat. Not only was I pouring out my heart in prayer, but I was also working out the emotional and spiritual weights still lingering in my body. I thought I had discovered a treasure map! I was beginning to see how God cared about the health of my body while also renewing my mind and soul. In fact – I saw them as connected, integrated, and intimate.
After graduating and moving to Dallas to go to college, I continued my yoga practice. Eventually, I found friends that also enjoyed yoga or were at the very least interested. We began to meet semi-regularly – where I would lead us in a time of prayer and then a physical practice of yoga. We always ended that time in a worshipful silence; allowing us the space to meditate on the Word of God and pray about the things that came to mind throughout the practice. I felt joy seeing the faces of others turn on like a light bulb. Watching them create art with and listen to their bodies was like watching someone discover a sunset or witness a flower bloom right before your eyes. I believe this was one of many inklings of a calling.
One night, in particular, weeks before graduating from college, I was sleeping very heavily but was woken up with a terror in my heart. I had this sucker punch feeling that would not leave me. I knew that I had to teach. But HOW? And what? As I sat on this feeling and prayed for clarity – I knew that I was being drawn into a new season. I was going to actually become a yoga instructor. I also knew that this would be a weighty journey – after all, who teaches yoga and also follows Jesus? Is that a thing? With God (and Google) as my witness, I stumbled across a ministry called Holy Yoga. Two weeks later I was registered for my 200-hr training and immersion retreat. And the following summer I was teaching regular classes.
From this journey, The Threshing Floor was born. The idea was to create a (mobile) space where people from all walks of life could gather to contemplate the Word of God, cultivate unity, and celebrate discipline – for the sake of the Gospel, through the modality of yoga. The healing I found in God was something I wanted to share with others – and my journey just happened to be in yoga and holistic wellness. So today my mission is to bring disintegrated souls into a space where they can see just how thoughtful God was when He created us – caring for every part to make a WHOLE person bear His image.
We'd love to hear more about your art. What do you do and why and what do you hope others will take away from your work?
In a nutshell, I am a Yoga Teacher, Gospel Preacher. I teach others the practice of yoga and proclaim the love of God over them. I am encouraged by the words of the Gospel of Luke that tell us the Greatest Commandment is to love the Lord your God with all of your heart, soul, mind, and strength – and to love your neighbor as yourself. I've applied that into three concepts that drive every experience – Contemplate, Cultivate, and Celebrate. I teach because many are where I was – believing that God does not care about our bodies – only our theology and good intentions or any other virtue. I seek to show others that God desperately seeks to show us how beautiful He has made our bodies and that they are one of many ways He reveals His nature.
Contemplate the Word of God
Cultivate Unity (with God, self, and others)
and Celebrate Discipline
When we walk away from the mat – the idea is that we are stripping away the things holding us back from being beautiful pieces of art – bearing the image our the Creator. I chose the name The Threshing Floor because in ancient times (and today in other parts of the world) there weren't machines to harvest cereal grain in an efficient manner. Instead, field workers were left to their own manual labor. One place of particular importance was the threshing floor. This was the place where the harvested grain would be gathered to then be beaten into smaller, more manageable portions. The threshing floor was positioned above the highest places of the city, and usually at a far distance. Tools and livestock were used to tread upon the flat threshing floor, separating the grain from chaff and other inedible materials. The worthless bits were cast into the wind while the good and bountiful grain remained.
Our yoga mats, in a way, become like that of the threshing floor. It is a place where we can safely bring all of who we are – heart, soul, mind, strength – and work out the pains, hurts, sorrows, and other "chaff" that weighs on us. The stuff that remains is love, grace, and peace.
I hope that those who are interested and take the step to try yoga know that it is NOT about the yoga. It just so happens that yoga is how I am choosing to share the love with others. God can just as easily show you your integrated, beautiful design as a human through any other kind of physical disincline, sport, or art.
What do you think it takes to be successful as an artist?
I believe I am successful when another soul says to me "I know that God loves me. I know God sees me." Countless times I have taught a class that I deemed a failure. Though, oddly enough, those are the classes where I see the most amount of people walking out in contemplation, cultivation, and celebration. They "get" it and God revealed something to them. That's the win. It is less about yoga, and even less about me. The win is entirely about the growth of the people around me.
Do you have any events or exhibitions coming up? Where would one go to see more of your work? How can people support you and your artwork?
Currently, a weekly Thursday class is held at 6:30 pm, at 723 Fort Worth Avenue in Dallas, Texas (75208).
Follow us on Facebook and check out the website at www.thethreshingflooryoga.com!
Available for future bookings/workshops/holistic coaching.
Contact Info:
Image Credit:
Kaitlin McNaughton
Ian Harber
Getting in touch: VoyageDallas is built on recommendations from the community; it's how we uncover hidden gems, so if you know someone who deserves recognition please let us know here.