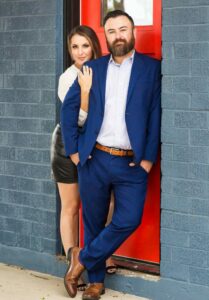 Today we'd like to introduce you to Jimie Campbell-Sanchez. 
Hi Jimie, it's an honor to have you on the platform. Thanks for taking the time to share your story with us – to start maybe you can share some of your backstories with our readers?
How I started my own skincare line… How many of you have spent way too much money looking for the right skincare routine or for just the right cleanser? ME! I have! I am sure a lot of women and men can say they have. Statistically, 65% of men and women have a daily skincare routine. This is where my journey started. I have very dry skin (not an ounce of oil) and sensitive skin. I get irritated fast with anything I use. My cheeks get as red as apples and eventually throughout the day I get small pimples all over that take days to get rid of. I have never suffered from acne but when I turned 30, I noticed this happening more frequently. I was on the hunt for something great for me. Products made "specifically" for dry sensitive skin. I took those skincare quizzes that "match" you to the perfect product. No matter what, nothing worked. For a few years, I started to believe that it was hormones and aging and this was just the new me that I had to get used to and I will just have to cover up my redness and pimples with makeup. 
"If I see Jimie researching something for hours on end, I know it's going to cost a lot of money." -Carlos Sanchez 
I woke up on a Saturday morning. Went to the bathroom to do my usual routine of brushing my teeth and washing my face. I was going to use my yet to be opened products that I had spent $350 (cleanser, moisturizer, and eye cream) the day before. This line was one that I actually thought I liked and had been using for almost a year because "hey a skincare quiz must be accurate!" I literally just stared at them and then starred at my face very close up to the mirror annoyed by the way my skin was so irritated and had not gotten any better. So, I grabbed those three products and took them to my laptop and did endless amounts of research. I am talking, hundreds of hours! 
CONCLUSION TO ALL THOSE HOURS OF RESEARCH… 
Every single product I was supposedly using for my skin type had an ingredient(s) that should not be used for my skin type which is what was causing all the irritation. I was really upset by this and frankly, I was very shocked! 
I went to bed one night after finishing my investigation and could not stop thinking, "What if I created my own products?" There I went again and did a full night of research. After 0 hours of sleep for me, I woke up my husband the next day very excited and asked, "How would you feel if I started my own skincare line?" He kind of chuckled and said in his tired voice," whatever you want to do!" He should know better not to tell me yes that fast! 
Since then, there was no looking back. Months of research. Months of interviewing scientists and manufacturing companies. Months of product testing. Months of branding. So much went into this. 
"I thought you were just going to be doing this for our friends and family. I didn't know you were going to turn this into a major company!" -Carlos Sanchez 
I literally live by, "go big or go home!" I don't know how to do things halfway or just a little bit. It's all or nothing and if I do it, I will make it big. I will work as hard as I must, to succeed. I am like that with literally everything I do! Now knowing that we have come up with the most amazing, affordable quality ingredients and formulas to change the skincare game, there is no looking back! 
I want to change the skincare game! I want women and men to love their skin and how they feel. 
The support thus far has been phenomenal, and I feel so blessed to have the ability to be able to do this and share it with the world. 
The meaning behind the name! 
I call my husband my muse! My husband and I met 11 years ago on Facebook. During our first conversation, I asked the routine question, "What is your favorite color?" His answer was TEAL. I remember laughing and asking, "What man says the color Teal?" It became a joke, but he held onto that joke and used it to his benefit. After our very first conversation, he started ending every message and card with, Truly, Teal and would start every conversation asking, "Do you have time to talk about the color Teal?" From that day forward the color Teal has remained in our relationship and he continues ending every message and card with Truly, Teal. 
Mirrored in all the details of our skincare line, Truly, Teal wishes to share the love and dedication we have for each other with every customer. Every product is named after words that represent love and beauty. Our goal is to ensure that as a Truly, Teal family member, you too will fall in love with our brand and feel beautiful every day.
Would you say it's been a smooth road, and if not, what are some of the biggest challenges you've faced along the way?
We just launched May of 2021 and like every startup company, you will have your struggles. We created a skincare line in an already saturated market. Getting your name out there and proving you are different than the others is not easy. You must get women and men to buy into your product and your brand and win their trust. By doing so in the skincare world, it requires a lot of free product given to build product reviews, word of mouth, and reputation. You must put yourself out there in front of people and be able to hear the words, "No I am not interested", without letting it defeat you. We continue the hard work by putting our brand out there and daily we get new customers and new reviews from those who believe and love what we have created. 
As you know, we're big fans of you and your work. For our readers who might not be as familiar what can you tell them about what you do?
I have been in logistics and supply chain for 12 years. As my full-time career, I am a Senior Transportation Manager for a major known company. I have been in the logistics and supply chain world for so long but have always had a passion for skincare and self-care. Stepping into a completely different world of business has been quite the adventure and brought on a whole new world of learning opportunities. But like everything else in life, I am a very driven and determined person. My skincare line is my passion! If it's one thing transportation has taught me, on-time delivery service and great customer service. We offer free shipping in the United States which gets to doorsteps within 2-3 days and 24/7 customer service. The one thing that I am most proud of with this skincare line is having unique, one of kind, all-natural, high-quality formulas that are affordable to everyone. We have created a regimen called the Trinity Method. We guarantee you will notice a difference in the way your face looks and feels after one wash! That's a huge win in the skincare world. I have had women who get facials weekly tell me that they no longer need professional facials because they have it all with Truly, Teal. Every regimen is custom made to the customers skin type and packaged with a card inside of how and when to use their products.
What do you like and dislike about the city?
We are originally from El Paso TX. El Paso is a big desert city with beautiful Rocky Mountains with a small-town vibe. That is what we loved about El Paso but I can't forget to mention the amazing Mexican food! We moved to Dallas area in 2017, specifically Fate TX, and completely fell in love. The small-town vibe is just as great! It is so different, so green and so much water. Something that we were not used to back home. You can't beat the bass fishing around here!!! The people here are amazing! So nice, "Yes mam" "No Mam". The southern hospitality really shows around here. I will say though, the 635 is a terrible highway to be on! 
Pricing:
Average product price is $44
Trinity Method Regimen for 3 products is only $108
Contact Info:

Image Credits
Amanda Aaron
Sweet Bos Photography
TLK Fusion
Suggest a Story:
 VoyageDallas is built on recommendations from the community; it's how we uncover hidden gems, so if you or someone you know deserves recognition please let us know 
here.