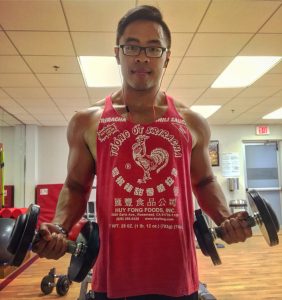 Today we'd like to introduce you to Steve Nguyen.
Steve, we'd love to hear your story and how you got to where you are today both personally and professionally.
I believe that art is anything in which you can express yourself creatively. Most people usually think of it in terms of something like painting or music. But I find that I can really express myself creatively through food and fitness. My journey actually began in a dark time in my life. Growing up, I was never obese or anything, but I definitely was on the heavier side, despite playing sports and participating in the marching band. There was a heaviness, not only physically but mentally that I ended up carrying with me through college. The last few years of college was particularly rough, and things did not turn out as I planned, leaving me stressed and depressed. I basically gave up on myself, eating way too much fast food, drinking too much, not exercising and not sleeping. It got to a point where a health crisis forced me to change and turn things around again. Day by day, I made incremental changes to my lifestyle and worked really hard. As I progressed through my fitness journey, I developed a passion for cooking and especially creating meal prep foods that not only look good and taste good, but that are good for you. I've lost over 115 lbs at my leanest and really turned my whole life around. I used to hate looking at old pictures of myself, but it also reminds me of how far I've come since then. Everyone is capable of life-changing transformations as long as you continue to believe in yourself. I started posting my food creations on social media in hopes to inspire others. I have received an overwhelmingly positive response. I have lots of fun expressing myself through food and fitness, and I am glad that it has inspired others to go on their own journeys.
We'd love to hear more about your art. What do you do and why and what do you hope others will take away from your work?
My art is about the three f's – food, fitness, and fun. Meal prepping has a connotation of being bland and boring. Googling meal prep and you're bound to see lots of pictures of steamed broccoli and chicken. No matter your determination to get fit and healthy, most people won't sustain their fitness regiment if they are eating the same tasteless thing over and over again.
I'm Vietnamese, and food is everything in my culture. It's what brings our families together. You just have to watch an episode of Anthony Bourdain in Vietnam to see the amazing foods I have grown up eating. But in my quest to eat healthier, I had to come up with a way to merge my fitness goals with my passion for food. I researched a lot about nutrition and took what I learned and just started experimenting in the kitchen. I ended up creating healthy versions of some of my favorite foods – from Vietnamese to Mexican food – that still allowed me to stick to my fitness goals.
My art is to take inspiration from foods I'm craving or love and make them healthier using different and healthier ingredients. I feel food isn't just a means of sustenance but rather a part of how people interact with one another and bond over. Deciding to live a healthier lifestyle doesn't mean you have to lose that part of your life. I want to show people that you don't have to give up eating your favorite foods to live healthier lives. With a little creativity and fun in the kitchen, you can actually enjoy eating healthier.
I hope my art of meal prepping motivates and inspires people. I think my fitness journey has shown that it's never too late to positively impact your life for the better. A lot of people assume getting in shape or living a healthier lifestyle means working out all the time, but in reality, working out is only about 30% of the equation. 70% of it is your diet and what you eat. You can work out as much as you want, but if your diet is awful, you will never see any progress. I love opening people's eyes to the creative world of meal prepping and show that food and fitness can actually be fun.
Have things improved for creative professionals? What should cities do to empower creatives, content creators and makers?
I think with social media, artists have become more impactful on society today, mainly because there's no longer a middle man. You can express yourself directly to an audience when you want. And you'll also, for better or worse, get direct feedback from that audience – which in turn can affect your own art. I have learned so much from different people all over the world. There's hardly a day in which I am not inspired by something I've read or seen locally or around the world. One of the things I've grown passionate about is learning about the obesity crisis we are seeing in many countries. And it largely has to do with how food is prepared and the ingredients that are used. There has to be a shift in how we think about food. I try to educate and be a part of the movement that will hopefully shape better eating habits for future generations.
Where would one go to see more of your work? 
People can follow me on Instagram and see my creative meal preps and fitness journey at @nguyeninggainz.
I also have a website in the works that you will be able to visit to read about my meal preps, recipes, and fitness blog.
Contact Info:
Image Credit:
Steve Nguyen
Nguyeninggainz
Getting in touch: VoyageDallas is built on recommendations from the community; it's how we uncover hidden gems, so if you know someone who deserves recognition, please let us know here.