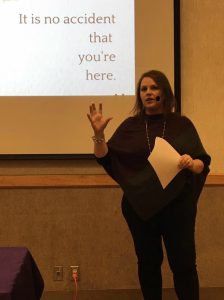 Today we'd like to introduce you to Mary Alexander.
Mary, let's start with your story. We'd love to hear how you got started and how the journey has been so far.
I've always been deeply passionate about human health and healing, although the road to where I am now is a long and winding one. I'm a native of Buffalo, NY and I remember in the 2nd grade calling the University at Buffalo Medical School for some 'preliminary information' about becoming a cardiac surgeon. At age 16, my family relocated to Lexington, SC where I ended up attending the University of South Carolina, and earning my degree in Government and International Studies. My true love is human emotion – the topic of what makes us human and how each one of us is woven into the gorgeous tapestry of humanity – and while earning my undergraduate degree, the constant theme playing in my head was that amidst all the strife, the politicking, the wars, the greed of the world – each culture I studied was made up of families who, at the end of the day, gathered around a table together, shared their day with people they loved, and ate a meal. It tore my heart that people tend to focus on what makes us different from each other.
Idealistically, I set off to graduate school in Washington, DC thinking that I could fix the world's problems by going into the lion's den of policy making and bureaucracy. Within a few months, I was profoundly defeated and quite lost when I contemplated my future and where I fit into the world. My passion for the human heart (although no longer in the medical sense) had never left me, and one day I sat in front of my bookshelf in my small apartment and something occurred to me – almost all of my personal books revolved around human energy – ayurveda, acupuncture, yoga, holistic nutrition, alternative medicine, and different aspects of spirituality. I dropped out of my graduate program the next morning.
Newly married, and 21 years old, my (then) husband and I relocated ourselves to Atlanta, GA where he began working and I started my science pre-requisites to attend Chiropractic college. However, our plans were quickly thwarted again when he was suddenly laid off and I found myself pregnant (joyfully!) with our first child.
For the next decade, I dedicated myself solely to motherhood – having our son in 2001, our first daughter in 2005, the next in 2008, and our last child in 2009. But it was during that time that all of my passion for human health and natural healing would be re-ignited, out of necessity. In 2008, my son had a reaction to one of his vaccines that I had delayed, thinking that since we were past age 2 that he would be in the clear. Faced with a child who, until that point had been the brightest in his Montessori class and who was nothing but a joy to be around, suddenly could not seem to comprehend his math homework and had massive emotional outbursts – I decided to enroll in school to become a traditional Naturopath. In the next five years, we gently detoxified his body and our home – organic foods, green juices, aromatherapy, chiropractic, food-based supplementation, no more toxic cleaning supplies – and his body did what our bodies are naturally designed to do, which is healing, as much as it could.
By this time, we were established in the far northern suburbs of Dallas, and I had a thriving aromatherapy business at home while I continued to raise my children. But the emotional residue of my son's experience remained and colored both his own concept of himself and his scholastic abilities, as well as mine as a mother. I knew there was deep emotional healing to be done and again I found myself staring at my (now greatly enhanced) bookshelf. My eye went to the book "The Healing Mind" by Dr. Irving Oyle, and although I had read it once before merely for school, this time I read it with new eyes and a new purpose. That began a deep dive into the realm of psychosomatic wellness and the power of our emotions and our mindset on the health of our body.
Shortly thereafter, I was introduced to the incredible modality that I currently use in my practice – the LifeLine Technique. It is a 16-step system, a mind medicine technique, that acts as a blueprint to the subconscious mind and activates self-healing on all levels. With it, I guide my clients to intentionally process emotionally charged memories, which shifts their subconscious, fear-based patterns and allows them to thrive. It's transformed my own emotional and physical health as well.
Overall, has it been relatively smooth? If not, what were some of the struggles along the way?
Oh if only I had been introduced to Marianne Williamson as a teenage girl! In her book, "A Return to Love", she writes:
"Our deepest fear is not that we are inadequate. Our deepest fear is that we are powerful beyond measure. It is our light, not our darkness that most frightens us. We ask ourselves, Who am I to be brilliant, gorgeous, talented, fabulous? Actually, who are you not to be? You are a child of God. Your playing small does not serve the world. There is nothing enlightened about shrinking so that other people will not feel insecure around you. We are all meant to shine, as children do. We were born to make manifest the glory of God that is within us. It is not just in some of us; it is in everyone – and as we let our own light shine, we unconsciously give others permission to do the same. As we are liberated from our own fear, our presence automatically liberates others."
What better advice could there be other than to recognize and nurture our own worth that is our birthright?
What should we know about Alexander Natural Health? What do you guys do best? What sets you apart from the competition?
We've all heard the quote, "Life is 10% what happens to you, and 90% how you react to it." What if you had a way to change the fear-based reactions – anger, guilt, destructive behaviors, addictions – and create positive, lasting change where you consciously responded to life with your heart's desire leading the way?
As a traditional Naturopath and Certified LifeLine Practitioner, that is precisely my focus. I educate about a life of toxin-free living and physical and emotional thriving, helping to raise my clients' consciousness to their highest intentions for their lives.
I help my clients discover the limiting beliefs they hold about themselves that are keeping them from living the life of their dreams; I teach about the fascinating subconscious mind, and its role in health; I guide my clients to realize not only wellness, but new-found purpose and abundance in their lives.
Looking back on your childhood, what experiences do you feel played an important role in shaping the person you grew up to be?
The great Sufi poet, Rumi, wrote that 'The wound is the place where the Light enters you."
Yes, I think all of us have experienced trauma of some kind, whether actual or perceived – and especially in the formative years from our conception to around age 10, our subconscious programming is put into place for our own survival.
But it is in the moment that we realize that our own pain and struggle is actually calling us to awaken – that there is tremendous meaning behind all that we go through in the human experience – that we become free. This is the beginning of true healing.
Pricing:
Sessions can be done in person or via Skype. Full 90 minute LifeLine sessions, $150. Discounts are available when scheduling bundles of 3-5 sessions.
Contact Info:

Image Credit:
Mary Alexander
Getting in touch: VoyageDallas is built on recommendations from the community; it's how we uncover hidden gems, so if you know someone who deserves recognition please let us know here.