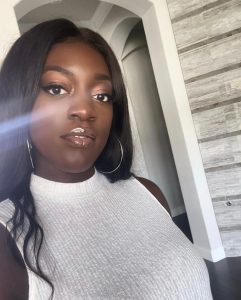 Hi Serene, so excited to have you with us today. What can you tell us about your story?
Hello! My name is Serene Boachie and I'm a first-generation Ghanaian American from Frisco, TX. I grew up with music being the center of my world. I started taking piano lessons at the age of three, and although I didn't stick with it, the music theory that I learned from it was fundamental to my musical journey. However, I wasn't the first musician in my family. My dad was a musician back in his day, and my older brother was a bassoonist in high school. I got my love of music from the many influences around me. There was one huge influence that put my dream into motion: American Idol. I remember sitting in my living room watching contestants after a contestant gives it their all.
That was when I decided that I wanted to not only be a performer, but a songwriter as well. I started out with poems here and there and wrote my very first "rough" song around the age of 7. During my time in Frisco, I took my first vocal lessons at the Music Conservatory (now called the Frisco School of Music). This is where I honed in on my theory skills, learned my first vocal techniques, and did my first performances. While there, I also dabbled in a little bit of guitar and met other skilled musicians. I'm not sure exactly what sparked my desire to start learning music production, but at some point, I decided that I wanted to be a triple threat. I dove into teaching myself different composition and production skills. However, I didn't take any classes until I got to college years later.
I attended college at the University of Southern California and got my degree in Arts, Technology, and the Business of Innovation. I was blessed to be a part of the inaugural class of the Iovine and Young Academy. My time in LA was crucial to recognizing my desire to pursue my passion. This is where I met my current vocal coach and mentor, MzLyndia. I've been taking classes with her for about three years now, and each time I end a lesson, I feel like I am that much closer to achieving my goal. I released my first single last year as a birthday present to myself. "Reckless Behavior" marked the beginning of my passion, becoming a reality. This year, I released two more singles, "All This Time" and "Run the Night". With each song, I grow more and more in love with art. Next year, I hope to bring even more songs to life!
We all face challenges, but looking back would you describe it as a relatively smooth road?
The toughest part about my journey is finding the balance between my work life and my singing aspirations. During the day, I work full time as a Southwest Airlines employee, but at night, I immerse myself into artist mode. I'm very ambitious, so I set a lot of goals for myself that tend to lead me to stressful situations. However, I'm getting better at organizing and being realistic with my time.
Can you tell our readers more about what you do and what you think sets you apart from others?
The thing that I'm most proud of is pulling the trigger on the release of my first song. As an artist, it's really easy to sit on a project for months, even years, and say that it's not ready. There's always a worry about the way that a song is going to be perceived, but I realized that I never really know until I just do it.
Is there anything else you'd like to share with our readers?
Here's a little bit more about the songs that I have released this year. "All This Time" is a song about removing yourself from a bad situation. It's when you've been stuck in a roller coaster of bad relationships and someone comes along and pulls you right out of your funk. This person brings out the sensual, raw, and sentimental feelings that make you want to be cozy under the covers or get steamy in the sheets. It's a slow-mo jam that will get your hips swaying from side to side! On the other hand, "Run the Night" is all about feeling yourself. The song embodies confidence and fierceness that tells you to let go of your stress. It talks about how you "don't need no one's permission" to be unbothered. There's no drama or chaos insight, so you're giving yourself the freedom to feel unrestrained and relaxed. You've got "control of the ignition," and you get to play by your own rules. This song is about being unstoppable. Fun fact: I have a black cat named Onyx. He plays fetch as if he were a dog, and I got him on a whim one day when my boss showed me a picture of him from a Facebook post. It was the most spontaneous decision that I've ever made, and I have absolutely no regrets.
 Contact Info:
Suggest a story
: VoyageDallas is built on recommendations from the community; it's how we uncover hidden gems, so if you or someone you know deserves recognition please let us know
here
.