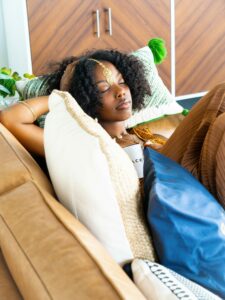 Today we'd like to introduce you to Satin Marche.
Hi Satin, can you start by introducing yourself? We'd love to learn more about how you got to where you are today?
I would say faith, resilience & determination is what got me where I am today. My journey began in 1994 in Florida. I was born & raised there for the most part, however, Alabama is what truly birthed the person I am today. I was approaching my freshman year of high school when I moved to Alabama. I left because I could sense that my mother needed me. She never said it, but upon arriving to Alabama, I learned that my intuition did not steer me wrong. Because of all that was happening at home, high school was peculiar & so was college.
I never felt comfortable in either space, so I began creating my own lane. I started modeling in 10th grade & working as early as 11th grade. My first job – I was a tour guide at a cave. Modeling carried me all throughout college. It is still something that I hold near & dear. During my early years in college, I began getting crafty with my hands & I eventually started a business called "Sew. Stylish. Sache". At some point, I outgrew Sew.
Stylish. Sache & I transitioned into creating Divine 9 organization apparel for Fraternities & Sororities, all while still modeling in college, being a full-time student & working two jobs, sometimes three! Though my creativity evolved, I knew that what I was doing during that time, was not my purpose or my passion. It was purely done out of survival mode, however, it prepped me for today. In 2016, I found myself depressed and feeling lost. I was experiencing an awakening. I'd say that giving tours throughout that cave is what prepped me for YouTube. I created my first YouTube channel in 2017. I used that & modeling as a way to cope with all that was happening around me. I needed a creative outlet, so I was determined to find my way.
I eventually took a step away from modeling & all other business ventures for almost two years to get clear. I was at a different college by this time. I eventually dropped out of college & months later I moved back home to Florida. Before I moved back home, I learned that someone created a duplicate of our current t-shirt design (which was created in 2016). I was convinced that it was time for me to get back into entrepreneurship. 2018 was the year that I spent a vast amount of time getting to know me & "figuring it out". When I started calling in all of my desires, I had a dream about Sacred Melanin & in 2019, Sacred Melanin was born. Upon arriving in Florida, I had no idea what it would entail, but it felt bittersweet the entire way through.
2020 was the year that I claimed as my "infinite year", as my birthday equaled the number 8.
I began growing my business & the KemUNITY.
I created another YouTube channel for my business.
I became a Ra Sekhi Kemetic Reiki Practitioner.
I Moved across the states (again).
I got married on 8/8.
Here we are in 2021 – my life path year & I feel as though I am just getting started, despite all that I have accomplished. As I reflect on who I was as a youth, it is beautiful to see everything that I have ever enjoyed come back full circle for me, even down to getting crafty with my hands. That was my earliest form of Reiki. I am greatFULL.
Can you talk to us a bit about the challenges and lessons you've learned along the way. Looking back would you say it's been easy or smooth in retrospect?
I am a firm believer in creating my own reality. Though the saying "life is what you make it" sounds cliche, I believe that. At some point, it was not a smooth road. I don't believe the road became smooth until I decided to take full control over my life & surrendering to The Divine Source.
Strengthening my relationship with the creator has made my life easier. The older I become, the smoother it becomes because I KNOW THAT I KNOW. Life will not always be easy, but it does not have to be hard.
One of my struggles along the way was surrendering. This stemmed from a root chakra imbalance. I didn't trust myself, family and friends or God for that matter. This created more chaos than peace in my life in every area. I resisted out of fear of truly trusting, loving & surrendering.
Can you tell our readers more about what you do and what you think sets you apart from others?
I do a lot. I am a woman of many crowns.
Aforementioned, Sacred Melanin was founded in 2019. In just two years Sacred Melanin & I both have experienced many revolutions. Alongside being an entrepreneur, I am a 5-year YouTuber, Blogger & Podcast Host who has experience in freelance work along the lines of being a Stylist, Event Planner, Interior Decorator, Web designer, Marketer (social media & emails), Content Creator, Modeling, and Copywriting. I am also a Ra Sekhi Kemetic Reiki Practitioner & a dōTERRA Wellness Advocate. I work primarily with alternative medicine. I also guide a seasonal detox by the name of Sacred Melanin Juice Journey. I specialize in Aritu Ascension or chakra healing, so with this seven day detox, we detox our spirit, mind & body as well as align our chakras with the solstice. In addition to all that Sacred Melanin has to offer, products are only an addition – a statement to "Innerstand your Melanin is Sacred, do all you can to protect it".
I Am most proud of myself for sticking to my mission no matter how many revolutions Sacred Melanin & myself have experienced. Being creative is in my DNA so I think many could agree that it is not always easy to stick to one thing or a few things when you wear many crowns. I do not believe in sticking to just one thing, but I am learning how to integrate all that I do & everything flows easier for me.
What sets me apart from others is, I Am gifted in the spiritual and physical realms. I not only offer products & services to help people become whole, but I actually DO THE WORK in all the ways necessary for me. It's easy to just do business; sell products & services, but when you actually enjoy healing yourself & evolving in all the ways necessary, it hits different. It is possible to do business & heal yourself. Business should not take time away from self healing. When you heal yourself, all of your desires are ignited, because who you are speaks through your business & all flows more abundantly. Most importantly, you are able to move with integrity and not with a survivalist mindset.
What makes you happy?
Wow. I don't think too many people have asked me that, so this means a lot!
Creating makes me happy and if not creating, just BEing – Breathing & Embracing.
Nature makes me happy. Picnics make me happy. Nostalgia makes me happy. Fruit makes me happy. The sun + warm weather makes me happy.
Hugs and kisses makes me happy. Music makes me happy. Thrift stores makes me happy. Polaroid cameras & other forms of photography makes me happy. Vinyl records & players makes me happy. Books makes me happy. Dancing makes me happy. Eating good food makes me happy. Cooking makes me happy. Tending to my plant babies makes me happy. Traveling makes me happy. Long, reciprocal telephone conversations makes me happy (for I do not care to text). Crafting makes me happy. Exploring makes me happy. Painting makes me happy.
Swimming makes me happy. Skating makes me happy. Walking outside barefoot makes me happy. Completing puzzles makes me happy. 90's movies makes me happy. Singing makes me happy. Decorating + organizing makes me happy. Being of assistance to others makes me happy. My tribe makes me happy. Loving on my lover makes me happy.
All of these things nourish me in a multitude of ways.
Needless to say, doing what I love makes me happy. <3
Pricing:
Aritu Ascension (chakra alignment) $99.99
Sacred Melanin Juice Journey $25
Sacred Self Affirmation & Mantra Cards $37.77
Unisex Ancient Royal-Tee $25.99
Ancient Royal-Tea Contrast Mug $15.99
Contact Info:

Image Credits
Richie Mills
Suggest a Story: VoyageDallas is built on recommendations from the community; it's how we uncover hidden gems, so if you or someone you know deserves recognition please let us know here.