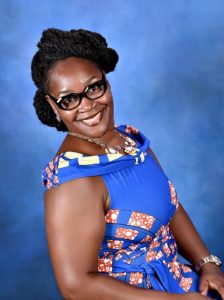 Today we'd like to introduce you to Dorothy Wisner.
Hi Dorothy, thanks for sharing your story with us. To start, maybe you can tell our readers some of your backstory.
Ella Eloise Natural was started as a business on Nov. 1, 2019. So we're a fairly new company. I have always had issues with my skin. I've struggled with acne, eczema, and sensitive skin as long as I can remember. Throughout the years, I've been to numerous dermatologists for these issues and have taken both prescriptive pills and topical creams to help with my condition. Only to find in most cases these chemical infested products did more harm than good.
As far as my hair goes, I always chemically processed it with relaxers not really zooming in how damaging chemicals from the relaxers could also be to the hair and scalp until I began noticing the relaxers were breaking off my hair. So eventually, the chemicals damaged my hair as well and I decided to go natural. The struggle! Honestly, I had considered going natural a few times before the damage started, but the fact of going from straight hair to kinky and the maintenance and upkeep it would take just sounded like a turn-off. Not to mention how society views women of color with natural hair. But who cares? So, I started researching natural solutions to use for problematic skin and hair. And found out that although there are a whole lot of contributing factors that could cause us issues, including genetics, hormones, hygiene, etc.
One thing that really stood out for me was the ingredients that are used in products and a lot of them contained chemicals. And the damage and side effects they could potentially cause people who used them. Furthermore, I found that incorrect use of those products rather than hair or skincare could lead to the stripping of the skin's natural oils and negatively affect PH levels. A few years ago, I started building products with 100% natural ingredients. I built the Purity and Acne Blasting bars. I build facial scrubs, masks, and moisturizers. The Flaxseed strengthening gel, hair oils, moisturizer, and recently Simply Clean Organic shampoo. We also build body butters and bars, as well as mousses. With other products in the works! What started out as a quest for building and using my own natural products soon turned into a new profound passion borderline obsession for me! Why? Because to my surprise, the products work! Of course, I would give some to family and friends to try. And, got positive responses. I never thought of a business, though until I was given the inspiration from the Highest, God! I was to share the products with others, but I didn't know how, nor did I want to do this as a business.
But I couldn't shake the urge to do it. My daughter and sister agreed to come on board and help me, and just like that Ella Eloise
Natural LLC was born!
 It's fun building products. It's nice to see and hear our products have positive results, without causing irritation and more issues as a result of using the products. It's nice to hear positive feedback from our customers!! We don't proclaim to have it all figured out on how to run our business yet, but we will always produce quality products using 100% natural ingredients. We strive to produce products for healthier hair and skin. The best Self Care products!
Can you talk to us a bit about the challenges and lessons you've learned along the way. Looking back would you say it's been easy or smooth in retrospect?
This journey so far has not been easy. Mainly because being a new entrepreneur without any previous business experience is hard. Building products is the easiest part because although it's challenging, it's also rewarding to see products come together and work as intended. We had decided how we wanted to run the business and discovered that we wanted an online platform. We had to come up with names and descriptions for all of our products. Then there was the pricing factor. We had to take photos, learn how to build a website, get a legal business name and determine the tax implications for running a home-based business. It's a lot of work. And, it takes a lot of research, intuitive thought, patience, faith and determination to run a business. So it's not always easy! However, I can say that our customers are so worth it though! We have a lot of repeat customers. We have a lot of support. We don't worry about the negative experiences or those people who we feel or thought would be in our corner and haven't because we're staying afloat and are learning that most of your help and resources will come from people you don't know! And they might not even look like you! That's why a lot of our products can be used by most people!
So the first year has truly been a learning experience from both building products and how to best market them! Not only that! We want our products to reach the right market! So this year we plan to do more ad campaigns and have already hired a company to manage our SEO Marketing strategies. Our goal is to reach people who are serious about changing their lifestyle to using more natural products and taking better care of themselves mentally, spiritually, and physically, with the help of our Self-care products. Understanding that consistency is key! So the roads have not always been smooth but we're learning that running a successful business is like a marathon and progress comes with time and as long as we stay focused on building the best products we can, the reward will be greater in the end and it will be well worth the struggle.
Appreciate you sharing that. What else should we know about what you do?
Outside of running a business, I also am an employee of Texas Instruments (TI). I've worked for this company for over 25 years. I've worked in the Manufacturing sector and currently in HR Operations in the Human Resources Service Center (HRSC). Like my business, I love working with people and helping employees get what they need. Regardless, if it's putting them into contact with the correct person or providing them other resources. I love working for TI. I've met some pretty amazing people over the years and have gained friendships that hopefully will last a lifetime. What sets me apart from most people is my ability to connect with people. I am a great listener. I am a great supporter. Although I consider myself a leader, but I don't have to be in front all the time.
Do you have any advice for those looking to network or find a mentor?
I would say that finding a mentor would be a great idea, especially if running your business has been well thought out or planned. Ella Eloise Natural just kind of happened, though. I actually had/still have a lot of divine intervention with God on the steps to take on running this business. We're learning a lot as we go along. I was given inspiration from God to start this company. And honestly, I ran from the thought for a while until I could no longer do so. Knowing what I know now, I would suggest speaking with people who you feel might be interested in what you're offering, I did! We went so far as to provide them with "free" samples and asked for honest feedback.
And today, we send free samples with every order. We don't advertise this, but we do! It's a surprise factor! Make a list of questions for yourself to answer! And be honest with yourself, first! Can you see yourself doing this within X amount of years? Does doing what you do make you happy? Can others benefit from what you have to offer? Then do some research in your field. See what other people have to offer and set yourself apart! Do something they're not doing. Make your products special. Make it about the customer and their satisfaction. One way to do this is by putting yourself in their shoes. Truly, mentors are good to have and can be an excellent resource for some people, but you can also be a better resource. Especially when you're honest with yourself and others.
Contact Info:
Suggest a story
: VoyageDallas is built on recommendations from the community; it's how we uncover hidden gems, so if you or someone you know deserves recognition please let us know
here
.