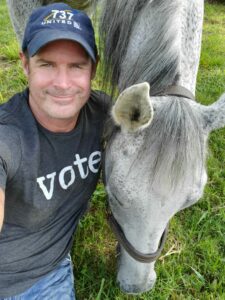 Today we'd like to introduce you to Jeff Hensley.
Hi Jeff, thanks for joining us today. We'd love for you to start by introducing yourself.
I've traveled a winding road since my early days, going to school at UT Austin and tending bar on the side. At the time, I didn't really know what I wanted to do with my life after graduation. Fortuitously, the movie "TOPGUN" came out right about then and once I saw it, I was hooked. After several failed attempts at getting in the Navy's flight program, I eventually got selected in 1987 and began what would become a 21-year career as a fighter pilot in the Navy and Navy Reserve.
After ten years on active duty flying F-14s in the fleet and T-45s as a flight instructor, I took a civilian job with United Airlines – a career that continues to this day, 22 years later. But my airline career has had several detours. I was recalled to active duty three times in the years following 9/11. One of these, an 18-month mobilization in support of combat operations in Iraq was especially tough on my family. Ultimately, my marriage didn't survive and I found myself raising three young kids traumatized by the legacy of war and divorce. While searching for a way to help them navigate this tumultuous time, I was introduced to equine therapy as a way to help our family heal. Our experience working with the horses proved transformative for all of us. Equine therapy helped the kids process their trauma in a healthy, life-affirming way and move forward with confidence.
I was amazed at the positive change I saw in each of them and was inspired to learn more. I suppose on some level, I believed the horses might also help me deal with my own demons. I decided to take a voluntary furlough from United and began studying to become a mental health counselor, focusing on the emerging field of equine therapy and its impact on veterans. It was a path that led me to Equest, an amazing local nonprofit that has been enhancing the quality of life for children and adults with diverse needs for 40 years through equine therapy. I spent almost seven years at Equest as an LPC and their Director of Counseling and Veteran Services. During this time, I met and fell in love with another Navy veteran, Colleen Ryan. We were married five years ago at Equest, the place that brought us together, under a canopy of pecan and elm trees. Joining us were family and friends, including more than a few 4-legged ones.
Although I loved my time on the Equest staff, I decided three years ago to return to United. Today, I serve Equest through membership on their Board of Directors and spend as much time volunteering there as my schedule allows.
I'm sure you wouldn't say it's been obstacle free, but so far would you say the journey have been a fairly smooth road?
Without a doubt, the most difficult challenge in my life was coming home from Iraq. My heart was filled with anger at the loss of a good friend while we were there, frustration at the lack of progress in the country, resentment at my fellow Americans who didn't seem interested in the war, and confusion over my identity now that I was no longer in uniform. On top of it, all was my inability to reconnect with the friends and family I left 18 months earlier. All of these emotions manifested as alternating periods of rage, guilt, and profound sadness. After the divorce, I needed to be a stable caregiver for my kids, but I was a mess. Far too often, they were on the receiving end of my misplaced anger. I would yell at them for the tiniest transgressions and then, overwhelmed with guilt, retreat into isolation. It was an incredibly unhealthy situation – especially unfair to the kids who hadn't asked for me to deploy, or their parents to split, or them to live with a father who couldn't control his anger.
I like to think there was a little bit of divine intervention that first connected us to Sara Willerson, the social worker who introduced my family to equine therapy. It proved to be a pivot point for all of us, setting us on a path of true healing.
It's been 14 years since I returned from Iraq, and we're in a completely different place these days. All three kids are young adults, each very self-aware and passionate about a diverse set of interests, and all blessed with deeply loving hearts. Although they remember some of the hard times, they aren't defined by them. If anything, they accept those years as the ones that made them strong. The love and devotion of their stepmother, my wife Colleen, contributed a great deal to that.
Through my personal counseling journey and the experiences working with other veterans at Equest, I've learned to accept my past failures without condemning myself for them. I feel at peace most of the time and strive to be the best husband, father, friend, and citizen I can be. Mostly, I'm thankful for a life full of love and a future that seems very bright.
Can you tell our readers more about what you do and what you think sets you apart from others?
I currently fly 737s for United Airlines out of Houston. I've always loved flying and incredibly grateful to get paid for doing something that I enjoy so much. Although the pandemic has certainly presented huge challenges to professional aviation, the profession has bounced back and seems poised for tremendous growth in the years ahead.
I am especially grateful to United for taking the lead in maintaining a healthy environment for our customers and my co-workers. We've led the way in establishing protocols to keep our jets clean and were the first airline to require its employees to be vaccinated against COVID-19 – something that is absolutely critical for all of us to do if we hope to wrap our arms around this threat and return to normal.
I'm equally proud of United's commitment to diversity and inclusion. In so many ways, from our active and vocal support of social justice issues to prioritizing our recruiting efforts in underrepresented communities, United has shown leadership in those values that truly define the American experience.
Are there any books, apps, podcasts or blogs that help you do your best?
I recognize that we all have "blind spots" when it comes to our perceptions of ourselves and the world. I believe one of the best ways to better align perception with reality is to read, although you need to be selective in what you choose. A few of the books that I've read recently that I highly recommend to everyone are Admiral William McRaven's "Sea Stories: My Life in Special Operations", Ty Seidule's "Robert E. Lee and Me: A Southerner's Reckoning with Myth of the Lost Cause", and J.D Vance's "Hillbilly Elegy: A Memoir of a Family and Culture in Crisis". I found each of these books both engaged and challenged me and altered my perspective in more than a few ways.
Contact Info:
Image Credits
Photo #4 – credit: Iraq and Afghanistan Veterans of America Photo #6 – credit: Robert Hensley Photo #8 – credit: Carry The Load
Suggest a Story:
 VoyageDallas is built on recommendations from the community; it's how we uncover hidden gems, so if you or someone you know deserves recognition please let us know 
here.