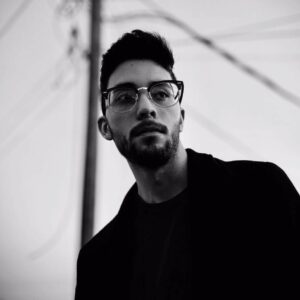 Today we'd like to introduce you to Rodrigo Caraballo-Marin.
Hi Rodrigo, thanks for joining us today. We'd love for you to start by introducing yourself.
Hey! My name is Rodrigo Caraballo-Marin and I am an artist based out of Dallas, TX. I'm from Orange County, California but I mostly grew up in DFW for the majority of my upbringing.
I started building my craft when I was a student at UNT for my undergrad. The thought of making music was a plan of mine since I was in high school, but I didn't get serious about it until I got to college. I didn't realize how badly I wanted to pursue music until I actually sat down and took the time to listen to music the way it's intended to. I tried to dissect every little detail, from paying attention to melodies, harmonies, samples that are barely noticeable, basslines, vocals structures and the way everything was structured. I came across artists like James Blake, King Krule, Massive Attack, Portishead, the xx, Nick Hakim, Puma Blue, Nicolas Jaar, Mount Kimbie which are all musicians that have shaped my sound and art. I asked myself, "how would I sound if I put together my own music?"
So I decided to give it a try and so started the Blue Capricorn project, which is my solo musical project in 2018. My first set of work was "This Must be a Haze" which was my debut EP. At the time, I felt like I had so much planned for that record, but now that I look back, I feel like I could've done so much better. I didn't have much equipment. Only a keyboard and microphone that my dad gifted me, but that didn't mean I couldn't accomplish what I wanted to pursue. So I connected with a local producer from Denton who was willing to work with me on that record. I was really happy when I was putting that record together because I felt like a professional artist when we finished that record. Fast forward to now, I don't think I have gone back to my first EP ever since early 2019. To me, that is because that was not the sound I was originally going for. It was not what I wanted to be known for. I knew I could be better. I simply didn't know how to be satisfied with my own work because I wanted to be great.
In 2020, I released my second EP titled "It's Cold, Yet Warm", with the help of a local producer whose name is Ian Blain. I was much more satisfied with that EP. I felt comfortable sharing my work because I felt myself getting closer to Blue Capricorn's true sound. It was also the first time my songs ever landed on user-curated playlists.
I set myself up with a goal during the making of that record. That goal was to make sure that every song was different from the other. I felt very satisfied with the final product, but I knew there was still more room for improvement. The pandemic did affect my ability to be inspired at the time. I couldn't find the right words to say, but that forced me to be more creative. I also started sampling my friends and including people with no musical background into my music. To me, that felt more personal yet unique. I think it's important to even emphasize what your identity is within your work. I identify as a Latinx artist, and one of my primary goals is to showcase that because I want to be able to show how proud I am for being a Latinx artist who writes indie/downtempo music mainly because it's so uncommon.
After 'It's Cold, Yet Warm" I wanted to take it a little easy. However, I still wanted to be active for 2021 even though us artists weren't allowed to take the stage just yet. My first offering of 2021 was a standalone single called "Ya Valio" which turned out to be my first ever dreampop/indie Spanish tune. It was my favorite song that I had ever written. I also released my first music video to that song, which is a video that featured myself and my good friend Miriam.
The second single of 2021 was "My Old Soul" which channeled old school jazz and lo-fi. I was always a fan of big band, so my intention was to target a more jazzy twist but with a modern take. I was highly satisfied with how that turned out because I felt like it was truly me. So I gradually started getting more comfortable with being able to enjoy what I was doing after every single this year.
The third single of this year was "Deja Senti, I Love You". I wanted to discuss my experience with Deja Senti, which is a feeling that you've felt before rather than seen. It was by far the toughest track I've written with my producer Ian. We kept getting stuck and not knowing how to continue. I've never written a track as experimental as that one but it turned out to be something I could present as one of my experimental tracks.
Overall, I definitely have noticed that I work by improvising. Sometimes I go into the studio without having any idea what I'm going to do. For me, it's sometimes better because spontaneous ideas have worked out most of the time in my favor. I don't try to go for one sound because that's not who I am. I simply enjoy making music that I think sounds good. I've been extremely genre-fluid with my work because I strive to have something for everyone. It feels very un-restricted and that's what I love about my music. It could be indie. It could be electronic. It could be dreampop. It could be lo-fi. It could be jazz. I leave that up to the listener's interpretation.
Currently, I do plan on releasing more music until the year ends. I have quite a bit under my sleeve at the moment. Is it a single? Maybe. Is it another EP? Maybe. Stay tuned.
Can you talk to us a bit about the challenges and lessons you've learned along the way. Looking back would you say it's been easy or smooth in retrospect?
It has been a smooth road, but it also hasn't. I've learned so much along the way from being an independent artist. It's really difficult trying to also be your own booking agent, A&R rep, producer, etc. When I first started out up until after "It's Cold, Yet Warm", I was very discouraged. I was having trouble getting press. Concert venues wouldn't respond to my emails. Playlist placement was tough. I didn't have enough money to market, promote or even pay someone to help me get my name out there. I kept saying "wow, I don't think I will ever be successful with this project". I almost wanted to give up and try pursuing another field. It almost felt unrealistic with what I wanted to accomplish because I simply wanted to know how these other artists that I follow managed to be where they are now. Who do they know? How do they successfully market themselves? How much money did I actually need to spend in order to make myself noticeable? How can I get more people to be interested in looking into my music? Am I being scammed if I spend X amount of money for promotion? Who can I really trust?
Those were most of the questions I had. I needed so much help but I didn't know a single person that had any knowledge on how the promotion side of music worked. I've learned that being an independent artist is a trial and error process. You learn as you go and you're bound to make mistakes.
Thanks for sharing that. So, maybe next you can tell us a bit more about your work?
I am an artist/musician that performs under my solo project Blue Capricorn. I am also a photographer and video artist. I developed an interest in photography and video art when I was at UNT for my undergrad. My main focus with my work is the concept of vulnerability and uncensored realities. I'm interested in actions. The way people think and who they truly are in a private sense as well as the realities of what a relationship is whether it's toxic or healthy. All of the cover art from my Blue Capricorn EPs and singles is my own photography so I tie them all together. It's definitely what I am most proud of. I feel like I have a certain style when it comes to pulling out a camera and shooting an image. It makes me feel very much like myself and I can look at an image of mine and say, "wow, this is very me".
Contact Info:

Image Credits:
Miriam Garcia Anthony Durant Melissa Mauricio
Suggest a Story:
 VoyageDallas is built on recommendations from the community; it's how we uncover hidden gems, so if you or someone you know deserves recognition please let us know 
here.