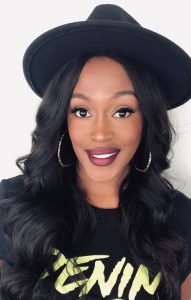 Today we'd like to introduce you to Chandra Semple.
Chandra, can you briefly walk us through your story – how you started and how you got to where you are today.
I was born and raised in Linden, AL. I remember seeing my mother and father work very hard. I lived with my grandparents. My grandmother was a hairdresser for many years. I can remember as a little girl watching her every move, and how she would make sure that every hair was in place. At the age of 13, I started doing my girlfriends hair and brows. After high school, I enrolled in college at the University of Alabama at Birmingham. I was studying to become a Medical Technologist. That quickly changed. It was around the second semester when I realized that I was over it. I was so busy doing everyone's hair for parties and football games, there was very little time to study. I found myself skipping class to hang out at a local salon to learn all that I possibly could. For the summer break, I decided to come and visit my aunt and uncle here in Euless, TX. We were driving around, and I spotted Aladdin Beauty College. I said a quick prayer," Lord if this is meant to be please show me a sign!" I went in and came out enrolled! That was only the beginning. Here it is twenty years later I am a wife, a mother of two beautiful daughters. I am the owner of Meraki Hair & Lash Studio & Meraki T-Shirt Boutique. My husband and I own and operate The Blueprint Barbershop and Salon Suites & The Lounge at The Blueprint, a small, quaint event space located in Hurst, Tx.
Overall, has it been relatively smooth? If not, what were some of the struggles along the way?
It most definitely has not been a smooth road. The STRUGGLE IS REAL!!! When you have a million ideas, but you don't have the money for start-up. When you have to rob Peter to pay Paul. I have been there and done that. When the money was gone, and I couldn't see my way, the dream never died. The fire continued to burn. I did not stop believing! I continued to write my vision and write it again, and again, and again, and again. I took a sticky note and posted a quote that I'd heard many years ago. "What I See Is Not What I Believe!!"
I struggled along the way with self-doubt. I wasn't sure if I had the strength, courage, knowledge, or tenacity to see what I envisioned come alive. It seemed so much bigger than me! But I remembered that Giants Do Fall! I would also tell myself that "I came to WIN, to FIGHT, to CONQUER, to THRIVE!" "I came to Win, SURVIVE, to PROSPER, to RISE, to FLY!" All things are possible if we can only Believe! I continued to fight daily for what I believe.
One of my other struggles was being impatient. I wanted to see the results immediately. Building a brand takes time. I quickly learned to focus on taking the time that I need to make sure I am giving my clients the best quality. I had to shift my focus from the number of likes or shares on social media and stay true to my why, and what my brand means to me. I prefer quality over quantity. My overall goal is to be effective, not impressive. When I realized that I was born to create and built to last, I knew that I would not be defeated because the battle has already been won. Slow and steady will win the race every time. Through all of the blood, sweat, and tears, God has kept me. This is what winning looks like to me!
My advice for other women particularly young women who are starting their journey is to first allow God to direct their paths. Secondly, YOU KEEP YOUR DREAMS ALIVE! Don't expect others to do it for you!! In spite of what you see, you fight for what you believe. Don't allow others perception to derail nor define you! You speak it, believe it, write it, breathe it, and achieve it! Don't ever stop.
Lastly, surround yourself with wise women!
Sit at their feet, and allow them to teach you. Learn all that you possibly can.
Please tell us about Meraki Hair & Lash Studio.
I am a licensed cosmetologist of 20 years. I specialize in precision haircutting and with my artistic vision, I enjoy working with clients to create hairstyles based upon their individual needs. It doesn't stop here. Three years ago, I merged my love for beauty with fashion by creating a Fashion T-Shirt Boutique. Our tees are in a class of their own. They are perfect for the lady on the go, and who is looking be both very stylish and sexy. We've worked with local boutiques, been a part of fashion shows, and numerous pop-up shops in the Dallas-Fort Worth area.
I am most proud of my hard work, dedication, growth, courage, and faithfulness! I am so proud that I stepped out of my comfort zone and went for it! The love from the 20 years as a hairstylist and all of the ladies near and far who have shopped and rocked our tees have been mind-blowing! I have used the ability to connect with my clients as a platform to empower each and every woman that I come in contact with daily. I am so blessed to aid in building their self-confidence, pour into their hearts and spirits, encourage and uplift them, and remind them that they are beautiful just the way they are. I remind them that they are more than enough! I encourage them to embrace what makes them beautiful! It starts within! I have created a warm, relaxing environment for them. We dance, laugh, cry, sing, have prayer, praise, and worship together. We go through, get through, and come out of the storms of life together!!! I am so blessed to have met so many amazing ladies over the years.
What sets me apart from others is my authenticity and creativity.
"Meraki" encompasses every part of me.
My husband found the name. Upon hearing it, I thought how cute and unique. When he shared the definition, I was amazed. Meraki is a Greek Word. Greek ranks as the "richest" language in the world. Meraki means "when you do something with creativity or love: putting a piece of yourself into what you do. The T-shirt line is far more than just a shirt. Each shirt has been inspired by my love for Christ, my own life lessons, trials, triumphs, and my love for both the beauty and fashion industries. I am naturally shy by nature. The tees allow me to be expressive and tell a story!! I Am Doing What I Love!!!
Were there people and/or experiences you had in your childhood that you feel laid the foundation for your success?
Yes, I do. I remember at a very young age I developed a strong work ethic. I am from a small, country town, so we had to shell peas, pick plums, crack pecans, mow the lawn, rake the leaves, hang clothes on the clothesline. There were two nearby businesses within walking distance. Mr. Marzell's Corner Store & Salt's Barbershop. I will never forget the walk to Mr. Marzell's. It would be so hot outside, and my cousin and I would have $1.00 for candy. If the total was $1.01, you only had one of two options. Walk back in the hot sun for a penny or put something back. We thought that he was just mean and stingy, but it wasn't about the penny. The lesson learned was to ditch the attitude of entitlement because no one owes you anything and to manage what you have. Salt's Barbershop was the place to be. The owner was good friends with my grandfather. Salt had a very good job. He worked overnight and would come in after his shift and cut hair all day. You could see the fatigue on his face, but he pushed through without complaining. I would think why is he doing all of this, he doesn't need the money. It wasn't about the money! He was doing what he loved, and he knew that there were young men counting on him. He made sure the young men were respectful and taught us, young ladies, to respect ourselves. If we weren't getting our eyebrows done, he'd throw us out! This is not a place for young ladies to hang out! He is a man that we all respect to this day, and has been a light in our community for many years. I am grateful for everyone who has poured into my life. I will end on the valuable lessons that my grandmother has taught me. I remember her focusing very little on beauty and more on my character. She would say looks change but the Spirit remains. She would also say, "You need to make sure you keep a pure heart, treat others right, keep the faith, and work hard! But most importantly, stay with the Lord! What seems impossible is possible! Keep believing!
Pricing:
Shampoo Style- $50 & Up
Silk Press- $65 & Up
Ladies Precision Haircut- $45
T-Shirts- $24.99 & Up
Event Space- $450 & Up
Contact Info:
Address: Meraki Hair & Lash Studio
700 West Bedford Euless Road
Suite A
Hurst, Tx 76053
Website: Www.Merakihlstudio.com
Email: merakihlstudio@gmail.com
Instagram: Instagram-@merakihlstudio
Facebook: Facebook-Meraki Hair & Lash Studio
Image Credit:
Brandon Allen, Autumn Hart, Corey Melendez
Getting in touch: VoyageDallas is built on recommendations from the community; it's how we uncover hidden gems, so if you know someone who deserves recognition please let us know here.