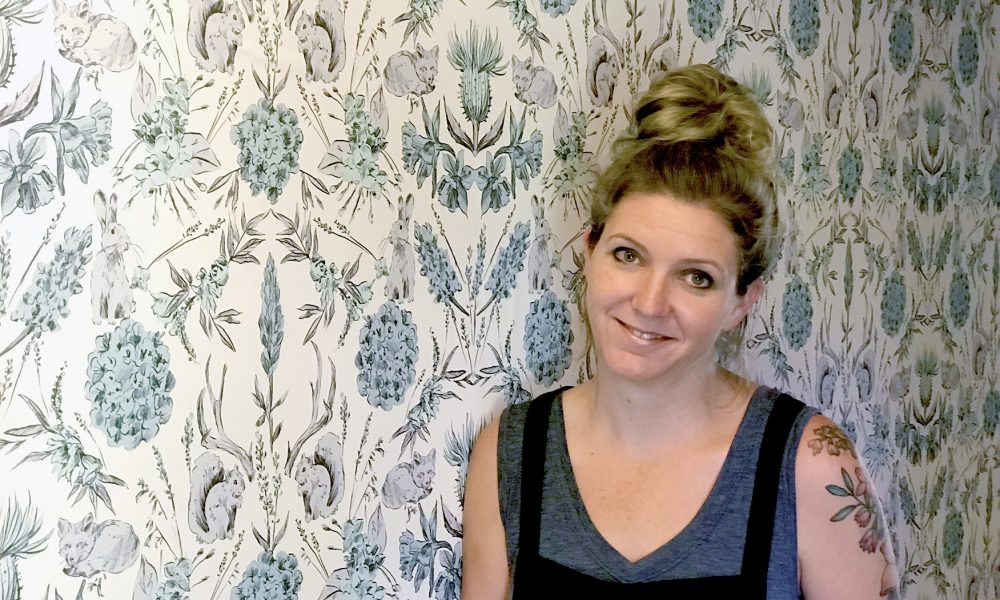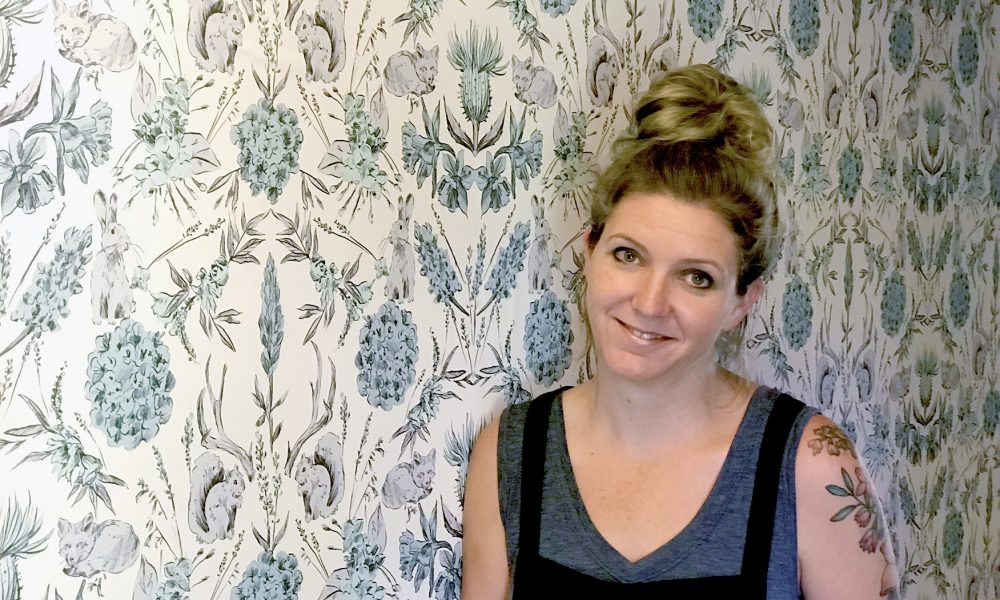 Today we'd like to introduce you to Sarah English.
Thanks for sharing your story with us Sarah. So, let's start at the beginning and we can move on from there.
My background is in the arts. I have a BFA in studio art from Abilene Christian University and then went on to get my MFA in Painting and Drawing from the University of North Texas. I wanted to teach and I wanted to make art. And I did. I was part of 500X Gallery in Dallas while teaching at various colleges around the area. At that time, I also started this random job as a textile designer. I didn't know what a textile design was or even that it was a type of design that existed. The company that hired me was looking for people who could draw and my boss was willing to teach me on the job. He taught me how to make repeating patterns in Photoshop and Illustrator. My mind was blown. I started seeing pattern everywhere. Color and shape had always been a big part of my paintings, but this world of surface design opened up something entirely new for me. I don't think I'd be doing what I am today if my first boss hadn't taken a chance on me and been willing to teach me so much.
I eventually landed a corporate job at JCPenney doing textile design for kids, women, and juniors clothing. I transitioned from curating gallery shows to curating print collections. I ended up having a 10 year career there and left as manager of the juniors textile department. It was a great job. And again, I learned so much. I learned about business and markets and seasons in fashion. I learned how to see trends. I learned how to work fast. I learned how to work on a team while maintaining my own autonomy. But, over all those years, I had a deep yearning for something of my own. Maybe it's because my parents are business owners and I always saw them love what they do. I had an expectation that's what my work should be like. I also feel its the artist in me that is trying to live a fully creative life, to make, and do more. So, in 2012, I started Pattern State as a side creative outlet. At the time what had been my art studio had became my son's nursery. My husband was back in school to pursue his dreams and I was working full time supporting us. I wanted to paint but I found the demands of work and mothering taking a toll.
My free time was at a minimum, but I still needed to create and to be myself. That's when I started to think of creating my art but using surface design as the medium instead of paint. It also allowed me to stretch and push myself creatively in ways that weren't happening in my 9-5 at the corporate office. I simply needed to do more, and that's how Pattern State started. I put my first print collection at nights after my son would go to sleep. And I didn't need a big studio, just my laptop, the couch, and my TV. A year ago, I left my corporate job to jump full time into Pattern State. I'm now able to create more of my own work and say yes to more opportunities. And even though I had been waiting years to finally make the leap it was so much scarier and tougher than I anticipated. I also surprised myself by going back to teaching college part-time. I love being around the students and the energy of a campus. Plus, it gives me an excuse to talk about all art day, and that's just awesome. It's important for me to keep fine art as part of my vocabulary and thinking.
Great, so let's dig a little deeper into the story – has it been an easy path overall and if not, what were the challenges you've had to overcome?
I don't think any creative road is smooth. I tell my students that with a career in the arts there is no clear path. But that's the best part of it… the path isn't narrow and defined. It's completely open. Your journey will flow and move and pivot. And as an artist, you have to be open to those changes and have your eyes wide looking for them. You have to seek change and be willing to go down a new path. Author Neil Gaiman talks about your goals as a mountain. I think of that all the time. It's this big thing and it's important and it's beautiful and you have to keep moving towards it and making decisions that move you closer to your mountain. You have to keep your mountain in sight as saying yes and no to things. And there's no marked trail that gets you there. You truly carve your own path… and it will most likely meander. When I was starting as an artist, I never thought I would have a 10-year career at a corporate fashion retailer.
In fact, I wouldn't have wanted it. But at that time, in my life, I needed to say yes to a corporate job and the opportunities it could bring me. I saw how I could grow as a designer and what I could learn by being part of a business that ran on such a large scale. And also, as a young woman that was anticipating wanting to have a family, I was looking ahead and feeling the need for good health insurance and a place that could offer me maternity leave. I hope that one day men and women are both given equal time to take leave from their work to care for new children that enter their family. But, for now, that time away from work falls in the majority to women. And as a young woman looking at my career path that was something I felt I had to consider. It was a benefit I had by working corporate. Now, that my kids are older, I feel like I can take more risks with my career. And I hope that's something more young people both men and women will get to feel from a younger age in more ways than I did. The other thing I would say to young women is don't get set on one way that you think it's all going to work. Have a plan, have a dream, keep driving towards it… and also give your self the openness to have a new dream and then dream again and again and again.
Please tell us about Pattern State.
I'm an artist and surface designer. Through my studio, I specialize in the creation of art for various products from fabric, to wallpaper, to apparel, to home goods, and everything else in between. I feel like the work I do is a kind of magic. I get to transform products into something more. I get to help give products a voice. And with that voice, they can reach out to a person. Make a connection. That's the real excitement for me. I'm often working alone in my studio, so it's such a thrill when I get to see my prints on a finished product out in the public market. When a maker chooses my fabric to use on one of their products, I get to join them in expressing their own creativity. When someone wears a dress with one of my prints on it, I get to take part in helping them feel beautiful. When someone chooses one of my wallpapers for their house, I get to be a part of making their home a place welcoming to others and unique to them.
I often license the art to companies to use for their products. This can lead to a highly collaborative process in my design, and I love that. I'm really excited to be my taking my work to the Surtex art licensing show in NYC later this month. It's an amazing opportunity to connect with other brands and designers and see what kind of print magic we can make together.
Who have you been inspired by?
I most inspired by the women that I see and know in my real life. My mother, my sister, my aunts, my friends. And that's not to say I'm not inspired by leaders and artists that I don't know. But I feel like the women I get to see go through their life and all the ups and downs, those are the women I really admire. I've seen their failures and their successes. Not just the parts of them that look shiny from far away. I love being a woman. I love all that women are capable of. And maybe it's because its the mother's day season, but I am super inspired by other moms. And not in any category of working mom or stay at home mom or part-time mom… all of them! Because I see mothers all working so hard every day. It's the most brutal and raw on the job training there is. and you don't have an awesome boss who can show you how to do it. And you don't get an evaluation or a promotion or an end of year bonus to tell you if you're doing a good job.
In motherhood, women become so humbled and vulnerable, and at the same time become capable of such immense strength. Moms inspire me because I believe they are truly capable of anything. Mothers are fierce, and a mess, and so beautiful to me. Moms have taught me how to be creative, how to ask for help, how to be kinder to myself, how to push myself, how to set boundaries, how to be a friend, how to work hard, and how to love more deeply. Moms for the win every day. If you want to feel inspired, go watch a mom get her kids out the door for school in the morning… and imagine her wearing a superhero cape while she does it.
Contact Info:

Image Credit:
Dress image is Bijou Sauvage Clothier, Baby onesie is Periwinkle Jazz, Wallpaper is from Spoonflower
Getting in touch: VoyageDallas is built on recommendations from the community; it's how we uncover hidden gems, so if you know someone who deserves recognition please let us know here.