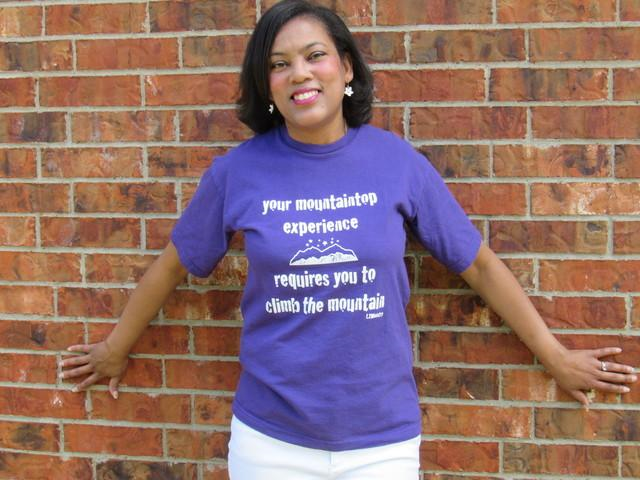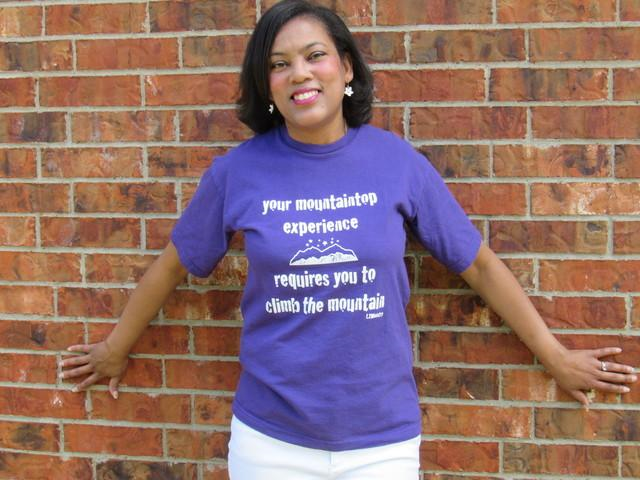 Today we'd like to introduce you to Yvette Blair-Lavallais.
Thanks for sharing your story with us Yvette. So, let's start at the beginning and we can move on from there.
Some people call me a preacher girl. Some people call me a wordsmith. Most people call me "Y." I love telling people about the origin of my name. As you can imagine, I am often called "E"vette, "Ya"vette and all kinds of Vettes. When I was still in my mother's womb, my parents decided to name me "Y"vette and made a declaration that the "Y" is not silent. My mother was actively involved in social justice issues in Dallas. Activism is in my DNA. My parents believed that God would use me as a vessel to speak out about injustices and to bring words of hope and healing. Now that's a prophetic word because as a writer, preacher, spiritual life coach, and pastor, I am not quiet when it comes to sharing the Gospel of our Lord and Savior Jesus Christ, and I am definitely unafraid to shout from the margins and to help others amplify their voices.
I am a Dallas girl who fell in love with writing when I was six-years-old. That led me to being a budding junior "investigative reporter" in middle school at T. W. Browne and to being part of the yearbook staff in high school at J. F. Kimball. I knew that my purpose in life was to be a writer, so I pursued and completed my BA in Journalism and English Literature from the University of North Texas. I was blessed to have mentors along the way who cultivated opportunities for me to begin writing professionally at an early age. My first internships were at the Star-Telegram in Ft. Worth and at The Dallas Weekly. I went on to write for the religion section of the Arlington Morning News and to work as a reporter at KKDA-AM, followed by working at WFAA-TV's Good Morning Texas and as the host of City Page Update on Cable Community Television in Ft. Worth.
After a successful career in journalism working in print, radio, and television, I shifted gears to serve in the non-profit world where I wanted to make a difference in the lives of the people with whom I came in contact. I served as a public relations coordinator for the African American Museum in Fair Park and helped to coordinate the Dickie Foster Biennial Texas Women's Conference among other events. I also served as a writer/publicist/account manager for a large PR firm where I managed marketing and PR campaigns for national clients such as Kozy Shack, Negro Leagues Baseball Museum and The Maids International. One of the highlights of my career is receiving a congressional appointment to serve as a public relations specialist at the Smithsonian Institution in Washington, DC. I coordinated national media for the traveling exhibitions. I enjoyed being part of the team that made it possible to bring the exhibitions directly to communities who might not otherwise have an opportunity to travel to Washington, DC to visit the museums on the National Mall.
My work as regional vice president of communications and marketing for the South Central Affiliate of the American Heart Association was rewarding. Because my mother suffered from hypertrophy cardiomyopathy, it became a "calling" for me to educate the community on our risks for heart disease and stroke. She served as a spokesperson and was always willing to share her story as a survivor, right up to taking her last breath. I've enjoyed utilizing my God-given gift of writing and editing to make meaningful contributions and to help positively transform the lives of others.
In addition to my "work" writing, I am also a published writer. My poetry, creative non-fiction, historical fiction and academic work are published in anthologies, journals, books and magazines, including Kente Cloth, Tex!, Langdon Review of Arts in Texas, Texas Short Stories, New Texas 2001, and The Hoot and Holler of the Owls.
While all of that was happening, my life as a preacher and theologian was developing in the background. I've served in pastoral ministry for the last ten years. I'm a 2017 academic fellow of Princeton Theological Seminary's Black Theology and Leadership Institute and in 2018, I was invited to be a theologian-in-residence at Princeton. I'm also part of the inaugural 2017 Vanderbilt Divinity School's Public Theology and Racial Justice collaborative. All of this connects to the work that I do at Words For the Soul. Because the "Y" in Yvette is not silent, it strengthens my voice, my platform and equips me to be a more effective wordsmith.
Has it been a smooth road?
There have definitely been struggles and challenges along the way. In the early part of my journalism career, I was often the youngest journalist in the room. There were times when I was attending press conferences where I was standing next to seasoned, veteran journalists and I felt overwhelmed and sometimes underprepared. I am grateful though, for my mentor Cheryl Smith who modeled for me what being a good writer and reporter looks like. She helped me to build my confidence as a writer by making sure I did my research and "homework" ahead of time before she sent me to cover events. I learned the importance of accuracy in reporting and finding my own voice in narrating stories. It's easy to want to mimic someone else's style, voice, and flavor, but you have to develop your own.
As a seminary-trained, degreed and credentialed pastor, the biggest challenge is being a woman in pastoral ministry. I graduated Magna Cum Laude from Perkins School of Theology at SMU in Dallas while simultaneously pursuing ordained ministry in The United Methodist Church. Because historically pastoral ministry has been male-dominated, there are women and men who refuse to accept women having authority in the pulpit. There is an internalized patriarchal view that some people hold and they intentionally make it harder for women to be successful in ministry.
My advice to other women who are beginning their journey in ministry or any other field is to surround yourself with a small circle of people who will support you, affirm your gifts and who will help you to amplify your voice in those spaces where people want to turn down the volume on you. Learn as much as you can, always ask questions and don't assume that anyone is willingly opening doors for you. Find out who the doorkeepers are, and allow your integrity, education, and skills to open the doors for you. Don't be afraid to take the initiative to meet the decision-makers in the spaces where you want to be. Be your own advocate and then make a commitment to advocate for other women. When you get in the door, come back and lead another woman through it. We can't afford to compete with each other. It's too expensive. We've been marginalized for too long. And don't be afraid to create a space for yourself and others. In 2017, I helped cultivate a new worshiping community in Dallas called The Gathering. I co-pastor with two clergywomen, Rev. Kamilah Hall Sharp and Dr. Irie Lynne Session.
So, as you know, we're impressed with Words For the Soul – tell our readers more, for example, what you're most proud of and what sets you apart from others.
I chose Words For the Soul as my brand because it best represents the work that I do as a writer, editor, tee shirt faith message entrepreneur, and pastor. I believe that healing comes from words – the words that we speak, the words that we write and the words that we hear – and wear. My life's work is about helping people move from brokenness to wholeness and I've been able to do that with the spoken word, the written word and the preached word. Because I'm known for my inspirational messages on social media, friends have encouraged me to "put the messages on tee shirts." In 2017, I launched a tee shirt ministry. I'm enjoying this new season of bringing hope through wearable words.
Words For the Soul really grew out of a project five years ago when I worked with a pastor in Maryland who needed someone to edit his forthcoming book. My best friend (who had been editing and doing ghostwriting) reached out to me and asked if I had the bandwidth to take on the project. It was really a God moment because at the time my mother was rapidly declining. She was dying and here was God creating something life-giving. I did a quick two-week turnaround on that project and the pastor went on to sell upwards of a thousand copies of his book. The next project came to me as a reference from him. And then another and another.
What sets me apart from being just a "copy editor," is my background, education and theological training in God's word. I read for grammar, flow, and attention to the accuracy in God's word. This means that I will double-check Scripture, listen for the writer's "flow," stay true to her or his voice, and I will make sure that what she or he "preaches" comes across with the same power in the book. It's like having another minister of the Gospel working alongside you.
For writers whose work is not Scripture-based, I "switch hats" and use my experience as a journalist to give attention to the narration, content development, and style. I also work with doctoral and masters-level students who need "an experienced set of editing eyes" to review their scholarly papers and dissertations.
Since that first project five years ago, I've worked with more than 20 writers and have helped them to publish more than 30 books. I'm most thrilled about helping them to move from just the idea of a manuscript that they want to publish to actually holding the book in hand. I work with a team that includes a graphic designer, cover artist, and project manager. Together, we have been able to bring joy and healing through the printed word.
In July of 2017, I released my book, Being Ruth: Pressing Through Life's Struggles with Fearless Faith. I revisit the Hebrew story of Ruth, Naomi, and Boaz and look at what it means to align ourselves with God's plan and purpose so that we can move from the Moab places in our lives and get to the Barley Harvest that God has for us. I look at the historical context of the story and share real-life practical application of women in history who have pressed through difficult situations with grit, determination and fearless faith. This is not a "find your man" story! This is about pressing through the seasons of hardships and what it takes to hold on. The book is available on my website.
As a workshop presenter and speaker, I've been blessed to speak at local and national conferences, events and gatherings. While much of my work is specifically targeted at women's ministry, I present on topics such as Leading as a Liturgist, Authentic Worship, Praying Through the Shame of the Past, Shouting From the Margins: Amplify Your Voice, and I also lead workshops on The Role of Storytelling in Food Justice, and I am working with churches on deepening their understanding of what it means to be good stewards of God's land and how to responsibly care for our neighbors. More information is available on my website at: yvetteblair.com
Who have you been inspired by?
My mother, Tonnette Blair, was my number one cheerleader and the person who inspired me the most. I talk about her in my book, Being Ruth: Pressing Through Life's Struggles with Fearless Faith. She was bold, brave and unapologetically so! She stood up for herself and for others who were afraid to amplify their voices. She had G.R.I.T., determination, and strength. She overcame polio at a young age and went on to be a courageous and admirable mother, wife, aunt, grandmother and community leader. I learned about indigenous people and Native American life from her. She spent part of her childhood living on a reservation in Oklahoma with her grandfather.
I've also been inspired by the stories of journalist Ida B. Wells-Barnett. She used the power of her voice (and the newspaper) to speak out about the injustices that were happening in the south. She was unafraid to launch an anti-lynching campaign and to speak truth to power. I'm inspired by Dolores Clara Fernandez Huerta and her life's work with the farming community. She often gets overshadowed by Cesar Chavez for the work she did with helping to establish the National Farm Workers Association. She saw the economic disparities of migrant farm workers and made a bold decision to go into the margins where they were and be a voice for them. She is someone I have come to really appreciate as I do my doctoral work in Land, Food and Faith Formation with an emphasis in food injustice, famines, gentrification and displacement of black, brown and indigenous peoples.

Contact Info:
Website: yvetteblair.com
Instagram: preachergirl716
Twitter: YvetteRevYBlair
Image Credit:
Carl Lavallais, Nariana Sands, Cheryl Allison
Getting in touch: VoyageDallas is built on recommendations from the community; it's how we uncover hidden gems, so if you know someone who deserves recognition please let us know here.