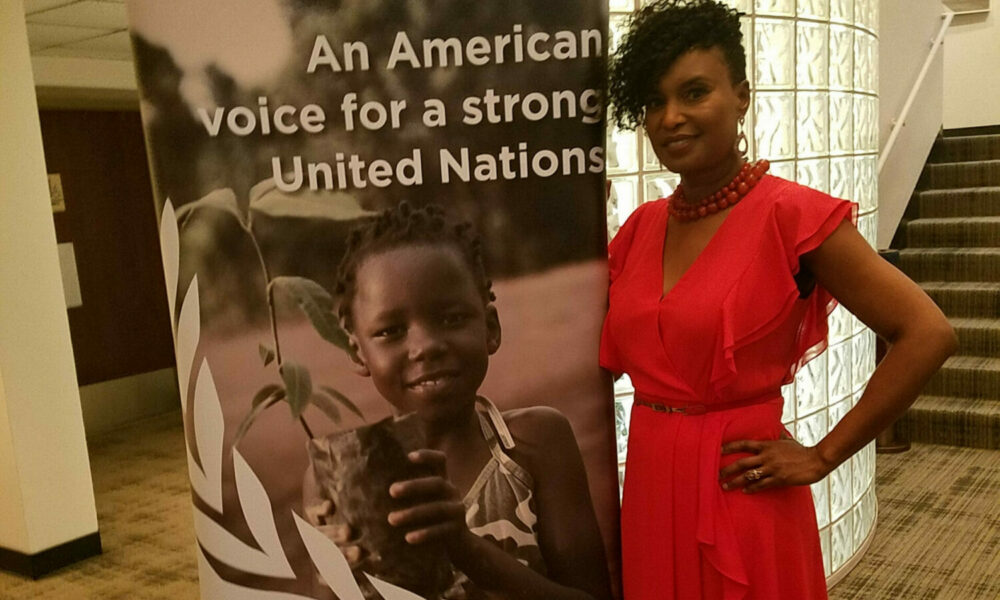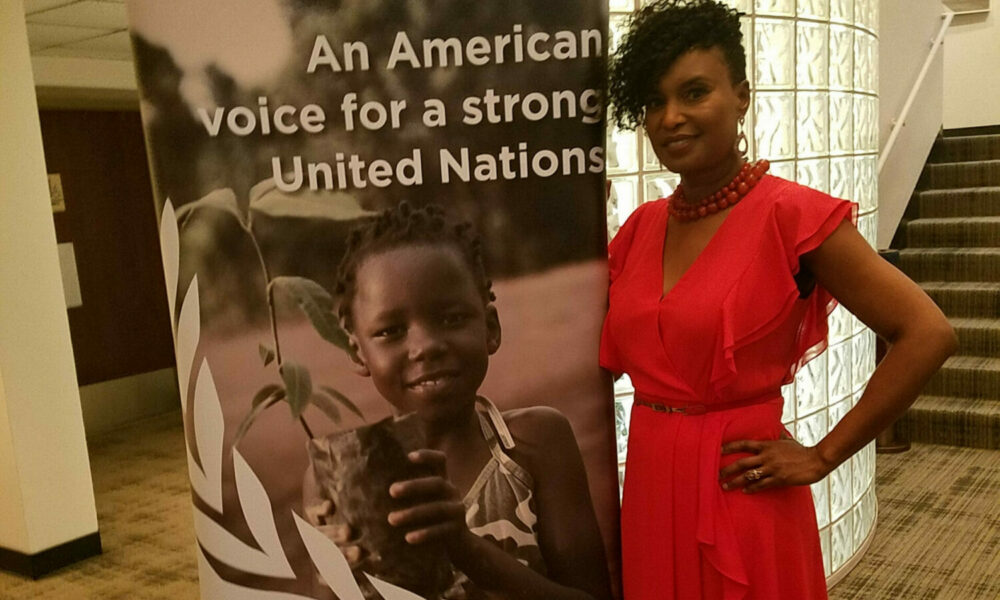 Today we're excited to introduce you to Lumbie Mlambo. Lumbie is a Founder/CEO and is also a content partner. Content partners help Voyage in so many ways from spreading the word about the work that we do, sponsoring our mission and collaborating with us on content like this. Check out our conversation with Lumbie below.
Lumbie, it's been too long since we last connected. Thanks so much for taking the time to share your thoughts with our community again. Some readers might have missed our prior conversations, so maybe you can kick things off for us with a quick intro?
I'm Lumbie (Lumbimbi) Mlambo, a mother, wife, and graduate from Indiana University South Bend and Texas Woman's University. An UNA Women's member, Global Goodwill Ambassador, and a United Nations Global Water Partner, I'm an advocate for clean water and empowering women and girls to lead healthy and fulfilling lives. I was born in Zimbabwe but moved to the United States in the late 80s. I reside in Dallas, Texas, with my husband of 32 years and has 2 handsome sons and a beautiful daughter-in-law. 
Inspired by my father who was orphaned and never went to school but served as a revered humanitarian in his local community, I took the leap to continue his legacy of caring for the less fortunate. 
To dedicate my actions in serving the Igusi, Zimbabwe, community, I started the 501(c)(3) nonprofit JB Dondolo, Inc., after my father's namesake. 
As a UN advocate and active supporter of the United Nations' Global Goals, I make my voice heard about the issues impacting women and girls globally, sharing my insights and knowledge on how such issues can be addressed. I'm extremely passionate about improving people's lives and restoring dignity, which starts when women and girls have a seat at the table. In 2019, the United Nations Association of Dallas Chapter nominated and selected me for the UN Global Leadership Award for the work with JB Dondolo, Inc. on Clean Water and Sanitation (SDG 6). In 2021, I was awarded The Mavericks Community Shining Star Award (recognizing my organization's work internationally) by the University of Texas at Arlington (UTA). Also, I'm a member of ForbesWomen and Global Citizen Forums. In addition, I serve as the advisor for The Global Futurist Initiative which accelerates youth action through the power of expression.
Why do you think it's important for your organization to focus on water, sanitation, and gender equality?
Our vision is to see a world where clean water is not an obstacle to pursuing a better and more equitable life. We believe in the legacy of giving and helping marginalized communities because we know everyone deserves the chance to have a better life. We believe this legacy will help advance equity, enrich lives, and create a positive ripple effect for future generations to come. 
We are proud supporters of the United Nations and the Sustainable Development Goals (SDGs), and our goals are to help advance the following SDGs: 
SDG 1: NO POVERTY: By 2030, we want to ensure that all men and women, in particular the poor and the vulnerable, have equal rights to economic resources. We believe that water is a human right and as a natural resource, we want to ensure its access as a basic service to all. 
SDG 5: GENDER EQUALITY: We want to undertake reforms to give women equal rights to economic resources. We recognize that to provide clean water, sanitation, and hygiene for all requires a gender lens focusing on women and girls as primary water collectors. 
SDG 6: CLEAN WATER AND SANITATION: By 2030, together, we want to achieve universal and equitable access to safe and affordable drinking water for all; achieve access to adequate and equitable sanitation and hygiene for all and end open defecation, paying special attention to the needs of women and girls and those in vulnerable situations. 
Water, sanitation, and hygiene are at the core of who we are and helping one another through international cooperation is how we have helped make a difference in the lives of many already.
What are some of the organizations that you have partnered with to get your message of access to clean water? How can other organizations help?
We are partners with the UN Global Water Partnership (GWP). Also, the National University of Science and Technology (NUST) is our value partner for water testing. For our annual Music for Water competition, we've partnered with Viva con Agua – a global initiative for clean water, sanitation and hygiene that uses the universal languages of art, music and sports to create social impact and raise awareness in a positive and respectful way, Disinfect & Shield – a disinfecting company that will provide hand sanitizers and disinfecting products, I Support the Girls – an organization that collects and distributes essential items such as menstrual hygiene products, to help us reach more people experiencing homelessness, impoverishment, or distress to stand tall with dignity, and Grand Mountain International Records (G.M.I.R.) – our partner record label company who provides a single distribution deal for the top three (3) song winners. 
Other organizations can help by donating to any of our initiatives online at https://jbdondolo.org reaching or reaching out to us at team@jbdondolo.org to discuss ways to help.
What campaign or project is your organization working on now? How will this project create impact?
We currently have the Music for Water competition which represents a campaign that streams water and music together with the intent to align the mission of JB Dondolo and Viva con Agua to remove barriers of access to clean water, sanitation, and hygiene for underserved communities. The Music for Water sets itself apart from other song competitions as a charitable campaign that serves to leverage the "universal medium and ambassador" of music to ignite a greater awareness of the importance of potable water around the globe. Women and girls benefit greatly from this musical competition as the campaign serves as a protagonist to improving gender equity through the connection to clean water, sanitation, and hygiene. We recognize the immediate need to raise funds to help those in dire need. Therefore, the recipient of the funds raised with this campaign this year is Skid Row in Los Angeles, California, USA. with the homeless population of 10,000.
What are you looking forward to for the remainder of 2021?
We're looking forward to completing the Matobo Hills project, Zimbabwe, to serve 90,000 residents. Also, we want to finish our work in Igusi Clinic to install sanitation and hygiene systems and build out strong water infrastructure across the region. In addition, we want to implement water maintenance and sustainability educational programs across rural areas to create self-sufficiency among local residents. Another critical goal is to grow a strong financial revenue to enable us to not only retain staff but also to innovate the water systems for quicker scalability, easier monitoring, and mitigation.
What did you learn from the igusi project that was/is beneficial to you in the upcoming Motobo Hills project?
I'm happy to say Igusi water project gave us a baseline and scientific approach model to use as a guide for most of our projects. It was the very first major water project we implemented using this type of approach. We get a lot of communities asking for the same. We tend to look back at how we worked Igusi water project and compare with the projects at hand. Although the Matobo Hills water project is slightly different, the Igusi model is applicable to some extent, especially for best practices and things to avoid.
What adversities have you faced during the pandemic? And how did you overcome them?
A few of our team members caught COVID and struggle to this day with extended symptoms. We lost some friends due to COVID. We support each other emotionally to manage the effects of the pandemic. Social distancing, staying at home, and wearing face masks including being there, emotionally, for reach other is how we overcame. Speaking for myself, I would say I prayed a lot for everyone and still do. I found a lot of comfort in that.
Alright, so before we go, how can our readers connect with you to learn more and show support?
We look forward to connecting with everyone. We're available online at the following:
Website: https://jbdondolo.org
Instagram: https://www.instagram.com/jbdondolo
Facebook: https://www.facebook.com/jbdondolo
Twitter: https://www.twitter.com/jbdondolo
You can also connect with me directly on LinkedIn at https://www.linkedin.com/in/lumbie-mlambo-7ab65019/
Contact Info:

Image Credits:
N/A
Suggest a Story:
 VoyageDallas is built on recommendations from the community; it's how we uncover hidden gems, so if you or someone you know deserves recognition please let us know 
here.