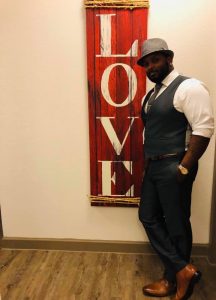 Today we'd like to introduce you to Adrian Ford.
Adrian, please share your story with us. How did you get to where you are today?
I have always had a servant's heart, and I have always believed that to serve people, there has to be an unapologetic stand for justice, accountability, and Change. I have served in many different capacities of social services for 16 years. I have developed and built many programs for social change, but it wasn't until September of 2016 that I truly understood what God was calling me to do.
My wife and I had Just gotten married that July and our blended family had just relocated from Seattle, Wa to Santa Clarita, Ca. and after being there for about 45 days, I was introduced to the LAPD through there way of introducing themselves to young men of color who they deem fit a profile.
I was on my way to pick up my daughter with our then 3yr old (he's 6 now) who witnessed them berate me, profile me, accuse me, and treat me with extreme aggressiveness, and as I'm experiencing all of this trauma I couldn't help but think how could they treat me this way? Why would they? I have done everything right, I've committed my life to serving others, changing my community, and keeping both men and women out of this current situation that I'm in. Why won't they listen?
I then started to pay close attention to not only the reasons they felt it ok to profile me but the descriptions they were giving of the "normal" men that look like me and the only thing that tied me to there usual suspect list was that im 5'10, muscular and black with tattoos (which are all biblical none gang related)
I then began to obsess over why was it so easy to seal my fate based on what I look like and why was it the norm to treat anyone that looks like me this way. Why did it not matter what I had accomplished?
I have always been raised to locate in any situation my accountability for what's taking place, what do I own in this? And though I didn't find any clear reason for how it was my fault. I did think of other scenarios and situations around the country where these occurrences were happening daily and ending in the killing of unarmed black men.
I knew that the way I was treated was sickening and disgusting. I knew that I never wanted to feel that way again or let anyone else feel that way. I wondered would they have treated me that way if I was in a suit, on my way to my professional place of employment, and did not display any materialistic signs of their profile. What if all the gunned down men were carrying themselves opposite of their profile, Now I don't think that would deter some police from acting in the unnecessary hostile ways that they do but what if we changed the narrative, what if they were forced to explain why they profiled a man that was dressed and carrying himself like the men who they deem worthy of not being treated that way. It would awfully hard to explain why you gunned down an unarmed man of color in a suit on his way home to his family, and the only unique description is that he was a man of color.
Shortly after the incident, we moved back to Seattle, WA, but everything was different, I was different. I couldn't go back to who I was before the incident; it had completely changed me. I was filled with so much anger and hate until one night my son, and I are walking into Walmart, and he sees a police officer parked near the entrance, he turns to me and says daddy there's the police, we hate them don't we, and I just stopped and at that moment every bit of anger and hatred poured out of me. It was that moment that I knew I was never going to raise my son in hate; I won't let him walk around thinking these negative thoughts. So I looked at him and said: no Kam we don't hate anyone. I knew that from that moment forward I had to raise him differently, I had to pour everything I have into showing him what a man is and how we act and how we conduct ourselves, especially through the storm.
I knew that I had to start preparing him for the world we live in, and I knew I wanted to help other men prepare their children. I am the Head of my household, and it's my responsibility to prepare my children, and that's when I knew what I'm supposed to be doing. I'm called to help men get back to being the Head of their Household.
So I began creating a program that not only showed men of color in a different light but empowered men of all races to step up and start being leaders and men to respect. I come from a generation of Men saying there owed respect and demand respect yet never give anyone anything to respect, no one respects jeans down around your butt, or a shirt that's five sizes to big or loud belligerent banter that only draws negative attention.
I wanted to teach men how to receive respect without ever opening their mouth, I wanted men to stop being looked at as expendable dead weight and start being viewed as leaders in there family and community. which is why the first thing that men receive when they enter into our program is a complimentary suit, so we can start with the very first outward expression of; this is how a man dresses, this is how a man carries himself, this is how a man receives respect properly; and with that suit comes a set of instructions. That detail proper etiquette, how a man treats women and how he conducts himself in various situations, i.e., at work, with the police, with his family, etc.
We are able to carry out our theory of change through workshops that consist of the previously mentioned etiquette instructions as well as employment readiness, financial training, and professional development. We are building a community of men that are not only answering the call within their own family but are helping empower other men to do the same.
I am a firm believer that the majority of the trouble that we see in the world comes from fatherless homes, whether that be a young man who physically assaults a woman because he's never been shown how to respectfully treat her or a young lady who has a low value of herself because she's never been shown how to be loved by an honorable male. We are meeting these men where they are at and breaking these generational curses so that the blind is no longer leading the blind.
I am a huge advocate for men being who they should have been, so we serve men well into their 50's and 60's. It's never too late and no matter the age, a child always needs there father.
After months of developing this program, I remember sitting back and looking at the finished product spread out across my living room that my wonderful wife allowed me to destroy through my process, lol. I remember thinking here it is but then hearing God say, "Not here." I even spoke to my wife about what I felt like God was saying to me, and she instructed me to pray on it and sit with God. After a couple of weeks, I came to her and said: "Hey, we're moving to Texas." We prayed on it together and stayed still, and God answered loudly TEXAS!!! After that, we wasted no time creating a plan to move our family, our entire life, which was scary, considering the last time we moved from Seattle. But this was different, this was completely spirit led, and it has been ever since we've stepped foot into North Dallas.
Since arriving I've met so many people who see the vision and love the mission, I met an amazing Man Chris Shaw who owns Meek Minds a marketing and branding firm. His team has welcomed me with open arms and has supported me in so many different ways by creating multiple platforms for me to serve around the world; from my website development to my blossoming radio show.
I have received large investments valued well over six-figures of in-kind donations from the always serving "one Man's treasure as well as the incredible gentlemen Tai Moore of Adam Lusso.
North Dallas has changed my families life and has shown me the most heartwarming support and acceptance as I change men and their families lives.
Great, so let's dig a little deeper into the story – has it been an easy path overall, and if not, what were the challenges you've had to overcome?
It has not been a smooth road at all. The biggest struggle was that when we moved, I had a Job-ready, but when we arrived it fell through, and when I applied for other positions they fell through as well as one on Christmas Eve.
so the growth of Head of Household has been from my wife's single income and our savings account, but we continue to tithe and be obedient to the season that we are in.
other struggles that we have encountered along the way have been pretty normal for an entrepreneur; like people offering to help or false promises, but that's just business.
Head of Household Consulting – what should we know? What do you guys do best? What sets you apart from the competition?
What we do: We help Social Organizations change the world. We Tackle two problems at a time.
What we specialize in Program Development, Program Restructuring, and Program Management.
what we are known for: We are known for our Men's Empowerment Program.
What I am most proud of: I am most proud of the Men who have accepted responsibility and have embraced Accountability through our program.
What Sets us apart: What sets us apart on the consulting side is that we have 26 years of serving and developing programs that increase shareholders confidence and decrease consumer turnover resulting in a higher community approval rating
As for our program, we are preventative first, we dont believe in waiting until these men go to prison before we serve them, we operate through accountability and authenticity, We have the conversations that are hard and that a lot of people don't want to have. We hold up a mirror and address every consumer from a place of Love. Most of all we bring the program to you, we go to homes, neighborhoods, alleys if we have to. There is no barrier we won't drive through.
What moment in your career do you look back most fondly on?
My Proudest moment is when we reconcile a man with his family. The overwhelming emotion of when he comes home and the embrace he receives from his kids and their mother because nothing he's done matters the fact that he changed, took accountability and is taking responsibility is everything to them. It's those moments that are the clearest reminder of why we do what we do.
When we do an annual review of a program, and they show us the new number of families served after our adjustments provide such a confirming confidence that we are in the right place.
Pricing:
H of H Program Training Materials-$49.99 with (Complimentary suit valued at $500-$1000)
Contact Info:
Address: 10935 Estate Lane S362 Dallas, Tx 75238
Website: www.hofhconsulting.com
Phone: 2069397773
Email: headofhouseholdwa@gmail.com
Instagram: hofh_consulting
Facebook: HofHConsulting@accountabilityforus
Getting in touch: VoyageDallas is built on recommendations from the community; it's how we uncover hidden gems, so if you know someone who deserves recognition, please let us know here.