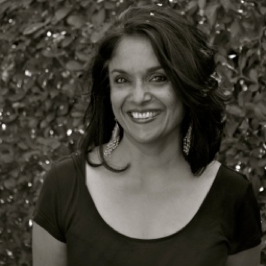 Today we'd like to introduce you to Bhavani Parpia.
Thanks for sharing your story with us Bhavani. So, let's start at the beginning and we can move on from there.
In 2012, I co-led a team of 17 teachers from the DFW area on a Fulbright mission to India. Our goal was to study the Millennium Development Goals. On our month-long stay in India, we visited and met with organizations, schools, NGOs, and government officials to learn about how they were addressing several of the MDG's, from poverty alleviation to gender issues and education for all. One of our visits was to an orphanage in South India. Heart-breaking as it was to learn that most of these children's parents had died of AIDs, it was devastating to learn that all the children at the orphanage were HIV-positive or had AIDS themselves.
Many of these children's families had abandoned them because of the stigma that AIDS carries. But, looking at these beautiful faces, what I saw was not a death sentence that each carried, but their sheer joie de vivre. As I sat with a young boy named Surya, eating lunch and laughing at his attempts to coax me out of my dessert, I forgot for a minute where I was and asked him what he wanted to be when he grew up. There comes a moment in everyone's life, if we are careful to watch for it, a turning point. His response to me was this moment. When he told me, matter-of-factly, that he wasn't sure that he was going to live to be an adult but that if he did, he would be a football (soccer) player, I felt such a sense of horror- not only at my thoughtless question to him- but at the unfairness of the whole situation. I knew I needed to do something. Martin Luther King, Jr. stated it perfectly when he said, "Never, never be afraid to do what is right. Society's punishments are small compared to the wounds we inflict on our souls when we look away". I knew I could do something that would have a more lasting impact. As a teacher, I had the skills and the resources to support the teachers at the school there and at other slum schools that we had visited. By the time we returned to the US, I had made a personal commitment to four urban slum schools that I would return the following summer and provide teacher development workshops. When we returned to the US, I set about forming a non-profit and by January of 2013, ConnecTeach was born! I was so confident that my idea to support teachers would garner support (back then, the focus in international development circles was to provide basic literacy skills, improve access to schools, or provide school supplies, and very little attention was given to teachers tasked with the job of educating children), that I got a group of teachers from local schools in DFW to return with me in the summer of 2013. I called foundations and corporate giving offices, and much to my dismay, while they loved ConnecTeach's mission to support teachers in underserved communities, they didn't want to support such a new (and small) non-profit. I did not want to renege on my promise to the four slum schools, so I took money out of my retirement to pay for one teacher and myself to return to India in 2013. Today, spread mostly by word-of-mouth, our reach has expanded beyond India to include several countries in Africa.
Great, so let's dig a little deeper into the story – has it been an easy path overall and if not, what were the challenges you've had to overcome?
No, this road has had more bumps and roadblocks than Interstate 35! But if there is one thing teachers know how to do well, it is to navigate obstacles effectively. If one needs proof, just look at what teachers have had to do during this pandemic! For ConnecTeach, our biggest and consistent obstacle is funding. We continue to remain a small, purely volunteer organization. Whatever support we receive goes directly towards our work with our partner schools in India, Uganda, and Tanzania. We have two potential opportunities in Kenya and Sierra Leone. But funding remains a constraining factor. It is easier to fund an organization where the return is immediate and visible. For example, if an organization provides school supplies and furniture or books, you see a quick return on your financial support. But the return on investment in supporting teacher development is not as easily visible, even though the impact is immense, generational, and far-reaching.
Another challenge that we face is the nature of some of the issues we try to tackle. Talking about gender barriers to education is about as difficult as talking about religion or politics. In many of the communities where we work, this is often a taboo subject, but one that must be acknowledged and negotiated carefully.
Please tell us about the organization.
ConnecTeach is a volunteer educational non-profit. We work with teachers in underserved communities around the world to build their leadership capacity so that they can be advocates for change in their communities. When I founded the non-profit in 2013, I intended to provide teacher development workshops to schools located in deprived communities—workshops that would help teachers provide the most effective instruction possible with the least amount of resources at hand. However, I soon realized that teaching is only effective when the barriers to learning are minimized. These barriers, often reflected as implicit and explicit biases, negative attitudes and behaviors towards girls, results in unequal educational outcomes. I also found that teachers, with just a little push in the right direction, are powerful in their efforts to bring about change. As proud as I am of the teachers we work with and their unbridled commitment to their students, I am equally impressed with our volunteer teachers. Our teachers, all local, understand that their classroom is global and that as teachers, we should share our best practices, not only within the four walls of our schools but also worldwide. What sets us apart from other educational non-profits is our recognition that teachers are the world's best natural resource to bring about a more just and equitable society.
Do you look back particularly fondly on any memories from childhood?
When I was young, my brother and I would spend every summer with our maternal grandparents in a small town in South India. Mornings were spent building kites, racing our cousins down the streets, and snuggling in bed with my mother, who suffered from a particularly aggressive strain of MS. Afternoons, the entire town seemed to get lulled into a stupor from the relentless summer heat. The adults would take their afternoon siestas, while the children tiptoed around sleeping bodies, trying not to get tangled up in the outstretched legs. Our great-grandmother, who lived with in the ancestral home, was a terrifying figure whose wrath, if her siesta was disturbed, was the stuff of legend (or so it seemed to a young girl). My grandmother, who was well-aware of the dares we would make to see who was brave enough to walk past our great-grandmother and the consequences of waking her up, found another way to keep us entertained. She would take us all to the kitchen for an afternoon of her special snacks. There we would sit in front of her with our hands out. As she'd ladle balls of seasoned rice into our hands, she would tell us stories, and we would find ourselves transported into a world of wise, fantastic beasts and talking animals. Every story had a moral about being kind, compassionate, or loving. What I remember most of those summer afternoons was my grandmother's patience as we would demand story after story, long after our snacks were finished, and how she seemed to have an endless repertoire. It occurred to me, years later, that while the house slept in those hot summer afternoons, my grandmother never did, and she never repeated a story.
Contact Info:
Address: 115 Wilmington Court, Southlake, TX 76092
Website: www.connecteach.org
Phone: 817-675-8196
Email: bhavaniparpia@connecteach.org
Facebook: ConnecTeach
Twitter: @connecteach
Suggest a story: VoyageDallas is built on recommendations from the community; it's how we uncover hidden gems, so if you or someone you know deserves recognition please let us know here.