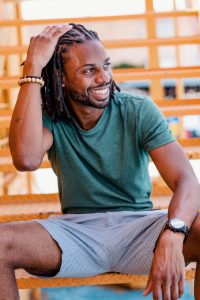 Today we'd like to introduce you to Brandon Watts
Brandon, please share your story with us.  How did you get to where you are today?
Have you ever found yourself sifting through old photo albums at your parents or grandparents' home?
I have and I always had to ask my family, "who are those people in the photo albums?"  In reality, I didn't know these individuals; however, my parents and grandparents allowed me to experience life changing factors by revealing the genetic relationships that I have with the people in the albums.  This was a "great" life changing experience for me. As a result of my experience, I'm highly motivated to provide similar experiences for you and your love ones. If you're willing to welcome me into your environment to provide you with quality and affordable photos, I'll be there for you.
In the future years, I would love for the photos that I snapped of you to be available so as to invoke the beautiful smiles on the faces of your love ones and friends.  This is the reason B. WATTS PHOTOGRAPHY exists. It will create an opportunity for me to help capture moments that will last a lifetime. I was born in Fort Smith, Arkansas, a graduate of Northside High School.  Later, I moved to Fayetteville, Arkansas and enrolled at the University of Arkansas – Fayetteville (UAF). I graduated from UAF with a bachelor degree. While a student at UAF, I became a proud member of Phi Beta Sigma Fraternity, Incorporated.
Being a photographer represents more love than work for me; I'm a proud father, raising a Queen, my beautiful daughter, Tatiana.  She is my everything, my motivation, my inspiration and my biggest fan. I live everyday to show her that when you combine your heart, mind and soul with faith, your dreams will come true.  I created a reality for her by capturing every moment of this life we live "one photo at a time."
Additional Information:
I purchased my first camera on January 6, 2015.  I remembered the exact date because I'm very sentimental to my love of art.  When I purchased my camera, I did it with the goal of having a part-time business on the side.  I didn't expect to fall in love with the art of photography as much as I have over the last few years.  So, to truly find my passion at the age of 28 (at that time) was mind-blowing to me. To finally feel the joy and love that so many people feel when they find their "love" career has been a blessing for me.
I graduated from UAF with a bachelor degree in Information Systems and a minor in Supply Chain Management and ERP Certified.  Because of my educational background, in January 2016, I decided to upgrade my camera to a more professional style in order to meet todays standards.  On October 19, 2017, I took a leap of faith and became a full-time photographer. I was given an opportunity to move forward in the photography business.  I received a 4-month contract doing product shots for Marshalltown Company's newest catalog. I had over 1200 items to photograph, ranging from the size of a business card to the size of a long vehicle.  In January 2018, the contract with Marshalltown ended. I became somewhat nervous thinking that I wouldn't have the clientele needed to continue working full time. But, my love for photography continued to grow.  Later that year, a fellow photographer/friend decided to invest in a rental space to create a studio. We became very active in searching for a building to invest in and create a professional studio. Today, we have a studio, "Studio 4seven9" located in Springdale, Arkansas.  It took us three months to completely renovate the building. In May of 2018, we had our Grand opening. What a success!!!
Overall, has it been relatively smooth?  If not, what were some of the struggles along the way?Definitely not!  I'm a single dad with "primary" physical custody of my nine-year-old daughter.  To help you understand the struggles that I have experienced, imagine all the bills related to family life and all the activities related to my new business.  When I moved from being a part-time to a full-time photographer and the thousands of dollars spent to renovate the building for the studio, life became more difficult with all the expenses necessary to move forward.  The first four month of 2018 prompted me to think about finding a part-time job to aid in funding the photography journey. In April 2018, I earned a total of $625. My house rent was more than what my earning was for that month; therefore, I had to charge several expenses to my credit card and withdraw money from my saving account to make ends meet.  Yes, this was a difficult time; however, it didn't deter me from becoming successful. After the stressful four months ended, life situation improved. Remember, Brandon Watts is not the type to throw in the towel and immediately surrender. I'm a fighter for success.
Because of the stressful four months, I had to fight and eventually I came up with a solution to move me forward.  I started attending more networking events throughout the state of Arkansas and several other states. These events allowed me to meet a wide-range of people, representing a variety of community organizations and businesses.  I was able to distributed information about my photography business and the 4seven9 studio. This allowed me to focus more on the business and less on finding another job. My main goal for 2018 was to complete the year with no debt.  This included making sure that all bills were paid, my daughter participated in all her after school activities, and that our standard of living was not damaged. My success involved creating a budget and staying within that budget. It was a success.  Thank God!!!
Please tell us more about your work.
Watts Photography is based out of Northwest Arkansas, specializing in commercial photography, weddings, studio portraits and on-location portraits.  I'm available for travel if you need on-site photography work done. If so, please contact me asap for updated information. I'm very proud that I was successful in moving through year 2018, expenses paid, building my clientele, and getting the B. Watts Photography's brand out to the public.  Studio 4seven9 is one of the best photographic studios in the state of Arkansas, if not the best. The studio is 2400 square feet. You're allowed to drive your vehicles inside the studio. Plus, the studio has a nice dressing room, allowing customers to get their hair and makeup done. If you like, you may request a glass of wine, champagne, scotch, etc.
The bright factor that sets me apart from others is that photography is not all about the money.  To me, it's all about passion. What keeps me motivated is love for the art. I truly love what I do, and I enjoy creating memories and art that could last throughout generations.  This is why I refers to my photographs as art, because it's more than just photos. If you get the chance, please notice the lighting in my photographs. The lighting is distinct compared to something else of a similar type.  I'm a photographer of the lights. I'm able to shoot nature light, but I mostly use artificial light in my photos. I'm a person who love controlling every single part that goes into a photo. If there is a shadow on the photo, it's there because I wanted it there.  This represents the best feeling for creating art and what helps me to set myself apart. As I mentioned before, my studio definitely helps set me apart. The majority of my clients are models who have worked with different photographers. They expressed to me that they have never been in a studio as large and nice as 4seven9.
What is "success" or "successful" for you?
I define success by being able to deliver more than what my clients expect from me.  If I'm able to take their breath away with each photo, this is success. Success is a personal satisfaction as well.  It's not always about how much money you make, but how much you enjoy your career. However, staying in the positive with one's business and profits is also a mark of success.
Plus, success includes being recognized as a photographer.  For example, my name is now recognized in Arkansas and several states outside of Arkansas.  To define success, I use a checklist. My checklist includes a profit margin set each year, raising the bar and an upscale clientele each year.
Contact Info:
Getting in touch: VoyageDallas is built on recommendations from the community; it's how we uncover hidden gems, so if you know someone who deserves recognition please let us know here.