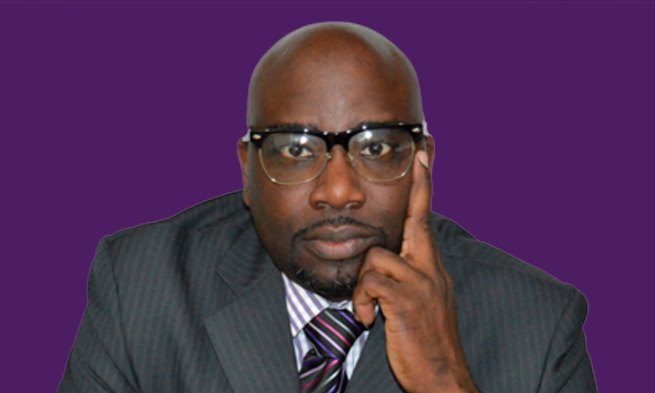 Today we'd like to introduce you to Carlos Wallace.
Carlos, before we jump into specific questions about the business, why don't you give us some details about you and your story.
Whenever I am asked to tell my story, I hesitate. How can you sum up a life that is in constant motion? It's not as if I do not know what to say; I'm just a firm believer that my "story", is in a persistent state of growth and maturity. Every single morning I take a breath is a new beginning and an incredible opportunity to either improve upon what I have been doing or to execute a new project or plan. This has always been my way of thinking. Seize the day, make a difference; never wait for a handout. My parents and my grandparents instilled that discipline.
I come from a long line of people who worked hard, broke down walls, crashed through ceilings and even made history. I was raised by a mother who did not tolerate nonsense or disrespect from anyone; an All-star collegiate athlete that was not allowed to sit at the same table with her teammates at restaurants, even when she led them to victory. She gave birth to me after one of the most intense basketball games of her collegiate career. Literally held me, in a delivery room hours after sinking a winning basket. Not even the excruciating pain of labor could stop my momma. These examples taught me resilience and patience. It helped me plow through inequities fearlessly, always knowing who I am.
I would spend hours in the private chambers of my grandfather, Oneal Hunt (the first black judge to sit on the bench in Palestine, Texas' Anderson County). There, I learned the value of principles, fairness, the law, integrity and strength of character. My grandparents were married for 68 years. That taught me commitment and great reverence for the sanctity of family.
I am a fifth-generation railroader inspired by a legacy that drives me to work hard, show up, and go after what I want no matter what opposition I may encounter. My uncle Rube was the first black railroad conductor for Missouri Pacific (one of the first railroads in the United States west of the Mississippi River!) So you see, I have always had outstanding role models.
The fact is, living up to the memory and the expectations of the men and women who raised me, while a weighty responsibility, is my driving force. Because of them, I began working at the age of 11 on a paper route I managed for five years. I joined the Navy because my father (a towering figure at home and in the workplace that everyone respected) encouraged me to explore a world outside of East Texas.
However, despite traveling the globe until I finally settled down in Houston, I never underestimate the impact of a small town upbringing. I grew up in Jacksonville, Texas and that background has kept me grounded and proud. I know my East Texas community is always watching and I never want to disappoint the people who care about me and who helped raise me. My small-town rearing even kept me out of prison! Thanks to my "village", my family, my strong ties to the community, I was given a second chance at a very early stage of my adult life. Trust me when I tell you, the thought of losing your freedom is a powerful incentive to do right at all times.
The first 40+ years of my "story" inspired a best-selling book ("Life Is Not Complicated, You Are"), and eventually, a second book (The Other 99 T.Y.M.E.S: Train Your Mind to Enjoy Serenity). The first chapters of my story encouraged me to start my own company (Sol-Caritas), imparted the knowledge I needed to manage top entertainers, authors and journalists. They prepared me to become a mentor and youth advisor, empowered me to move to New York to begin a new phase of personal and professional life.
Essentially life is a gift that definitely keeps on giving. My duty is to pay whatever benefits I receive, forward.
Overall, has it been relatively smooth? If not, what were some of the struggles along the way?
Anyone who tells you that their life has been easy has not lived life to the fullest. This is a hard question to answer because while I am a huge proponent of transparency, I am also a very private person.
Let me say this; if talking about the personal difficulties I have faced over the years helps one person realize that we as human beings of faith can overcome anything life throws at us, I am all in.
The most important people in my life—my parents and grandparents—died before I was 40-years old. To put it in even greater perspective: My mom (my best friend, my protector, my hero) passed away when I was 27-years old. I was devastated. She left a void in my soul that will never be filled.
I have hit a rock bottom personally, financially, mentally and even emotionally. I've lost tens-of-thousands of dollars in failed business ventures, lived through several name storms while in Houston. I've had to reset my life after a divorce, suffered betrayals at the hand of family and friends.
The irony is, because of my upbringing, I never let it show. I never asked for help or even displayed an ounce of evidence that I was having trouble. I'm not wearing that as some kind of badge of honor, I'm just being real. I know a lot of people (especially men) that handle issues in that way. Some of my best friends have revealed they've faced tragedy, illness, unemployment and no one ever knew. In a way that stoic persona made the challenges even more difficult! I powered through and emerged on the other side stronger and much wiser, but I learned that sometimes it really is ok to reach out to those you trust and who care about you. My experiences showed me that no one should suffer in silence. I have become acutely sensitive to how my close friends and loved ones act on a daily basis, making sure they know I am here to lend an ear, a shoulder.
Now, let me be clear: Everything is NOT for everybody. Choose your "shoulder" and your "ear" very wisely. For the record, social media should not be where you bare your soul or air out your problems or issues. I want to make sure anyone reading this understands that. Like the bible says: Above all else, guard your heart.
I guess this is a great example of how anyone can use their greatest challenges to help others.
Tell us about your company. What do you do, what do you specialize in, what are you known for, etc. What are you most proud of as a company? What sets you apart from others?
That's a whole lot of questions! And another book! -laughs-
I'm so proud of this company, I don't know where to begin. Before I tell you what we do, I have to say, Sol-Caritas would not be where it is today were it not for the contributions (literally the tireless effort and blood, sweat and tears) of my team. Every single person who works for us, with us and who supports the company has helped build Sol. I may be the face of the company, but our team is the heart and soul.
Sol-Caritas is a Houston-based entertainment and philanthropic company. I founded the company in 2007 when I lost my job with the railroad. I needed a way to subsist, to support my family. Since its inception, Sol-Caritas has been the leading provider of ground-breaking comedy and poetry events.
We've produced shows at renowned venues including New York's historic Apollo Theater, Caroline's Comedy Club on Broadway, the Verizon Wireless Theater, Dallas Convention Center and the Addison, Arlington and Houston Improvs. The company features prominent, established personalities while also nurturing fresh talent. Our stable of artists includes award winning standup comics from Houston, Dallas, New York, Chicago and Los Angeles. Sol employs artists with reputable television and movie credits and well-established celebrity in the ever expanding online media market. Shows with Cedric the Entertainer, the Top Dogs of Comedy, Tank and Montell Jordon, YouTube mega-sensation Eddie Brown, Tyler Perry movie and television star Cocoa Brown, Piper the Comedian (Hart of the City Season 3), New York television News Anchor (and standup comic) Liz Faublas and many other local cutting edge artists create a backdrop for the diverse profile of Sol's business objective: providing high caliber talent, celebrated events and a body of work that represents a passion for comedy and respect for the arts and entertainment industry.
Because our company believes generating arbitrary shows cheapens the art of comedy and poetry/spoken word. Instead, we produce meaningful quality events and develop innovative long term projects that ensure the growth and longevity of our company. Whether Sol produces one, one-hundred or one thousand successful shows, we never rest on our laurels. The goal is to evolve and progress, to improve our product, fascinate our audience and challenge our associates in the industry to follow our lead.
While promoting entertainment shows is the primary focus, what sets Sol apart in our industry is our philanthropic spirit. Sol-Caritas assists local charities, gives back to education through scholarships provided by the Alice Wallace Scholarship Fund, and supports businesses by offering valuable sponsorship advertising.
My work as an author. My books are both bestsellers (Thanks to major support) and have been incorporated into the academic curriculums of schools in several cities including Houston's Lone Star College. I'm in the process of launching a mentorship project with York College in Queens, New York; a plan that will use the message in "Life Is Not Complicated, You Are" as its core.
My fiancé and I recently produced an award-winning show based on my second book called, "The Other 99 T.Y.M.E.S: Count Your Blessings." Season three of the program is in the works. We are very proud of this show and the message: Stop focusing on the one-time things go wrong in your life and appreciate the 99 times it works in your favor.
What is "success" or "successful" for you?
(My best definition of success is the excerpt my book, "Life Is Not Complicated, You Are")
"He led by example and set the bar high. You would be hard-pressed to find a kinder, smarter, stronger and more compassionate man. He was every mother's favorite son, every man's hero and every pastor's personification of Christian spirit. Stacy never backed down from a fight but he never went looking for one either. He was always there to protect someone from discord and also to mediate skirmishes. Young men viewed him as a mentor. Young women, the kind of man they would marry or have their daughters date. His life was dedicated to the service of others; a selfless, sincere individual who left an indelible mark on the lives of everyone he touched. And he touched thousands of lives.
Take my word for it, I do not exaggerate this measure of the man's influence because at his funeral there was not enough room in the chapel to accommodate the sheer multitude of mourners who gathered to pay homage to an individual every single person in attendance admitted: "changed my life". There were men and women, teenagers, young children all present to testify about the heart of this hometown hero. His generous deeds outnumbered the loved ones who hugged and cried and remembered his amazing legacy. Stories of kind acts (some we never even knew about) weaved throughout the pews and the congregation. And I could not help but think to myself, this is the truest evidence of success. No amount of money, property or businesses could outweigh the hope and inspiration and the happy, healed and protected hearts that Stacy left behind. I am not certain if he ever knew how many lives he transformed. But what is important is that he did. Those he guided while he lived will carry his mission forward and (I pray) continue his purposeful acts now that he has gone to glory. I know now one must live as we wish to be remembered.
Pricing:
* Life Is Not Complicated, You Are $16.95
* The Other 99 T.Y.M.E.S: Train Your Mind to Enjoy Serenity $16.95
* Comedy / Poetry Show tickets $20 (General Addmission) $30.00 (VIP)
Contact Info:
Image Credit:
Charles Andrews
Christopher Allen
Suggest a story: VoyageDallas is built on recommendations from the community; it's how we uncover hidden gems, so if you or someone you know deserves recognition please let us know here.