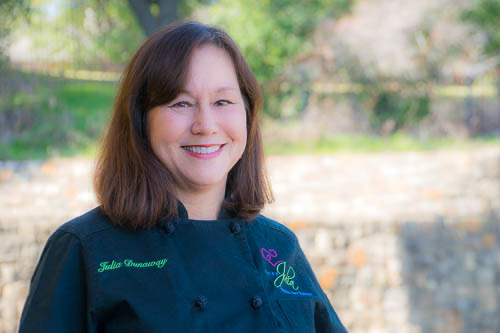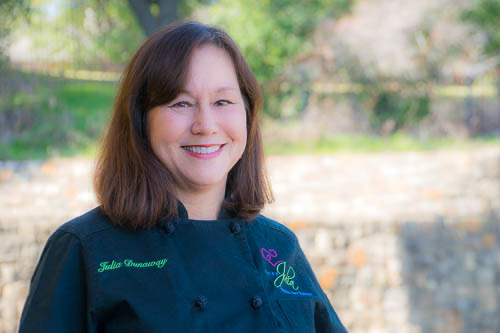 Today we'd like to introduce you to Chef Julia Dunaway.
Chef Julia, can you briefly walk us through your story – how you started and how you got to where you are today.
I haven't always been a chef. I was in the military and the uniformed services for a total of 30 years. I was one of the first women to serve as a police officer (law enforcement specialist) in the United States Air Force. I went on to earn a master's degree in social work and serve as a mental health professional in both the Air Force and the United States Public Health Service, first as a clinical social worker, then as a social work administrator. My hobby was cooking so I enrolled in culinary school in 2008, thinking of a second career as a chef one day. I graduated from the Culinary School of Fort Worth in 2009, with honors. I started Chef Julia in early 2010, initially very part time, as I was still on active duty. My original plan had been to become a personal chef or cater private events, however I soon learned that neither suited me. I really enjoyed teaching others to cook, though, and that's where I focused my attention. I taught numerous cooking classes on everything from Japanese food to American comfort food, grilling pizza, making paella, baking, and more. In 2017 I became one of the Fort Worth Blue Zones project chefs and conducted cooking demonstrations around the city. The "blue zones" are five areas in the world in which people enjoy a very long and healthy lives. I was always fascinated by the lifestyle and diet of these populations and had read a number of books about them, so I knew the best diet for longevity and health. It was later in 2017 when I decided to eat a 95% plant based diet like the people in the blue zones in an effort to reduce my cholesterol and blood pressure, both of which had been on the rise for a couple years. I also wanted to stop taking the medications I had recently been prescribed. After only a few months on the 95% plant based diet I was able to reduce my cholesterol enough to have my doctor take me off the medication. My blood pressure lowered significantly as well, although I'm still taking a low dose of medication now. Previously, the doctor had increased my medication and it wasn't working. I walk 5 miles nearly every day, lift weights twice a week and have no health problems at the age of 65. I'm able to stand on my feet cooking and teaching for 12-14 hours and recover by the next morning. In 2018 I made all my scheduled cooking classes plant-based and have continued to offer plant-based classes throughout 2019. People have traveled from other states to attend my classes and I routinely have people drive from Houston, Dallas, Glen Rose, and cities 3-4 hours from Azle and some even flying in from out of state to attend a class. I am currently following a whole food plant-based no oil way of eating, like the one described in the Netflix video, Forks Over Knives. It's a bit challenging but so worth it!
Alright – so let's talk business. What else should we know about you and your career so far?
My business is called Chef Julia. I am a professional chef and I specialize in whole food plant-based cooking. My main activity is teaching cooking classes in my classroom at my home in Azle, Texas. I post a schedule of classes on my website, chef-julia.com, people sign up, pay, and then come to the class on the scheduled date. I provide a beautiful, relaxing environment, welcome snacks and drinks, detailed recipes, plenty of samples, and in most classes, everyone enjoys a plate of food at the end, served on platters with real plates with real silverware and cloth napkins. I also have a number of private intensive workshops with individuals, couples, or families who are desiring to add more plant-based dishes to their diets or even become completely plant-based, as well as group cooking class parties for people celebrating a birthday or accomplishment. Right now my most popular private intensive workshop is called Plant Based Basics where we focus on meal prep and easy dishes. I conduct cooking demonstrations around Fort Worth in a effort to share my way of eating with others and show them how easy it is to cook this way.
I'm very active on Facebook and currently have over 3,000 followers on my Chef Julia FB page. I have a private FB group called Chef Julia Support Group where I post food photos, recipes, and encouragement to people working toward this way of eating. I also post daily food photos on Instagram.
I think what sets me apart are the face to face classes and the attention to detail I place on what I do. The process of preparing the food, offering instructions on cooking techniques and providing samples of the food is important. The relaxed setting, being around like-minded people, and having questions answered on the spot provides a unique experience for those who are starting to embrace a plant-based lifestyle.
What are your plans for the future? What are you looking forward to or planning for – any big changes?
I plan to keep teaching classes and I'm working on a cookbook in 2020 called A Year of Chef Julia, with stories of the people who attend my classes along with recipes and photos of the classes.
Contact Info: