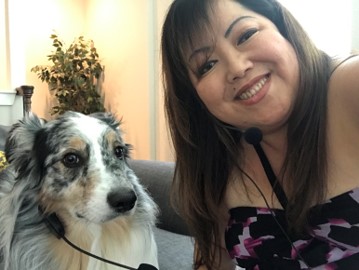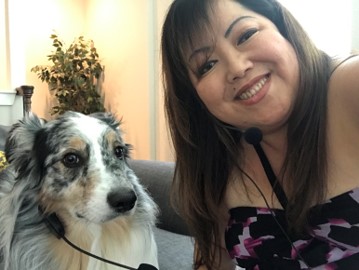 Today we'd like to introduce you to Chong Kim.
Thanks for sharing your story with us Chong. So, let's start at the beginning and we can move on from there.
I was born with a congenital defect in South Korea and my uncle, who is from Texas, rescued me from being discarded. In the 1970's, South Korea did not have any regard for disabled infants. If the families didn't have the cash for treatment, then the doctors often suggested to discard the infant. My uncle, who married into our family, resided in Dallas, TX but was stationed in South Korea for active duty in the US Military. He brought me to the United States so that I could be treated. My medical condition is Osteo-Arthritis Hip Dysplasia; however many people don't view me as disabled. On the contrary, my joints are quite fragile and brittle.
I grew up in Oklahoma most of my life and visited Dallas during the summer or whenever I could. I am the oldest of four girls in my family. While growing up, I endured domestic violence, sexual abuse, and rape as early as three years old. When I was a teenager, I was so tired of the abuse at home that I ran away and fell into the foster care system in Oklahoma. Unfortunately, I continued to be abused by various foster homes. By the time I aged out of foster care, I knew I wanted to be an advocate for children. When I turned 18, I enrolled in a Vocational School for Law Enforcement. Due to unforseen circumstances, I only completed one year of training.
During the summer of '94, I was brutally raped by a cab driver in Oklahoma. When I lost the case against my perpetrator, I also lost my hope and dreams. I got involved with alcohol, became promiscuous, and began working as a dancer in a Gentlemen's Club near a military base in Oklahoma. I became susceptible to the vulnerabilities a Human Trafficking. Even though I was a dancer, I was still looking for someone to love me. So I got cleaned up and moved to Dallas to continue my education in Law Enforcement.
While I was transitioning from Oklahoma to Texas, I met a handsome Marine, at least I thought he was in the service when we first met. We fell quickly in love and I trusted him without a doubt. When he asked me to travel to Florida with him, I enthusiastically agreed not being aware that my nightmare would begin at this point. Yes, I was trafficked in the mid 90's from approximately 94-96. I was forced into prostitution on behalf of wealthy buyers that were powerful people. No gender, race, or age was exempt from this dark world. I endured the day to day abuse, torture and even witnessed other girls/children being abused and discarded. I was forcefully injected with narcotics so that I had become an addict.
I was afraid but I also experienced 'Stockholm Syndrome' to help me stay alive. When the buyers are of status and wealth, how would our voices be heard? No one cared. I began to strategize my escape by becoming a female Madame. As such, I moved up to become the head of an elite Escort Service in Nevada. I wanted my traffickers to trust me enough to allow for freedom of movement. Once I was able to establish their trust in me, that was when I enacted my escape. I climbed through a vent in one of the Casinos and made my way outside.
I utilized the tools that they taught me to keep me safe from how to avoid the police to staying below the radar. Throughout my journey in the aftermath of my escape, I traveled like a runaway fugitive. I sojourned by Greyhound Buses, hitch hiking, and other means for travel. I didn't linger in one city or state too long for fear of being discovered and recaptured.
In 1998, I met my son's father, Carlos. He was my first love and he taught me about recovery. When he learned about my past, he didn't cringe or treat me like a sex object. Instead, he equipped me with the means to survive in a healthy way. He said to me, "If you want to get back at the people who enslaved you, the best revenge is to become the success they can never imagine." He passed away six months later which the coroner labeled as 'suicide'. I was devastated, but I also was pregnant with his child. That inspired me to remain strong.
After the birth of my child, I decided to get clean and live a healthy life. I moved to Minneapolis, MN in the fall of 2001 and in 2003, I volunteered as an Advocate for Battered Women. It was at that moment I learned about the term 'Human Trafficking.' When I began my research, I had discovered that the TVPA (Trafficking Victim Protection Act) provided amnesty, social services and even legal representation to victims of Human Trafficking. The problem was that American victims were not considered 'victims'.
This made me angry that I felt compelled to speak out. I began speaking out from a grassroots level and grew from there. Eventually, I had the opportunity to share my voice on Montel, CNBC, MSNBC, CNN, HuffpostLive and more.
A film was made about my story called, "Eden" starring Beau Bridges and Jamie Chung, it was loosely based on my personal account of being trafficked. Through the film, it gave me an opportunity to expand my opportunity to educate people about Human Trafficking, so I started writing a series which is a procedural show about a female survivor who works alongside the FBI Taskforce to teach them how to think like a trafficker. Through the profits of the TV series, I'll be giving portions to charity and continue using the series as a platform to educated on a broader audience globally. Today, I speak with and teach law enforcement, community leaders, churches, and schools about the harms of Human Trafficking and equip them with the knowledge to combat this horrific crime.
Through all of this, I can proudly say that I am an overcomer-trendsetter.
Great, so let's dig a little deeper into the story – has it been an easy path overall and if not, what were the challenges you've had to overcome?
Being a public speaker and sharing my personal account hasn't been easy. In 2013, a movie about me was released called 'Eden'. As my public profile became larger, I was viewed as a threat to those who believe in Legalizing Prostitution and those who are affiliated with Escort Businesses. They attempted to slander me and try to discredit my name and my story. I was threatened and bullied via internet, social media and even through my phone. I was cyberbullied. I was devastated by this defamation and was left isolated after the slander occurred. However, I refused to remain silent.
I did not stop advocating, teaching, and speaking to those who believed in me. I continued to rescue victims who were enslaved and helped provide resources to those in need. I have housed over ten young women with children in my home to help ensure their futures.
Please tell us about Chong Kim.
I'm recreating a new trend by utilizing music, arts and media to educate viewers about social justice issues. Not just for entertainment, but also to create a platform for further discussion. For example: My plan to launch the scripted series will be in a form of a Season, given approximately 10 episodes per season, in between the seasons I'll have some of our cast along with real survivors, NGO's (Non-Government Officials) and Law Enforcement at the same panel so we can also create legislative changes and speak in various states to ensure that every victim is given adequate resources and safety. We'll also create financial assistance to nonprofit organizations that are grassroots. It's a way to bring stories to life while at the same time giving back. There has not been anything like this before. A survivor-led story writer for Television and to bring change to the masses.
Do you look back particularly fondly on any memories from childhood?
Even in the midst of my abuse at home, I would 'pretend' I was Annie or some underdog character in a Disney film and would sing and play as if I was somewhere else and I was going to be somebody.
Pricing:
Broken Silence, my memoir paperback $20.00
Contact Info:
Website: www.iamchongkim.com
Phone: 310-971-4623
Email: chong@iamchongkim.com
Instagram: @iamchongkim
Facebook: @iamchongkim
Twitter: @iamchongkim

Image Credit:
Amaya Allen, Alexis Dixon, Kalilah Harris, Quentin
Getting in touch: VoyageDallas is built on recommendations from the community; it's how we uncover hidden gems, so if you know someone who deserves recognition please let us know here.