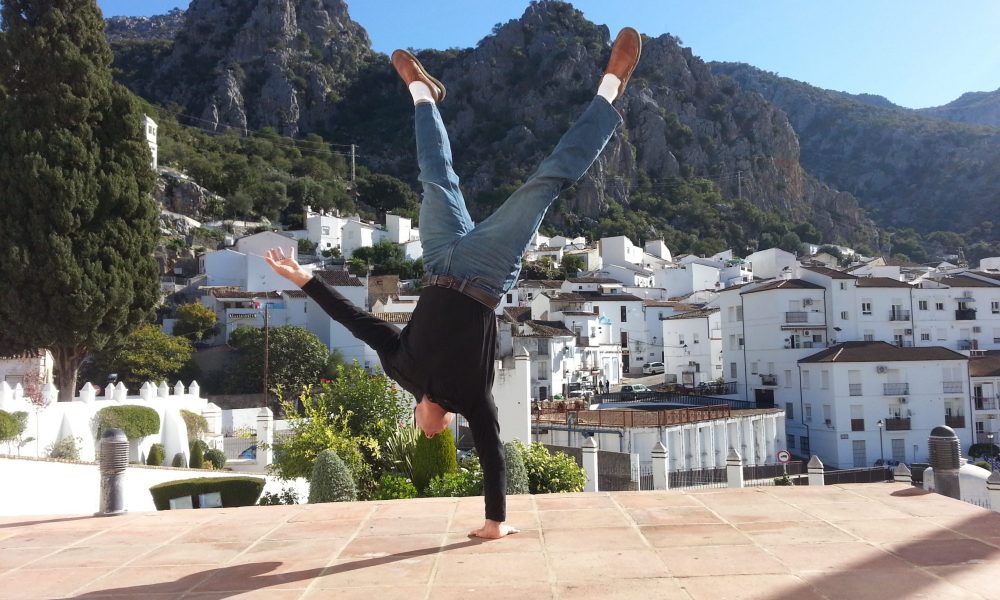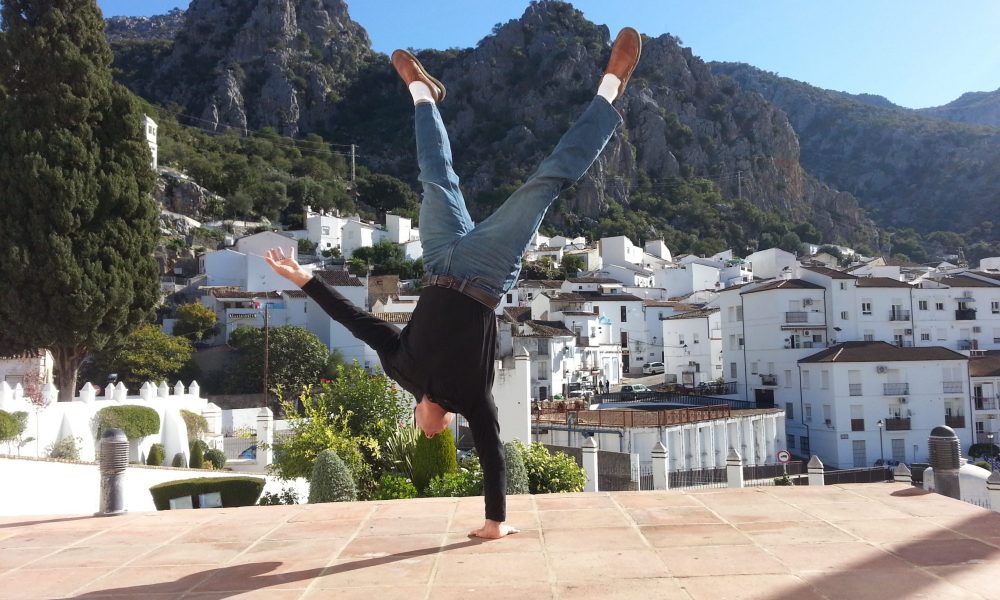 Today we'd like to introduce you to Craig Callaway.
Craig, let's start with your story. We'd love to hear how you got started and how the journey has been so far.
As a kid, I remember sitting in the living room with my grandfather seeing who was more flexible. Every time there was a gymnastics meet on TV, my dad would look at me and say "That's going to be you some day". In elementary school, my parents enrolled me in a gymnastics class at the local rec center. My first grade girlfriend was a competitive gymnast and taught me how to do a cartwheel and an aerial. Back then, they didn't have a name for Parkour or Free Running, but that was definitely what I was doing…dive rolls over the furniture in the living room, running up trees, and hurdling fences to get away from my big brother.
At the end of 8th grade, I tried out for the high school gymnastics class. I sprained my ankle trying a round off for the first time, but I made it. We had a gymnastics team my sophomore year, and then I was asked to try out for cheerleader. I had never heard of guy cheerleaders, and in a small town, it didn't sound like such a great idea. There ended up being four guys, all a great representation for the first male Yellmen (the student body refused to call us cheerleaders) at Mansfield High School. The football team showed up at SMU Cheer Camp to watch, and we earned their respect. When school started back, if you had something bad to say about the Yellmen, you had to go through the football team first. After our first pep rally, we were accepted. They ended up having guys for the next 9 years!
I had aspirations of going to OU to compete in gymnastics, and then the Olympics. It wasn't happening. I started too late, and wasn't good enough, but I was doing great in cheerleading! I was stumped. I didn't know where I was going to college, and I knew nothing about trying out for college cheerleader. Then, I took an all-star team to SMU Cheer Camp (we're talking way back in the beginning with one of the first all-star teams….yes, I'm that old), and was recruited by the mascot of Trinity Valley Community College….none other than Jeff Ayers (aka: Baby Bop on Barney the Dinosaur). I was also asked to be on the NCA Staff. What I thought was going to be a step down from gymnastics became a nice side step into a whole new world.
Two of the best years in my life were at Trinity Valley Community College as a Cardinal Cheerleader! We competed at nationals my first year (1987) and got 2nd place. The following (1989) year we won! In 2013, our team was placed in the TVCC Hall of Fame, because we were the first team in any sport to win a national title.
From TVCC, I went to Oklahoma State University to become a Cowboy cheerleader and to get a degree in Speech Communication. My first football game was at Ohio State on their 100th anniversary. There were 94,000 people at that game and it was AMAZING! We did the traditional OSU chant and the Ohio fans joined in. Words can't describe the rush! In 1990 we got 2nd place at college nationals, but in 1991 we won with the largest recorded margin ever! We were then asked to fly to Japan for 2 weeks to perform all over Tokyo and at the JAL Cheer Nationals. We were treated like rock stars!
As an NCA Instructor, I taught camps of up to 1,500 kids. I became a Head Instructor & Collegiate Instructor (which is be considered their highest honor). I was also asked to work the Macy's Thanksgiving Day Parade. A moment of gloating…How many people can say they got the entire New York subway to do the wave? This guy right here! I was also selected to be on the USA All Stars, which was made up of the top 20 cheerleaders in the US, and perform in Taiwan for 2 weeks. Again, we were treated like rock stars!
My twin brother, who is a photography professor at Baylor University, and I took a vacation to Bali, Indonesia for a couple of weeks. While there, we took a tour around the island. We stopped at a temple sitting on top of a volcano overlooking another volcano that was active. Next thing I know, my brother was making friends with the Hindu Priests. They asked what I did and we were having a hard time explaining cheer coach to them. My brother finally told me to do a back flip…"Oh! Guru!" was their response!
After graduating from college, I moved to Tulsa, OK and eventually opened my own gym, Callaway Cheernastics & Fitness Center (CCFC) from 1993 – 2003. We had the largest Coed All Star program in Oklahoma, The Wolf Pack, and I created the first Coed Stunt Class in Oklahoma. My students were recruited by colleges across the country! For several years, half of TVCC & half of OSU were my kids. During that period, I was approached by American Cheerleader Magazine to become their Tumbling & Stunt Editor for that magazine and their coaches' magazine CheerBiz. I wrote for 10 years, until they were bought out by Varsity in 2012. I was recommended by my peers to become a competition judge, and then was requested to speak at Coaches Conferences across the US and in Canada on how to coach tumbling and stunts.
I sold my Tulsa gym in 2003 and moved back to Texas. I was burned out on the all-star industry. I did not like the direction it was going. I basically took a sabbatical and traveled the world to coach. 1st stop, the Palace Crystals in England. After 12 years, I still fly up every other year and it's like visiting family. In 2013 & 2015, I took my son Cameron to help coach. Next stop the Valley Stars in BC, Canada, whom I had the pleasure of taking to Worlds in Orlando. I haven't been up in a few years, but I do miss the girls and probably the best chicken wings I've ever had at Wings in Abbotsford, BC. I was also making regular visits to Seattle, WA to work with Galaxy / South Elite All Stars & Portland, OR to work with West Coast Extreme. If I ever leave Texas, I will move to Seattle or Portland.
In 2008, I received a phone call at 3 am from a girl named Hyo. She was the head cheerleader for the cheer team at Cheong Shim Academy in South Korea. They basically got the run around from a previous choreographer and wanted me to fly up and train them for Worlds. After it's all said and done, I flew up for two weeks, had 20 hours to train them, choreograph, and clean up. We then flew straight to Orlando for Worlds. I had a level 1 team in a level 5 competition and had the time of my life! I was so proud of those girls! They had no expectation of winning, but if they went, it would make it easier to get corporate sponsorship for future teams. By default, the top 3 teams from each country made it to finals, therefore the South Koreans qualified for finals! They got 15th out of 22 teams, beating out my Canadian team. They came home rock stars!
I flew back 2 more times to work with them, and was introduced to the Korean Cheerleading Association. They gave me a tour of Seoul and asked if I would help them build up cheerleading in their country. Believe me, I almost moved to South Korea, but had to decline because my wife and I just gave birth to triplets! I made friends with some of the professors at Cheong Shim (some of the smartest people I know) and still keep up with the kids on Facebook. Hyo went on to cheer at MIT.
After moving back home to Texas, I worked at various gyms and started judging and traveling more and more. In 2010, I was approached by the FieldhouseUSA to open a gym. I decided then that I wanted it to be all about the kids and their skill development. As an all-star coach, it's all about the choreography & the trophy and not about the individual kids. I didn't want to be that coach anymore. In 2015 we left the Fieldhouse and expanded in Frisco.
In 2013, I was asked to fly to Spain to coach the 6 time European Champions on a military base in Rota, Spain. I took my son Cameron to coach, and my daughter Chloe & step son Trevor for their first trip overseas. Wow what a trip! My kids made some friends for life, we toured Sevilla & Cadiz, got their senior pics taken in a castle in Sevilla, had dinner & Thanksgiving in the base commander's home, & were given a tour of the airfield from the US Air Force Southern Command. For 2 hours he spoke to my kids in the back of a C5 on his story & what the kids wanted to do with their life and career. I have had the pleasure of working with the Rota Admirals the past 4 years and helping them win two more European titles. I look forward to the next visit!
We're always bombarded by how great it is to pursue your passion, etc – but we've spoken with enough people to know that it's not always easy. Overall, would you say things have been easy for you?
There are always ups and downs in business. I've found that the hardest times are typically followed by the best of times. It's scary, but the clouds will blow over and the sun will come out again. My biggest challenge right now is finding an investor to help me build my dream gym. I'm not used to asking people for help. Also, warehouse space with high ceilings is almost impossible to come by these days.
So, as you know, we're impressed with The Tumble And Stunt Institute – tell our readers more, for example what you're most proud of as a company and what sets you apart from others.
Presently, my philosophy is all about the kids. Learn it Safe! Learn it Right the First Time! The Tumble and Stunt Institute is a skills based gym focused on the kids and the direction they have chosen, whether it be cheerleading, dance, gymnastics, power tumbling, parkour, or a guy just wanting to learn how to do a back flip!
MENTAL BLOCKS
Presently, we are the go to place for Mental Blocks. We are neutral territory, and the only agenda is what the kids want/need. We will push them, but we also understand that a mental block is typically caused by a traumatic event. A lot of coaches don't understand how to handle a mental block, nor do they have the patience. Because of that, they can make it worse. I get attached to these kids, and we get emotional together! There are always tears of frustration as well as tears of joy!
DANCERS
TSI does great work with Dancers! More and more dancers are coming in to TSI to learn that Aerial or Walkover! Several of our coaches speak dance fluently!
GYMNASTS
Gymnasts will come to us to improve their tumbling and get that extra push to clean up or gain a new skill! We haven't had a complaint yet from a gymnastics coach on the technique we teach.
COMPETITION CHEERLEADERS
We get lots of All Star Cheerleaders wanting to learn that new skill to "Level Up!" All Star gyms get caught up in the routine, and don't always push new skills outside of that routine.
SCHOOL CHEER
TSI has built up a reputation as the place to go if your daughter wants to cheer in middle or high school! Our Cheer Tryout Clinics are packed, and we get great results!
COLLEGE CHEER
One of my favorite parts of coaching is helping kids get onto college cheer teams, and sometimes getting up to full rides in scholarships!
So, what's next? Any big plans?
I have plans of expanding into a larger facility, but finding available warehouse space with high enough ceilings in the area is almost impossible.
Contact Info: