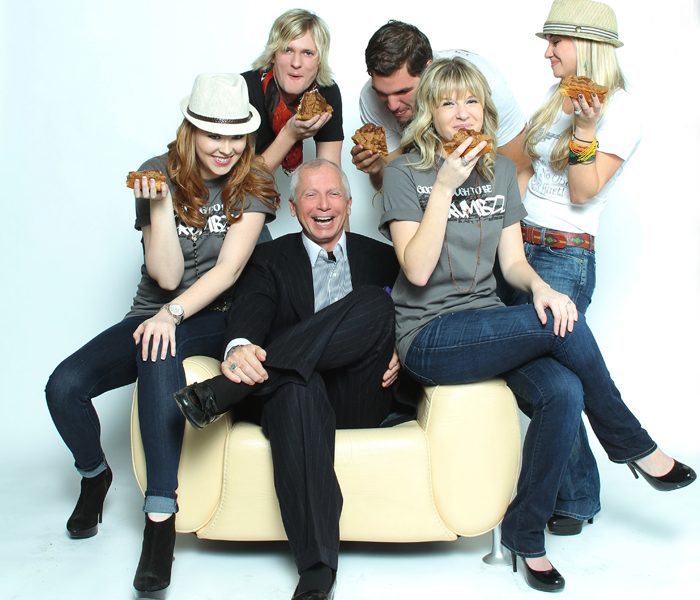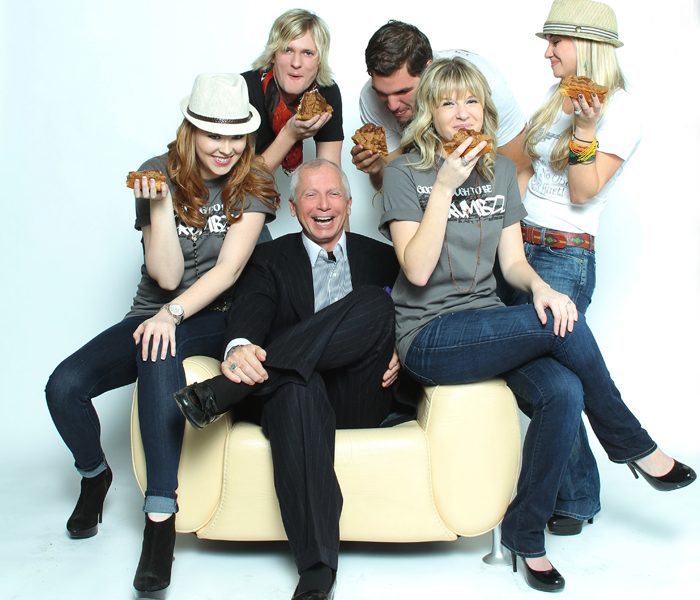 J Stephen Sadler has been providing his artisan crumb cakes to enthusiasts worldwide for over twenty years. The story of how he got there is one of near misses and chance encounters.
Today we'd like to introduce you to J Stephen Sadler.
THE LOST RECIPE: J Stephen had heard many stories about the four-hundred year old family crumb cake from his parents, aunts, uncles and grandparents. All had fond memories of enjoying the now family famous cake many times at family gatherings but, somewhere along the way, the recipe was lost. Every year at Christmas, a family member would unsuccessfully take a stab at reproducing the historic offering, to no avail. When J Stephen's grandmother, the last member of the generation who had actually made the cake, passed away, all had thought the recipe was gone forever. But, upon cleaning out his grandmother's night table, his uncle inadvertently broke the drawer and unbelievably found the lost recipe under its broken frame. J Stephen was provided with his family jewel and the rest is history.
THE BEGINNING: First offered to the public in 1999, the Sadler family crumb cake found a welcome home in the tiny Hudson Valley Hamlet of Highland Falls. Snuggled beneath the shadow of the Appalachian Mountains of upstate New York, this town of 2500 people kept their crumb cake secret until 2001, when a New York City resident named Chuck Deller happened upon his "epicurean pot of gold". Deller brought his find back to the City and the secret of the Sadler crumb cake was out for good.
By 2001, lines of "cakers" waited anxiously for their chance to enjoy the next slice of the  family crumb cake, fresh out of the oven. By 2002, over 4,800 slices a week of the regular, chocolate, apple and apricot crumb cakes were being enjoyed by loyal customers in the tri-state (New York, New Jersey and Connecticut) area. In 2002, growing tired of the long cold winters, J Stephen sold his operation and moved south. And there the story of this very special crumb cake could have come to an abrupt end.
A NEW START: When J Stephen sold his company, he sold everything BUT his family's crumb cake recipe. For seven years, the famous little Crumbzz crumb cake became a wonderful, but distant memory. That is until 2009 when J Stephen ran into an old customer in, of all places, his new home town of Dallas, TX. Stories of the days in Highland Falls eventually got around to those famous crumb cakes and the customer asked if J Stephen would bake a special crumb cake just for him. "Finding my old recipes was a real challenge, but I eventually located them in a dusty old box in my attic. From there it was like riding a bike, once I started, it all came naturally." Fifteen years after the recipe was lost under a pile of dust, J Stephen is once again creating his "once famous" Crumbzz Cakes, along with a new twist that has been the talk of North Texas.
A BISTRO UNLIKE ANY OTHER: During his travels around the world, J Stephen grew fond of the European style of dining and the unique twists European chefs took to craft outstanding dishes. Each visit was more an experience than a meal and J Stephen decided to bring this special experience to the USA.
Opened in 2012 in the Dallas suburb of Forney TX, the Crumbzz International Bistro has a uniquely European bistro feel, where art, music & the Crumbzz culinary creations coexist in harmonious symphony. The offerings & atmosphere is more like Italy or France than small town Texas.
The family's 400-year old Austrian recipe crumb cakes are found here. Sounds of Bocelli & Brightman fill the dining area, where guests enjoy the comfort of Italian marble counters, blue slate floors, Carrera leather seating and sculpted aluminum tables which add to the chic feel of this exquisite contemporary dining pavilion.
The beauty of this bistro is the perfect setting for the uniquely international menu which features; Gaufre Liège waffles from Austria; Gamberaia blueberry ricotta pancakes, Caprese salad, Roma tomato basil soup from Italy; Gruyere egg soufflés, two types of Parisianne quiche and brûléed oatmeal from France; Fribourg grilled cheese from Germany; Albacore tuna salad's & sandwiches from Denmark; Catalina Isles Eggs Benedict from Belize; and Banana Rum French toast from Jamaica. These are just a few of the international offerings made exactly as they are made in their respective countries, all prepared by classically trained chef's. The Crumbzz Forney International Bistro has been such a success that Sadler is set to open his second bistro in the Las Colinas area of Dallas in the fall of 2018.
We're always bombarded by how great it is to pursue your passion, etc – but we've spoken with enough people to know that it's not always easy. Overall, would you say things have been easy for you?
"Crumbzz has always been an all-natural company. Our cakes are made using the finest natural ingredients in the world. Bourbon Vanilla from Madagascar, ultra-fine cinnamon from Vietnam, dark Muscovado brown sugar from the Mauritius Islands, European low gluten flour and dark origine chocolates from Tanzania, are just a few of the specialty ingredients that make our crumb cakes so special.
Today, with "all natural" and "organic" being key identifiers, we find it much easier to procure all natural ingredients. But, not too long ago, locating all natural producers was an expensive, time consuming and often futile endeavorer. Today, all our offerings are previewed by a nutritionist to assure we are maximizing our potential to provide healthy, chemical free dishes. In addition, we provide 3% of our profits to benefit sustainable farming, fair trade and environmentally conscious offerings. This type of participation was nearly impossible just a few years back", states Christi Beach, Crumbzz Head Chef and GM of the Forney location."
Chef Beach goes on to state that "J Stephen is always focused on providing our guests with a uniquely Crumbzz experience. His travels around the world have provided our bistro with dishes that can be found nowhere else. The pressure of finding the "next great dish" always presents a challenge. J Stephen has brought back unique dishes from many European countries, Japan and is now making annual visits to Central America and soon South America. Finding something that is unique AND palatable to American tastes has always and will continue to be our primary challenge.
We'd love to hear more about your business.
"We are very proud of what sets us apart", states J Stephen. "We try to provide our guests at our international bistro and our clients who purchase our crumb cakes online with more than simply a meal or cake. Our focus has always been on providing an "experience" that they won't soon forget. To accomplish this, we view every small detail as an important part of our overall offering.
Our cake packaging features natural colored lids, black belted leather finished bottoms, wrapped in imported Jacquard ribbons and finished with old-world wax seals. Personalized chef cards, individually signed by the creating chef, accompany each cake. Gifted artisan cakes receive gold leafed gift cards with the senders personalized messages to provide the ultimate finishing touch. Our cakes have always been special. We wanted to make sure our packaging complimented our family treasure inside."
Guests at the Crumbzz Forney International Bistro are also in for a unique experience.  Fantiscritti Tuscany Italian Marble counters from the same quarry as Michelangelo's statue of David, complimented by Buckingham Slate floors and the original preserved bead wood ceiling of the historic Forney structure are just a few of the features that make Crumbzz guests dining experience special. Custom Corona accent lighting peeks through the beautifully sculpted, free-floating Velella sails that drift down from the ceiling. Authentic stage lighting is strategically placed to highlight the beautiful artwork of local artisans that is changed every month. Sounds of Bocelli and Brightman fill the dining area, where visiting guests enjoy the comfort of Carrera leather seating and sculptured aluminum tables, all designed to add to the chic feel of this exquisitely contemporary pavilion. Each element is designed to provide guests with an environment where they feel comfortable to kick back and enjoy the moment.
The unique look and feel of the Forney International Bistro has already attracted attention from architects such as the famed architectural photographer Howard Doughty, to movie producers who chose our site to film the short film, New Hope. In addition, Crumbzz won the Best Downtown Business award partly because of their partnership with local artists who are able to place their art upon the bistro's walls.
What were you like growing up?
Executive Chef J Stephen grew up in the New York area as part of a Roman Catholic family of two brothers and two sisters. As J Stephen recalls, "I remember, we were pretty religious, going to church every Sunday and even making the sign of the cross every time we passed the church. I was also an alter boy and went to Catholic school from first grade through high school. My family was always close with not only my siblings but also cousins, aunts, uncles and grandparents who used our home as the family gathering place on a daily basis.
With my father having been a singer in swing bands in his day, music was also a constant in my family and it became my first passion. As a teenager, I convinced my father to pay for guitar lessons which, he later would say was a "waste of good money" because I used those lessons to form a band that played "that dasderly music" called  rock and roll. For several years, my band would play gigs across the northeast. At that time, I thought that music would be my calling.
Although my family's crumb cake recipe came from my father's Austrian side of the family, it was my Italian mother, as was her tradition, who was the real influence on my family's love to cook. Every Sunday all our relatives would haul over to our house to enjoy a typical Italian family gathering of way too much food, music, card games and laughter. Those times were some of the fondest memories I have of my childhood.
Interestingly, every one of my siblings took an interest in the family cooking tradition except for me. It wasn't until I met Chef René Verdon, the chef for the White House during the administrations of John F. Kennedy and Lyndon B. Johnson, that I realized that I had a passion to bake. Around that same time, the re-introduction of my family's 400-year old crumb cake recipe was the impetus that started me down the path that eventually would lead to where I am now and my little company known today as Crumbzz."
Pricing:
10″ round cakes $43.95 – $46.95

Minizz Snack Cake Trio's $22.95

Minizz Snack Cake Party Boxes 10 – cake $53.95 20 -cake $86.95
Contact Info:
Website:

 

www.crumbzz.com

Office/Dallas Bakery Phone:

 214.628.6060

Forney Int'l. Bistro Phone:

214.541.9665

Email:

 greatcakes@crumbzz.com
Getting in touch: VoyageDallas is built on recommendations from the community; it's how we uncover hidden gems, so if you know someone who deserves recognition please let us know here.