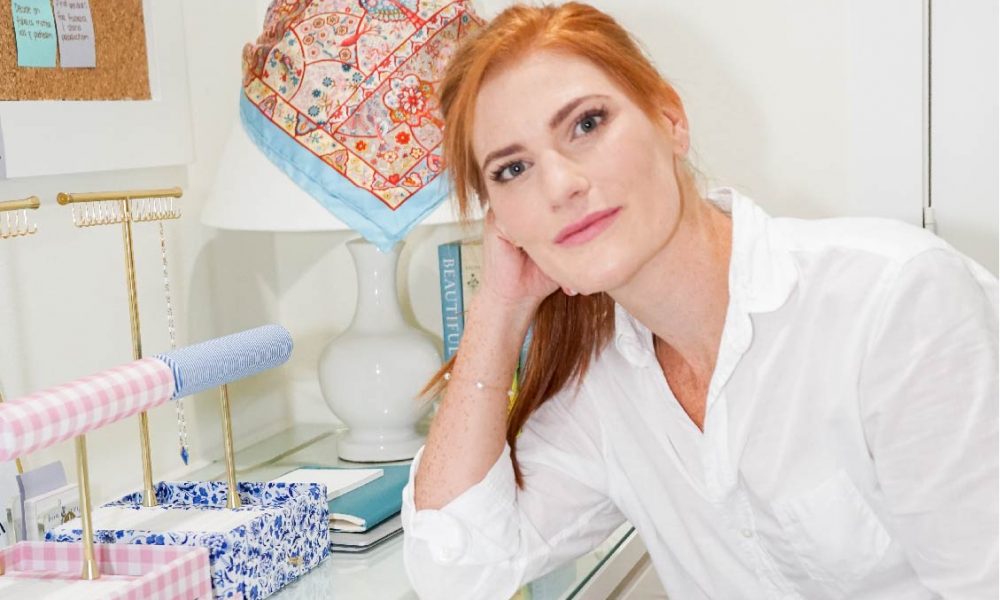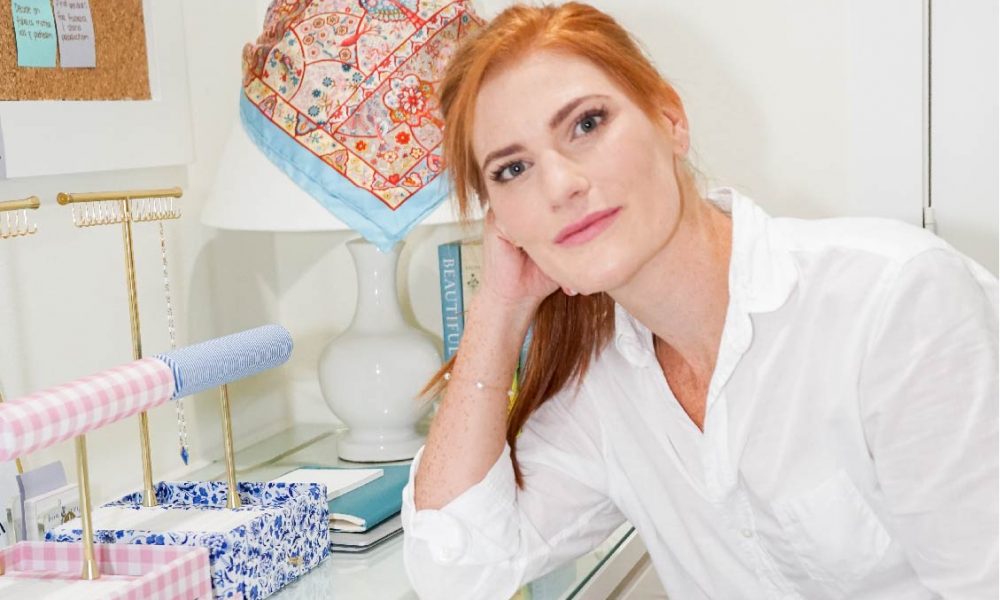 Today we'd like to introduce you to Dana Browne.
So, before we jump into specific questions about the business, why don't you give us some details about you and your story.
In the summer of 2017, my husband and I moved back to Dallas after spending three years in Washington, DC to be closer to family after having our first son. Going through the nesting process in our new home, I kept coming back to trying to find a good means to store my jewelry. My collection is very small, only having a few pieces of each category. I did not want to buy one big, expensive jewelry box, and no stands could accommodate all jewelry types, meaning I would have to buy multiple fixtures. Additionally, all functional options require you to sacrifice aesthetic or visa versa.
One night while searching what seemed like the 100th website looking for something that was both beautiful and functional, a jewelry stand design came to mind. The next morning, I sketched the jewelry stand while sitting at the breakfast table, four months pregnant, with my husband and one year old. I looked at it and said, "I can sell this." The gap in the market was just too considerable to ignore, even with everything else going on in our lives.
I took my very layman sketches around the DFW area, first asking local retailers with similar target audiences if it was something their customers would like and if they had any feedback. After this practice, I was asking anyone and everyone if they would be interested in the product if it were available. Once I saw it was a viable venture, I enrolled in the "Starting Your Own Business" course at Southern Methodist University and started educating myself through articles and videos on how manufacturing, shipping, and distribution work. I made a lot of mistakes; some minor, some major, and most expensive, but all were good lessons.
Fortunately, after falling on my face too many times to count, a good friend of mine introduced me to a company that did both global procurement and packaging and logistic services. I finally had experts I could lean on to help me get to the finish line. After a year of shopping factories and going through the prototyping process with my new resources, I finally had a company, brand, and product I was proud of. I did a soft launch in August of 2019 to get out all the kinks before my big kick-off in late-October.
It has been a lot of work, hours, and tears, but never at any point do I think the effort is wasted. I believe in Bow & Sprig and what I am trying to build. Through the highs and lows, I always tell myself, "this is going to work".
Great, so let's dig a little deeper into the story – has it been an easy path overall and if not, what were the challenges you've had to overcome?
My biggest challenge had nothing to do with creating and developing Bow & Sprig. I am scrappy, logical, and capable, so while getting the company up and running was a lot of work, my ignorance in the world of production was not my obstacle, I was.
When I decided to start this company, I was crawling away from years of suffocating my needs and ambition in the name of what I thought I "should" be doing. One of my top personality traits is "responsible", so after I graduated college, I looked at society's checklist of what's next and went full steam ahead. I got married at 22, volunteered to yield my professional ambitions to support my husband's, and embraced the idea that it is my job to support and sacrifice as we build a life together. In hindsight, this was just me finding an excuse to simplify my future. I was terrified at the idea of the unknown and taking a chance on just me.
Marching forward with this mindset, I left a fulfilling career in employee benefits consulting, so we could move to Washington, D.C. for my husband's work. At first, I loved everything about the city. I worked, played sports, and went out with friends. It was the typical "young adult in the big city" life. That is until it all came to a screeching halt when I had our first son.
I suddenly found myself as a stay-at-home mom, with an infant who had an extreme case of colic, a husband who worked around the clock, and no family near to help. Out of desperation, I would pay babysitters twice to going rate in hopes they would come back, but my son was having such a hard time, they never did. When I would ask for help from friends or family, I was met with words of encouragement from a distance. I got to the point where I would look at the stairs, musing that if I accidentally twist my ankle on them then someone, anyone would have to come over and help. I was broken. From years of denying to acknowledge myself, I was left with no voice, no identity, and a child who would not stop screaming.
In a last-stitch effort to give myself something to connect to beyond the walls of our home without rocking everyone else's boat, I applied to a master's in liberal arts program at Georgetown University which held classes at night. I got accepted, but before the semester even began, the damage had been done. For my own sanity and for the well-being of my family, I decided/demanded we move back to Dallas where I would have more support.
Arriving in Texas, I was at the lowest I had ever been. I felt like a failure, a quitter, a bad mother, a bad wife- I did not have a nice word to say about myself. Looking back at it all, I truly believe it was being in this state that gave me the moxie to start a company. If I failed, who cares? I was already in a deep hole of depression, so what was a little deeper? It was in this moment of salience that I decided I needed to do something for myself beyond just existing for others. Starting my own company was only the catalyst for a greater change I needed to make.
My obstacle has been the voice in my head that I gave the megaphone to for the previous five years; dismissing myself, my abilities, and my worth for others who I hid behind, convincing myself they were more deserving of pursuing their aspirations. At every turn in starting this company, I have had to challenge and change my internal narrative to match the narrative I created in my business plan. As a result, in both business and life, I am finally able to identify and articulate what I need and why instead of just thinking about making myself smaller so I do not inconvenience others. Sometimes, all we need are the tools to define what is wrong; it is a lot easier to defeat your enemy when you know who or what it is.
A year and a half after making this change, one that has been a process and still is, I have two boys, a part-time job, my own company, a husband who is my partner, and the warmest feeling knowing the best is yet to come. I do not know who started the rumor that there is something noble about sacrificing yourself to be a good mother, wife, friend, etc., but it is simply not true. My family is my home, but they are not my anchor. Understanding this has been my greatest challenge and my greatest triumph.
Please tell us about Bow & Sprig.
Jewelry storage options have always been limited. It seems you must either choose between function or aesthetic, cheap or expensive, limited or bulky. For something as basic and consistent as jewelry, there should be a better option. That is why I started Bow & Sprig.
Bow & Sprig believes in the idea that everyday items can be made with both function and aesthetics in mind. Bow & Sprig's jewelry stand accommodates all types of jewelry while maintaining a compact and beautiful design. It is perfect for any countertop or shelf. With no space wasted, it can store necklaces, bracelets, earrings, rings, and everything in between.
Beyond just being able to hold all jewelry types, each feature has a thoughtful purpose behind it. The hooks are extra narrow so you may hang your necklaces by their clasps to avoid their chains rubbing on the metal. The bracelet cylinder is narrower to accommodate all wrist sizes and bracelet shapes, even large hoop earrings. The ring slots and drawers are velvet-lined to ensure even the most delicate pieces are protected. These are just some examples of how Bow & Sprig is challenging and changing the status quo for jewelry storage.
Our intention for function and passion for beautiful design is the cornerstone of our mission. We are hoping to expand these principles to more products in the near future.
Do you look back particularly fondly on any memories from childhood?
When my family lived in Charleston, SC, we had a house on a marsh that would be breathtaking at golden hour. At the end of every day, my parents would have cocktails on the porch, listen to Frank Sinatra, and just talk about life. Some nights, I would join them, and every so often, what would start as a conversation would lead to a full-blown dance party. Those memories make my heart full and serve as a happy reminder, while you should work hard, you should also play hard.
Pricing:
All four color options of the Bow & Sprig jewelry stand are $138 with free shipping.
Contact Info:

Image Credit:
Kirsten Chilstrom
Suggest a story: VoyageDallas is built on recommendations from the community; it's how we uncover hidden gems, so if you or someone you know deserves recognition please let us know here.