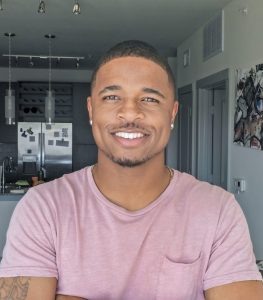 Today we'd like to introduce you to Darryl Wyrick.
Darryl, please share your story with us. How did you get to where you are today?
I'll start by saying the platform that I use now, pushing the agenda of reading more, is not the path that I ever saw for myself. In college, as an athlete, I would always say that I was one-and-done. I had plans to go chase a dream in California and just needed to get by.
As time came got closer to me graduating and making the decision to follow chase the dream, I spoke with a guy who I'd soon come to know as my professor, Dr. Mark Giles. Upon meeting him, I did not know that he was a Professor nor did I know he taught on Educational Leadership. So in talking with him about my plans, I told him that I was over school, how I'd never go back to school for a Masters, and just spoke not too highly of getting an advanced degree.
Dr. Giles let me finish and then shared his story for how he ended up teaching college courses and that was never his path. Once we finished the conversation, I felt like Dr. Giles opened my eyes to a new world of possibilities. Not to share any of his story but hearing from another black man speak positively about overcoming adversity and all that life has for you was empowering.
From that day forward, I made it a point to plant that seed of hope into each person that I come in contact with and be the light that he was for me that day. Fast forward to now where the platform that I use to be that light in this virtual book club called, Unravel the Pages. I launched Unravel the Pages in February of 2018. I created this because in March 0f 2017, I made a vow to self-educated and read more and I finished out the year reading twelve books.
For 2018, I made a goal to finish 18 books in the year, but I wanted to ignite others to join a similar challenge of simply setting a goal to read more. It's been a successful year, collectively we read six books, and I was able to give out two $500 scholarship to two bright students of my alma mater who want to spread the same light on the benefits of reading in black and brown communities.
For 2019, the plan is to reach even more and continue to be a beacon of hope to all and continue to talk about literacy in our communities and the importance of self-educating.
Overall, has it been relatively smooth? If not, what were some of the struggles along the way?
I wouldn't say it's been a smooth, but it hasn't been extremely bumpy thus far. I have to be cautious as I say that because there will be an instant level-up. Initially, I had no idea if I would have people that wanted to be a part of this movement if you will so I was definitely surprised. I would say one of the struggles, and it's a good struggle, but it was managing time.
At the time, I was working in higher education, so of course in that industry, you don't have the ideal schedule. There would be times, I would be in my office starting the book club at 7:00 not leaving till about 8:30 and then beginning my hour-commute home. The reason I say it was a good struggle is because even though physically I may have been tired, the conversations we were able to have were energizing. They were definitely what kept me going.
Other than managing time, I wouldn't say there's been a big enough struggle to mention. This has been a fulfilling journey most definitely.
Alright – so let's talk business. Tell us about Unravel the Pages – what should we know?
With Unravel the Pages, I host a weekly virtual book club. We talk about books from different genres and break down what we were able to take from each chapter. Each month I select the book, and I break it up into four weeks, or whatever is manageable for majority, and assign questions for everyone to discuss. At the end of the book, we discuss the book in its entirety and how we were able to learn/grow from this.
Currently, I work for American Airlines where I'm a Senior Analyst in the Pilot Recruiting and Development office. There I manage our mentoring programs and work with closely with our American Airlines Cadet Academy. In this Academy, it is our duty to train cadets to be commercial airline pilots, and I walk with them throughout their journey.
I ensure the implementation of professional and personal development, creating a true leader in the cockpit for the worlds largest airline. Prior to this corporate opportunity, I worked in higher education where I was a Program Coordinator for a mentoring program. With having my Masters of Education in Educational Leadership and Policy Studies, I would say my specialty would be in leadership development/mentorship.
What am I most proud of would have to be the scholarships that I was able to give in the name of Unravel the Pages. I think giving back to my alma mater in that way and putting my money where my mouth is, pushing the emphasis on literature/reading allowed me to see the magnitude of what was happening. Reading those applications for and seeing not only how they were planning to use the money but also hearing their plans visualizing the impact, and talking about the importance of literacy in black and brown communities was mind-blowing and humbling. I was honored to be able to be the vessel to share that light, share their light.
What I believe sets me apart from others is the ability to continue to set a high standard of excellence and work to exceed that. For 2018 alone, I set the goal for 18 books and last week I finished my 31st book. I have a hunger for wisdom and with I constantly use it as fuel to do better and educate not only myself but my peers, the generation behind me. I want to see us all do better. Iron sharpens iron, and I believe we have to empower, educate, and uplift each other before we can expect it of anybody else.
And to do that you have to be aware of the resources to do so effectively. There's nothing new under the sun, so somewhere there is a book that will help you understand what it is you're going through or that you've witnessed. Why do you think there was a time it was illegal for us to read? People have always known the power that's in a book, now we have to realize that same power and capitalize on it.
Any shoutouts? Who else deserves credit in this story – who has played a meaningful role?
First, God. For planting that idea inside of me and choosing me to bring that to life. Of course, there are many others that deserve credit, but I'll say to anyone that has supported me in this journey. Specifically, those that have been a part of Unravel the Pages… thank you.
They have become extended family, and I appreciate them. They've given me feedback, and we've grown together in a sense because we discuss hardships and different perspectives, which requires a sense of vulnerability. Of course, I have to thank Dr. Giles, who I don't know if he knows till this day, for that seed of hope he planted.
The only way that I can pay you back is to pay it forward because I know that'd be what you want. For the higher ed professionals that I've had conversation about this with, I definitely have to say thank you. There have been a lot of people that have supported the cause so to each and every one of them, they deserve a bit of credit.
Contact Info:
Email: thedarrylwyrick@gmail.com
Instagram: @_dw06
Getting in touch: VoyageDallas is built on recommendations from the community; it's how we uncover hidden gems, so if you know someone who deserves recognition please let us know here.