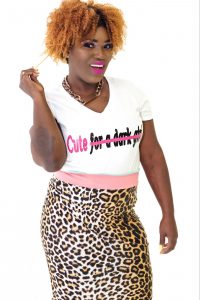 Today we'd like to introduce you to Dee "lilD" Porter.
Thanks for sharing your story with us Dee. So, let's start at the beginning and we can move on from there.
I wanted to be a rapper when I grew up. My goal was to be the next Tupac, as I truly believed I was the brain he sparked that would change the world. In 12th grade, the radio night jock in my hometown of Shreveport, Louisiana was having a freestyle battle live on air. I called in, won nine weeks in a row, and they had to "retire" me as the champ. The night jock and I stayed in touch, as he would check on my school work and just be a big brother to me.
When I got to college, he asked if I wanted to be on his show. I said "I guess…" 14 years and 5 cities later, I'm the midday personality on 97.9 the Beat. This is an extremely tough industry. I've had low self-esteem most of my life. And when I started doing radio, my confidence became even more shaky. I was in an industry that basically told me I wasn't pretty enough to be there because my skin was dark and my hair was kinky. For a long time, I believed that.
By the time I was 17, I had been raped twice, so I already believed that nobody saw any value in me, other than to use me. But something in me continued to fight for this radio dream. While doing radio in Toledo, Ohio, I wound up getting fired and evicted from my house. While I had a part-time job at the radio station in Cleveland two hours away, I wasn't making enough money to move. So I put my things in storage and moved into a motel when I could afford it, and my car when I couldn't. Not a hotel… a motel. A nasty, hot, smelly motel with prostitutes and drug addicts.
My dad said "you know you can come home and start over," and without hesitation, I said "if I come back home, I'll be out of radio again. I'll figure it out." After three months of homelessness, I moved into a closet of an apartment in Cleveland. It was the happiest day of my life. As I began to gain confidence through daily self-affirmations (I didn't even know they had a name; I just knew I should start saying nice things about myself), I wanted my work to reflect that. So I used my radio platform to start an organization specifically dedicated to uplifting young girls.
You Go G.I.R.L. (Grinding In Real Life) began because I knew that while I love radio, my purpose on earth is to help girls realize their worth earlier in life than I did. I currently lead several different annual projects and events to fulfill this purpose.
Has it been a smooth road?
I used to be very outgoing, the first one to make a friend. Then I was raped when I was seven and became very secluded. I voluntarily lost my virginity when I was 12, on a floor at my middle school. He told me I wasn't ugly, and I had never heard that before. He didn't even say I was pretty. Everyone found out, and I was the mockery of the school until I graduated.
When I was 17, I was raped again, one morning before school. When I got to class, the first thing someone said to me was "you smell like sex," with the most disgusted look on his face. After my second failed suicide attempt, I realized that I sucked at trying to kill myself, and I wanted to get comfortable with myself if I was going to live. It took me until I was 25 to look at myself and say with certainty, "you're really pretty."
So imagine finally gaining a shred of confidence, just to realize you're in an industry where you're not stereotypically pretty. I've been passed up for jobs because my hair wasn't straight. Because I didn't have on makeup. They won't come out and say "you're ugly." They'll say "you should soften your image," or "you would look really nice with straight hair." Or my favorite, "you don't look how a female personality should look." If you don't have tough skin, this industry will chew you up and eat you for breakfast.
I've cried so many tears, just wishing I looked like other female jocks who seemed to be getting ahead, but something inside of me wouldn't allow me to compromise who I was. I knew I needed to keep this natural hair and embrace it, even though it was costing me money and opportunities. I just knew there were too many girls who looked like me who needed to know that they too were beautiful. And now I'm in the largest city in which I've ever done radio. This is currently the longest I've ever worn my natural hair at any radio station.
When I was homeless in Ohio, I would do my airshift in Cleveland, Saturday morning 9am-12pm, sleep in my car, then drive back to Toledo. I can vividly remember only having a loaf of bread and peanut butter and jelly to eat, for days at a time. One minute, I'm lilD the radio girl, and 5 hours later, I can't even feed myself. And no one knew. I could've gone home and started over, but I had no interest in NOT pursuing my dream. Performing was the only thing that made me happy, so I fought for it. And the gamble paid off.
So let's switch gears a bit and go into the Grinding In Real Life story. Tell us more about the business.
Grinding In Real Life's goal is to help good girls become great women. And every aspect of the organization is dedicated to that goal. The biggest event we do is called "12 days of Christmas." I pick 12 girls and let them live their dreams for a day, by shadowing a woman in their desired career field. If they want to be a dancer, they learn a routine. If they wanna be a chef, they'll cook.
And it's all led by a woman already doing it. We film each girl's activity and turn it into a miniseries. I moved to Dallas last May, so I was nervous about pulling it off without having a big name in the city, but 2018 was the biggest year of the five years I've been doing it.
I also have other events, like the Mending Hearts Project, where we deliver treat baskets to women in the domestic violence shelter, and the Single Mother's Day Brunch, where we treat single moms and their kids to a catered brunch with music and inspirational speakers who are also single moms.
We sell shirts as well, each one having a message dedicated to uplift our girls and women.. My favorite says "cute for a dark girl" with everything after "cute" scratched out. My radio station supports my efforts, which is a first for me, so there's nowhere to go from here but up! I see huge things for my future in Dallas!
How do you think the industry will change over the next decade?
A lot of people say radio is being phased out in favor of streaming services or satellite radio, but that's just not true. Billboard just put out an article about this, and radio still has the most listenership of any music provider. However, a lot of jocks are being let go and getting replaced with syndication.
Get used to not having as much local radio as before. Jocks really have to get in the streets and make a name for themselves outside of radio, if they have any chance of survival. So hopefully we'll see more personalities genuinely doing community work and partnering with different organizations for the betterment of their city.
As far as my organization, I believe the power of social media will nurture relationships amongst organizations with similar goals, which will only benefit the community. There will always be people who only help for the "likes" and retweets, but what's true will always stick around.
Pricing:
You Go G.I.R.L. Tee – "Dark Girl" – $20
You Go G.I.R.L. Tee – "Hair Like Wool" – $20
You Go G.I.R.L. Tee – "Self Esteem" – $20
You Go G.I.R.L. Tee – "Pretty Productive" – $20
Contact Info:
Website: GrindingInRealLife.com
Email: info@grindinginreallife.com
Instagram: @LILDonAIR and @GrindingInRealLife
Facebook: GrindingInRealLife
Twitter: LILDonAIR
Image Credit:
Vital Plug Media, Shutter King Images
Getting in touch: VoyageDallas is built on recommendations from the community; it's how we uncover hidden gems, so if you know someone who deserves recognition please let us know here.