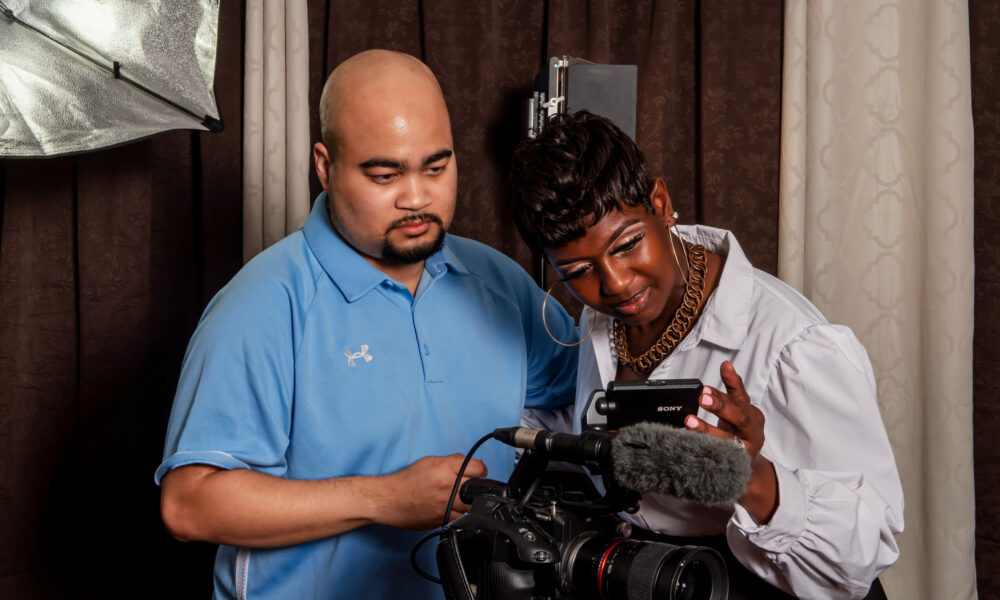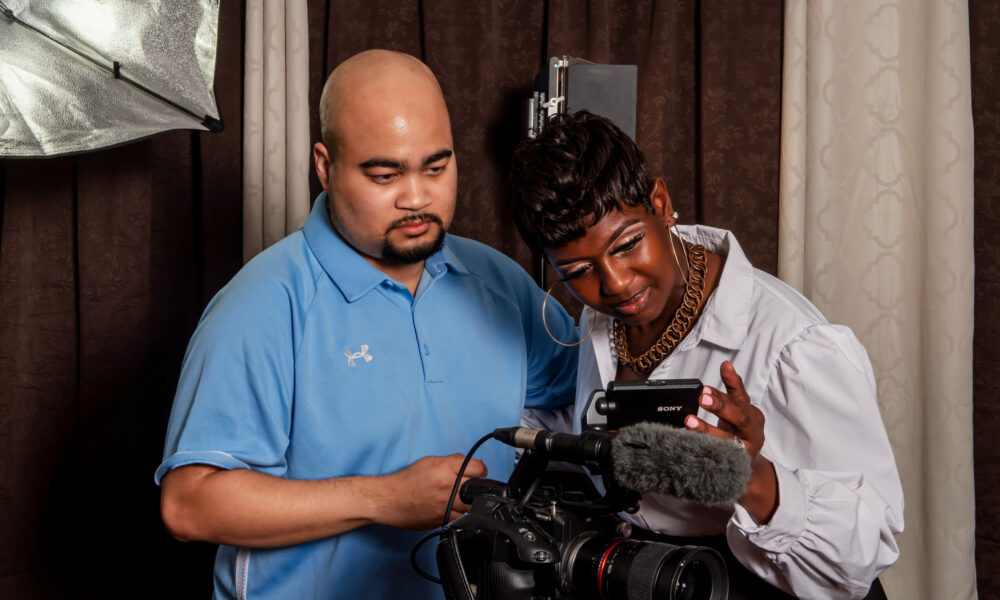 We're so pumped about our conversation with Edwin L. Williams II. Edwin is an Actor, Filmmaker, Photographer and is also a content partner. Content partners help Voyage in so many ways from spreading the word about the work that we do, sponsoring our mission and collaborating with us on content like this. Check out our conversation with Edwin below.
Edwin , it's been too long since we last connected. Thanks so much for taking the time to share your thoughts with our community again. Some readers might have missed our prior conversations, so maybe you can kick things off for us with a quick intro?
Hi my name is Edwin L. Williams II. I am an actor, film maker, cinematographer, photographer, and whatever you want me to be (just kidding). Well, I've always had a passion for storytelling, entertainment, and being a bit over the top. So sit back, relax, and I hope you enjoy my story. It all started one night, while driving home from work, I saw a digital billboard promoting an acting college near Downtown Dallas. I had not acted in anything since high school, but something pulled me towards looking up the college and finding out more about it. So I enrolled back in 2013, and before you knew it, I had my Associate in Applied Arts Degree from KD Conservatory. While I was there, I was given valuable advice from one of my instructors that I may have to pave my own way. I don't have a look as far as getting the book for a role on appearance alone. So how do I get someone to give me a chance? The answer to that question came in the form of a person. Alfonso Davis III is perhaps the biggest reason I've been successful. He was already doing YouTube skits before I met him at acting school. He wrote, filmed, edited, and performed in all of his content. I was asked to play in one of his skits. Of course, I took that opportunity and made the most of it. I asked the question about his process, how he edited, and what I should do to get started. He was accommodating and guiding me in my early years.
I developed my first web series, "Lights Up," and during that time, I caught the attention of Phyllis Cicero. She hired Alfonso and me to produce a commercial, my first one. "From there, I also produced book trailers along with my original short films such as: "Choices," "Skillman Files," "Dallas Housewives," and "Secede." Photography happened during this time as well. With the help from my friend LaMildredetta Hudson, I founded Digital ELW Photography. 100's of shoots and 1000's of pictures later, it is still going strong. I was asked to direct projects from other people and also be their cinematographer. I have a feature film titled "The Jesus Freak" that can be seen on Amazon. I mention these things because, as I said before, I wanted any chance I could to be seen and have a shot at acting on camera possibly. I performed on short films and did extra work on network and cable television shows. One agency finally saw enough of me to offer me a spot on their roster. Core Talent Agency signed me in 2016, but that didn't mean I could stop and just wait for them to provide me opportunities. Despite uncontrollable situations especially in 2020, I've continued performing on camera along with working behind the camera for different short and feature films.
Overall, I can't wait to share some exciting updates about my unique rollercoaster journey
Can you tell our readers about your newly discovered strength since you've joined the entertainment industry?
I used to be afraid of the word "Failure,". That word used to control my mentality and enhance my insecurities, fears, and anxieties to the point that I was afraid to take a small step forward. Then again, how am I supposed to gain experience without failing? It took me some time, but failure became my greatest teacher and shaped me into who I am now. Failure taught me my self-worth, how to judge people who want to collaborate with me, and inspire me to keep on learning about camera techniques. How else are you supposed to get better without making mistakes? Overall "failure" taught me in this industry that success is not a quick 100 meter dash. In actuality, the race towards success in the entertainment world is a marathon. If you really want to do great, you can't be afraid to fail.
If you could go back in time and speak to your 2014-self, who graduated from KD Conservatory, what would you tell him?
This is a marathon. Going back to that term, my 2014-self felt like if I didn't succeed right away, I would consider myself a failure. So if I could go back in time, I would tell my 2014-self the following:
1) Don't worry about other people's opinions about you because they are only projecting their insecurities towards you,
2) Failure is your best mentor who will teach you the importance of trusting yourself,
3) Don't rush…Rushing only creates sloppy products. Therefore take your time when you're doing a project. As long as you have the vision, it will never go away; and
4) Most importantly, enjoy the journey. It is scary in the beginning, but trust me when I say you will have wonderful people to guide you and lead you to greater accomplishments. So have fun learning your techniques with the camera, continue developing your acting skills, and bring your vision to life.
What are some of your accomplishments since the Covid-19 pandemic?
It all started in April of 2020 at the start of the pandemic, when I helped my mentor, the late Phyllis Cicero create a children's web series called, "Front Porch Fables with Phylly Marie". Phyllis knew that the world still needed entertainment to get through the challenge of being isolated from one another. She created a show that fulfilled a need for theatrics along with providing an escape for everyone through entertainment. I filmed and edited all episodes at her front porch while she read children stories. We sold the first season to AT&T Dallas Performing Arts Center and the second season to the Latino Culture Center. After that, I started and finished three short film projects called "Destiny Deferred"(Drama), "Satan's Square at Sunset Avenue" (Horror), and "Remember the Motherboard" (Romantic Comedy). By December 2020, I worked at Bishop Arts Theatre as their videographer, audio technician, and editor for their yearly Christmas production, "Black Nativity." In February 2021, I booked an amazing opportunity with Bishops Arts Theatre again, and I worked directly with Frankie D. Gonzalez, award winning playwright in his radio play called "Before You Get Married," as his audio technician. I also got to learn new directing techniques from our super talented director Sasha Maya Ada.
Afterwards, I took a leap of faith and submitted "Destiny Deferred" to multiple film festivals in May of 2021. As a result, I've won multiple times as "Best Director," "Best Cinematographer," "Best Editor," and "Best Short Film". "Satan's Square at Sunset Ave" won an Outstanding Achievement Award for "Best Short Script". I am planning to submit "Satan's Square at Sunset Ave" to other film festivals this summer too, and hopefully I can carry on the same momentum.
In June of 2021, I worked with Franky D. Gonzalez again and was his cinematographer and editor for his One-Man Show called "Paletas De Coco" which was shown at the 2021 ANT Fest in New York City's Off-Broadway Theatre ArsNova.
So far, this journey has been a true blessing and taught me that the show must go on. I'm about to re-launch one of my old projects called "Secede." As I've previously stated, my past failures have taught me a lot of lessons, and I'm ready to bring it back to life in the correct way.
It was so great to reconnect. One last question – how can our readers connect with you, learn more or support you?
The best way to keep up to date with what I'm doing is through social media and my website. I announce upcoming projects on Facebook and instagram. If you need an actor, filmmaker, or photographer, you can go through my website and shoot me a message directly. I absolutely appreciate the support and encouragement from friends, family, and those that I don't know personally but have discovered me through social media. It is incredibly motivating.
Websites:
www.seoulofelw.com
Actor/filmmaker Links:
Facebook.com/actoredwinwilliams
Photography Links:
Facebook.com/digitalelwphotography
Instagram.com/digitalelwphotograpy
Contact Info:
Image Credits
Sasquatch Senpai Image provided by Terry Bowers and VibeHouse Pictures
Suggest a Story:
 VoyageDallas is built on recommendations from the community; it's how we uncover hidden gems, so if you or someone you know deserves recognition please let us know 
here.