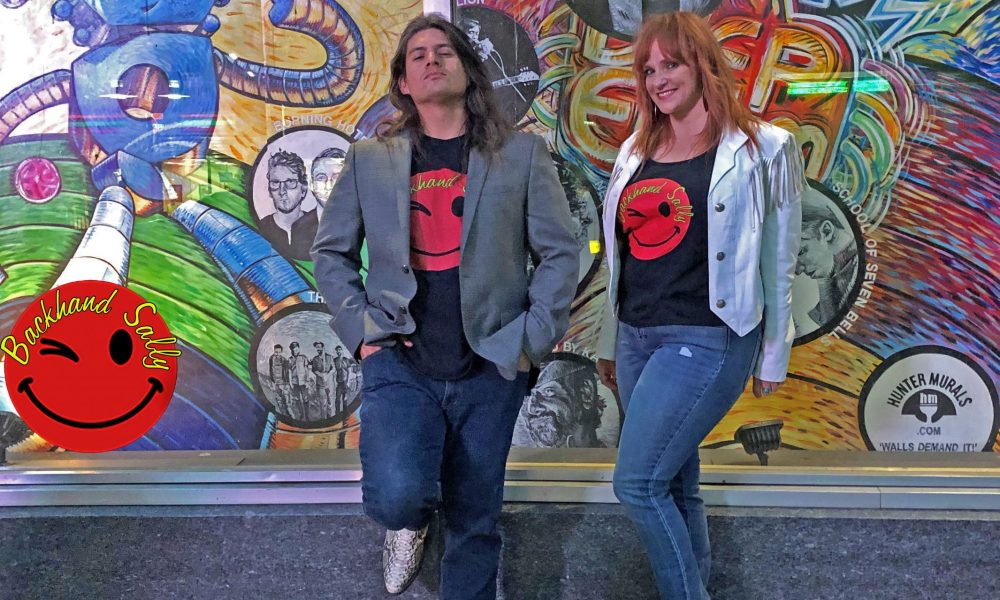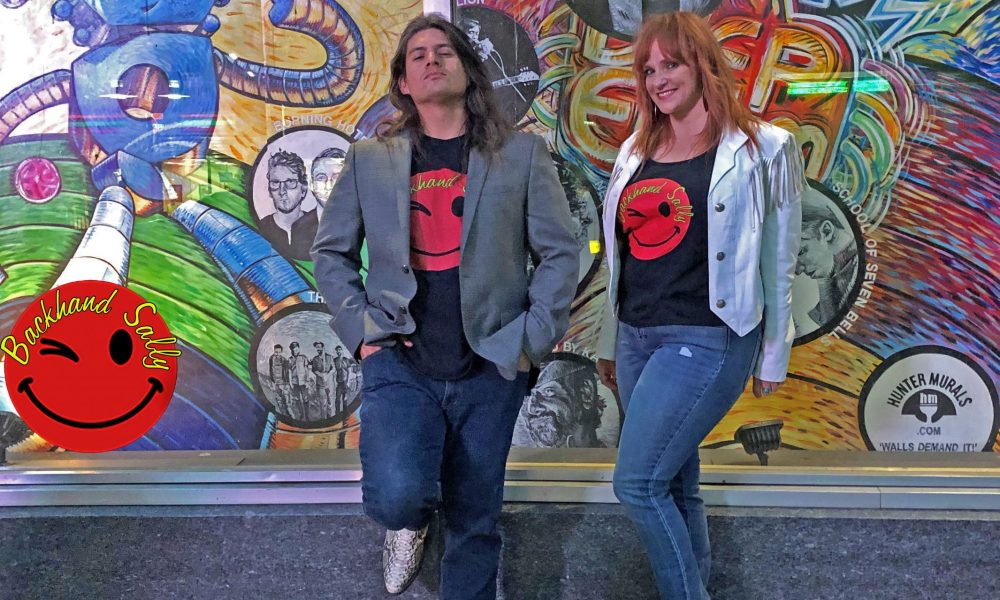 Today we'd like to introduce you to Ginger Grace and Brock Hard.
A Multi-Genre/Americana group formed in 2013 by founding members Ginger Grace and Brock Hard. Ginger's soulful, powerful voice combined with Brock's folk style and driving, sophisticated guitar create the distinct sound of Backhand Sally. Their music is an infused mix of pop, country, funk & blues blended together with memorable melodies and storytelling lyrics. They are inspired by artists like Fleetwood Mac, Sly & The Family Stone, Eric Clapton, Dolly Parton, The Beatles and more. Along with their originals, they also play a large list of Top 40 favorites and always perform high energy, crowd engaging shows.
The core of the group is a duo comprised of Louisiana native Ginger Grace and Texas native Brock Hard. Each one brings their own unique style and musical influence to the group, and the dynamic is a sound that is eclectic, edgy and inspired. With over 25 years of performance, touring, writing and recording experience between them, it was a natural fit to blend their two distinct sounds and abilities together.
They began the journey as many bands do, as a cover band, playing bars and clubs and everyone's favorite To 40 hits. After being asked by many fans when they might do some original songs they decided to record the songs they had already written and seen what the response would be. They released Text You When I Drink in 2017 and it got great feedback. So, they kept writing and recording and now two years later are set to release their first full album on August 9th.
Ginger has been singing and performing since she was 8 years old; her first performance was singing "Tomorrow" in her 3rd-grade talent show. Raising a family and other personal demands caused her to put her dreams of being a musician on hold until she was in her late 20s; but when she hit the road, she hit it running. She released her first EP in 2011 and toured with show band Vince Vance and The Valients as Venus Valienette for several years. She has also performed with several bands in the DFW area. Although Ginger has many musical influences that she pulls from, her voice is a distinct mix of bluesy, country, soul that she has developed as her own. Co-founding Backhand Sally was a natural step in her music career and her true spirit can be seen when she takes the stage. Ginger also writes and owns the music and lifestyle blog Ginger Grace Music.
Brock has been playing guitar and rocking audiences for over 15 years. His love for guitar started with his Grandfather's Sears & Roebuck acoustic guitar. After his Grandfather passed away, his Grandmother "loaned " that guitar to him and the rest is history. His first performance was a last minute entry in his high school talent show and he then went on to perform in various college bands while getting his degree in Engineering. Brock brings his years of music theory and a wide range of musical influences and styles. He has performed with the acclaimed R&B band Groove University and toured throughout the U.S. with several other bands before co-founding BS. His picking and rhythm styles are by far some of the best and most intricate playing skills around, and it's that special playing style mixed with his and Ginger's vocals that define Backhand Sally.
They are blessed to play with several musicians from the Dallas/Fort Worth area and their full band shows are an epic extension of their duo performances.
We're always bombarded by how great it is to pursue your passion, etc. – but we've spoken with enough people to know that it's not always easy. Overall, would you say things have been easy for you?
Well, as a musician, nothing is smooth sailing, usually. It takes a lot of sacrifices both personally and professionally to pursue music full time. When we started Backhand Sally in 2013, we were both coming out of other projects that had not worked out, and BS was kind of a last stab at making a go being musicians or more than just backing musicians in other groups. We had both been playing in other projects and had been back up singers and musicians for other artists and we were ready to have our own project with our own rules, so to speak.
We actually did really well for the first four years and stayed consistently booked and had some really great gigs. Then, when we decided to become an original group, we hit some road bumps. The bookings slowed down and we found it harder to get the gigs that we easily booked before. Venues aren't as interested in the music that will be, that just want the music that is, and guarantees customers.
The last two years have been something of a start over a period for us. We had to rebuild our fan base, find new venues that wanted originals as well as covers. Promote ourselves differently and rebrand ourselves as the artists we want the world to know us as.
It has not been easy, but it has been worth it, as our fanbase seems to grow daily and we are finally getting radio play and recognition for our songwriting, it's a really amazing, humbling time in our music career.
Personally, for me, Ginger life derailed my music for many years as I quit playing altogether to raise kids and live the life that people tell you are supposed to live. Being a musician was considered selfish in my family and although everyone thought I had talent I wasn't overly encouraged to pursue a career as a musician. It wasn't until I turned 30 and realized that I had to start living my best life or there wasn't going to be much life left that I stopped listening to the naysayers and followed my passion and started back playing professionally, and I haven't stopped.
Brock- It's similar for me, after going to college my family wanted me to pursue my degree and not music. They viewed it as a hobby or something to do on the occasional weekend. It's hard to get people as passionate about your dreams as you are. I still don't think they understand why I choose to be a musician, but they try to support it.
Let's talk business. What else should we know about your music career and what you are currently focused on?
Our business is making music that makes people feel. That's probably a cliche but that's what we do. We write our songs based on real-life experiences that nearly anyone can relate too.
Our performances are extensions of the songs we write, as we perform crowd engaging shows and really play to the audience. We pay attention to the mood of our audience and kind of adapt our live show as it happens to what the crowd needs at that moment.
It's our specialty as performers to really feel out our audiences and be very in the moment of each performance.
What were you like growing up?
Ginger- I grew up moving around a lot. My dad was a horse trainer and we seemed to move every school year to a new job and city. Most of my younger years were spent in various towns in Northeast Louisiana, mostly a town called Winnsboro, and that's where I consider "home." Personality wise, I would say I was precociously obedient-ha. I think I was like most kids from a small town, always looking for trouble and finding it. I played outside a lot and had a big imagination in a small world. I rode horses and worked at my dad's barn a lot. I played softball every summer and tennis. A favorite memory was going to the town pool with my brother when we stayed at our Grandparents house while our parents worked! I was a 90's kid so I was still a generation of going outside but also excited to spend hours playing Duck Hunt and Tetris on Nintendo. For the most part, much like today, if it was music related I did it. I started singing and playing piano when I was eight years old and that has been the biggest part of my life since then. I was in show choir, I studied voice, I was in the theater and several musicals and if I wasn't spending time with family or friends I was writing and performing music.
Brock-I grew up in South Texas, Corpus Christi, at the beach. My days as a kid were filled with hanging out at the beach or with my large family of cousins and Aunts and Uncles. I was a pretty athletic kid. I played sports, starting riding dirt bikes when I was about four and when I was a teenager I took up cycling (which I still do today.) I spent a lot of time at the beach when I wasn't in school or on a trip somewhere with my family. When I was 15, I took up the guitar. I had been singing in the school choir and dabbling in music a little here and there, but after I got serious about being a musician and learning an instrument, my focus on music took up most of my time.
Contact Info:
Image Credit:
Backhand Sally
Getting in touch: VoyageDallas is built on recommendations from the community; it's how we uncover hidden gems, so if you know someone who deserves recognition please let us know here.