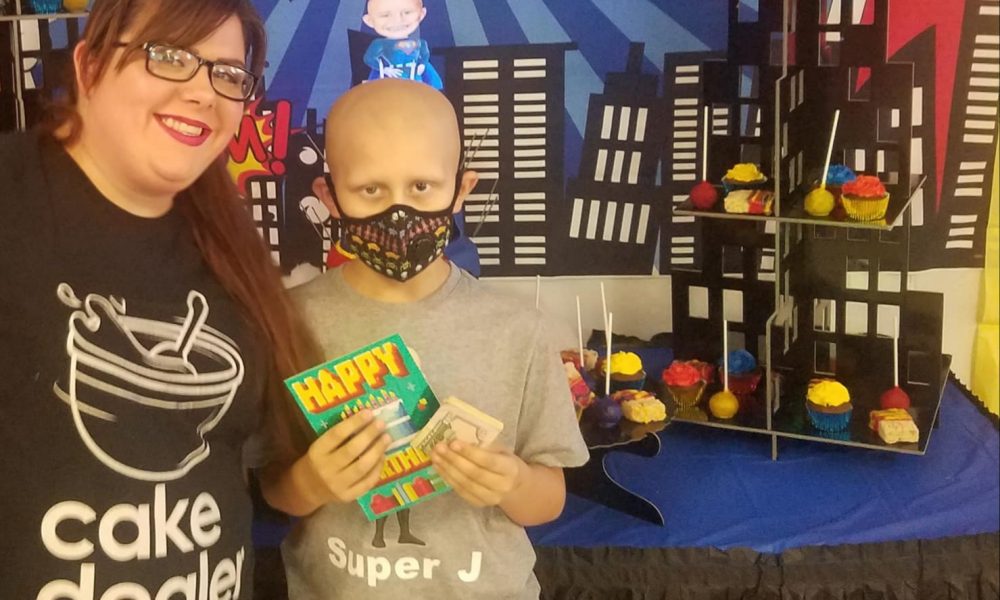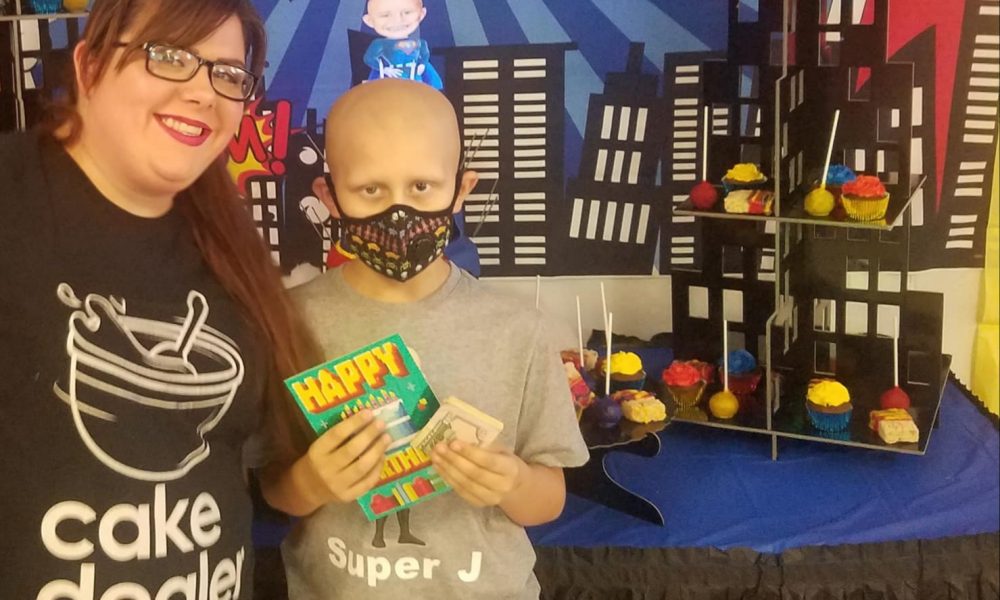 Today we'd like to introduce you to Heather Alvarado.
Heather, please share your story with us. How did you get to where you are today?
Five years ago, I looked in the mirror and realized I needed to make a change. I was working a full-time job, trying to balance work and being a single mom, trying to make the best life for my kiddos. Money was tight and I was beginning to stress so we baked. It became our Mommy had a bad day, let's make a cake and cookies kinda thing and it worked. Pretty soon, I was getting asked to make cakes for friends and the rest is still kinda writing itself.
I took a chance and started posting my cakes on Facebook and eventually created my cake page. I named it Babycakes by Heather as a tribute to my two little " Babycakes" who helped me start this and of course, I'm Heather 😁. The amount of support I got grew so fast, within just a few months, I had over a thousand likes and was booked up almost every weekend. Eventually, I had people showing up at my door ordering cakes, at that point, I knew I was getting there. I had a lot of people behind me pushing me to succeed, there was no way to fall because I always had someone there to catch me, staying up till 3 am cutting out tiny fondant flowers, baking and icing cake; you name it, they were there to help. Eventually, I met my husband and our first dates were him coming over and helping me work on some of my orders and being my "official taste tester", four years, two new babies and a couple of pounds later, he's still in the kitchen helping me. Some of my customers have never met me, they only know his face because he does most of my deliveries.
We are still home-based but we are hoping to take it further within the years to come. God has really blessed me with amazing customers who continue to support me. Kiddos whose baby shower cakes I've done, I'm now getting ready to do their fourth birthdays and have done every cake over the years. Couples whose weddings I've done, I've been able to celebrate first anniversaries with, baby showers, birthdays, cakes just because. The goal is to eventually have a little shop to call our own but we are taking our time, things will fall into place. This won't be the last you hear of Babycakes by Heather.
Has it been a smooth road?
Caking is not for the faint of heart. There are days where just the sight of a cake makes me want to cry but the end results are always worth it.
When I started this, I was doing it for the extra income, I was and still am a teacher assistant for special needs children. I love my job and I love my business so it's been hard to decide which one I see in my future. I love my babies (my students) but I love my cakes too, so how do you give up two things you are passionate about? You don't, you rock them both and you make it work. You can find me in the classroom teaching the ABC's by day and knocking out wedding cakes by night. Some days, I use my lunch breaks to go do my weekly cake run or plan out my orders. I clock out of one job and go straight to the next, add in being a mom of four and a wife and well, I'm a pretty busy lady.
My kids love watching me "cake" and love being able to brag to their friends that their mom makes these awesome cakes. They've also seen me get frustrated, throw away a whole four-tier cake and start over but they have never seen me give up. My family is my biggest support system, without them, there would be no way I'd be where I'm at today. Every cake they've tested, every cookie and cake pop judged, they've had my back every step of the way. Unfortunately now, no one here eats cake, so when it comes to birthdays, I have to get a little more creative which makes this all the more fun.
Throughout the years, I've had a lot of trial and error, I am a firm believer you learn from your mistakes and boy have I learned. My first wedding cake was a six-tier buttercream rosette cake, in August, for an outdoor venue in the middle of nowhere too which the bride did not inform me. We live in Texas ya'll, hours of prepping this cake for it to melt as we set it up. When we finished and got back in the car to head home, I was sweaty and covered in buttercream, I felt defeated as I watched something I had put so much effort into melt before my eyes. I learned from there on out to engage with my customers more about details, giving what I feel is my professional opinion and making sure I never leave feeling like I failed or ruined someone's special day. It's really turned me into a more honest person, this is people's hard-earned money, these are the events that people spend months, even years planning and who am I to not give them what they've asked? I believe I've done just that. I love watching a child's face light up when they see me walk in with "their" cake, every couples message I read saying, I made sure their wedding was perfect, that makes my heart happy.
I've found myself in these cakes, call me the crazy cake lady if you will but I can't imagine not doing this. For a girl with no professional training, I'm pretty darn proud of myself. I'm building a future not only for myself but for my children as well. I'm teaching them life isn't always easy and sometimes, it takes a lot of hard work and sleepless nights to get where you wanna be but hey, that's the way the cookie crumbles isn't it?
So let's switch gears a bit and go into the Babycakes by Heather story. Tell us more about the business.
I like to think of myself as a "one-stop bake shop". I know the stress of planning parties so I like to offer my customers a chance to get all their baking needs in one place. Parents love the convenience and what's better than getting everything you need in one place as opposed to a cake here and cookies there, who really has time for that?
I specialize in birthday packages which typically include a cake, cupcakes, cake pops, customs cookies, and rice krispies. My packages vary in prices but I like to think I'm pretty economical.
I do everything from birthdays to weddings, quinceañeras and everything in between. I get orders for just cake pops for a sleepover to weddings for 300 people that include custom dessert tables. I like to offer my customers a great experience and as a gift to them, I offer free grooms cakes for weddings and smash cakes for first birthdays. Who doesn't love something free?
I recently started adding custom dessert tables to my list. Backdrops, beautiful cake stands filled with yummy treats, turning people's vision into a reality without the hassle, that's my goal. Typically, if you can think of it, Babycakes can usually provide it.
My proudest products I can honestly say I do are my wedding cakes and cookies. For years, I was terrified of cookies, I use to call them "devils bread" because I was that scared of them. I would turn down orders because I didn't think I had it in me to do them until a certain little famous mouse themed party came around. A good customer of mine asked me to do a dozen cookies, 12 cookies sounds easy, we were out on Thanksgiving Break from school so I thought why not? Three batches later, I finally had 12 little Mickey heads staring at me, they weren't perfect but I had done them. Pretty soon, I was knocking out 8 to 10 dozen cookies a week, not bad for a girl who thought she'd never see the day. Once I added them to my packages, business was booming, people love cake but they really love cookies!
Years ago, I had someone tell me this (my cakes) would never be anything, all I have to say is the proofs in the mix. I may never be famous for my cakes, I may never have my own shop but I will also have the satisfaction to say I never stopped trying. This momma still has a lot of fight left in her, I like to think of myself as a "whisk"- taker. With a lot of prayers and the continuous support I have, we will make it, and that's something to be proud of. Through this, I have been able to bless others with my talent. Almost a year ago, I was laying in bed, scrolling through Facebook when I saw a post for a sweet little boy battling cancer, the family was looking for someone to make his birthday cake and I scrolled through the comments and saw people commenting their prices. People were seriously trying to take advantage of this family, I looked at my husband and told him we were gonna do it for free but not just the cake, we were gonna go big. I messaged the family and we agreed to meet, next thing I know, I met my hero, we call him "Super J". We spent the next month planning Super J's three-tier, super chocolatey cake complete with Super J standing proud on top and skyscrapers filled with cupcakes, cake pops, and rice krispies. We also took to our awesome customers and raffled off cake package to raise money for the family. We were overwhelmed by the response and were able to present the money we collected to him at his party. We still keep in contact with his family and Super J will get a free cake for his birthday as long as we keep this going. I might not be curing cancer but for a little while, I was making it a little better. It made me hold my kiddos a little tighter and we're thankful for all we have been given.
How do you think the industry will change over the next decade?
I try to live my life one cake at a time. My family comes before everything I do, guess it all depends on where life takes us.
Ultimately, I'd like to have my own shop, but not just cakes and treats, I want to have own paleteria/fruteria (ice cream, fruits, and other delicious Mexican desserts and treats) and bakery all in one. Awesome cakes, ice cream, fruit under the same roof, who wouldn't love that.
I'm constantly thinking of my children's futures, I want to leave them with a piece of me they can pass on. This business wasn't built in a day and I don't want to try to be an overnight success. I still have a lot of learning to do, in my technique, in the way I run my business financially, in the way, I present myself as "Babycakes by Heather". I hope to start business school in the future and have all my ducks in a row before I take the leap and try to open a shop. But to be very honest, I will probably be just as happy if this never leaves my kitchen.
Cakes and kids are my life, I might wake up one day and decide I want to be a teacher, I might decide to take cakes on a full time, only time will tell where this is going and though it might be a wild ride, I'm always up for a challenge. I work my best under pressure and I'm sure the day will come where I have to choose which path to take but until then, I'll keep singing "baby shark doo doo doo doo" to a room full of kindergarteners and jamming along to it with my two and three years old son and daughter as I work on my orders. I've made it this far, the sky's the limit from here on out!
Pricing:
Packages start at $200
8in Cakes start at $75
Treats start at $15 a dozen
Contact Info:
Image Credit:
Babycakes by Heather
Suggest a story: VoyageDallas is built on recommendations from the community; it's how we uncover hidden gems, so if you or someone you know deserves recognition please let us know here.