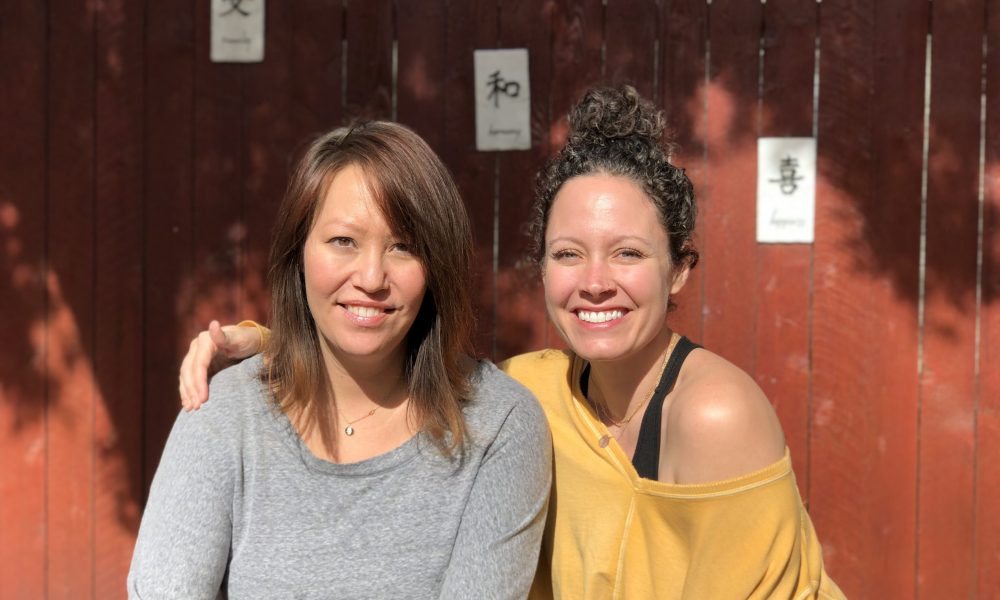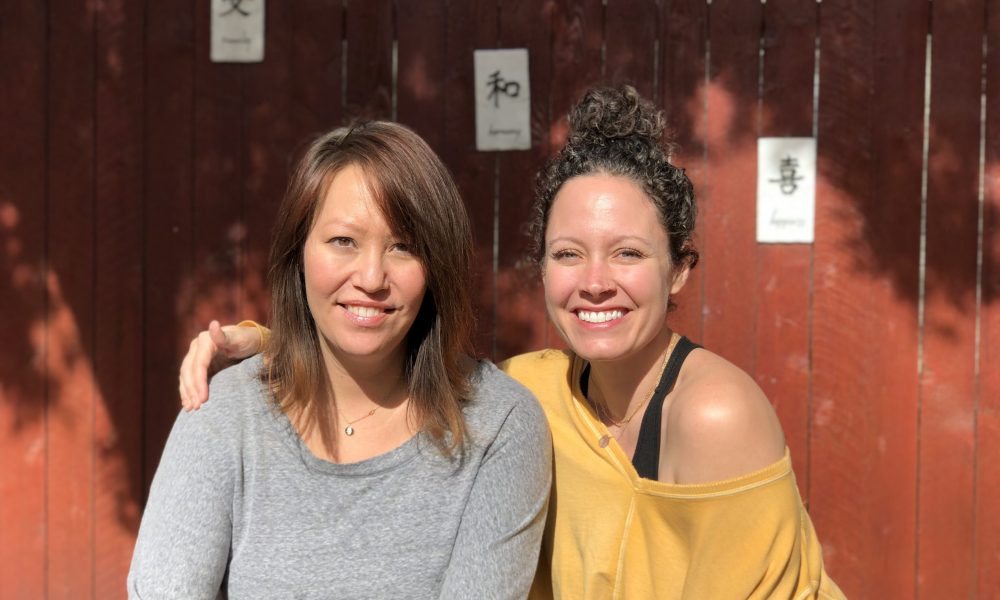 Today we'd like to introduce you to Iris Haftlang and Laura Beth Lopez, co-founders of Artisanal Apothecary CBD Bath & Botanicals
Thanks for sharing your story with us Iris and Laura Beth. So, let's start at the beginning and we can move on from there.
We met three years ago at a yoga teacher training. It's funny, almost every marketing material you come across promoting yoga teacher training includes a bit about how you will cultivate close friendships that will last a lifetime through the program. I (Iris) never We've created a brand out of blood, sweat, and tearsreally bought into that because I've always viewed YTTs as tools for education, not a social hour. But low and behold, I did meet my soul mate at this one!
Forgive me, Laura Beth (whom I affectionately call LB) for airing this out in public, but the first time I met you I could see your pain. It was right there on the surface of every glance you gave, every word you said, especially in your body language. Don't get me wrong, LB is no withering wallflower. Quite the opposite really! She easily slid into the role of our group's social director, organizing the outings after an exhausting weekend of training, creating and maintaining our group's Facebook page, and basically making sure that our fellow trainees maintained a tight bond. All of this while going through a rough separation and learning about the challenges of single motherhood.
After a really intense (and at times silly) seated meditation where we held hands and stared into each other's eyes for what seemed like an eternity – more likely, it was five minutes or so. Think I'm being dramatic? You try holding hands and staring into the eyes of somebody you met only 30 minutes prior without feeling really uncomfortable and borderline ridiculous. Anyway, back to the story… there were no tears, there was barely an introduction, but there was an instant connection. Somehow, I could see beyond the surface of this seemingly snarky, spunky, spitfire into her heart where she was trying to recover from some devastating pain. When I told her as much, I think I got some pretty serious side-eye warning me to mind my own business. So, I did and stepped back to let our friendship blossom at a slow and steady pace.
We have many mutual friends throughout the yoga community and we are fortunate enough to share both the mat and the social aspect of these great people. We have such opposite work schedules that it's tough to carve out time to spend together, but we are having the most fun when we are with our friends practicing yoga and eating and drinking after! Our friendship has always been easy, and we are definitely each other's sounding boards. There has been more than one occasion that one of us falls asleep after a flurry of all night texting only to awaken to another 30 missed messages.
Since we had been so busy solving all the world's problems, I was really surprised when LB randomly texted me a picture of a bath bomb. When I asked her what it was (yes I had to ask, I'm not a bath person), she told me it was a bath bomb that contained CBD. When I asked her what CBD is, she gave me a brief rundown of where it comes from and its benefits. She told me she made it herself and when she posted a picture of it on Instagram, a bunch of people asked her if they could buy one. I asked her to make me one too, and after taking my first CBD bath, I knew she was on to something big. I immediately asked her to come over for lunch with her daughter the following Sunday, so I could "pitch" to her why we should be business partners and sell bath bombs. It was five hours later over a hug and a handshake that we decided to give this partnership a shot.
That Sunday was in the middle of August 2018. As I write this, we are just days away from the first day of 2019. In a few short months, we have managed to: figure out how to make bath bombs (this is not easy folks – don't believe me? Give it shot and email me about the experience) We have expanded our product line to include oral drops, edibles, lip balm, bath salts, lotions and creams. We've created a brand out of blood, sweat, and tears, sometimes working several 18 hour days in a row. We offer in-person delivery to local customers and immediate shipping and handling to those who are far away. We have sold our products at yoga studios, spas, chiropractic offices and in one case a holiday party hosted by my aunt. We have strived to use only the highest quality natural ingredients, and provide the most responsive customer service for any retailer. We developed a wholesale program based solely upon the needs of our clients, providing product development tailored to their individual needs. All of this while we work other full-time jobs, keep up with family obligations and try to keep our sanity. Some days, we are better at this than others, but we love the challenge and are so grateful for the amazing response from our clients and the support of our friends and family!
Most importantly, we have formed a bond that actual sisters dream about. Soul mates, sisters, partners, best friends… we discovered a world where we can conquer together the challenges and curve balls of life. We take the business very seriously, but we have an unwritten rule that family and personal relationships come before anything else. And if you ask me, that is the real secret to our success!
We're always bombarded by how great it is to pursue your passion, etc. – but we've spoken with enough people to know that it's not always easy. Overall, would you say things have been easy for you?
Knock on wood, we have experienced a learning curve, but we haven't had any huge setbacks.
Understanding the business of manufacturing and production even on a small scale like ours has been challenging. In the first few months, we had no idea what par levels we would need to maintain to keep up with demand. Even now, we are sometimes surprised at the volume of orders we process and find ourselves scrambling to keep raw materials and packaging in stock so that we can fill those orders.
Coming off of a really busy holiday season, we are looking forward to expanding our product line. That presents challenges too. In our never-ending effort to keep our wholesale clients happy, it is difficult to set boundaries and manageable timelines. For instance, a wholesale client might have a desperate need for a new product and try as we may develop it quickly, there is still testing to be done, packaging solutions to consider and costing to compute. This process cannot be done in a day or two. At least not effectively. But it's tough to tell a client that what they want in three days won't be available before two weeks. We did the two-day fulfillment thing for someone and the result was a sub-standard product. Not to mention the financial impact on us. If something doesn't work, we lose money. So learning not to say "no" necessarily, but to say "not immediately and here's why" has been a valuable lesson for us.
Probably the toughest thing for us continues to be scheduling. As partners, we do most of our business planning via text. We do product distribution in between teaching yoga classes, school pickups, single-mothering, and a demanding restaurant job. Production is handled out of the house, sometimes until 3 am because that's the only time available. We are trying to schedule an in-person first quarter partners' meeting that we keep having to change and move because of work and family obligations. We have a steady joke going now every time one of us does/says something savvy: "We should start a business together!" Lol.
Oh, and did we mention that we haven't paid a single dime to ourselves yet? All the money we make goes right back into the company so we can grow. We hope to rectify that in the new year.
So, as you know, we're impressed with Artisanal Apothecary – tell our readers more, for example, what you're most proud of and what sets you apart from others.
The main ingredient for all of our products is CBD. CBD or cannabidiol is extracted from the hemp plant and has healing powers of medicinal marijuana without the psychotropic attributes.
CBD can be administered orally or topically and can help with sleep disorders, anxiety, muscle pain, skin irritation, joint inflammation, autism spectrum disorders, seizures and a host of other maladies.
According to a report from the World Health Organization, "In humans, CBD exhibits no effects indicative of any abuse or dependence potential… to date, there is no evidence of public health-related problems associated with the use of pure CBD."
We combine the power of CBD with aromatherapy to create a complete experience for the user. When we say complete experience, we want to stimulate several of the body's senses to aid in relaxing, or opening the nasal passage or inducing sleep depending upon what the individual needs are. For instance, our Inhale Bath Bomb has peppermint and eucalyptus to help people with breathing difficulties such as asthma or allergies. It's very stimulating and refreshing. On the opposite end of the spectrum, our Hipnotica Bath Bomb features lavender and Vetiver to promote deep sleep. Our Bath Crack Bath Salts are geared toward pain relief by combining the anti-inflammatory power of magnesium, the healing power of CBD and relaxation properties of assorted essential oils.
We realized pretty early on that not everybody is willing to or has the ability to get into a bathtub. Because we wanted to offer a CBD solution to those who didn't or couldn't have access to a tub, we developed what turned into our biggest selling product: Whipped Body Butter. We started with a beautiful aromatherapy combination of Amber and Sweet Orange to cultivate a feeling of ultimate luxury and relaxation. As popular as it was, we also had requests for an unscented version, which we promptly "whipped" up and is our second biggest seller.
After multiple inquiries about an oral drop solution, we interviewed several producers and finally found a fantastic partnership with Joy Organics. They offer full-spectrum, organic, all natural drops that pair tidily with our own all-natural, organic personal products. We are so proud to sell the 500mg and 1000mg oil tinctures.
Besides using only the highest quality ingredients, and hand making all of our products, what sets us apart is our commitment to our customers. We are available 24 hours a day, 7 days a week for order fulfillment, questions, and last-minute deliveries. Not only that, we really listen to our customer base and when they request a new or different product, we work hard to make it available to them. There have been several instances of "special orders" either adding or omitting ingredients that make a product suitable for a single individual. As we grow, we want to be able to continue that intimacy with our customers. No request is too big, no order is too small!
So, what's next? Any big plans?
Future plans…where to begin?
First, we are looking for a space for the company. Production has taken over our homes and storage has completely outgrown the space we allotted. It will be great to find a small warehouse so that we can have room for some large equipment like floor mixers and walk-in refrigeration, which is out of the question in a residence.
We also need to space so that we can hire some employees. As it stands, there is barely enough room for the two of us, let alone any production assistants.
We have lots of great ideas to expand our product line in 2019. CBD dog treats, maximum strength muscle balm, travel kits, massage oil, face and décolletage cream, eye serum, teas & more yummy edibles are all in the works.
We are also looking forward to finding new ways to be in touch with our community. We've enjoyed doing pop-up markets at local studios, and find that we are most fulfilled when being with people. We are hoping to organize some community events to introduce the power of CBD and also to give back by hosting item drives or raising money in conjunction with our markets.
Pricing:
Use coupon code DALLASVOYAGER and receive a 15% discount off of your entire order!
Contact Info:
Image Credit:
Gabriel Arizpe
Getting in touch: VoyageDallas is built on recommendations from the community; it's how we uncover hidden gems, so if you know someone who deserves recognition please let us know here.