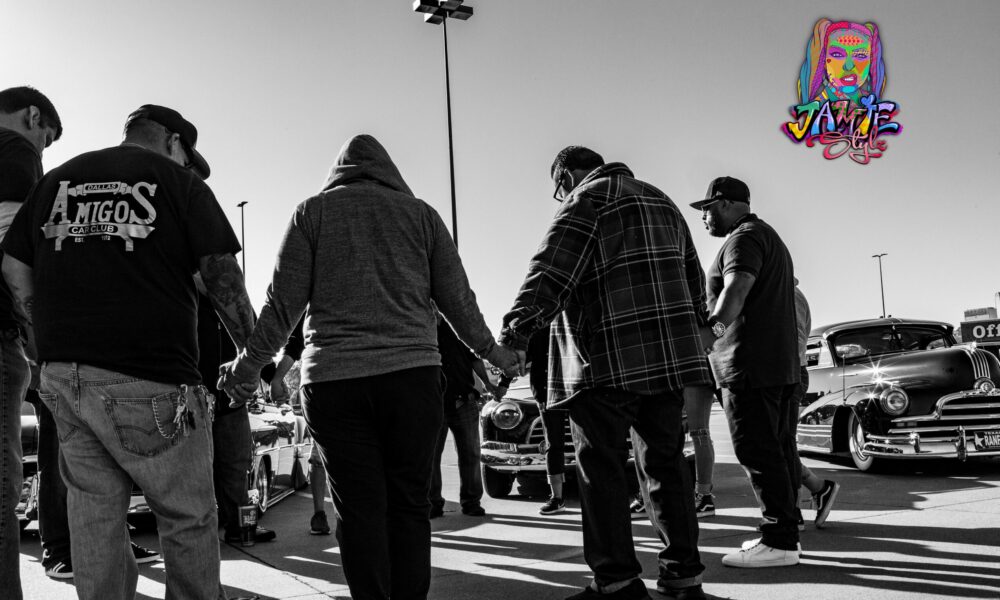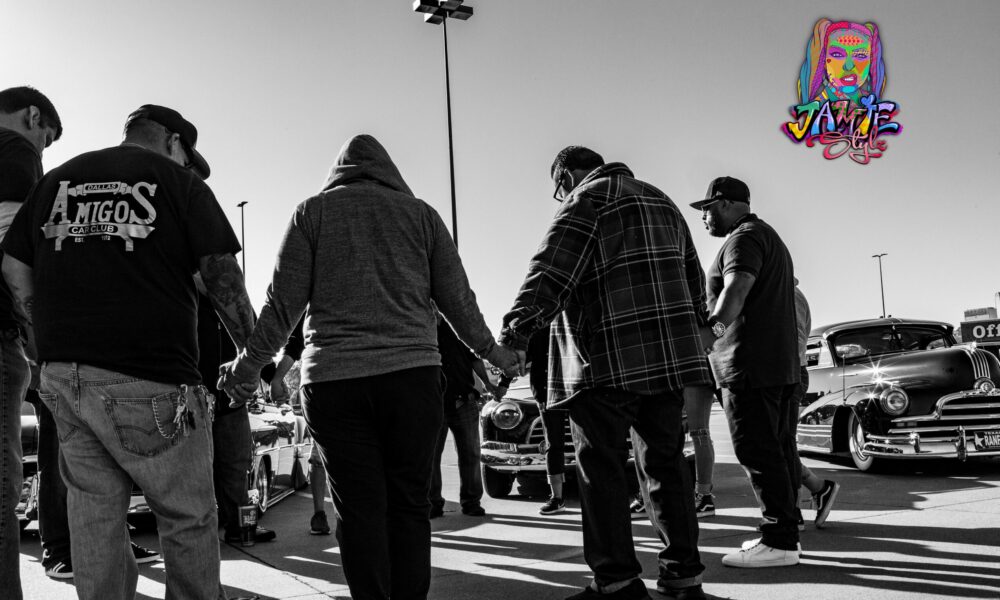 Today we'd like to introduce you to Jamie Shivers. 
Hi Jamie, we'd love for you to start by introducing yourself
Jamie Stylz Photography is how it all started or was it driving my 1st car a 1966 Ford Mustang as a teen. The love for photography, cars, & pinup girls is really how Stylz4Mylz, that's the name of my car show, all came about. I started shooting classic cars about 8 years ago when some friends of mine brought out their car and my girl dressed in pinup, I had a makeup artist help out, and I styled her hair. When we were all done styling her, she looked like she stepped straight out of the '50s. The shoot was simply magical. A 1962 Chevy Impala out on a beautiful country curvy road by a pond at sunset. I was completely hooked. I have been attending car shows ever since high school. Little did I know I was already attending ULA (United Lowrider Association) functions way back then. I'm actually a member of this amazing Organization now! You could catch me any given Sunday at the cruses with all my homeboys and girls. In Dallas, Tejas during the 90's crusin' Reverchon Park was bumper to bumper. Anytime my friends who majority were in car clubs had a car show, picnic, cruise, you could find me there. I love My Chicano Culture and Lowriders are a big part of the culture and I embraced it all. Essentially it was always predetermined that I be hosting car shows. My 1st car show, Stylz4Mylz Rockabilly Christmas Car Show was held in 2018 and I've never looked back. I merge Rockabilly, Lowrider, and Hip-Hop Cultures at these shows and we all come together because of these amazing cars. The added bonus is getting to see the lovely Pinups. Fast forward to our next Show, Stylz4Mylz Christmas Car Show happening December 12, 2021, 1-5 pm at LOOK DINE-IN CINEMA 10110 Technology Blvd. Dallas, TX 75220. We even booked a Cinema and will be playing a Christmas Movie for those who can't make it to the afterparty. This is the 1st year we are bringing Music to the Mix. As Music was the next step in growth and we are completely excited about it. We have booked The Legendary Bone Thugs-N-Harmony! The show will be at Murphy's Mansion located at 10051 Whitehurst Dr. Dallas, TX 75243. The doors open at 6 pm, also on 12.12.21. Snatch up your tickets. Tickets & Info www.stylz4mylz.com 
We all face challenges, but looking back would you describe it as a relatively smooth road?
The road has been bumpy with twists and turns that could derail the most gifted of driver. 2020 hit and well you all know that Covid completely shut down the world. Stylz4Mylz decided not to do any shows that year partially because half the time we couldn't due to mandatory quarantine, and the other half I simply didn't want to be responsible for a large gathering and someone getting sick. 2021 came about and the world opened back up, and we all had to get back to business, 
In 2021 it was back to business as usual. Making the transition from the pandemic to the world opening up again, we decided to expand with it. It was time we added a musical element to our company. I have a musical background as a hip-hop artist and performer, so it was a natural progression to add this element. 
What I learned while trying to book a venue for this event is sometimes you might want to keep your mouth shut as to what artist you are bringing in. To elaborate on that, if a venue has a certain price on the stage, then the artist that performs on that stage should be irrelevant to the pricing. For example, if I book a venue for a wedding, the two individuals getting married, and who they are, again, shouldn't delegate the price. 
Our last and most recent obstacle that we dealt with was not 100% confirming that the venue owns the parking lot. We were given the impression that both events would be able to be held at that site. Because there were multiple businesses involved (inside of a shopping plaza), we were informed that we had to get approval from the city. In the midst of doing so, we found out that the venue doesn't own the parking lot; and, we would have to get approval from the actual parking lot owner. Once tracking down the Lot owner, unfortunately, we were not granted approval, and had to relocate the car show portion of our event. Needless to say, after putting down a deposit, and spending marketing dollars, we were definitely not too pleased with the outcome. But the positives taken from both challenges is that we always ended up in a better situation than the previous. 
Alright, so let's switch gears a bit and talk business. What should we know about your work?
I model, I'm a photographer, I'm an artista, a stylist, a cosmetologist, & event planner just to name some of my many talents. I was born and raised in the great state of Texas. As a child, I moved around the DFW area and have always been proud of my Chicana heritage. Growing up in the '90s in Dallas, Texas I embraced the lowrider culture and you could find me hanging out with my homegirls at the cruises and car shows back then. 
Some might wonder where the name Jamie Stylz came from. It was the name that best described my connection between myself and the Cosmetology world. My born name Jamie, in addition to what I got to offer "Stylz". 
Music is such a big part of my life and in the '90s I debuted as Jamie Stylz Christian hip-hop artist having a nice solo career while performing mainly in Texas & Utah. Around 2011 I took a long hiatus from making music but never losing my rhythmic soul and I took this time out to learn and appreciate more styles & genres of music. During this season I also discovered my love for photography. 
I picked up my 1st quality camera in 2007 while living in Salt Lake City, Utah; and, was bound and determined to learn my craft. My photography stylz are pinup girls & classic cars (my fav & the niche I have been published over & over for), fashion, newborns, portraits, landscape, maternity, pets, commercial, lifestyle, boudoir, and e.t…lol. 
A friend, DJ Drue Mitchell who has always supported my adventures in Pinup, & Hip-hop, told me several times to have a car show. I was like, "I dunno how to have a car show" but, thought it sounded like a whole lotta fun, and I was up for the challenge. In December of 2018, I went for it and hosted my very 1st Stylz4Mylz Rockabilly Christmas Party & Car Show. Learning so much from each show since then, I am beyond grateful for the cooperative components that have been placed along my journey. The shows have grown to be multicultural events; and, it makes me very happy to see all the rainbow colors of melanin dancing to Selena, La Rena de Tejano, and then some Elvis & HipHop. Every culture comes together to have a great time enjoying life, cars, and beautiful pinup girls. 
After the 2020 shutdown, I took another "leap of faith", and decided to take the next step. In 2021 I made a decision to bring a new flava to the game with the introduction of Stylz4Mylz Presents…music entertainment! 
What I'm most proud of, is my fearlessness when it comes to actually being a risk-taker. It's impossible to "Transform the Game" from the sidelines. You have to get out there and endure some of the bumps and bruises of life's challenges, this quality that exudes from my body is what sets me apart from many other people out here. My 24/7 Grind (to make things happen) is what drives me on a daily basis. 
I also consider myself a pioneer and visionary, because I do not conform to the norms of the world. I truly believe, that whatever I can dream up, is possible. There is no box that can hold Jamie Stylz and this is why I will transform the entertainment industry. 
Alright, so to wrap up, is there anything else you'd like to share with us?
I'd like to personally invite you all to The Styz4Mylz Presents…Christmas Car Show. Let's add a little fun by wearing your favorite "Holiday Rockabilly" outfits to this themed event. If you don't have a thing to wear, no problem; that Ugly Christmas sweater in your closet will do just fine. The Car Show will be from 1-5 pm at LOOK Dine-In Cinemas located 10110 Technology Blvd. Dallas, TX. I have reports of "The Grinch," being spotted around DFW; and, word on the street, he's making an appearance at our Show! So, grab the car keys, cell phones, and the kiddos, and come on out to celebrate, with The Styl4Mylz Presents…Christmas Car Show! 
DON"T FORGET PICS WITH THE GRINCH…You can also catch him on the big screen at 6 pm for…FREE99 (with the purchase of an attendee ticket to the Car Show). Children 5 and under get in FREE99! The Dallas Pinup Dolls will be in the house! I am pleased to say a portion of the proceeds go to this charity group who do amazing things in the community while dressed in Pinup. Be sure to snag you a pic with one of these beauties as well!!! 
Let's keep the excitement rollin'…FOLLOW US over to the After Party where you will see the "Legendary" Bone Thugs-N-Harmony perform at, the "HOTTEST" Nightclub in Dallas! Poppin' Bottles, and enjoying the INTIMATE Atmosphere from 6 pm -Until, at Murphy's Mansion, located at 10051 Whitehurst Drive, Dallas, Tx 75243. 
We have an artist lineup that you will vibe with all evening GUARANTEED! Acts from right here in Dallas, along with a few others are coming into town just for our show. Are talented artists coming to our stage thus far are: Don Louis, Jak Reeves, MarcG, New Town Birdman, Blu3 Da Prince, Ishan the Rapper, IIKold Syndicate (our DJ and performer), Gina (our Host and performer), O.vs.P featuring Alex Ray, Workhorse and of course the The Legendary Bone Thugs-N-Harmony…Hip Hop ICONS! If you don't know classic hip-hop, we at Stylz4Mylz, urge you to come so you can get SCHOOLED…Lol! 
Let me tell you about a little bit our venue, "Murphy's Mansion." It's an intimate venue, with a VIP area that looks right down onto the stage. This means, if you are a "BNTH" fan, this is the concert you must attend to actually see them up close and personal. Whether it's our General (standing room only), the Amazing VIP area, where every artist, including BTNH, will enter as they head to the stage! There isn't a bad seat in the house; and, seats are VERY limited! Especially, in the VIP area. Our tickets are affordable, and VIP will sell out so don't sleep on these seats. 
So, come celebrate the Holidays, and Party with us all day! Just pull out your cell phones and get your tickets now. I'll see you there! 
Tix and info www.stylz4mylz.com 
Admin@stylz4mylz.com 
214-535-7477 
Pricing:
Car Show Auto Registration $50
Car Show Lowrider Bike $20
Car Show Attendee $15
Bone Thugs-N-Harmony $68 General Admission
Bone Thugs-N-Harmony $100-$175 VIP
Contact Info:

Image Credits
David Whately
Tesh Patel
Jamie Stylz
Suggest a Story:
 VoyageDallas is built on recommendations from the community; it's how we uncover hidden gems, so if you or someone you know deserves recognition please let us know 
here.