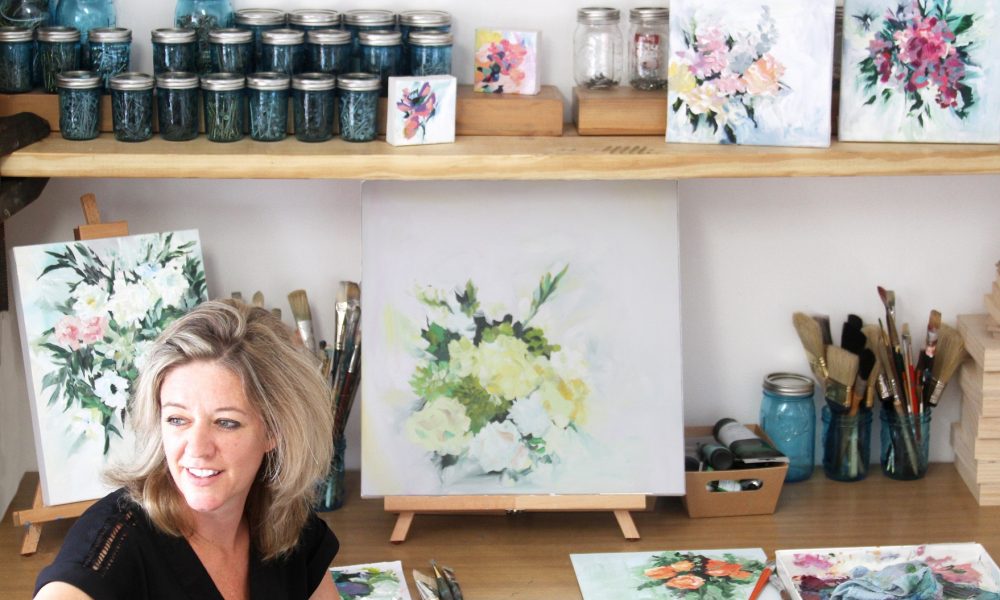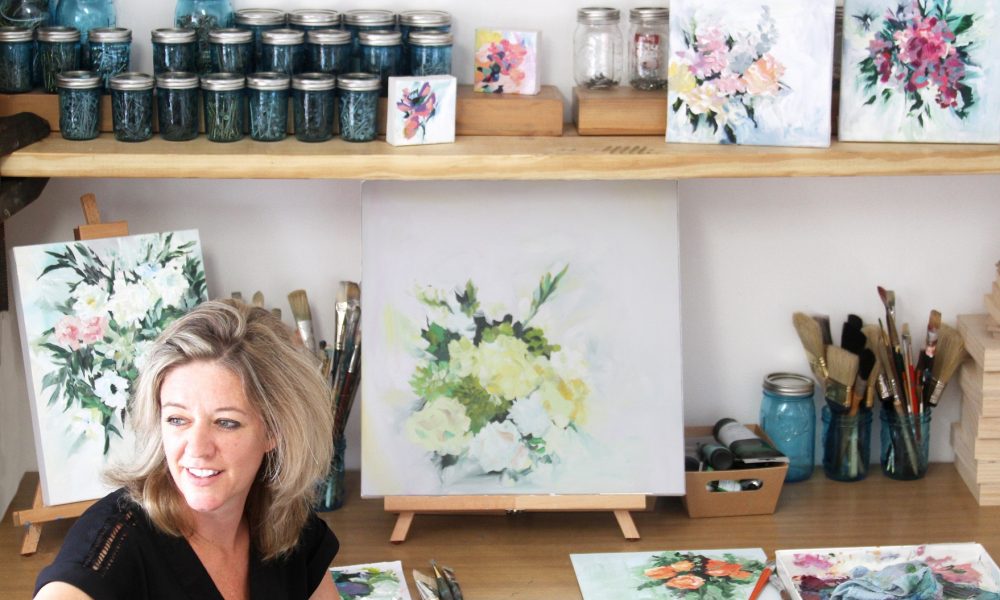 Today we'd like to introduce you to Jennifer Seibert.
So, before we jump into specific questions about the business, why don't you give us some details about you and your story.
By day I am a Professor of Art. In the evenings, on the weekends, and during the summer I've been starting a small business called Seibert Studios. I've been teaching art almost two decades working my way through undergrad and graduate school teaching children and then after graduate school working in higher education for the past 17 years. I was a tenured professor at Eastern Michigan University (near Detroit), which is something like a mix between North Texas and Texas State. I attained tenure in my 6th year, and was one year short of Full Professor in my 9th (and, am certain my application for it would have been accepted). But, when my daughter turned 15 months I looked at my husband and said "I really need us to move home to Texas." We have been back in the DFW area for five years and I couldn't be happier (along with a sweet baby boy too). I thought I was giving up teaching to move back home to be near my family, but I was fortunate to find a home at Collin College, and have been teaching there as a full-time Professor of Art in drawing, painting, and 2D Design for five years.
My students are why I decided to start a small business. My past students at Eastern Michigan University, many of them were on the path to create conceptual academic work, but they also wondered what the magic of selling their art one day would be too. My equally amazing students here at Collin College, a lot of them have a different path idea, but also wonder about all of the ways to start selling their art. So, three summers ago, I wasn't teaching and had this idea to research how to start a small business around the arts. I always made installations, videos, and non-saleable conceptual work, so the idea of making saleable paintings seemed like an exciting adventure. After being in the academic art world for so long approaching it from a commercial space seemed like fun.
So in comes the Seibert Studios idea. I've always loved painting big open landscapes and flowers. My work has always been about trying to capture elusive moments and the still life is rooted in that idea. I then started researching marketing and small business plans and realized that the road to success would need to focus on narrowing down who my audience would be. Since I've always loved painting and drawing flowers for parts of my installations, I decided to revolve my business around making paintings for brides of their bouquets. I started making them for my friends and family, and one thing led to the next. What is so fun, is that people seem to really enjoy them, and are finding this way of preserving a memory as something people are really appreciating.
What has been such a great added bonus in this research adventure into the world of being a small business owner, is all of the amazing people I am meeting. There are so many talented industry professionals in the wedding industry that I am enjoying spending so much time with. Another great part, is that I am really falling in love with making work for others. That my paintings end up in someone's home as a way to remember such a special time is truly special. It is an honor to try to layer mark, shapes, and all of the pretty colors from the day to hopefully help a client remember an amazing, yet elusive, moment of joy in their life.
Overall, has it been relatively smooth? If not, what were some of the struggles along the way?
Has it been a smooth road? What were some of my struggles along the way?
Hmmm, not so much struggles, but it is definitely a road with no end, maybe not bumpy or smooth, but not clear where it will lead, if it will lead anywhere at all. I love all of the amazing entrepreneurs I've met, but sink just a little when I hear so many say, "I just fell into it". I've never 'fallen' into anything. I love work, I love to work hard, I love to work a lot and try to make it feel like play, but it is definitely work. So what are the struggles? I have motivation in spades, even in the face of failure, but some days I question if all of the effort is worth it. Most days, the answer is a resounding YES!
Seibert Studios – what should we know? What do you guys do best? What sets you apart from the competition?
Capturing an amazing moment from a loved time is my vision for Seibert Studios. I am hoping to preserve memories and seize the fleeting moments of our lives through layered marks, energetic paint, and just the right colors from the day.
What do you specialize in?
I am celebrating others important moments by creating one of a kind unique custom original paintings based on florals from the day. I am really hoping to capture the color and lovely light that surrounds a memory.
What are you most proud of as a company?
I really love working with the clients. It was so different showing conceptual installation work in the academic and gallery setting for so many years. I rarely was around when the work was viewed over all of the years that I have been exhibiting. This new way of working with a specific owner and home for the work before it is even made is such a true honor and delight. I love that after all of these years I've found such a fun way to make things. What artist doesn't want their work to have a good home? I'm proud I've found a way to share this super fun making process with so many others, putting their ideas first!
What sets you apart from others?
Working with my clients is the best part! Going back and forth to make sure their painting does exactly what they are looking for in capturing that special moment. I love making sure it fits just right in their home, and that they are super happy with the end product. I want the client to feel like they can remember that special moment and dream of future ones to come as they hopefully get lost in the layers of color.
What has been your proudest moment of your career so far?
One of my proudest moments…hum, getting tenure was a pretty big deal. I was super proud to have worked so hard for six years to earn the title of being tenured. I think I'm even prouder though with what happened 3 years later, just one year short of Full Professor, by decided to quit. Giving up all of my hard work, my friends, my amazing students, my love of my long built career in academia, and leaving it all for family seemed slightly crazy, but I'd do it a 1,000 times over to be near my sweet family.
As far as my proudest moment with my small business? I was really proud this past summer when I was invited to be a part of the University of Texas Dallas ProConnect accounting program for their graduate students. I had a group of amazing accounting grads who helped look at my small business with me. They proved to me in numbers how successful Seibert Studios has actually been! I was really excited to learn that all my hard efforts and extra work hours has been paying off. And not so much in just a monetary way, but they proved (again, in a tangible way) that people really are interested in my product of capturing memories in paint and color!
I've also loved my sweet small children watch me build a business. They are already becoming little mini-entrepreneurs!
What sets you apart from others?
I don't know if the sets me apart from other businesses, but my sweet husband has always said that part of my successes in life has been through a naiveté that I can just do it. When I was getting my MFA in painting and drawing, my professors would tell me the chances of getting a job teaching at a university was about 5% possible, I didn't quit trying until I did it. Or, when they would tell me it is difficult to get into respected exhibitions, or find grant monies, or travel on stipends to make your work abroad, or quit and get another teaching position, etc. (the life of the artist is a giant 'no letter'), I kept trying until I did it. I just always felt like, "Well, I'm going to do this, so it will happen". So, here I am in the second year of my small business and I still have my naive outlook, "I'm just going to do it and it will happen." You will have to wish me luck and help me along the way to keep my positive attitude approach. Maybe I won't just 'fall into it', but I will work as hard as I can until it works.
What is "success" or "successful" for you?
Work, work, work! If you can make your work feel like play I think you've won. If you can double, triple, dip all of your efforts and projects so your entire life feels like one big project, I think you've won.
My teaching career, my volunteer efforts (I spend a lot of time making art with others in need), my workshops (which I haven't mentioned at all yet, but are super fun-paint parties with a super academic side), my exhibitions, my lectures, my residencies, my awards, my grants, my travels, my commission works, my networking efforts, and all of my small business efforts all feel like one giant project that connect in every way.
When I was little my favorite thing to do was play office and make drawings at my studio table (it was a refrigerator box in the basement with so many crayons)! I also had a wooden little desk with a pull down top (my son has it now). I would make presents for all of the people I loved, and giving them to them was my favorite part. I feel like I am still doing the exact same thing as when I was little, working at a big studio table and sharing the work with amazing people. At night after my sweet children are asleep and I am sitting near my cute husband, I know I have won.
Contact Info:
Website: www.jenniferseibert.com
Email: hello@jenniferseibert.com
Instagram: jenniferseibertstudios
Facebook: SeibertStudio

Image Credit:
Taylor Alvarado, Gernelle Nelson, Rachel Elaine, Alex Moore
Getting in touch: VoyageDallas is built on recommendations from the community; it's how we uncover hidden gems, so if you know someone who deserves recognition please let us know here.