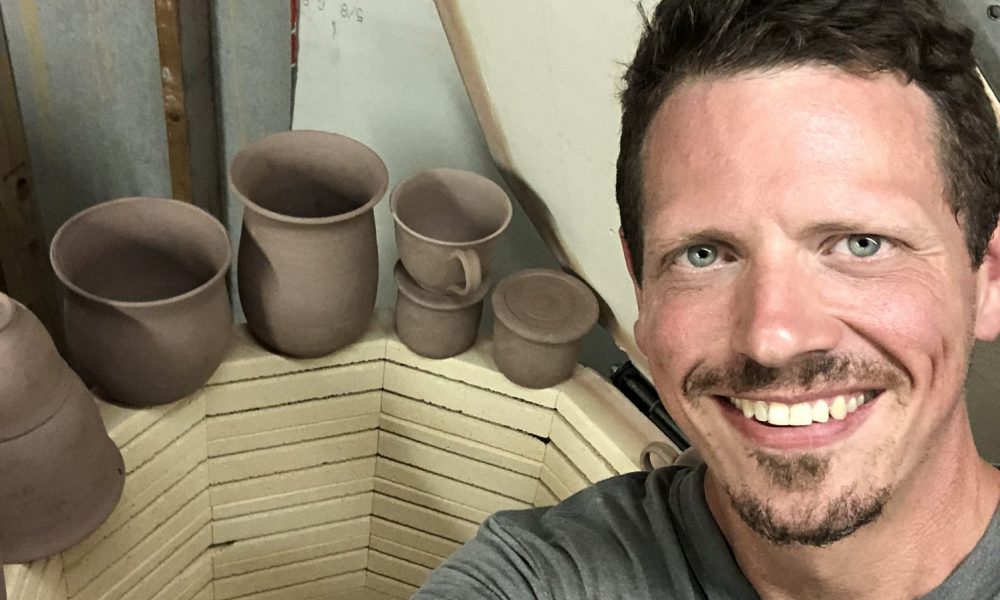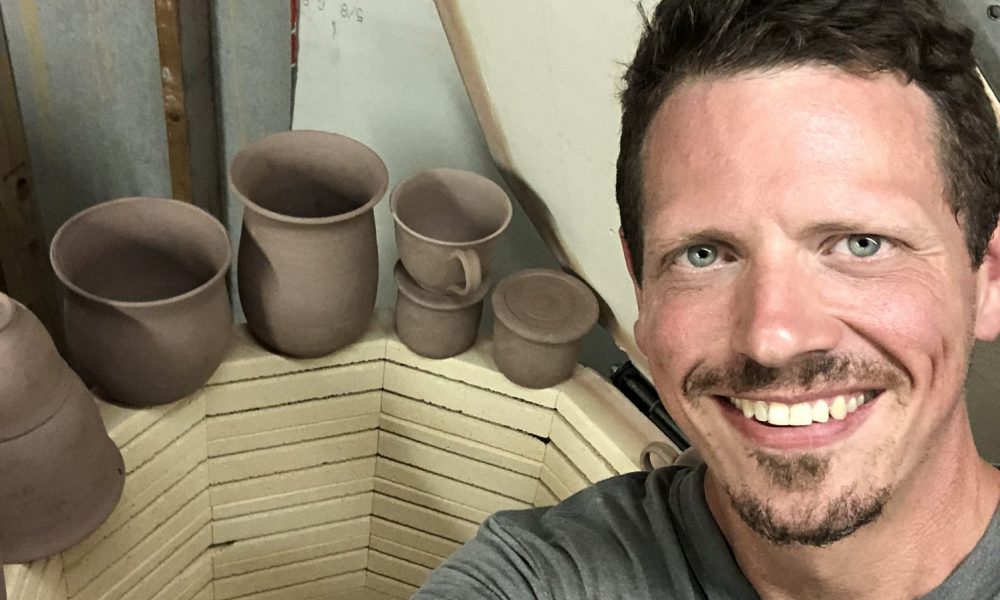 Today we'd like to introduce you to John Campbell.
Thanks for sharing your story with us John. So, let's start at the beginning and we can move on from there.
I really started loving ceramics and the idea of making pottery when I was about twelve or thirteen. My brother James Campbell who was a little older than me was taking a ceramics class from Craig Owens at the high school, St. Stephen's & St. Agnes School, that I would attend also once I reached the ninth grade. These pots he was bringing home were pretty impressive as everything he did was to me at that time. I looked up to my brothers very much.
As I started school my ninth grade year, I looked forward to signing up for ceramics right away, what 14 years old goes to his first year of high school excited to play with clay in the middle of his school day.? I was all about it from the get go… I was in a ceramics or 3D design course every semester I could throughout all four years of high school and spent every free period I had and even some of my lunches in that ceramics studio as well. I was as they say in fishing… GUT HOOKED. I loved working with my hands and still do, can't learn enough.
Fast forward, I went to Roanoke College in southwest Virginia to play Lacrosse but also to study business and 3D art with hopes and dreams of someday opening my very own ceramics studio. I ended up uninterested in playing athletics at that level so I dropped off the lacrosse team and I tried to focus on studies but all I really wanted to do was throw pots. Being that my ceramics teacher was also my academic adviser he watched all my grades slipping while thriving in his ceramics classes. I simply stopped going to school and spent a lot of time making as many pots as I could possibly make. I learned a heck of a lot just by sitting down and throwing pots, taught myself a lot of what I know. That all being said my ceramics teacher basically told me I was failing out of school and either to get my grades in order or pack up…. so I packed up and went home to open a studio.
I thankfully have a very supporting and understanding mother, she opened her home to me and allowed me to start a studio in the basement and I started finding my way. I was also working in restaurant jobs to support myself till the "business" was up and running. Well I quickly got distracted by the fast-paced restaurant life and next thing I know I am packing my entire studio into a corner of a garage and I am moving to Dallas, TX in search of restaurant glory with my other, older brother Eddie "Lucky" Campbell, a major player now in the bar and restaurant scene here in Dallas. I simply stopped making pots and grabbed some clothes and moved to Texas. I was lost and confused. You know why… I was scared to be successful at ceramics because it wasn't a "dependable" job. I was also scared I wasn't good enough. I was simply scared to try.
About 15 years go by and I almost drank myself to death. No clay, just drinking and working trying to drowned some hard stuff to kill. I have been sober from alcohol for about four years now and about a year and a half ago, I was able to start working with clay again. I made a good decision to put down the sauce, that allowed me time to heal and start loving myself again. Which in turn allowed me to see that I simply needed to work with clay. It's the only thing that was a constant positive for me, at least for me to think about, through a decade and a half of sickness from alcoholism and struggles with depression. I had to make a change and I choose the right path for me, finally. Clay didn't save me, but it sure does help me now that I started living my life right. I have been gifted another opportunity at this and I will be successful because I want to be.
Overall, has it been relatively smooth? If not, what were some of the struggles along the way?
No, it has not been a smooth road. If someone ever answers yes, it has been smooth and easy to open up shop for themselves they are full of shit. Small business ownership is not for the easily detoured… every single person that has gone into business for themselves has run into a potentially devastating situation or two along the way and it's all about how you respond. I have had so many rough rides in the last year and a half I couldn't even begin to recap them all.
I have lost pets, a home, a studio, a fiancé and of course dollars lots of dollars. I have lost use of the most important tool in the process, the kiln, numerous times in very crucial time periods to have production happening. Before the Etsy Spring Bash of 2019, I lost almost $3,000 worth of pots do to kilns malfunctioning on me and a very large bad batch of clay. I still was set up and put my best foot forward day of the Bash because I wanted to show up for work… But I still moved forward because I knew it was what I needed for me.
Alright – so let's talk business. Tell us about JohnCPottery – what should we know?
With JohnCPottery, primarily my focus is towards "functional pottery." I have always gravitated towards wheel work in the studio however I have some experience with hand building. Even though I still spend the majority of my time at the wheel, I am now incorporating some hand-built designs in with my wheel work and I am able to do so with the help of my studio mate/friend Melissa Wynne. She is very talented and does an amazing job at taking designs I have been thinking of and making them appear with her slab work.
I also am about to begin the larger project that is Full Circle Studios and that will involve multiple mediums including horticulture, macrame, woodworking, welding, glass and anything else I can get the opportunity to learn and/or support other up and coming artists who simply just want to work with their hands. It's a beautiful feeling to be able to create something from a vision. I love make thoughts and dreams into a reality.
I currently am working all my designs out of the studio I have built at my house on the East side of White Rock Lake. Full Circle Studio is my space and I create ceramics that have a purpose, a task. I make pots that when you pick them up, you know what they are meant to do. I love making beautiful pottery that has a place in someone's everyday life. If my pots end up collecting dust in your home, I want you to grab them and put them to work because I made them to be a tool that you depend on to do something to help you, not just look pretty in a cabinet. I get more fulfillment than you could imagine from seeing photos of my pots actively being used in someone's home.
Any shoutouts? Who else deserves credit in this story – who has played a meaningful role?
I have had a ton of support along the way, whether it be from friends, family or the people attending the markets that regularly buy my work. I have so many people to thank and I know that I haven't even scratched the surface of where I am going with this in my life.
All the way back to my big brother doing something cool, thank you for opening my eyes to such a beautiful thing. To my mother who helped me and still helps me today, even if it's a 20-minute conversation at lunch, it helps to know you are there for me. To many, many friends along the way who thought I was a lot to deal with and some have moved on because my passion and intensity for this has been too much. I thank you for supporting me as long as you could.
I will not forget a single person who has helped me along the way, to name a few: William, O'shane, Clay, Hamilton, Andy Lai, Evan & Cecilia, Collins & Katie, Doc Jeff, Tom & Sally, Nick, Andy, Sam & Melissa, Tammy & Becca, Kay, Conor, Mickey, also my amazing family and now more than all of them, my main squeeze supports me everyday. my sweet Stephanie is helping me see that I can be loved just as much as I can love. I rely on her as much as I rely on myself and no one has ever come close to what she does for me.
You can not do it on your own… find your people!
Contact Info:
Suggest a story: VoyageDallas is built on recommendations from the community; it's how we uncover hidden gems, so if you or someone you know deserves recognition please let us know here.