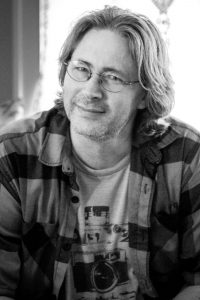 Today we'd like to introduce you to John Chambers.
John, can you briefly walk us through your story – how you started and how you got to where you are today.
I started ages ago as a kid with my grandmothers Polaroid camera. I guess I wasted too much of her film because she quickly bought me a used Kodak Brownie camera. I loved that thing! My Great Uncle Bob later gave me my first real camera. It was an old Minolta film camera. I had no idea what I was doing and certainly wasted more film then I developed. In high school, I was on the Photojournalism team and have always had a love of photography. But I had never considered it as a business until much later.
To be specific, January 21, 2011…. worst day ever. Our family had experienced the devastatingly traumatic loss of our father and I found myself finding a sense of calm through the lens of my camera. I know this is something we hear a lot, people being inspired by the incredibly difficult chapters we go through in life, but even though it isn't original, its 100% true. I was very lost and unable to truly talk about it and just sort of kept it all inside and one day I was walking out the door to go to the beach to just walk and distract myself, and I saw my camera laying there on the couch. I grabbed it and off I went.
I shot everything! From my feet, to birds, to self-portraits and well, literally anything I could point my lens at. I remember, I was at home a few weeks later, and a couple of friends came by to say hello and just sort of check in, and they brought their daughter along. She was probably about one or so, and she was playing with our dog Ali. I snapped some shots and my wife looked at me and said, "you should make photography your business, you seem to really enjoy it." I can't tell you what that support meant (means) to me. She inspires me every day!! As for my camera, I'm pretty sure, I've not put it down since.
In having my camera in my hands as much as I have, I truly believe that there is so much more to being a photographer than just "point and shoot". You have to slow down, connect with the moment and let it be what it wants to be. Capture it in its essence and don't try to force a shot that doesn't lend to the magic of the moment. I try to be invisible and shoot from across the room or off to the side and allow people to be themselves. In my opinion, it just leads to an image that is much more special than lining everyone up to say cheese.
Over the years I've met many aspiring photographers and always try to share with them the importance of finding the beauty. This world can be a very negative place and if we have the tools to see the positive, the beautiful and the courageous, through our lens, I feel like it allows us the ability to be a better photographer.
Great, so let's dig a little deeper into the story – has it been an easy path overall and if not, what were the challenges you've had to overcome?
There have been many challenges, but I would say my biggest struggle has been with myself. Never thinking I was good enough. I would look at the work of other photographers and wonder what am I doing wrong because my work didn't look like theirs? I know, they say, 'comparison is the thief of joy' and it is true to an extent. On the other hand, when we are starting out, we don't know; not what we are doing wrong, but what we could do better. And it is really hard to run a business if you don't feel as though your work as a photographer is good enough to warrant being paid for your services.
All along the way I've had friends push me and support me though and have managed to shoot some incredible moments; Special events with the Mavericks, a 50th Wedding Anniversary and weight loss celebration. Speaking of incredible moments, a very good friend of mine called me up the day after my father had passed and said, "hey, I got you something." He wouldn't tell me what it was, but when I went to my desk, I saw a Nikon D60 sitting there. I tell you; I sort of lost it. I was a big mess. But, my point of sharing this story is, that friend, turned out to be the first wedding I shot. I'd never taken so many shots in my life! I will always be tremendously grateful for that gift. Always.
But yes, the challenges are real!! Everyone says, great work and that they love the end product, but in my head, I wasn't seeing what I wanted to see and that forced me to practice. For the record, I still feel like I have a great deal of growth in me. I'm not quite where I want to be just yet. I'll get there.
Please tell us about EastSide Photo.
EastSide Photo started in January 2012 and started out doing Senior Photos and a LOT of pictures of my cats! We shoot everything from product photography, to weddings. If we had to say a specialty it would have to be surprise engagements. We've been a part of several and we truly enjoy those unique moments. We also find great joy in getting to photograph our senior population. And by that, I mean the grandparents. Unfortunately, our grandparents aren't around forever and having lost all of my grandparents, it makes those images so much more special.
What are we known for? I would have to say, our versatility. We photograph a lot of genres and work very hard to make sure that if it is an art opening, a sweet 16 or a 50th wedding anniversary or a wedding, the images are something to be proud of. We also seem to do a lot of milk bath sessions. Not always milk but always in a tub.
The thing we are most proud of is family we've built together as a company. Our clients contact us for their events and come back again and again. We work hard to establish a bond with our clients that goes beyond that initial session.
We have a guarantee in our contract that says, if the client isn't happy with the images, they don't have to pay the remaining balance. We feel like that sets us apart from others but at the same time, no client has ever left a balance unpaid. I guess we are also very proud of that as well.
Do you look back particularly fondly on any memories from childhood?
My childhood was pretty unique. I grew up the son of a championship barrel racer and a championship rodeo cowboy. We traveled all over the United States in semi-trucks, hauling cattle from one rodeo to the next rodeo where my parents would compete. What kid is not going to love that? Big trucks, tons of animals, concession stands and there were even monkeys!
After my Dad's rodeo career was in his rear view, he became a teacher, but he still maintained an active role in the rodeo circuit in Cheyenne Wyoming.
Every summer vacation, we would all pile in the truck and trailer and head to Cheyenne for Cheyenne Frontier Days (fondly called the "Daddy of 'em All", as the world's largest outdoor rodeo and western celebration). My dad was truly in his element, and at the time I didn't realize what a special moment it was getting to witness that. He would take part in a variety of activities including the cattle drive. Just like a rodeo cowboy that we would see in the movies, he sat high in the saddle overlooking the herd as they moved through town. It was an amazing sight to see!
On my birthday a couple of years ago, we made it back to Cheyenne to celebrate my birthday and to scatter my father's ashes where he had always seemed most at home.
I miss my father every day. I hope he's looking down at me, sipping his coffee, proud of my achievements and the type of person I have become. I consider it a tremendous privilege to carry the Chambers name and try my best every day to represent our family with a kind heart and that 'never met a stranger' demeanor instilled in me by watching my Dad. I've certainly got some big boots to fill!
Contact Info:
Suggest a story: VoyageDallas is built on recommendations from the community; it's how we uncover hidden gems, so if you or someone you know deserves recognition please let us know here.