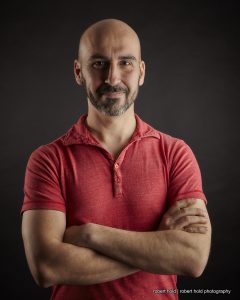 Today we'd like to introduce you to Joseph Guzman.
Thanks for sharing your story with us Joseph. So, let's start at the beginning and we can move on from there.
I am the second generation born here in the United States. My grandparents on my father's side both came here from Mexico in pursuit of a better life. As you might imagine, Latinos, like other people of color, have had a fight in getting recognition in American society, especially in the South. My grandparents worked hard to create room for opportunities for their seven children. Their children went on to be a part of various blue-collar jobs. This is where my story begins.
I was born to a Latino father and a white mother, which made me a mixed-race child. I loved exploring, creating, and figuring out how things work. Early on, I got into drawing, primarily as a means to express complicated thoughts in my little child's head. Art was my escape and medium for my expression. I grew up for many years of my life dealing with physical, sexual, and emotional abuse. Much of this was at a young age, which meant I was not developed enough to really comprehend it. Couple these challenges with the challenges of growing up in a single-parent home where dad would be gone most of the day in order to make enough money to keep things paid and keep us fed, and I was left alone a lot and struggling with very serious matters at a young age.
Art was my friend. Being creative was my outlet. With the wonderful support of one art teacher in high school, Mrs. Briley, I began to really explore art. She never judged me for what I produced. She was always encouraging and challenging me to explore further. Mrs. Briley, if you ever see this, Thank You so much! You made a huge difference in this person's life.
Fast forward a bit. I joined the military out of high school. That was a break from art, but it was a HUGE eye-opener for me about the world. Sidenote: This was also the time when my inventor side activated. I currently have two inventions pending. In my time in service, I got to work with people from all over the country and saw unity and team cohesion in a way I had never seen before. I also was deployed to other parts of the world, which exposed me to other cultures and visuals that would later become part of what informed my creative process. I would be remiss if I said I came out of there without any challenges. In the military, you are called to put your life on the line and to go into dangerous places for your country. I got a taste of that when 9/11 happened during the time I was stationed in Europe. All of this was informative and heavy, but as if it were according to a plan, I was able to withstand it because I had already spent years of my early life enduring various hardships. I am fortunate to be here today and thank God that I did not come out too messed up from it all. Though, the challenges of being a veteran with a VA that doesn't support you properly are real. I'm reminded daily of my fellow brothers and sisters who served and the fact that something like twenty-two per day commits suicide. This also is fuel for my drive.
Fast forward a few more years, through interesting intersections of life, I decided to focus my life back on art. I started my pursuit of getting my BFA in Colorado at the University of Colorado at Colorado Springs. I chose Colorado as a start because my best friend had been wanting me to move there with him for some time and also because I needed the change of space. After going through dramatic life changes, to include my late stepmother committing suicide while I was in the midst of an unfortunate divorce, and a friend dying from MS, I needed space to breathe. What better place than a mile above sea level with mountains and forests around you.
It was here where I really began to push my creativity, with the support of great educators, like Michaela Steen and Claire Rau. This was where I made my first large-scale works. I welded an artistic, functional prop piece that was eight feet by eight feet by six inches. It was used in a play called Salome, in which actors would climb and hang off of it. Talk about nerve-racking for a young sculptor, but it held up perfectly! I also created my first free-standing sculpture that was approximately seven feet tall titled, Voyeur. This piece was a true labor of love. Along the way, in making this piece, I would often sleep every other night and work through the other nights in the studio.
Thankfully, I had a friend who was a DJ that would hang out with me. I was probably the only student in the sculpture program that had his own private dance club while sculpting. He would spin and work on playlists while I worked. It turned out to be great that he had been around because one day, I cut my hand open down to just above the muscle. Four hours, thirteen stitches, and $1500 later, I was knee-deep in this project and with limited use of one hand. Enter my friend John, my DJ friend, who stepped up and let me train him to be my second pair of hands in the studio. It was amazing and I got the piece completed! It was actually shown in the lobby of the theatre on campus for a while. There were so many great professors that really pushed me along in Colorado. So thank you to all of you!
Jumping forward some more, I finished my BFA at UNT. I met some great people while in Denton, and it was there that I began to have a realization about some things that seemed to be lacking for creatives coming out of art schools. This is where my journey of "artrepreneurship" began. I noticed that there was a lack of space for young creatives needing an opportunity to show their work. So, I took it upon myself to do something about it. With the assistance from my friend, and co-founder of Art Love Magic in Dallas, Justin Nygren, I began doing my own pop-up art shows called Local Flavor. I have never negotiated venues before, nor had I ever done contracts for venues and artists, but I did it all. The first show was on the second floor of Denton Square Donuts. The turnout was okay, but for me, it was a triumph and validation that I could do this and that it needed to be done.
So, I had some fellow art student friends join up with me as we morphed Local Flavor into a new organization called The Art Connect. With the help of one friend, in particular, Nicole Dane, we landed our second pop-up art show in Voertman's, a university bookstore and srt supply store in Denton. It was always important to me to support local as much as I could. So with each event, we would also have local music. The first event was my friend, photographer and OG vinyl DJ master, Courts Griner, and the second time was a local band in Denton called Pearl Earl. Both were wonderful! Our second pop-up also was the first time I included not just the artist's work on the wall but also local vendors of various unique creative products. We had traction forming!
From there, I began forming this idea of a place and/or organization that would be a hub for creatives to empower, educate, and equip them to be as successful as possible. For lack of a better name at the time, I called it, J Guzman Design Studios. I drafted up designs and came up with ideas on how it would come to be. During this time, I began doing meetings with teammates to figure out events and future trajectory for The Art Connect, but that organization was not to last. I learned a lesson about this development. That being that my creative friends had passion, but I needed more than just passion to make this succeed. I needed business savvy. Enter my friend and business partner in Visiona Creative Solutions, Stephen Ellis. Stephen had been doing something similar but for musicians, which he called Auditory Asylum.
After he came on board, we ended up letting The Art Connect, as a name, fall aside. For a while, we hosted gatherings to gain insight from the creative communities in the DFW area. We would invite creatives of all kinds to come and have wine and snacks and conversation on the state of art in Texas and in particular, North Texas. So, with the help of my friend and one of the most go-getter attitudes you'll know, Breonny Lee, we got a DBA for Art Talk North Texas. This was a beautiful experience and really informed all involved, I believe. From that exploration, we finally arrived at Visiona Creative Solutions. So now, with a Master's degree completed at the University of Dallas and Visiona Creative Solutions forming, we head off.
Stephen and I started with a niche which was focusing on future technology and the arts. So we began looking at the intersection between blockchain technology (not cryptocurrency) and the arts. This was a great launching point until the issues that arose with cryptocurrency that gained news exposure created a bad taste in society's mouth for anything blockchain. A bad reaction, but the reaction we had to grapple with nonetheless.
Now, with the opportunity of time and being at home due to COVID-19, Visiona Creative Solutions is pupating. We have a new teammate in Jeremy Helbert, who can seemingly learn anything. He is an important part of where Visiona Creative Solutions is headed. We have a proprietary software product in the works that I codename, Operation Deep Art. We are in the midst of a revamp of our website and logo to something cleaner. We are also finalizing things for the services we are offering in Visiona Creative Solutions. We are offering rendering on our server farm to help creatives render large files that might otherwise take a long time. We are also offering 3D design and 3D printing work for those who need to create a maquette, prototype, or just art pieces. We will be able to offer graphic design work through our in-house graphic designer. Stephen and I consult with creatives and creative organizations looking to take their creative ventures to the next level.
Looking forward, my big dream is to create a strong hub for Visiona Creative Solutions here in DFW and then move it to other cities, states, and God willing, other countries. I have a huge list of future ideas for products, services, and events for us to work on as we move forward. No one really knows what the future holds and whether or not you will be able to achieve it all, but this much I know for certain, your chances go up simply by giving it a try.
My desire is that those who read this will find hope that no matter how your life starts out or what darkness you've had to go through, it isn't the end. You CAN do great things if you keep your eyes forward and your heart upward. Keep dreaming! Keep digging deep! Encircle yourself with people that are not all like you who will challenge you and encourage you to keep going! And if you need help finding that starting point or guidance to go forward, then reach out to me. I believe in you and I believe in your creative pursuits!
Great, so let's dig a little deeper into the story – has it been an easy path overall and if not, what were the challenges you've had to overcome?
Nothing in life is ever smooth. As the old adage states, "The only thing constant in life is change." No life is without its adversities and no venture worth pursuing is without its unknowns and blindsides. The key isn't to plan it all out, but rather to be able to adapt quickly to the changes and find a way to overcome.
As far as Visiona Creative Solutions is concerned, I would say the biggest challenge we encounter is funding. This is often the case for so many businesses and especially art businesses with minority leadership in Texas. The second-biggest challenge is acquiring the right talent that not only brings great skills and experience, but also the humanity that transforms a workplace in a work community.
Visiona Creative Solutions – what should we know? What do you guys do best? What sets you apart from the competition?
Visiona Creative Solutions is a creative business that exists to equip, empower, and serve creatives of all disciplines and the creative business sector. As the company grows, new products and services will be rolled out. Currently, we offer consulting to creatives and creative organizations needing figure out their next steps in their career or organization. We offer creative business services such as CV development/refinement, website design, and creation, branding, portfolio development/refinement, 3D design services, 3D printing services, file rendering, future tech consulting for creatives looking to make use of emerging and young technology that can help them grow their exposure and market share. For a more detailed listing of services, then feel free to reach out and ask us.
I am most proud of the diversity of the team, though I would love to make it more diverse as time and money permit. I am proud of the fact that we are a veteran-owned, minority-led business. I am proud that I have a team that comes with so much talent and passion for helping the creative community while also making Visiona Creative Solutions sustainable. I am proud of my team that no matter the challenges or distance we may be from each other at times, we are committed to growth while also keeping a sense of fun and humanity in our team and what we do.
I believe that what sets us apart, at the core, is the complex people we are that make this organization what it is. We have many years of combined experience in business and creative practices, as well as several degrees in the creative fields. We come with unique identities and backgrounds that allow us to navigate many parts of society due to who we are and who and what we know as individuals. We are also highly creative people with a passion to create and enable others. So, not to sound cheesy, but WE are what sets Visiona Creative Solutions apart because you will never get what we can do for you without us.
What moment in your career do you look back most fondly on?
The proudest moment of my career so far is the morphing and shifting from Local Flavor, The Art Connect, Art Talk North Texas, to then finally arrive at Visiona Creative Solutions with a stellar team that is allowing me to see my dream of helping the creative community succeed and hopefully find sustainability so that we can break that dumb stigma of the "starving artist."
Contact Info:
Image Credit:
Robert D Hold Photography, Kiss Me For Eternity Photography, Leslie Killebrew, Robert Guerra
Suggest a story: VoyageDallas is built on recommendations from the community; it's how we uncover hidden gems, so if you or someone you know deserves recognition please let us know here.