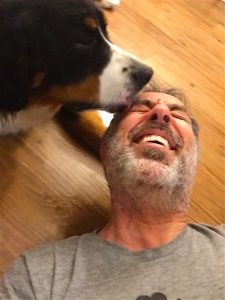 Today we'd like to introduce you to Josh Galitsky.
Thanks for sharing your story with us Josh. So, let's start at the beginning and we can move on from there.
Thank you for having me. 
In 1996, I had just finished graduate school at Emerson College in Boston, MA with a Master's Degree in Theatre Education. I was asked by a very talented and passionate group of undergraduate students, who were starting their own summer theatre company, if I would direct one of the four pieces that they were going to produce. I said, "Yes, but only if I can do pretty much whatever I want!" They agreed… with some degree of trepidation! (Laughing.)
My outstanding cast created a fully original production called, The Common Ground, using the book The Circle of Life by David Cohen, and a few other tricks I learned in life along the way, as a leaping off point. I would discover much later that this way of working was a process called "devised" theatre. Our show was a hybrid of live music, movement, scene work, dance, poetry, etc. and it was an amazing, life-changing experience for me in that it laid the groundwork for my future as a Theatre Artist, Teacher and Director.
Flash forward nearly 25 years, many gray hairs and a little… (or some would say big) paunch later, and working on "devised" original, interactive stage productions, writing and teaching are my passions and part of my creative "mission" in life. I have worked all around Los Angeles for 21 years co-creating these wonderfully eclectic projects, taking them from tiny, process-oriented seedlings to fully blossomed Redwoods.
Presently, I am at the early stages of exploring immersive theatre, which is a very popular and vibrant community in LA. One ultimate goal of mine is to create an original, multimedia, fully immersive, wholly interactive, financially sustainable and thought/heart/soul-provoking project from the ground up that will satisfy the intellectual, emotional, physical, artistic and spiritual thirst that is so prevalent and yearning in Los Angeles.
There is amazing theatre in this city despite what the "haters" might say! I want to be an integral part of the community of Artists making incredible, hair-raising, mind-blowing, heart-centered and soul-expanding work that has no shelf-life or expiration date, something desperately needed in this precarious time in world history and in the terrifying era of climate change. I want to foster the birth of something dynamic and beautiful and meaningful that the unbelievably creative Artists in this great city can really take ownership of and that I can guide with a sturdy, enthusiastic and supportive hand. Any takers? (Laughing.)
We're always bombarded by how great it is to pursue your passion, etc. – but we've spoken with enough people to know that it's not always easy. Overall, would you say things have been easy for you?
If my life were an ice cream, it would probably be Rocky Road. (Laughing.) No, of course it's never easy. Some folks say they just want to sit on a tropical beach somewhere sipping Pina Coladas. But would we really want that? I think it would be mind-numbingly boring after about three weeks. As human beings, we want to be challenged. Especially with what we love and are really good at.
They say there is no money in theatre. They're right! (Laughing.) At least not for most 99-seat and smaller theatres here. But in a predominantly entertainment town of film and TV, there is such a visceral, creative and spiritual need for truly great theatre. I always tell young actors and artists, "Go do your movie, go do your TV series, go make your money at commercials. When you are ready to come back and rediscover your soul again, I'll be back here in the theatre waiting for you."
Los Angeles is an extremely fascinating and totally misunderstood place. While New York claims Broadway, Chicago comedy, and London the classics, LA is easily dismissed as an Entertainment-only city. It's just not true. We have all the same things that those other cities have and more of it. More talent per capita. More opportunities per square inch. More theatre per neighborhood. More improv. More stand-up. More Fringe and experimental work. More of everything. We even have pretty good pizza! (Laughing.)
And yes, we have plenty of "crap" too but that comes with the territory of an enormous Metropolis. What we certainly have in large supply in Los Angeles is rich culture, diversity, imagination, optimism, possibility, a sense of adventure and hilarity of every flavor. And even as the "Industry" can bring plenty of madness, insecurity, superficiality and an unhealthy competitive undertone, there is a vast community of Artists of every color, shape and ability out here who continue to dazzle me every day with their generosity, inventiveness, and resiliency. 
I guess for me, the smooth road is the one not worth traveling. I like the cracks, bumps, and potholes. They keep me honest, highly aware and very much alive. And mostly broke! (Laughing.)
So, let's switch gears a bit and go into The Sacred Actor story. Tell us more about the business.
The Sacred Actor is my "company" although that seems a rather generic term. I like the word "collaboration" or "community" better. I wanted a "brand" name that meant "Life Artist" and combined my belief in the revered and spiritual nature of creativity and craft that are within the art form. The Sacred Actor to me is all about what a true Artist is. There is a hallowed trust that we as Artists are blessed with, in this case in the form of actors, performers, and collaborators of every hue, view, type and texture. We are the ones who hold up the mirror to humanity and show the world what we are, what we long to be, what we can be, and even at times, where we go completely off the rails. 
Artists roll around in the muck and mire. I guess so others don't have to! (Laughing.) We explore the deepest emotions, the most terrifying thoughts. We ask the burning questions. We confront the darkest fears. We dabble, dibble and doodle. Discover. Agonize. Celebrate. Grieve. Endure. And triumph. And in this delicious and bat sh*t crazy town, we do all of it. Yes, there's glitter and glitz and glamour and glare and grotesqueness but that's mostly surface level stuff. Los Angeles has a huge soul and you just have to know where to look and how to extract the goods. The Sacred Actor honors the Artist who seeks to know, to risk, to expand, to share, to conquer, to shine and to laugh like you've never laughed before.
The Sacred Actor is a vessel, an umbrella if you will, for workshops, classes, creative projects, private coaching, and fully original, unconventional, process-oriented theatre productions. It's kind of hard to describe. I usually say to people, "Better I show you than tell you." You can describe a strawberry all day long but you will only grasp what a strawberry is when you try one. How do you describe a color you've never seen before? You must step into the unknown and find out for yourself. So sign up today! (Laughing.)
I think what sets me apart as an Artist is nothing particularly special really in the grand scheme of things. We are all individual souls on a human journey. We are all as different as snow crystals, but I believe that we are also more alike than some may have us believe. We all want love, acceptance, kindness, acknowledgment and lasting joy. We all want to shine in the spotlight using our unique gifts and skills. And at the same time, we all want to part of something larger than ourselves. What I try to do in these collaborations is to delicately and mindfully guide a creative, trusting and open process, challenging and supporting the Artist to shatter through their fear obstacles and insecurities to get to their most genuine, interesting and powerful work. It's a careful balancing act between craft, art and Artist. I know to it may sound woo woo and "out there" to some but I don't really care. I just put it out there and somehow, I find my tribe and they find me. And when it all comes together, it's pure joy!
Has luck played a meaningful role in your life and business?
Luck? I think my life has been almost all luck, and mostly bad! (Laughing.) No, anything "bad luck" usually comes from the endless noise my ego mind makes, the voice of judgment and self-doubt and fear. Can you relate? The good luck comes from courage, volition, and by the grace of God.
I believe that when we operate from the ever-evolving soul, that spark of the Creator within each of us, that quiet, steady voice of intuition and infinite wisdom never leads us astray because it is always working for our largest, greatest and most expanding good. The soul is fearless. It wants to run, fly, express, love, laugh, share, serve and it welcomes the entire adventure with open wings. I believe that when we operate from the ego, the little self, we stay in a limited consciousness of fear, jealousy, boredom, frustration, atrophy and smallness. How can you tell the difference between the ego voice and the soul voice? The ego voice is always bellowing and is afraid of anything that could hurt its own existence. The soul voice is steady and fearless. But only when we turn down the world's endless chatter can we here the soul because although the soul voice is always speaking to us, the volume control always stays at 1. I guess this is my public service announcement for meditation! (Laughing.)
There are two places in the world where I feel most "at home," where my heart is and where my passion lies and that's in the theatre and at summer camp. And they aren't too dissimilar. Theatre too is a safe playground of truth, beauty, hope, passion, compassion, quirkiness, kindness, friendship, joy, imagination, inspiration, endless laughter and great love. It is where you can be your most Self, conquer your most challenging obstacles, and fly in the face of danger. It is where the sacred and the silly meet, share and have the time of their lives!
Now doesn't that sound pretty cool?
Contact Info:
Address:

 2500 Broadway




Building F, Suite 125




Santa Monica, CA 90404

Website:

 

thesacredactor.com
Phone:

 310-910-6812

Email:

 

thesacredactor@gmail.com
Suggest a story: VoyageDallas is built on recommendations from the community; it's how we uncover hidden gems, so if you or someone you know deserves recognition please let us know here.