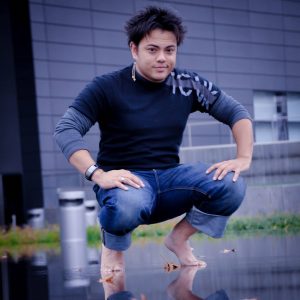 Today we'd like to introduce you to Jubei Mercado.
So, before we jump into specific questions about the business, why don't you give us some details about you and your story.
Aloha! I was born in Honolulu, Hawaii. I have always been wildly creative and multi-talented. I could be best be described as having creative ADHD, as I constantly jump between art styles and projects on a whim. I have difficulty sitting still in both my creative and personal lives.
My life journey has been a wild ride so far. I was adopted at an early age; a solid portion of my youth was spent attending a church for the deaf and their provided youth programs. I wasn't hearing-impaired, but my neighbor was and he was a close friend, he taught me to appreciate the care and patience for building model kits and a substantial deal of sign language. I couldn't pick up on everything during church services, so I would spend my time drawing quietly in the pews. Because of this environment, I was required by necessity to express myself and communicate solely using visual mediums at a very young age.
My life's path has taken me through a decade of military service. Residency in Texas, Las Vegas, and Oklahoma. Even though I entered as an aircraft mechanic, my creative talents quickly redirected my career in an entirely different path. As I became more proficient at graphic design, I found the need for stock imagery more and more. This led to my first camera. From that point on, I learned that digital photography paired with a strong knowledge of digital design, nothing was impossible beyond the limits of my imagination. This path led me to several trips around the globe, and I got to witness the culture and art styles of other countries first hand. I was also chosen to be interviewed for the Veterans History Project and I have my own entry in the Library of Congress.
After the Air Force, I attended the Art Institute of Dallas for a short period, but found it cost way too much and they were not teaching me anything I didn't already have a strong foundation of knowledge on. I left school and jumped straight into the freelance photography and design landscape of DFW. This helped shape my confidence as an independent creator and is a huge leap forward from the scared Art College student willing to do anything for $50.
Fast-forward to present day- I am happily running my own freelance business producing photography, graphic design, web design, video production, holograms, vinyl signage, projector mapping, and other creative works. My wife "Porn" (yes, that's a real name, she's Thai) is a nationally-recognized model and an amazing human being, under my mentorship she is also a professional photographer who helps manage our business. Acting as a model/photographer combo, we capitalize on the "Power Couple" dynamic as we take on new projects together.
We're always bombarded by how great it is to pursue your passion, etc – but we've spoken with enough people to know that it's not always easy. Overall, would you say things have been easy for you?
Straight out of High School I joined the United States Air Force, and was placed in the hydraulic maintenance program servicing flight control systems for E-3 Sentries (AWACS) in Oklahoma City. It was immediately apparent from day one that I wasn't "one of the typical dude-bros", this brought me a decent amount of grief my first couple of years in the service. As a new airman, I was often invited to watch sports ball, or to talk about fishing, trucks and whatnot. It was clear I'd rather be by myself to sketch an idea or make something creative out of whatever materials I could scrounge up. I was eventually able to find friends with common interests, and together we would build computers, modify PlayStation, and setup LAN networks for gaming in the dormitories. As I would build new computers, I picked up on Photoshop and Corel PhotoPaint skills learning how the programs worked.
Over time, my supervisors identified my qualities and helped me tailor my Air Force career to something more suitable for me. I am thankful for this, and I am still good friends with them 20+ years later and they continue to provide me guidance and leadership. At the peak of my military career I was the squadron in-house graphic designer and photographer. I was also working part time as a Hibachi Chef in the evenings at a local Japanese restaurant. Countless hours were spent spinning knives in front of a monitor while I mulled over new ideas for design.
I eventually left the military in 2005 after 10 years of service. Honorably discharged, I set off into my civilian life to create a name for myself in Dallas.
So let's switch gears a bit and go into the NaokiGraphics story. Tell us more about the business.
I've always guided my career under the premise of "creativity without rules"… meaning I was never formally trained in photography, graphic design, or any of the other skills I've acquired over the years. Because I was never given a formal set of methodology or boundaries, my creative endeavors have had no limit. I've never had a restrictive sense of what I "can't" do.
I don't bother fretting over things like other photographers do such as; rule of thirds, Instagram popularity, shooting with "agency only" models, or spending hours making skin look fake and unrealistically porcelain smooth. Several photographers I have met on my journey gain their methods by shadowing others then running with the pilfered skills, claiming they have mastered that aspect. I have found my photography style and post process to be not only self-taught, but adaptive as I go along. I often get requests to do tutorials for some of my methodology. But honestly, most of it is improvised and on a whim, real-time problem solving, so I cannot quantify or outline my techniques.
I am best known for pairing creative photography with my graphic design skills, resulting in unique images that stand apart from others in the DFW photography scene.
While lots of my images fall victim to the generic claim "Oh, that's Photoshopped", I actually use mostly practical effects in-camera before any post processing is done. The more I can shoot onsite as elements for the final image, means less work for me in the end while developing the final look of my photos. Plus, in the defense of Photoshop users… "Photoshop" is often abused as a verb… meaning that you just "push a button" and the computer does all the work for you. This couldn't be farther from the truth, post processing and editing using software can be a challenging and time-consuming endeavor.
I continue to pursue artistic techniques, photography methods, and new technologies that set me apart from the others. I have never considered myself to be "the best" at anything, but knowing my skillset can be improved has always been a great motivator for self-growth.
My self-titled freelance business "NaokiGraphics" is fluid and can accommodate pretty much any design or photography challenge presented. I pride myself on being able to tackle any assignment, and I love especially love problem-solving or reverse engineering things to find the solution to my design goals.
What were you like growing up? Personality wise, interest wise, etc.
Growing up in the 80's and 90's had a huge impact on me culturally, artistically, and highly influences my creative style in the present tense. I was just like all the other kids losing their minds over Star Wars, Karate Kid, and Back to the Future. I also had an insatiable LEGO obsession… by 5th grade I was building aircraft with working mechanical flight control surfaces and cars with working engine pistons and multi-geared transmissions. I was still a normal child, my days consisted of riding my bike and chasing down the ice cream truck through the suburbs until the street lamps came on, beckoning me home. 

On a side note, I still get hyped every time I hear the ThunderCats theme song. Like… REALLY hyped.
I was identified as "gifted and talented" early in grade school, I even was selected to take the SAT test at age 12, although I bombed the math portion because I had never encountered that level of math in my age bracket. I actually struggled early in school because I ONLY cared about being creative. I would literally ignore all my assignments and focus solely at whatever I was drawing or creating. My teachers eventually learned to adapt to me, and I went on to win state and national competitions for editorial cartoon drawing and print layouts. By my senior year, I had manipulated my schedule to consist only of art classes, band, orchestra, journalism, and photography. It was indeed, awesome.
My design roots stem from high school when I started learning on PageMaker (which would later become InDesign), doing isometric pixel art dot by dot on my Macintosh Plus (One of the very first Mac home computers), and learning to animate using Autodesk software.
Personality-wise, I was for the most part pretty friendly. I've always had a talent for being a social chameleon, managing to make friends with most types of people outside my comfort demographic. The only thing that would make me upset is if anyone copied my work. I was unaware of the meaning of plagiarism at a young age, but it would make me insanely angry. I tended to do almost everything differently. In Boy Scouts, I caught another scout copying a Christmas ornament I had been working on. I cried, challenged the boy to a fight and was put on time-out for the remainder of the activity. I have since learned to not cry or fight if anyone tries to copy my work.
As a designer, photographer, and artist, I've really matured creatively in my time spent here in Dallas, It has showed me the scope and impact of what I do creatively. I am proud to be a part of this community and take great pride in seeing my works published. As I move forward, I hope to create, inspire, and motivate others to be the best version of themselves.
Pricing:
Creative Portraiture $250-$600
Weddings – pricing starts at $1500
Private Tutoring (Photography / Photoshop / Video Editing) $99 an hour
Graphic Design Work – Pricing is unique per assignment
High Fives – FREE
Contact Info:

Image Credit:
Model Credits- Julaporn Mercado, Stardust Cosplay, Kristin Smith, Stephanie Ruiz
Getting in touch: VoyageDallas is built on recommendations from the community; it's how we uncover hidden gems, so if you know someone who deserves recognition please let us know here.