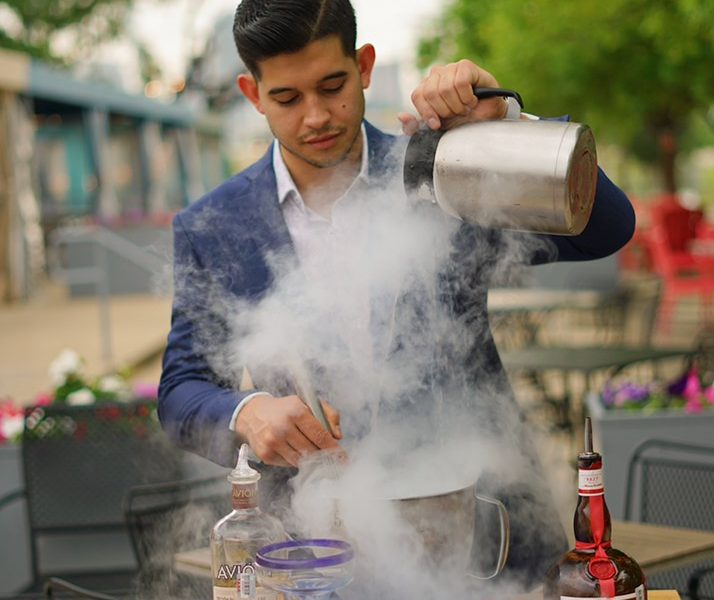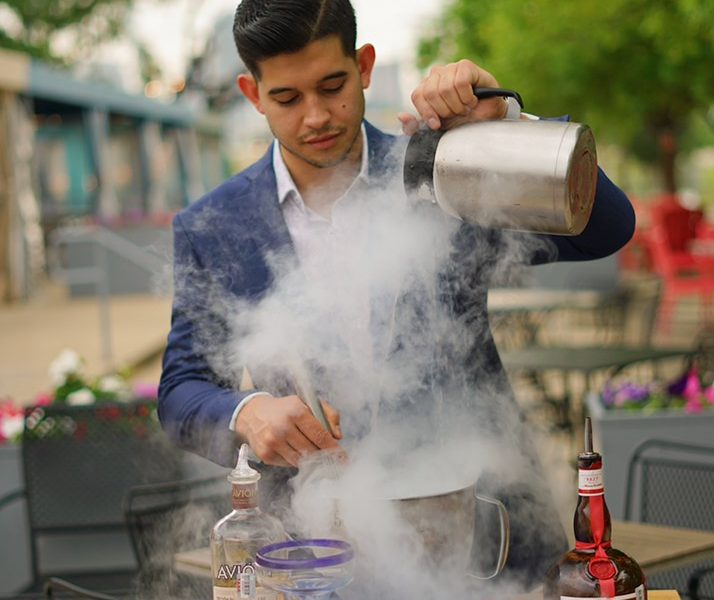 Today we'd like to introduce you to Julian Rodarte.
Julian, can you briefly walk us through your story – how you started and how you got to where you are today.
It is a Saturday night at Beto & Son, the Latin music is playing loudly throughout the speakers, the servers are running about in every direction, aromas of fresh tortillas and fajitas engulf the entire restaurant. Liquid nitrogen carts are scattered around with smoke coming from various tables as customers are capturing the moment for social media. I look over to the host stand and out the front door and can tell we are approximately on a two-hour wait with over 100 people on the waitlist. I view the restaurant as an orchestra. The servers are the strings or brass, the kitchen, the heartbeat, or the percussion that the rest of the restaurant is playing its tune to and the Chef is the conductor ensuring everything is perfectly in harmony and on the beat. As soon as someone misses a note or beat, the guests will notice and surely ask for a manager to voice their opinions. I stand in the middle of the restaurant and cannot believe that this is my new reality. It feels like a dream.
Only three years before opening Beto & Son, I was 20 years old and waiting tables at On The Border in Allen, TX full-time and living with my parents. At the time I was trying to figure out what my next step was in my culinary career path. I struggled with going to a four-year college because I knew it would conflict with my learning abilities. I am positive I have ADD because of my hard time concentrating on certain subjects, especially those that I have zero interest in. Ask any of my staff family and they will all tell you it is impossible to keep me focused on one task at a time. There were times I felt confused and lost about my career path. Did I need a degree? Did I need to attend Culinary School or just work my way up in the industry as others have done? A single conversation with a family friend forever changed that.
A few months later, I enrolled at the Culinary Institute of America in San Antonio and was packing my bags to move to a city that although I was born in, was pretty unfamiliar. I moved alone to San Antonio to learn and explore the culinary arts beyond what I had already picked up at home from my father in our kitchen. I was excited but nervous as I had no idea what to expect. I also had no money saved and would be paying for my living and college on my own. Luckily, I found a job waiting tables at one of my favorite restaurants on the Riverwalk that supported me throughout my time living in San Antonio. I graduated two years later with a degree in culinary arts, however, the familiar feeling of confusion & doubt returned as I wasn't sure which culinary career path I'd be taking.
For the next two years, I worked for various companies all throughout the restaurant spectrum. I started working for Ritz-Carlton Dallas in their banquet kitchen. This was one of the most challenging yet gratifying jobs I ever had. Later, I worked for Dean Fearing at Fearing's as a line cook. My next job was Denny's Corporate in product development and lastly as a Culinologist, which is a fancy way of saying I was a chef, who also had my hands in some food science for CTI Foods, which is a soup, sauce, and protein manufacturing company. I lived in Dallas, South Carolina, and Fort Worth during that period and I am forever grateful for those opportunities. These positions would play some major roles in helping me make Beto & Son successful.
In the summer of 2016, I'll never forget the day, I was at the Central Market in Southlake shopping for the chef I was working for at the time. It was just another routine day until I received a call that changed everything. My father Beto called to tell me that Phil Romano the restaurateur and developer of Trinity Groves had reached out to him and asked if we would be interested in opening a Mexican restaurant. Excitement and anxiousness filled my body as my father and I began to over the phone bounce ideas back and forth about our potential menu and develop our concept. It was our chance to make our mark on Dallas' Mexican food scene and we're going to do whatever it took to make that dream reality. At 23 years old, in November of 2016, I opened Beto and Son with my father at Trinity Groves in West Dallas. The feelings of fear and doubt did make their way back into my life as they seem to follow me, however, I have learned throughout this experience that the only fear I should have is not taking an opportunity that could become life changing!
Great, so let's dig a little deeper into the story – has it been an easy path overall and if not, what were the challenges you've had to overcome?
One challenge I was very unaware of was what it was going to be like managing a staff that I see as family. We have been very blessed with the most amazing staff family at Beto & Son. I have seen so many of my staff family grow from hostesses and bussers to now managers. However, there are a lot of close relationships I developed with bartenders and chefs that I thought I would work with my whole life that is now working and developing competitor concepts. This was one of the hardest pills for me to swallow. I love all my staff as brothers and sisters. They are my family that I am responsible for. Their families depend on me to provide compensation for the week after week. They depend on me to do whatever I can to keep the restaurant busy and successful so that all 80 employees and their families have food on their tables and roofs over their heads. I take this job more seriously than I have ever taken any other job before. They think they work for me but really I work for them. They employed me to ensure a stable and successful work environment and this is a job I do not take lightly. I have found that working this position for so many individuals that I invest my heart into their families because of their stories. There is a father who was working overtime to pay for his daughter's quinceanera, who is now 18 and working at the restaurant as well. There is a mother who is saving up to buy a house for her kids to move them out of their apartment. There is a young kid who likes me, struggled with school and decided the restaurant industry was where he belonged. All of these scenarios are real people that I love and call family and when they decide to leave they take a piece of my heart with them. It is nothing personal when a staff family member decides to leave, they are just making the best decisions for their family but it is one of the obstacles and challenges I have had to learn to overcome as a very young business owner. Even though this is something I am learning to overcome, I wouldn't change a thing. I have a bigger family now that I love and adore. Sofia Martinez my Director of Operations, Michelle Gallardo my GM, Sonia Mancillas my Chef and Alexa Cavazos my Director of Marketing are a team of individuals that are so amazing, I pinch myself sometimes to make sure it is real. These ladies have helped develop this monster of a concept and without them I know we would not be where we are today. Managing a staff has been a burden of love that I am so blessed to have experienced and am so thankful for the team I have who puts their faith in me every single day.
Alright – so let's talk business. Tell us about Beto & Son – what should we know?
My father and I with our amazing staff family have created a new wave of Mexican Food in Dallas we call Next Gen Mexican Food. It is food with integrity, it is a young festive ambiance, it is an experience above and beyond the expectations of our guests. We take pride in our cuisine. This is why we fabricate all of our meats in house rather than just opening plastic bags or preformed meat. We were one of the first non-vegan Mexican restaurants in Dallas to create a full-blown Vegan Menu for our Vegan guests that they can order from confidently knowing we as chefs have crafted dishes full of flavor and nutrition. We do our best to make everything in the house like our fresh tortillas and salsas and what we do not make like our bolillo bread we buy from and support local panaderias who bake our bolillos for us fresh every day. Cocktails like the Liquid Nitrogen Margarita has been voted "Best Margarita in Dallas" at the Dallas Margarita Festival and The Dallas Margarita Meltdown and has also appeared on BuzzFeed and the Travel Channel. My dad and I have had the opportunity to appear on Food Network and on Tastemade. We are a group of individuals, a family, that loves hosting the people of Dallas. Our passion is to cook our guests food that fills more than their appetites, it fills their hearts with joy.
Is there a characteristic or quality that you feel is essential to success?
Not backing down from fear. I was fearful when making the decision to open a restaurant at such a young age. I was fearful we would not be able to pull off a tableside Liquid Nitrogen Margarita. I was fearful that NextGen Mexican Food would be rejected by Dallas but the fear did not stop me from doing all of these things and now thank God I have been given the ability to tell you all the story about not backing down from these fears today.
Contact Info:

Image Credit:
Photo Cred: Kathy Tran, @ProjectBeSpoke, Alexa Cavazos
Getting in touch: VoyageDallas is built on recommendations from the community; it's how we uncover hidden gems, so if you know someone who deserves recognition please let us know here.