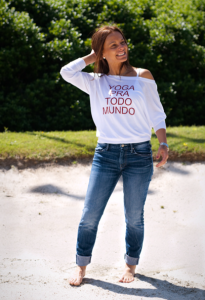 Today we'd like to introduce you to Christina Siepiela.
Christina, let's start with your story. We'd love to hear how you got started and how the journey has been so far.
I was born in Curitiba, Brazil, where I discovered Kaiut Yoga Method. Living a hectic life as a Family Law attorney and a College Professor, I developed a chronic pain in my sciatica nerve and I was living under constant headaches, which was affecting my quality of sleep, quality of mobility and quality of life in general.
I heard from a friend that Kaiut Yoga would be a good source on helping myself with my physical issues. I met Francisco Kaiut, the creator of the Method, in 2001 and I started my weekly practice with him. The method brought big results for my body and I kept my practice regularly until 2004, when I moved to the United States after I fell in love with my husband during a summer trip to Cancun, Mexico. My husband, who is an American, was living in Dallas and we decided to live together before we married and had our two daughters. After 11 years of practicing and exploring other Yoga styles in Dallas, I decided to pursuit something more meaningful towards my own wellness and health, especially after being diagnosed with mild depression, anxiety and panic attack. I decided to search for Kaiut Yoga again, which had helped me physically once and I was hoping that the method could rescue me mentally too.
In 2016, I reconnected with my teacher Francisco Kaiut after 11 years of a hiatus from the last time that I had practiced with him. He and I had a long conversation about life, health, dreams, family and goals in Life and he invited me to be part of the Kaiut Yoga community in the United States. I decided to pursuit a big dream and become a Kaiut Yoga Teacher and a Kaiut Yoga School Owner. During the past three years, I had studied and trained with Francisco in the United States, Canada and Brazil. In 2019, I opened my Kaiut Yoga School at Lovers Lane in Dallas, TX. My mental issues were cured through the practice, specially practicing as a teacher, and I am feeling complete as a wife, a mother, an entrepreneur and a Kaiut Yoga teacher. As they say, we can have it all, just not all at the same time!
Has it been a smooth road?
It has not been a smooth road! Moving from a different country with a different language, culture, food, habits, values, all those aspects were a big challenge for me. I left my family, my friends and my career behind in Brazil because I felt that I was doing the right thing. My heart said yes… even with a lot of minds surrounded me in Brazil asking to think better! A marriage life by itself is already a constant work towards balance and commitment, plus being a mom and all the circumstances and challenges that motherhood brings to us: from the pregnancy and the birth to the raising kids, especially in the modern life with technology revolution, competitive society and a fast pace in life. It's a lot! With all that in my life well… at some point I broke down… and I was having panic attacks and anxiety, besides feeling depressed even with all the beauty around me! I had to find a way to bring Life back to balance.
After being diagnosed and medicated, feeling safe that I knew what was going on with me (I thought that I was having heart attacks sometimes… pure panic attack!), I decided that it was a time to move outside of my own box as a wife and a mother, and discover something for me as a woman, something related to me and my own dreams. I decided to pursuit a new career and I knew that finding a new challenge will contribute positively for my private life at home. However, big dreams bring big challenges… The path towards opening my own business came also with challenges: financial, location, community, dedication, partnership, projects, timing, hours and hours of work, pure labor of love, pure joy. It all went through and I am here! I know, however, that all the challenges that I had faced in Life made me the person and the woman who I feel that I am today and I feel good, with an expanded consciousness that gives me the ability of understanding Life and Human Beings better and live a peaceful and meaningful life.
We'd love to hear more about your business.
I co-own Kaiut Yoga Dallas School located at 4623 W Lovers Lane, Suite 200, Dallas/TX 75209. We opened our doors on July 11, 2019. We provide to our students/members what we call Kaiut Yoga Method. It's a different method of Yoga from the Western approach. Developed by Francisco Kaiut almost 30 years ago in Curitiba, Brazil. Francisco is a certified chiropractor and yoga master and has studied Cranial Sacral Therapy, Deep Tissue Massage Therapy, as well Polarity Theory in the U.K. Over time, Francisco integrated the principles of these health and wellness modalities to create a biomechanical Yoga method designed to work with the modern body and mind.
I am a Certified Kaiut Yoga teacher and I am the main teacher in the school in Dallas. I believe from my own health benefits in the Method. Kaiut Yoga Method works from the joints and it's accessible to everybody and every body type. The stimulation on the joints sends a ripple effect to the muscles, nerves, bones, soft tissues and the entire body system responds. The result is a body with a better mobility and vitality, relaxation in the mind and a heart that values self-care and self-awareness. We are not new from any other Yoga styles, we are different because we are standing on what the traditional Yoga was designed and created to be for the human beings: a tool to maintain the quality of our life. I am extremely proud of my own School because I see the solid growth every week, every month, with the community coming to practice Kaiut Yoga because they feel the difference in their lives.
Is our city a good place to do what you do?
Dallas is amazing! I actually used to sing to my husband while walking in Devonshire, our first neighborhood, to go get ice cream: "I Love Dallas! I Love Dallas!" It's a city that appreciates and values quality, loyalty, innovation, outsiders, different creativity! It's a big city but it feels that everyone knows what's happening in Big D. I feel extremely grateful for Dallas as a city and Dallas as a community of people. Plus, of course, the weather and the sunlight here… It's always shining bright! I highly recommend Dallas to anyone that is pursuing a new dream/goal to come and try here first… if Dallas approves, then Yes, we are good!
Pricing:
Lifetime Membership $45.00
Drop in classes $ 30.00
Monthly plans – 1 class a week $100.00
Monthly plan – 2 classes a week $196.00
Monthly plan – 3 classes a week $288.00
Monthly plan – 4 classes a week $376.oo
Monthly plan – 5 classes a week $470.00
Contact Info:
Address: 4623 W Lovers Lane, Suite 200, Dallas TX 75209
Website: www.kaiutyogadallasschool.com
Phone: 972.746.5991
Email: christina@kaiutyogadallas.com
Image Credit:
Jocymara Nicolau Arquiteta
Suggest a story: VoyageDallas is built on recommendations from the community; it's how we uncover hidden gems, so if you or someone you know deserves recognition please let us know here.