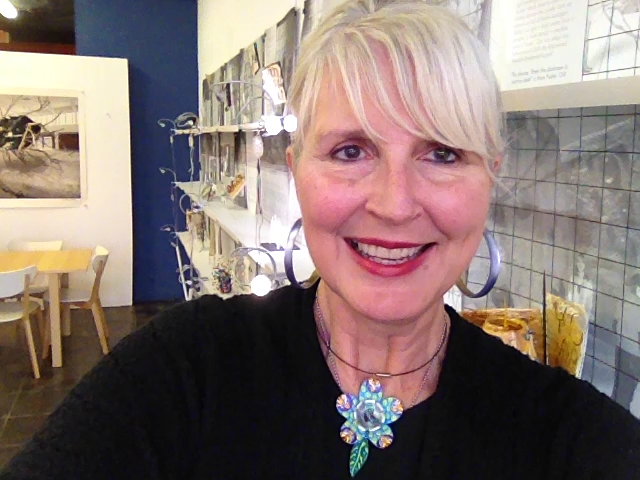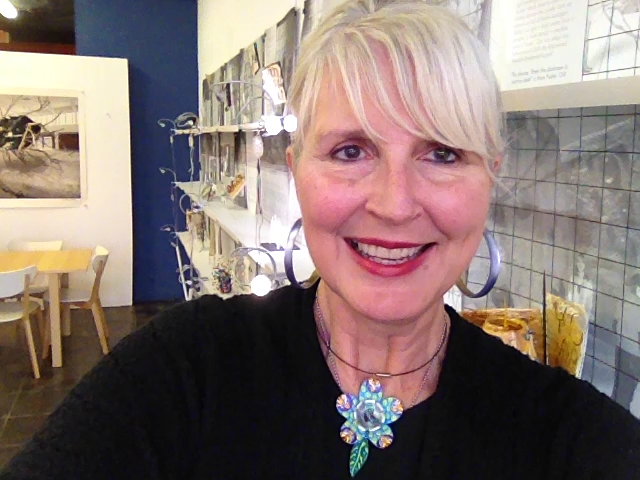 Today we'd like to introduce you to Karen Blessen.
Thanks for sharing your story with us Karen. So, let's start at the beginning and we can move on from there.
Karen Blessen is a Pulitzer Prize winning artist and the Founder & Executive Artistic Director of 29 Pieces, an arts organization with a mission to teach kindness.
I grew up in a small town in central Nebraska. I had 14 sets of aunts and uncles and 53 first cousins. My grandparents lived with us, so there was always something going on in our home. I rarely had quiet time or a place to create. When I was 11, my godfather Bud gave me a Christmas present of monthly mail order craft projects. I set up a card table in the living room, in the thick of a loud TV and visiting family, and put together these projects. That was the first time I had the space, time and opportunity to make things. I loved the simple experience of putting things together, and seeing something I'd made – even if it was very prescribed and un-creative. I remember reading a LIFE magazine article about the painter Jackson Pollock and did a childlike drip painting homage to Pollock that got into the Platte County Fair and the Nebraska State Fair. That was my first experience of pride that comes with recognition for something well done.
When I was a senior in high school, I finally had a bedroom of my own. That changed everything. I began to draw, make paper sculptures, stitched yarn art and collages. I drew my grandfather and other people around me, and also people in the news. After the Mexico City Olympics in 1968, when black athletes Tommie Smith and John Carlos lifted their gloved fists during the medal ceremony, I did a drawing of them. In the divisive and conservative political climate of small town Nebraska in the 60's, this drawing was not received well. I experienced the power of my teenage art to ignite, my own power to tap into something deep, though I did not know what that 'something' was at that time. Some of the stuff I was doing was OK, I experienced joy in the act of making things and I began to see a path unfold for me. When I went off to the University of Nebraska in 1969, I initially signed up to be a math major. At the last minute, I changed to Fine Arts, and have never looked back. My university experience left me with memorable wisdom from some great professors and the gift of lifelong inspiring friendships with women who still inspire me with their creative lives.
From my vantage point today, I see my career to date as separated into three chapters. Chapter 1 was my work as an artist and writer. Chapter 2 is 29 Pieces – the non-profit arts organization that I founded. God willing, Chapter 3 is now beginning. The thread of connectivity through all of this is an intuitive voice guiding me to where I needed to be and what I needed to be doing at any given time. One thing built on another. The first chapter of my professional career was as an artist and writer. While on staff at the Dallas Morning News in 1989, I was the first graphic artist to be named as a winner of the Pulitzer Prize. After leaving the DMN, I was represented by Morgan Gaynin Inc. – an artist's agency in New York City. MGI opened the door to heady times – doing art for the Times Square Business Improvement District in New York, Simon and Schuster, Absolut Vodka, Lincoln Center and many others. I continued freelance work with the newspaper. The flexibility allowed by freelance work also allowed me to be in Nebraska a lot during the 1990's, as I cared for my parents in their final years. In August of 2000, an event occurred in front of my home that changed the direction of my work and triggered the second chapter of my work.
At 2:00 am on August 19, 2000, I was lying awake in bed. I heard voices from the street and then a shot. A young man was murdered in front of our home. This tragic event changed my life.
As a child, I'd witnessed someone beat my cocker spaniel to death. As a child, I'd been frozen – unable to respond, protect my dog or stop the violence.
When the shooting occurred in front of my home, I couldn't let it go. I got to know the parents and siblings of the victim, the shooter and the mother of the shooter. I found my voice.
I wanted to understand what this one act of senseless violence did to those in the families of the victim and shooter, and to the homicide detective investigating the case.
Editors at the Dallas Morning News approved a story and art package about this, and three years later, ONE BULLET was published.
http://karenblessen.com/stories/onebullet.html
Between the murder and publication, I did a series of interviews with those impacted by the murder. Per my agreement with the Dallas Police Department, I did not talk about any of these interviews until all the trials in the case were completed – and that took 3 years.
In those 3 years, I submerged myself in the world of grieving families, statistics about gun violence, the prison system, brain development, and systemic socio-economic factors that contribute to violence.
Lessons were brought home to me about the colossal waste and damage produced by violence.
When ONE BULLET published, I heard from so many people whose lives were damaged by violence.
A personal metamorphosis began. A difficult time of finding form for my ignited passion was underway.
The joyful work I'd been doing for Times Square felt foreign all of a sudden. I went to Africa twice with Save the Children and wrote and did art for a newspaper piece called Faces of a Plague.
http://karenblessen.com/projects/proj-faces.html
I was part of a small Methodist church group called ArtSpirit. Several of us in the group started a non-profit with the idea of using art to raise awareness about issues of social justice. It was first called Today Marks the Beginning and is now 29 Pieces.
29 Pieces embodies everything that I am, and everything I hope for this world. The name 29 Pieces refers to 29 Pieces of sculpture that I did in 2006. The work is inspired by phrases from sacred passages from the world's great traditions. "If the very world should stop" – the 1st of the 29 pieces of sculpture asks the big question, "Why am I here?" The 29th piece is titled "Dying of Love is What I Hope For" and offers the answers that I discovered.
Since the launch of 29 Pieces (formerly Today Marks the Beginning) in 2005, we've developed the Artists Making a Kinder World curriculum of 19 lessons that use art to teach non-violence and social and emotional learning. These lessons take the highest ideals and break them into 19 lessons about RESPECT, LOVE, COMMITMENT, FORGIVENESS, CURIOSITY, HOPE, EMPATHY and more. We've worked with more than 50,000 youth in North Texas, and trained more than 500 teachers in our Artists Making a Kinder World curriculum.
In 2013, 29 Pieces produced the Dallas LOVE Project, as a tribute to the 50th anniversary of the assassination of President Kennedy in Dallas. We worked with 120 community partners and 20,000 artists and exhibited 10,000 pieces of art in 68 locations on the theme of love. The art was installed along the motorcade route that Kennedy had traveled just prior to his death. We received tremendous international press for this project – with stories in 67 print, TV and radio venues, and a grand total of 185 million press impressions worldwide.
In 2015 – 2017, we did the Piece 24 Project, inspired by the Lakota Sioux prayer, Let Me Walk in Beauty. This project was produced by a collective of high school students, professional artists, 29 Pieces staff, engineers, landscape architects, and city officials. 29 Pieces raised more than $250,000 for the art and the additional marketing projects associated with it. High school students were paid more than $22,000 in scholarships for their participation. 29 Pieces donated the 20 ft. mosaic sculpture to the City of Dallas. It is installed on a major street in the Oak Cliff area of Dallas.
In 2017, 29 Pieces focused on training teachers in our curriculum. In 2018, we begin work on a new piece of sculpture – Piece 10, and on a collaborative project with the University of North Texas Department of Emerging Education.
29 Pieces is a 501 (c) (3) organization and is funded by grants, individuals, earned revenue and sales of merchandise.
Leading 29 Pieces has been the greatest joy and the most obstacle filled endeavor that I've been involved in. It is deeply fulfilling and a great teacher in persistence, desire, and love.
Each project, each workshop we do with students and teachers proves the power of art to open hearts and to provide a platform for communication, beauty and kindness.
What is Chapter 3? 29 Pieces will be part of Chapter 3. In the next years, we hope to build a digital platform from which all 29 Pieces content can be accessed for free. I'd also like to turn our focus toward more sculpture projects and related workshops. I am open and looking forward to what's next.
At the University of Nebraska, we were expected to keep sketchbooks/journals. That practice stays with me, and now there are 70 or so. I am in the process of archiving them. In so doing, I experience gratitude for my parents, my family, my incredible friends, sweet husband and beautiful career. And I must admit that while I look forward, I derive some enjoyment out of reliving moments and observations from the past.
Artists must consciously and deliberately rejuvenate ourselves. Here are some ways I do that:
My meditation practice inspires me. It is based on the written wisdom from Christian, Jewish, Buddhist, Hindu, Muslim, Native American and Taoist sacred texts. These words and the images therein live through time and space and inspire my sculpture, writing and teaching.
Travel inspires me – that removal from daily routine, which in turn not only opens me to alternative points of view, but also frees my mind from the usual obligations and responsibilities.
Returning to the work of certain artists, writers and musicians inspires me. I love Helen Frankenthaler, Georgia O'Keefe, Frida Kahlo, Eva Hesse, Yayoi Kusama, Grandma Moses, Alice Neel, Anselm Kiefer, Matisse, and Van Gogh to name just a few of the visual artists I admire. George Orwell and E.B. White inspire me. Poetry inspires me. Prince and Joni Mitchell inspire me.
Great conversations inspire me. The creativity and joy I see in the students we work with in 29 Pieces inspires me.
My daily life and observations inspire. 2017 was a very productive year for my journals. Sorrow and pain inspire art. The process of transcending the absurdities and outrages of life triggers creativity and the search for the words and images to find the meaning of it all.
There are many times when I've felt like an actor in my own story. And there are days when I'm handed 100 pages of dialogue to memorize by the next day. I've felt over and over that I'm pushed to catch up to fate – whether that be the Pulitzer Prize in 1989, illustration and design work with the Times Square Business Improvement District, the murder in my front yard, or leading 29 Pieces.
This career has been a perpetual act of faith and trust. These projects that fall within the realm of community space and social cause happened not simply because I love this work, but because I was tasked to do them.
I love the process of community/social practice art. Art is a powerful vehicle for communication, informing and opening hearts. I compare working in collective projects to the Beatles. John, Paul, George and Ringo were all enormous talents. But together, they created something that transcends. I love the beauty, soul and joy that great art brings to a community. I understand the power of art as a strategy to spread ideas.
Great, so let's dig a little deeper into the story – has it been an easy path overall and if not, what were the challenges you've had to overcome?
Inevitably, when the going feels smooth, here comes a pothole or a wash-out. My struggles along the way are pretty much most artist's struggles have been. There will be struggle. What's important is how quickly and nimbly we circumvent or fix the washed out bridges, the potholes, the confusing signals, the boulders in the road and the signs that tell us to "Keep Out."
Alright – so let's talk business. Tell us about 29 Pieces – what should we know?
Beautiful. I hope it is not too presumptuous to repeat what Gandhi said about his life. "My life is my message."
I've received opportunities beyond my wildest imagination when I was a kid in my living room doing projects on the card table.
Highlights:
a) The Pulitzer Prize in 1989, the first graphic artist so honored
b) Working as an artist on the redevelopment of Times Square with the team at the Times Square Business Improvement District from 1993 – 2001.
c) Work done with the Park Ridge Center in Chicago. The PRC is a think tank dealing with the intersection of Health, Faith and Ethics.
d) Stories and art for the Dallas Morning News. ONE BULLET, Faces of a Plague, In Mom's Eyes, and others.
e) Books: Be and Angel and Peace One Day
f) Being represented by Vicki Morgan and Gail Gaynin at Morgan Gaynin Inc. in New York
g) The period of grace in which the 29 Pieces of sculpture were created
h) Everything about 29 Pieces, and our major projects such as the Dallas LOVE Project, class and teacher workshops, Interfaith Workshops. 29 Pieces has a unique and sophisticated art based methodology to teach kindness.
i) Working with the team on the Piece 24 Project in 29 Pieces
And I hold on to the hope that the best is yet to come.
Is there a characteristic or quality that you feel is essential to success?
One time when I was feeling despondent about my work, my Dad said "Stick with it." He was talking about persistence. The writer John Bloom once said to me "You have to care about it more than anyone else." I understood that as a need for deep care and desire. And then there is a question I remember to ask myself when things get dicey. I ask "How deep is the love?" If I can connect with my love for what I do and why I do it, I can pull back, slow down, and devise solutions. So we have persistence, desire and the most important, LOVE.
Contact Info:
Website: 29Pieces.org
Phone: 214-770-1219
Email: karen@29Pieces.org
Image Credit:
Willie Baronet, John Katz, David Guerra, Danny Fulgencio, Jennifer Hancock
Getting in touch: VoyageDallas is built on recommendations from the community; it's how we uncover hidden gems, so if you know someone who deserves recognition please let us know here.