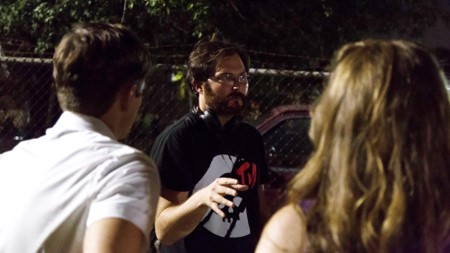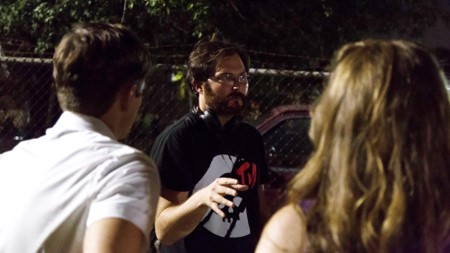 Today we'd like to introduce you to Kevin Huckabee.
Kevin, please share your story with us. How did you get to where you are today?
Hard to say when I really got started, but my earliest memory of doing anything movie related besides wearing out old VHS copies of Batman and Land Before Time was around thirteen when my dad sat me down at his old computer and had me edit my little league baseball videos. As soon as I made my first cut from bat hitting ball to crossing first base fireworks went off in my brain. I took his camcorder and went on to shoot a junior high video and random weird stuff with my friends. Gradually I worked up the courage to write and shoot my first long-form movie called "Anonymity" at sixteen. I grew a beard and played my friend's dad. It was a psychological detective tale and big learning experience. I went to UNT for a bit and messed around at the live TV station. That's where I got the name for my alter ego Ted Velvet reading the live news. But for the most part, from seventeen to twenty I spent my days interning at the Studios at Las Colinas learning the ropes during production of Prison Break and local commercials. I'd wake up at like three in the morning so I could make it to Irving at 4 a.m. to open the studio. I changed colossal light bulbs 50 feet high on the catwalk of sound stages, cleaned cyclorama walls and floors, inventoried huge lights and gear, and made sure the crews always had someone to complain to. Once during a commercial shoot involving a ring of fire, the camera crew went on strike and the producers had no idea how to work a Panavision camera. There was almost a fight in the parking lot. Never a dull moment. Even still, I needed to grow and push myself, so I moved to Hollywood, CA to attend the FIT (Film Institute of Technology) Program at Musician's Institute. It was a big move and the first real time I tasted what it was like to be on my own. As soon as I stepped off the airplane, I felt the freshness of the new chapter in my life. I spent all day and night at our classroom which was more of a workspace with a small stage, Panasonic and Red cameras, and twelve mac pro editing stations. There I wrote, directed and edited numerous music videos and short films.
After I graduated with the Outstanding Film Student Award (a tiny acrylic trophy, but still my favorite) I barely found work. Most nights I went to sleep hungry and my mom hated hearing that. I took the bus to every studio, post house, and production facility but was met with rejection. Eventually, I had a small stint as a wedding video videographer/editor for an insane guy, but that didn't last long. Then I saw an obscure ad for an editor. I couldn't pass it up, but my premonitions were affirmed when I walked in the door and saw the poster for Penthouse. I was led to a conference room where I had a typical interview followed by a not so typical editing test for a striptease. Afterward, I wondered if this would be a bad pairing with my creative mind if I did get the job, but my friends suggested I could always quit if it wasn't working out. Even my mom was super supportive. After a few weeks, I got the call. I was now an editor for Penthouse. Funny thing was that they had began shooting 3D. That's correct. 3D porn. For the next year, I edited 3D porn. Yep. Not only that. I ended up getting nominated for an AVN award and directing the first Internationally Released 3D porn for Penthouse. It was a lot to take in for a 22-year-old. I was surrounded by smart and young professionals like myself making a way for themselves in the film industry at a company that was surprisingly upstanding, professional, clean, and provided me with creative freedom, but I had a breakdown and decided to move back to Dallas. The next few years I relaxed a bit and managed my best friend's band. There is a whole story there meeting Slash, publishing music for television, opening for Van Halen, getting thrown out of clubs and hotel parties, but I'll save those for later. I went on to work at the Angelika Film Center and now Chewy.com as a videographer.
Overall, has it been relatively smooth? If not, what were some of the struggles along the way?
It has in no way shape or form been a smooth road. It's better that way because I wouldn't believe I had earned anything worthwhile if it had. I was 230 lbs when I went to LA and left 140 lbs. I ran myself ragged. I walked or biked everywhere, didn't eat or drink enough daily, and pushed myself so hard mentally and physically at a job I couldn't use to further my career because of the content that I broke down. I started having massive panic attacks and checked into a psychiatric hospital for a week. I discovered I was bipolar and that I needed to go home and reset. So I did. I sold everything I could, and what I couldn't carry with me I threw away. I bought a train ticket because I was too rattled to fly and went home to Dallas, TX. My life, which I had made a point to be a better read if it was a book was definitely more interesting.
I've never really had any naysayers. Most of my family and friends have been major supporters. I suppose the biggest challenge has been having the resources the people and I need to make films at their highest potential. Hopefully, that will soon change.
Alright – so let's talk business. Tell us about The Gate – what should we know?
I've written a comic book, novel, and screenplay for a Scifi/Horror/Dark Hero character called The Gate.
My ways are a bit unorthodox. I decided the best way to garner interest for the story was to build a live-action suit for the character. Joshua Von Cavender Cole of Hex Mortis stepped in and did some masterful work. We debuted The Gate at Megacon last year and had a tremendous response. This year we have been invited to host panels at comic cons around the country. I believe the authenticity of The Gate character, the quality at which it was built, and the positive response we have received showcases the potential we have worked toward.
We completed a Proof-of-Concept scene from the film and released it with Crypt TV.
The Gate
Tagline
Nothing is coming.
Logline
Troublesome teenage best friends Jimmy and Lauren must destroy an indestructible monster to save the world.
Synopsis
Before recorded history, an alchemist combined with an unknown element from another universe and was transformed into an indestructible monster known as The Gate. The monster could change from a solid, liquid, and gas, and consume all living matter into oblivion. After binding her soul to a fragment of the element, the alchemist's apprentice endeavored across the span of millennia to destroy her master until present day when The Gate returns for the rest of its power. To destroy the monster, Jimmy will have to become one.
The Gate is a culmination of many things for me; my innermost thoughts, feelings, desires, darkness, fears, a smattering of subconscious fragments from my favorite movies, tv shows, books, influences like Batman, Robocop, Terminator, all things Spielberg and Tim Burton, and ultimately what I think about the universe. I wanted to make a monster that struggled as a young person who didn't perceive right or wrong as a main emphasis of motivation for his actions. The Gate is just a seventeen-year-old kid. He's given up everything to become this embodiment of nothingness.
Any shoutouts? Who else deserves credit in this story – who has played a meaningful role?
My teacher and mentor Alan Calzatti would throw every opportunity my way. I'd fly to Las Vegas for the day and shoot second unit camera for a feature and the next day operate the lights for a play next door. I soaked up as much as I could. The best opportunity he gave me was editing for Dean Deblois (Director for How to Train Your Dragon) for his film "Jonsi Go Quiet" which featured the lead singer of Sigur Ros performing his solo album acoustic in Reykjavik, Iceland during New Years. I received notes from him while he flew to London to score How to Train Your Dragon 2. He was humble, talented, and in touch with movie magic. He always understood when and how to keep from "breaking the spell" during an edit. The best story I remember about him was during the Academy Awards just down the street from where I was living off Hollywood BLVD. The street had been fenced off to prevent lower forms like myself from bothering the attendees, but I plastered myself against it to watch Samuel L. Jackson, Tom Cruise, and Morgan Freeman exit their cars and enter the Chinese Theater. Then I saw Dean. He wandered down the street with his partner foregoing the fancy valet and passed about 20 yards from me. I waved and yelled expecting him to just wave back, but instead, he stopped and came right up to me at the fence and greeted me. I was blown away. How to Train Your Dragon was up for best-animated film and the director, full tuxedo, was just hanging with shaggy old me by the fence. It was the first time I understood the relationship between success and humility. I like to take the best qualities of those I meet along with me. I took my teacher Alan's ability to not sweat the big stuff but care about the small stuff.
My mom, dad, and grandma are defining forces in my life. My grandma wasn't expected to live any longer than a month after I was born, but she made sure to stick around for 18 years of my life to make sure she ingrained enough of her best self into me. My dad inspired and equipped me to follow this crazy movie pursuit, and my mom sustains me. She'll never let me give up. My newest friends and coworkers at Chewy have been the biggest unexpected blessing. I am moved with gratitude for their impact in my life.
Contact Info:
Image Credit:
Lisa Muller
Getting in touch: VoyageDallas is built on recommendations from the community; it's how we uncover hidden gems, so if you know someone who deserves recognition please let us know here.