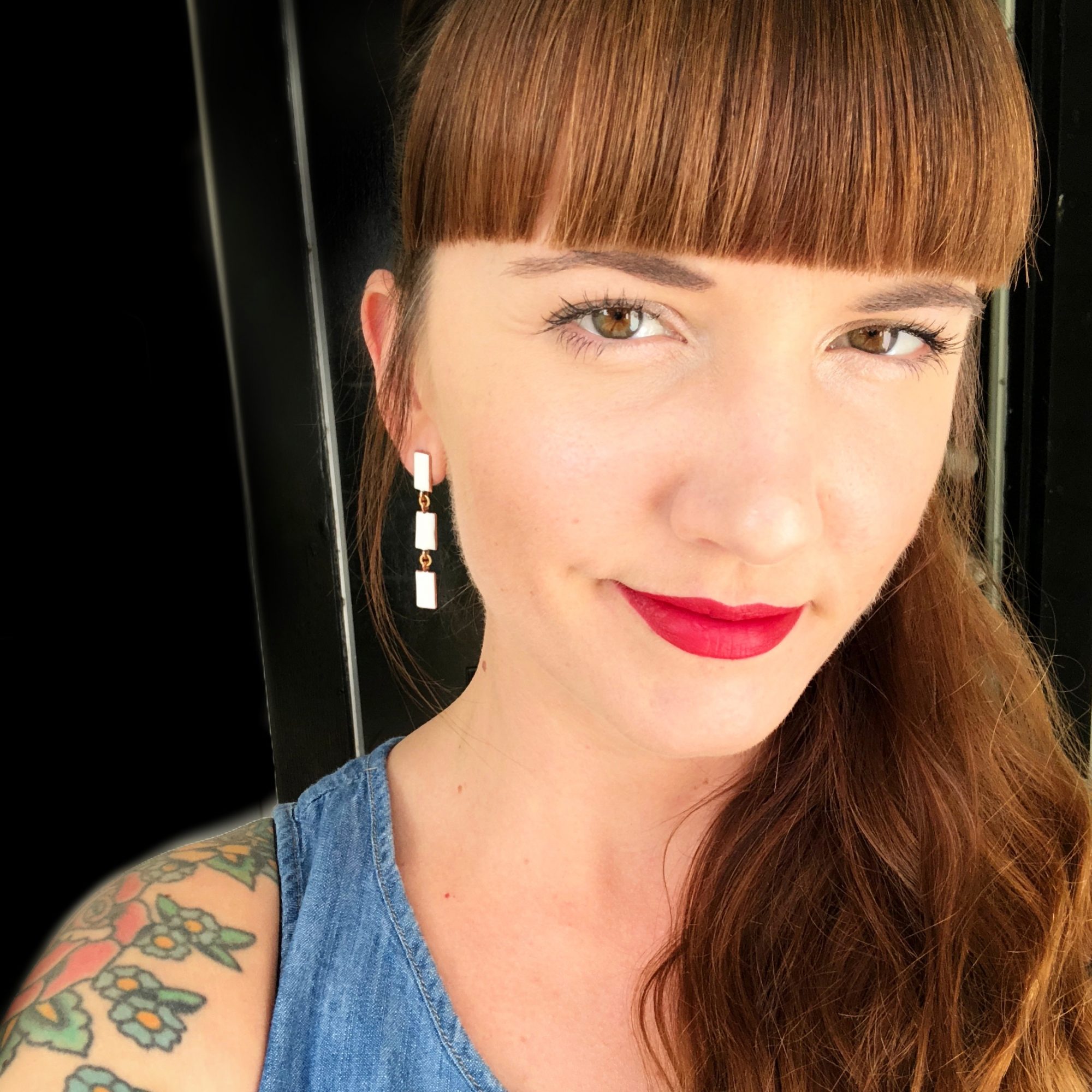 Today we'd like to introduce you to Lindsey Leath.
So, before we jump into specific questions about the business, why don't you give us some details about you and your story.
I was raised in Kansas by a super talented jeweler/painter/photographer Mom and a mechanic/machinist/welder Dad. My older graphic design guru brother convinced me to apply to The University of Kansas Fine Arts School in Lawrence, Kansas in 2003.
I studied photography, art history, and silversmithing and achieved my BFA in Jewelry Design and Silversmith Work in 2007. I fell in love with the hammer and basic metal fabrication while watching Professor Jon Havener work as he taught. I learned lost-wax casting and how to put meaning into a design under Prof. Lin Stanionis. My favorite class was a 6-credit hour course taught by master enamellist, Gina Westergard. I remember pulling all-nighters working on demo pieces in the studio with no deadline in sight – I just wanted to learn and figure out this technique and skill of kiln-fired vitreous enamel work.
I graduated and headed out to Basalt, Colorado to learn architectural blacksmith work at Meyers&Co. I mainly was used to drive the guys with no valid driver's licenses to big jobs in multi-multi-million dollar jobs in Aspen. I did get my hands dirty learning how to weld and build steel rails, but some of my best memories include learning how to drive a large manual welding rig truck in the snow up and down steep mountain passes. I learned how to measure twice and cut once as I stood at the table saw for hours in my steel-toed boots and noise canceling headphones. That gig was not for me, but I do miss the 800 lb. power hammer that I had gotten comfortable using.
I left the steel shop and decided to focus on my own work. I bought my first kiln with President George W. Bush's stimulus check in 2008. I set up the blue Paragon top-loading kiln on cinderblocks in my yard in Aspen Valley and got to work. Eventually, winter came, and I convinced a regular of mine (I was bartending) to rent me half his garage for $50/month, so I could continue my art. Sometimes I would share space with freshly shot elk that hung from the rafters dripping blood. It was so cold in there that I worked fully bundled up in my coat with 2 space heaters running full blast. I loved it. It was my space.
I remember showing one of my finished pendants to a customer at the bar, and she asked how much, I blurted out a number and she slammed the cash down on the bar. That felt good. I left Aspen valley in early 2009, and I gained experience working for a few traditional styles, independently owned jewelry stores. My tumultuous lifestyle and relationship choices bounced me around between Wichita and Kansas City. I learned a lot about jewelry repair and sales working for a handful of different talented jewelers. I left Kansas City and got to Dallas in June of 2010 by way of my brother and sister in law's need for a nanny, and concern for my well-being.
I cannot thank them enough for seeing my potential and believing in me. I worked with polymer clay and wax-work while I looked for a jewelry studio to set up my own shop. As a waitress in The Cedar's District, I befriended the successful modernist painter Otis Jones, who connected me with a painter friend of his needing a studio mate at The Continental Gin Building in 2011. I toured the building in July on a 100+ degree day with my newborn nephew in my arms.
My talented painter studio mate Katherine Baronet and I shared a 400 sq. ft. room with 3 windows and lots of light. This is when I started working 30-40 hours in the studio, obsessively honing my craft. I started making enamel cuff bracelets along with many other jewelry pieces small and large and showing my work to the public 2 times a year with CGB's open studio tours. It was so much fun, but not enough space or privacy for my process: As a lover of hammers and rock and roll, I am not a quiet tenant nor am I interested in hiding my emotions when something goes right or wrong in the studio.
I longed for privacy and freedom to use a torch without being evicted. (Open flame was against the lease terms in the historic timber floored-building) I spent 5 years in the CGB and will always cherish the sunsets that I enjoyed from our 3rd-floor window looking over the Dallas skyline as well as the IMMENSE talent I witnessed in that building.
Ricardo Paniagua, Ty Milner, Erika Jaeggli and Karla Ceballos were artists that I feel so fortunate to have met during my time in that crazy old building. My extremely supportive husband agreed to look for bigger places to rent that could accommodate my jewelry studio needs. After moving twice and experiencing a real-life slum-lord experience, we have been blessed to have bought our first home in East Dallas where I call the garage my workspace. It is certainly a work-in-progress, but I could not be happier knowing that I can beat on metal and make big messes with no one to answer to but myself.
Although I do enjoy gold and silversmith work, hollowware and casting, I have kept focused on kiln-fired enamel work for most of the last decade. The history of groundbreaking enamel artists comforts me, as most of them worked for decades developing and honing specific techniques that now are taught to art students worldwide. I know that there is more money in pumping out the latest jewelry trends, setting up at every craft fair in town and selling at more impulse-buy price-points.
Although 2018 marks my tenth year in business, I do not consider myself an entrepreneur, but an artist that sells her work. I have been blessed by my brother's gracious and mostly pro-bono graphic design work, and designer Francis Yllana's help setting up my first website. I am interested in taking on an intern but have yet to find a seriously committed individual that is not afraid of sweating, working hard, and showing up on time. I shoot all of my work, design, and print all packaging and displays, and represent myself in all public showings (with help from my wonderful family members).
I have been featured in a handful of unique boutiques as far as both the East and West Coasts, and as near as our fair burgh of Dallas. I am ready to move to the next step, although I'm not sure what that entails. I cannot seem to break myself away from the production line and the love of the process. Our bills are still being paid, and we don't starve! God is good to us. I think I'll keep honing my craft while collecting unique clients, and see where that takes me.
Has it been a smooth road?
I have collected too many burns, cuts, and bruises to count! I've worn my fingernails down to an open wound many times. The enamel in its raw form is powdered glass, which is toxic to the human lungs. The fumes emitted from a fresh-out-of-the-kiln piece are toxic as well.
The sandpaper I use puts off toxic dust, and using a torch pumps carbon monoxide into my airspace. It has been a struggle to be able to afford the equipment necessary and to design a workspace that allows for ventilation as well as keeping the airflow to a minimum so as not to kick up dust.
I'm proud to say I have not been to the hospital due to a work-related incident once in the 10 years I've been in business! Last year was a close call, a bit of boiling sulphuric acid splashed in my eye when I was quenching some hot copper. My neighbors thought I was doing the "pour a gallon of water in your eyes while standing in your driveway" challenge.
So let's switch gears a bit and go into the Lindsey Owen Custom Jewelry story. Tell us more about the business.
Over the last five year, I have developed my hero product- the custom fit enamel cuff bracelet. My modest list of collectors is genuinely unique and beautiful inside and out, just like my work. They range from ages 5 to 91 yrs. I measure each client's wrist, and custom fit each piece to their specific dimensions down to the millimeter. I keep every potential and current client's wrist measurement and cuff sizes on file for future use to ensure precision and quality.
When there is a discrepancy, I re-heat the piece in the kiln and adjust until it fits perfectly. I guarantee each cuff bracelet's fit and strive for excellence and comfort. Each piece starts with a sheet of metal (copper, fine silver or gold). I measure and cut/saw with a handheld jeweler's saw, file the edges and sand everything down smooth. I use plastic mallots to form each cuff around steel mandrels fastened to an oak tree stump I brought from Aspen. I form the cuff and adjust according to the client's preferred shape and size on file. I soak the cuff in a de-greasing acid bath and apply finely ground enamel (looks like I'm sifting sugar) to the surface of the piece.
I carefully load the piece into the 1400-1500 degree kiln and let the glass particles fuse to the metal. When I remove the piece, it is red hot and must sit to cool for at least 10 minutes. From there I grind the edges with a handheld pumice-like tool called Alundum. The process starts all over again and repeats itself 2-25X depending on the end result I am working towards. Each piece that I make is an original, due to the nature of the techniques that I use in the kiln.
I often personalize pieces with letter stamping or engraving. Clients come to me with color requests and different fun details, which I love to pursue. It is my pleasure to make someone's jewelry dreams become reality. There is a definite satisfaction one experiences when fingers run across the smooth surface and when eyes take in the gorgeous cascade of colors featured in my most popular collection, The Nebula Burst. "Controlled Chaos," "Wearable eye candy," "clean-lined", "classic and timeless," "galactic and oceanic," and "I've never seen anything like this" are some of the repeated phrases I've heard over the years while showing my work.
I set myself apart from others by offering an in-person, hand delivery in the Dallas area. I cover my fitting kit process shipping costs when clients order from afar, and will adjust jewelry until the fit is perfect, no matter how many tries it takes. Cracks and chips in enamel are repaired at little to no cost. I often think about, send good vibes and pray for the client as I work on their jewelry. This may sound weird, but we all need love, and it fulfills me to give it.
Where do you see your industry going over the next 5-10 years?  Any big shifts, changes, trends, etc?
Over the next 5-10 years, I hope to double my inventory and my list of collectors. I plan to host a jewelry making classes for all ages in a comfortable workspace. I would love to collaborate with some of Dallas' designers and feature my work in a fashion show.
Pricing:
Custom fit enamel cuff bracelets (unisex) range from $180-20k depending on the technique and material (copper, solid gold, fine silver) used
Necklaces, earrings and pendants range from $50-$500
Menswear including cufflinks, bolos, tie clips, lapel pins range from $50-20k
Non jewelry custom orders are welcome! enamel lightswitch plates, plaques, personalized enamel photo frames, stamped dog tags, luggage tags, etc $45-1000
Contact Info:
Getting in touch: VoyageDallas is built on recommendations from the community; it's how we uncover hidden gems, so if you know someone who deserves recognition please let us know here.