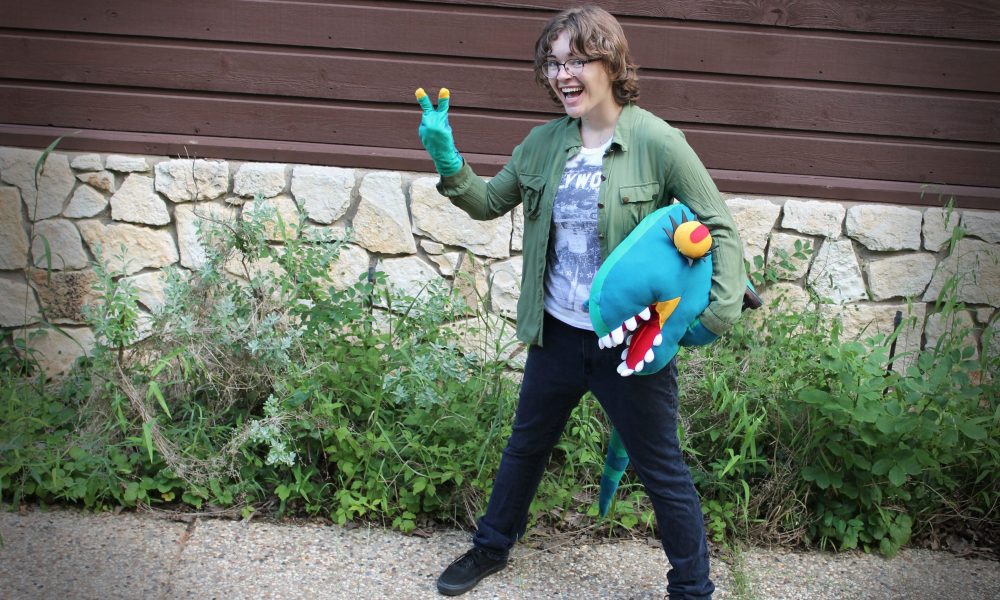 Today we'd like to introduce you to Madeleine Mathis.
Every artist has a unique story. Can you briefly walk us through yours?
I was the kid who had her hair cut short so it wouldn't fall into her bowl of milk when she was on the floor pretending to be a cat. I was the kid who used so much Scotch tape on crafts that her mother had to buy it just as often as milk, bread, etc. From the very beginning I've been crazy about two things: animals and making stuff. All kinds of animals, and all kinds of making stuff, whether it's drawings, sculptures, music, or stories. In high school I finally discovered that the medium of film could encompass all those things, stop motion animation in particular. So, I attended the California Institute of the Arts, founded by the king of animated animals himself, Walt Disney.
At the time I hadn't really realized how much I liked animals—I thought everybody liked animals and used to pretend to be a cat. It wasn't until a representative from LAIKA denied me an internship on the grounds that "there are no humans in any of your work." Which was true. At the beginning of my college career it had been my goal to get a job with them or another animation studio, and with a successful internship at Screen Novelties under my belt, it seemed like I was on the right track. But after four years of learning about myself and the kind of things I wanted to make, coupled with a particularly terrible experience working my first job for an independent LA director, I realized that I really didn't want to work in the industry. My CalArts major was called experimental animation after all, and I wanted to experiment. To pursue my own ideas. To instill in my own work that playfulness and individuality I am so fortunate to have experienced as a child.
So I left LA and started my Etsy shop and YouTube channel, MadeleiZoo, where I can make as many animals as I want.
Please tell us about your art.
The best thing about making videos is that just about any kind of art can be represented. Want to make a drawn animation? (Check.) Want to do a time-lapse painting? (Check.) Want to build a functioning automaton? (Just film it, and check.) Want to play the piano dressed as a T-rex? (Uh, sure why not.) Want to stick legs in a potato, move it along frame by frame for 9 hours, then eat it?? (Are you on crack.)
I'm insanely curious, so I like to try all different kinds of things, at the very least just to see what will happen. I'm also greedy, so I like to do all the things myself. For any given film I want to be the writer, the character designer, the prop/puppet fabricator, the animator, the lighting technician, the musician, the sound designer, AND the editor. Occasionally I'll collaborate with other artists or actors, but I really just like to disappear for a week or two and resurface with a new film out of nowhere, all completely handmade by me.
A lot of the skills and techniques that I use I picked up at CalArts, but even more of them I have to learn as I go. That's the thing about stop motion and other physical effects: no two projects are ever alike, and it takes constant experimentation and innovation to figure out how to make each idea work.
Art doesn't have to be just one thing. Animation doesn't have to look like Disney or LAIKA, artists don't have to make just one kind of art, and inspiration can come from anywhere. I hope I might inspire others to push those boundaries as well.
And going back to animals, they certainly aren't all one thing either. Any one animal can be beautiful, terrifying, comforting, or just plain funny. A lot of my projects make me laugh, and if other people get a kick out of them, too, then this world will be all the merrier.
Do you have any advice for other artists? Any lessons you wished you learned earlier?
The biggest challenge for most artists is getting found, getting financed, etc. In the vast world of the Internet, our voices get lost, and it's very easy to get discouraged. I keep going by remembering that the art itself is what's most important to me. A simple test I give myself: if I was rich and famous, but not making art, would I still be happy? Life may not be as easy or as glamorous without a ton of success, but the joy I get from coming up with a new idea and bringing it to life will always outshine the rest. Day job or no, I strive to keep on creating with as much zest as I can.
How or where can people see your work? How can people support your work?
You can find all my videos on my YouTube channel:
(https://www.youtube.com/channel/UCUfivd9xZp4gOP9ttLYSisg)
Other work on my deviantArt:
(https://madelei.deviantart.com/gallery)
And links to all my other social media accounts on my website:
(https://www.madeleinemathis.com/about)
And definitely check out all the nifty things available in my Etsy shop:
(https://www.etsy.com/shop/MadeleiZoo)
At my RedBubble:
(https://www.redbubble.com/people/madelei/shop)
And on my brand new Patreon account:
(https://www.patreon.com/MadeleiZoo)
I can often be found selling my handmade crafts at local markets (live and in person!). Come by my booth at the Denton Community Market some time this season to say hello and pick out your very own felt succulent or magical color-changing chameleon!
(http://www.dentoncommunitymarket.com/team/madeleizoo/)
Contact Info:
Image Credit:
Madeleine Mathis
Amanda Candler
Getting in touch: VoyageDallas is built on recommendations from the community; it's how we uncover hidden gems, so if you know someone who deserves recognition please let us know here.