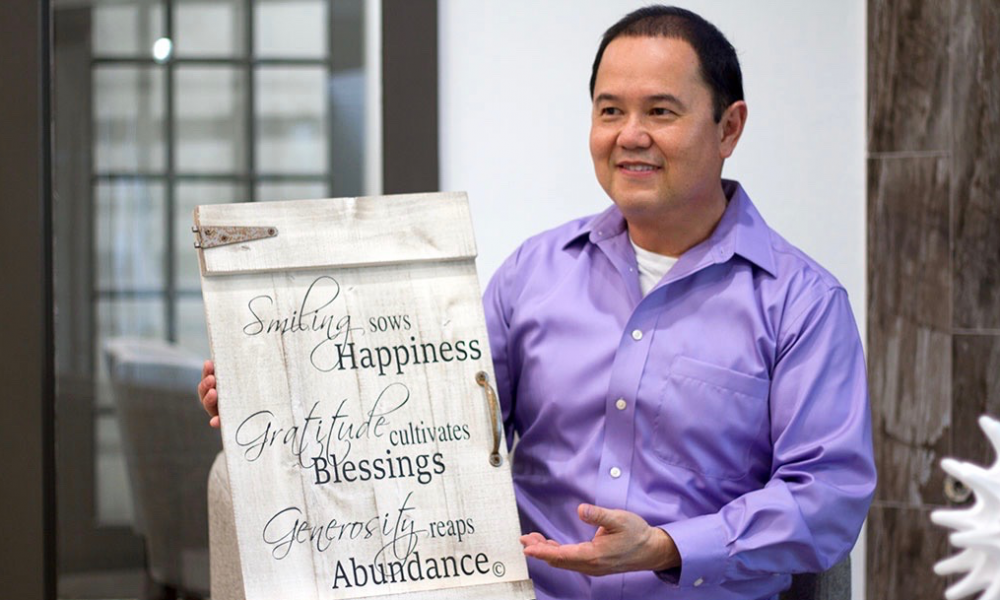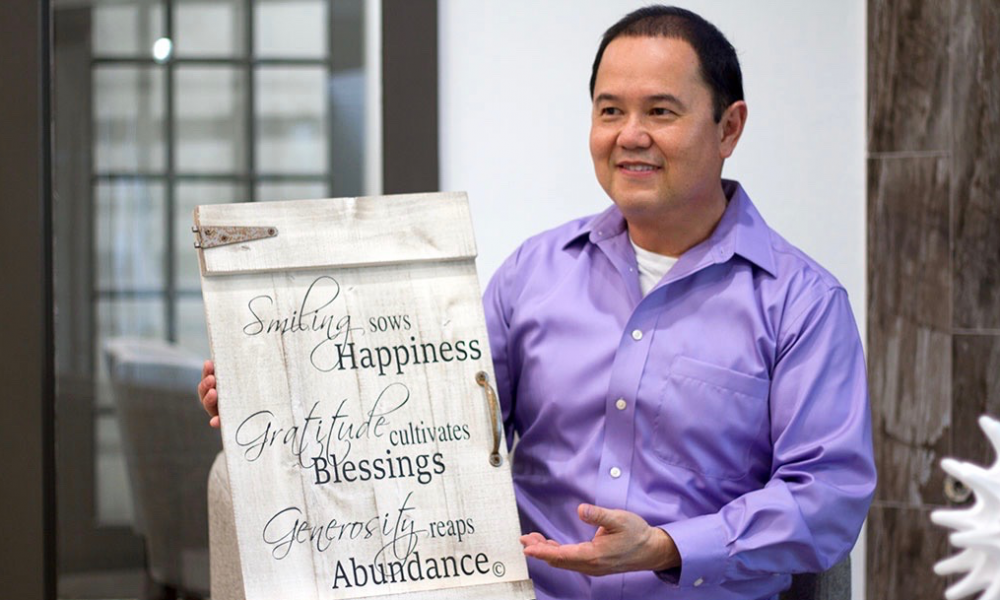 Today we'd like to introduce you to Johnny Tan.
Johnny, please share your story with us. How did you get to where you are today?
I often wonder why my life's journey is, what it is! Somehow, it seems there is a master plan I am to accomplish for myself, or perhaps for those whom I had crossed path with or maybe for those who I will soon encounter. Looking back, one thing for sure it has been a real adventure filled with celebrations, heartaches, smiles, tears, introspections, and resiliency. The relationships with my nine moms help defined the road to my knowledge and wisdom.
How did I acquire nine moms? I was adopted at birth in Melaka, Malaysia by my mom, Nyah. I spent my first eighteen years learning from her. One of the lessons she taught me was that everyone possesses a seed of greatness. She believed this seed was the key to success in life. The essence of this seed allows our dreams, goals and wishes to develop.
At nineteen, while attending college at Louisiana State University, I received the news of my father's sudden passing. I had just completed my freshman year. The timing of his death produced both emotional trauma and a financial crisis for my mother, my sister and me. The ensuing challenges led me to make decisions setting the course of my life, which caused me to not set foot in Malaysia again for fifteen years.
During this time, while living on my own in Baton Rouge, I began the journey of meeting my eight other moms, one at a time over the next eighteen years. I met my first two moms during my college years. My next three moms came into my life after I had begun working. I met my last three moms during my leisure time in the ballroom dancing community. The timing of these wonderful women appearing in my life was God-sent. These ladies found a way to mold my soul and guide my heart. They were my teachers, coaches, and counselors, always available to listen to my ideas and console me during times of need. Most of my nine moms have since passed away, but each of them left me with timeless recipes for living life that collectively formed the basis of my success.
I remember just before leaving Malaysia for the United States, my mom, Nyah, said to me, "Since you were a child you have been exposed to all kinds of experiences. Your father and I have done our best in raising you. Now, you are about to embark on a journey where you will continue to encounter and gain new life experiences. Some of them, good or bad, will stay with you for the rest of your life. Always remember, it is how you manage these experiences that will ultimately determine your idea of success or failure in both your personal and professional lives." I didn't fully understand my mom's advice at the time, but since then, having gone through a divorce, leaving a corporate career of eighteen years to start my own business and surviving a personal financial reorganization, I can attest to the profoundness of her insights.
Coming to America at a young age was a dream come true for me. I was eager to embrace the new culture. My excitement to assimilate myself into the new surroundings and lifestyle led me to engage my Southern belle mom, Eleanora Carter, to teach me what I needed to know to blend into the community. She was part of my host family. Thanks to her, I learned proper etiquette and manners, adding to what I already knew from my years growing up in Malaysia. Eleanora taught me, although a warm and engaging personality may open doors, it is one's character that will keep the doors open.
Youthful and energetic, I was always impatient when it came to getting things done. Quite often, I realized the decisions I made were not the best. If only I had given more thought before acting on my enthusiastic impulses, the outcome would have been better. One of the many memories I treasured about my Italian foster mom, Carol Wisdom, was her wise and logical approach to situations. Carol always reminded me, time is a luxury. Having faith that the right thing will come along at the right time and in the right way, is a belief I should make room for in my life. This advice has helped me to pass on opportunities that initially looked perfect, but eventually unraveled after failing to endure the test of time.
A consummate perfectionist, I have been told by others that I radiate an aura of stiffness with my one-track mind, always on business. This disposition was also the impression my sanguine Savannah mom, Toni Winters, discovered when we first met. Always happy, with a carefree attitude, she taught me how to live each day with gusto. Her self-assured personality convinced me to try new experiences. Toni made me laugh and lighten up by sharing this wonderful recipe for a living: "Live like there is no tomorrow; however, always plan that you will have another day to live. What the caterpillar sees as the end of the world, the butterfly sees as the beginning of a beautiful life."
My pragmatic, part-Native-American Texan mom, Dee Jones, taught me to focus on today. Dee reminded me what I did yesterday is not as important as what I am going to do today. It is my actions today that will define who I am tomorrow. This advice inspired me to fine-tune my mission statement. At the core, my mission statement is in many ways a reflection of the best attributes of my nine moms: a reminder to live with integrity, humility, kindness and a sense of humor; to seek healthy and loving relationships, and prepare to be of service to others. This declaration has guided my life choices as a young man and continued to impact my thoughts and actions every day.
I grew up in a spiritual family. My mom, a Taoism practitioner, prayed twice a day for her loved ones. When I was in high school, I enrolled for two years as a novice at a Buddhist temple in Melaka. I was intrigued by the philosophical way of living. In the United States, I enjoyed attending church with my moms. My spiritual and progressive mom, Elsa Mae Stevens, a Southern Baptist, was always thrilled to have me attend church with her whenever I came for a visit. One Sunday, while eating lunch after a church service, the conversation turned toward religion. She was surprised to learn I was not a Christian but a Buddhist. Since the time we met, Elsa Mae had seen me as a Christian because of my values and how I lived my life. With a smile on her face, she said, "Regardless of what religion you eventually adopt, happiness is always felt by the heart and is not of the mind. Although you can choose to be happy, ultimately, you still need to feel happy." On Easter 2008, I received my confirmation and first communion. Elsa Mae was delighted.
Being single, with time to spare, I possessed the perfect credentials for my friend Vickie. She couldn't wait to have me join her dancing group. Through her, I met my ballroom dance instructor mom, Betty Tamas. A professional instructor for over thirty years, Betty was a gifted communicator. She was a natural at conveying brief motivational messages to her students. One evening, I struggled to focus on my dance steps as I was still distracted by a challenging day. She whispered to me, "Dancing with heart and passion creates a lifetime of bliss in a three-and-a-half-minute song." With a big smile, she continued, "Do you remember how you felt when you were dancing with Carrie last Saturday? You two looked great and were pretty much glowing as you danced around the floor." Betty reminded me to be deeply engaged at the moment. Since that evening, I have applied Betty's advice whenever I find myself struggling or distracted by multitasking.
Growing up in a small-working class family was a wonderful experience for me. My father was the breadwinner while my mom kept the Tan family well fed and loved. Although my family didn't have much, my parents taught my sister and me how to be generous with our time and resources whenever an opportunity arose to help others. My German mom, Dianne Heise, took my understanding of empathy to a new height. I recall the year she spent much of her time caring, cooking and keeping company with a neighbor who was dying of cancer. This neighbor became a close friend. When I asked Dianne how she managed to endure the experience, she said, "Every once in a while a situation occurs that requires us to radiate our energy of positive goodwill, compassion, and love for others. Until we try to put ourselves beyond our comfort zone, we will not realize we have what it takes to make a difference in that person's life and ours."
A beekeeper by day and a ballroom dancer by night, my Cajun mom, Ginger White, is the most lighthearted person I know. She believes humor is essential in our daily lives. She uses humor to respond positively to challenging situations. With a big beautiful smile, she can light up any room and change any difficult situation into an inspiring one. Ginger taught me, "The natural life can always be funny and humorous. The most ordinary events usually end up being the sweetest memories. When we pay attention during the small moments, we will realize and appreciate the happiness when it happens." Incorporating a touch of humor into everything I do has added a new dimension to my life.
It was eight long years after I left Malaysia before Nyah and I were reunited. We kept in touch as often as we could, first through letters and then by phone. When she finally arrived in Baton Rouge to spend six months with me, no words could describe how we felt seeing each other after all those years. In the months and years that followed she had the opportunity to meet my other moms. Nyah was grateful she was able to express her appreciation to these women, my surrogate mothers in a sense, who had contributed generously to my life.
The riches I have accumulated from the relationships I had with my nine moms helped me to experience the American dream in a unique way. I came to the United States to earn an engineering degree, but instead, I received an education about the power of relationships, the nature of love and the meaning of life. Thanks to my nine moms I have learned that real connections, true love, and success are the results of engaging with authenticity, listen with empathy, and speak with humility.
I experienced the above spiritual awakening while writing From My Mama's Kitchen – "food for the soul, recipes for a living," to honor my nine moms. Released in 2009 with the endorsement of the National Association of Mothers' Centers, the book has won five awards: Mom's Choice Awards, Mr. Dad Seal of Recognition, Publisher's Choice Awards by Family Magazine Group in 2010, and International Book Awards, and National Indie Excellence Book Awards in 2011.  The book also made the Amazon Best Seller List in the following categories: Parenting & Family Relationships: Parent and Adult Child, Self Help: Spiritual and Motivational, and Cooking, Food & Wine: Essay, in 2012.
I also launched a weekly internet talk radio show, From My Mama's Kitchen® Talk Radio in 2009 as well. The show's mission is to provide listeners with a resource center rich with motivational, inspirational, and spiritual stories from guests of ordinary people especially moms doing extraordinary feats instilling a positive attitude in our global community. The show has amassed over one million listeners and ranks in the top 1% of Blog Talk Radio's most popular shows. The show topics address family matters, relationships, community diversity, personal growth, health and wellness, spirituality, conscious living. Guests have included Amy Newmark, publisher of Chicken Soup for the Soul, The New York Times bestselling authors, experts in the field of personal and professional relationships, and artists.
The epiphany also led me to share my fresh perspective on life, relationships, love, and success through entertaining storytelling workshops, retreats, and personal coaching. As a keynote speaker, personal development coach, author, and talk show host, I desire to inspire others with a transformative message that serves as the cornerstones for the joy of better living. I help audiences and clients enhance their self-awareness, understanding, potential, and flows with life's rhythm. This new level of consciousness helps them create opportunities to dream, achieve, become, and leave a legacy of love for others to benefit from and follow.
Additionally, in 2015, I was invited to share my story in the Chicken Soup for the Soul: Thanks to My Mom edition. My story, "Thanks To My Nine Moms," was the lead story in the chapter titled, The Other Moms in Our Lives. My second story, "What I Learned from My First Thanksgiving," was featured as the anchor story in the chapter titled, Simple Pleasures, in the 2016 Chicken Soup for the Soul: The Power of Gratitude, collection. My third story, "A Suitcase Full Of Love," leads off the chapter titled, A Recipe for Life, in the 2018 Chicken Soup for the Soul: My Amazing Mom, release. My fourth story "And The Good News Is…" is scheduled for publication in the upcoming 2019 Chicken Soup for the Soul: Mom Knows Best.
The most critical lesson in life I have learned is that "Real Wealth is not What You Accumulated. It Is What You Give Away!" Everyone has their interpretation of the word Wealth; mine is Knowledge and Wisdom. I am at my best when I share with others, contributing to their happiness, be a blessing in their life, and help them experience the abundance of their best self.
Overall, has it been relatively smooth? If not, what were some of the struggles along the way?
In 2001, after spending 18 successful years in the restaurant industry, the last seven as a young COO managing a multi-generational workforce, I had the opportunity to pursue my dream of owning my own company. The grand idea of selling the beautiful Malaysian Batik sarongs and Island Tribal Arts from Borneo had consumed every breath I took. Projecting a quick sprint to success that summer, I invested $80,000 cash in inventory and signed a one year lease with the Dallas Market Center to display my products in one of their shared showrooms. I also staffed temporary booths at several fashion markets in Las Vegas and Los Angeles. However, soon after the September 11 attack on the World Trade Center, nervousness and uncertainty were slowly taking a foothold in between the breaths of excitement. My life's journey was about to take me on a path filled with unanticipated turbulence and potholes.
The one thing I did not take into account in my business plan was the ripple effect of a terrorist attack in America. The tragedy created a sudden national mood shift that affected everyone's spending habits. I was unprepared for the country's economic tsunami. The sales for my batiks came to a screeching halt after fulfilling a large order with the women's handbags manufacturer, Isabella Fiore in January of 2002. The aftermath also affected my antique Island Tribal Arts sales as well. My portfolio also took a huge hit, first due to the overall financial market turmoil, and later because of my indecisions to act accordingly. By summer, I had lost 60 percent of my net worth. I was also at the time maintaining two residences, my house in Baton Rouge, Louisiana, and an apartment in Dallas. Although my house was on the market, no-one was interested in buying it due to the nation's soft economic forecast. It was during these agonizing months when I started to feel that my dream of owning a business was in jeopardy as I found myself quickly running out of liquidity. All of these compounded the stress.
To make matters worse, the sadness from a recent breakup with my fiancé was creeping into my daily thoughts. The year and a half engagement finally ended when I learned that her mother had changed her mind about being supportive of our plan to marry. Although she had given me the permission when I asked for her daughter's hand in marriage 18 months earlier, she decided that an inter-faith marriage for her daughter was not in the best interest for her family. When the truth came out, my fiancé suggested we should just run off to Vegas and get married. She felt that once we have children, the dynamics would be different from her mother. However, I felt the remedy was not a prudent idea. I thought I should not be the caused of any animosity between a mother and her daughter. So with a heavy heart, we decided to call off the engagement.
The atmosphere of chaos was starting to overwhelm me. Like a boat, I was sailing into deep waters without any navigational plans. All prior pivotal moments I had experienced before failed in comparison to the current situation. This time, the unexpected challenges had truly sucked away all the wind from my sail. I felt I was drifting aimlessly and being dragged down into the abyss. I was slowly losing my perspective. I was driving on life's highway looking in the rear view mirror rather than through the windshield. I was caught up in reminiscing the what ifs… instead of focusing on exploring new opportunities and possibilities. I was in need for an encouraging pep talk, and also perhaps a hard kick in the butt to get me out of the downward spiral. So, I called Ginger one evening and started to share the happenings in my life. She practically listened to me into existence. Some 45 minutes later, when I finally finish expressing myself, she began by saying three words, God heard you. She went on to say, I heard you as well, and the good news is that… you realized where you are. Now, it is your time to do what you have always done so well that is organizing and planning.
She said, "Johnny, have faith! Look at all that you have accomplished out of the other life's challenges. The current situation is no different. Let the history of past successes comfort you as you regroup and refocus. Allow hope to present a clean sheet of paper for you to write your new chapter in re-inventing yourself. Always remember, God loves you, and I love you, dear!" With that, I felt her genuine warm, and loving big confident smile coming through my cell phone. Ginger's consoling and encouraging words had alleviated the psychological weight that was paralyzing me.
In the ensuing months, encapsulated with invigorated energy and a can-do attitude, I revamped Batik World, my original company. Within a year, it morphed into The Reyna Collection®, a premier multi-line wholesale showroom resource group, located in the Dallas Market Center representing nine major international and American companies. The collection includes certified Green Furniture from Brazil, Chinese Painted Porcelain Vases, Architectural Antiques from India, Handmade Decorative Lamps from Indonesia, Architectural Bronze Statues from Thailand, and Custom Made Water Features from the U.S. My house eventually sold during the process, upon which, I finally completed transplanting myself into being a Texan.
My Cajun mom, Ginger, taught me something new that is, Faith Comforts, Hope Inspires, and Love Empowers! With faith, I was able to look back into the past constructively and drew the energy needed to create the hope I very much needed to plan for a new future. Her unconditional motherly love fuels the lamp which lit the path to a new beginning for me in Dallas, Texas.
The reason why the above story is relevant is that it eventually led me to compose the From My Mama's Kitchen book in 2007.
Please tell us about From My Mama's Kitchen®.
As a new voice in conscious living, I founded From My Mama's Kitchen® platform to serve and enrich humanity with engaging inspirational messages, and best practices delivered through my books, FMMK Talk Radio show, inspirational signs, workshops, and keynote presentations. I offer a fresh perspective on Leadership, Communication, and Teamwork.
As a keynote speaker, personal development coach, and mentor, I help people enhance their self-awareness, self-understanding, self-potential, and with a peaceful confidence flow with life's rhythm to experience The Joy of Better Living.
Entertaining Speaking Topics:
1. Personal Success Begins At Home.
2. When Pot Roast Meets Sushi: Setting the Table for a Multigenerational Conversation.
3. What My 9 Moms Taught Me About: Dream, Achieve and Become.
The Joy of Better Living Workshop and Retreat Topics:
1. The First Cornerstone for Better Living – Self-Awareness Part One: Discovering Your Authentic Self. (Me, Myself, and I)
2. The Second Cornerstone for Better Living – Self-Awareness Part Two: The Three Fundamental Desires of All Humans. (Happiness, Blessings, Abundance)
3. The Third Cornerstone for Better Living – Self-Understanding: Pivotal Moments and Life's Challenges. (Lean Towards Heaven with Faith, Hope, Love)
4. The Fourth Cornerstone for Better Living – What the Heart Creates, The Mind Formulates. (Dream. Achieve, Become)
The From My Mama's Kitchen® Talk Radio serves the global community by bringing motivational, inspirational, and spiritual stories from ordinary people performing extraordinary feats.  The show topics address family matters, relationships, community diversity, personal growth, health and wellness, spirituality, and conscious living.  Guests have included Amy Newmark, publisher of Chicken Soup for the Soul, The New York Times bestselling authors, experts in the field of personal and professional relationships, and artists. To date, the radio show has amassed over one million listeners.
From My Mama's Kitchen® Talk Radio Show: http://blogtalkradio.com/FMMK-Talk-Radio
I am most proud when my message induces permanent shifts in peoples lives. Here are four testimonials.
"Johnny spoke to our women's professional group about "setting the table for a multigenerational workforce" – hilariously titled "When Pot Roast Meets Sushi."  He shared his professional journey into a management role at a young age and how he navigated the differences in perspectives on age and managing people with care, consideration, and motivation.  He seems to have a gift for understanding how to "meet people where they are."  Johnny's zest is contagious!  His presentation reminded me of the rich experiences that life brings each of us, and how we need to be open to the lessons that each phase and each individual we meet brings us.  Johnny's fun and playful presentation taught us how to dance through these life lessons with graceful steps!"
— Lindsey Duhon, Assistant to Jason C. Rebrook, President, Hilcorp Energy Company
"Johnny, thanks for sharing your wisdom and inspiration with the women of EWI Houston. So many members raved about your presentation, and we walked away from our meeting armed with valuable information to improve our communication both within our personal and business lives. I was so moved by your message that I started connecting with my colleagues, family, and friends the very next day with a new approach, and the results have been amazing. Thank you for a fantastic presentation."
— Tara Converse, Administrative Director and Assistant to the CEO, Recipe for Success Foundation
"I met Johnny Tan at a ballroom dancing activity.  From our conversation, I found him intriguing and possesses a special outlook on life.  At the time, I was recovering from brain surgery due to a tumor.  I was uncertain about lots of things in my life.  When I found out Johnny coaches individuals on personal and professional matters, I decided to engage his expertise.  He provided me with a customized action plan that helped me regain a new perspective on myself. This renewed confidence gave me the strength to tap into my natural leadership tendencies.  I was able to apply them once again to boost my self-confidence, strengthen my relationships with my loved ones and live life with gratitude and anticipation."
— Lieutenant Colonel Kaye W. (Retired), Chief Nurse Air National Guard USAF, 188th Fighter Wing
"Johnny came into my life exactly when I needed him the most.  I was down, depressed overweight and had very low energy and self-confidence.  He knew exactly what to do and placed me on a physical and mental program that brought balance back into my life.  I was able to achieve my weight loss goals and am forever changed by Johnny's coaching and friendship."
— Sally Clymer (Retired), Travel Business Owner, coaching client.
Another thing I am proud of is my Inspirational Signs on Amazon. The message speaks to the heart of the buyers as well. The bestselling sign is Smiling sows Happiness, Gratitude cultivates Blessings, Generosity reaps Abundance, followed by Faith Comforts, Hope Inspires, Love Empowers. These empowering words help people understand the first and second cornerstones for the joy of better living respectively.
From My Mama's Kitchen® Amazon Store:
https://www.amazon.com/stores/page/8094F4CF-F84A-4F7D-ACF4-A8BAFFF4B1B1
My uniqueness as a speaker, life coach, and mentor is that I share my real life experiences which resonate with the audiences and clients.
Here is a Summary of Me:
* Left home in Malaysia at 18 to attend college at Louisiana State University.
* Successfully led a multigenerational workforce as a young Chief Operating Officer.
* Served my community by initiating projects benefiting future generations.
* Lives the American Dream as a small business owner.
* Authored an award-winning and bestselling book to honor my 9 moms.
* Amassed over one million listeners for my From My Mama's Kitchen® Talk Radio.
* Excel as a Retreat Facilitator, Life Coach, and Mentor.
* An accomplished Ballroom Dancing instructor and performer.
Core Values – Personal
1. Always engage with authenticity, listen with empathy, and speak with humility.
2. Be passionate about creating an environment that fosters everyone to be their best self.
3. Look through the lens of love to contribute to someone's happiness.
4. Be truthful, trustworthy, and transparent.
5. Lead by example, and follow with enthusiasm.
6. Find the humor in everything, and have fun.
Core Values – From My Mama's Kitchen®
1. Use the power of words to enrich humanity.
2. Always deliver the highest quality products.
3. Foster learning, teamwork, and family spirit.
4. Be courageous to innovate when necessary.
5. Support efforts to leave a legacy of love worldwide.
6. Have fun while providing service with a smile.
If you had to go back in time and start over, would you have done anything differently?
I will have to say nothing because everything I had encountered, bad and good, made me the person I am today. These life lessons add credibility to my very being. I have learned to respect the past because it is a classroom for lessons learned. Be prepared for the future because it is my destiny. Always live in the now because every moment is a memorable experience.
Contact Info:
Getting in touch: VoyageDallas is built on recommendations from the community; it's how we uncover hidden gems, so if you know someone who deserves recognition please let us know here.