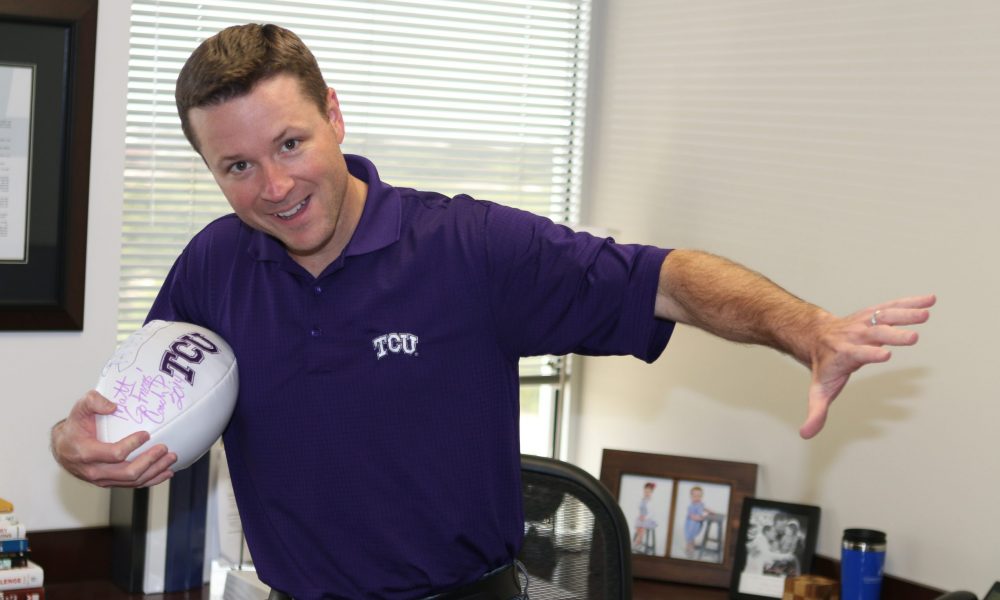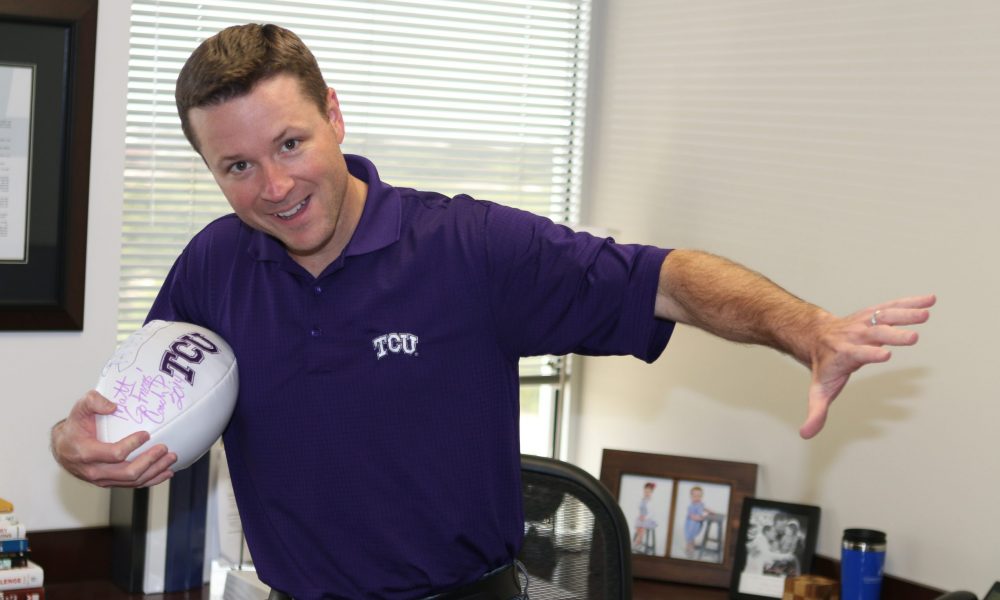 Today we'd like to introduce you to Matt Baade.
Thanks for sharing your story with us Matt. So, let's start at the beginning and we can move on from there.
Consilium was founded by six leaders in the healthcare staffing industry, who—until a chance meeting between two of them while filling their gas tanks one day—were all headed in different directions. Four of the six had left the staffing industry altogether: one running his own consultancy, another practicing law, and two more running an investment office. Another was still in the industry but looking to make a career change, and the last member of the group was still toiling away but searching for a greater purpose.
I am the founding member who had left the industry to practice law. Originally, I am from Wichita, Kansas. I moved to the DFW-area to attend TCU in Fort Worth, graduating in 2001 (Go Frogs!). While at TCU, I met the love of my life (now my wife of 14 years and mother to our two daughters), Trudy. It was another TCU connection—a fellow fraternity brother—who later introduced me to the world of physician staffing. About a year after graduation, I was hired as an entry-level recruiter and was responsible for recruiting psychiatrists for temporary positions. To be quite frank, I don't know why they hired me, given that I had neither recruiting nor sales experience.
And while I don't know why they hired me, I really don't know why they kept me…because I was just plain bad at the job. I lacked knowledge, skill, experience and confidence. What I lacked in these areas, however, I made up for in my self-awareness (because trust me, I knew I wasn't any good at the job), and work ethic. My attitude was that if I had to work twice as hard as everyone else to get the same results, then that's what I would do. With that approach, I slowly but surely started to figure things out.
However, that same self-awareness led me to think it prudent to have a back-up plan, which I quickly narrowed down to a career in law (that's everyone's back-up plan, right?). Crazy? Perhaps, but I had made my decision, so I soon started preparing for the LSAT.
In some ways, that time in my life reads like a series of delays broken up by all-out sprints: a whole lot of "hurry up and wait while also working full-time," if you will. I'll give you the Cliffs Notes version: I took the LSAT, waited for results, applied to law schools, waited for acceptances, enrolled, took night classes for four years, graduated in 2009, studied for the Texas Bar Exam, took the Bar (worst thing ever, by the way—I certainly don't recommend it), and then waited another four months for results.
Six years after I first dreamed up that back-up plan, I found myself in a strange situation: I had a newly-minted license to practice law, but I was now running a $50 million business unit of one of the largest locum tenens companies in the United States. You see, through never letting up on the work ethic that allowed me to survive early on, somewhere along the way I started to achieve success in this whole locum tenens thing. So what did I do? Precisely what any logical person would do once they had built a stable, successful career, of course: I started running in a completely new direction.
In 2010, thinking the world of physician staffing was firmly behind me, I took that fancy new law license and began my career as a first-year attorney practicing medical malpractice defense with Stinnett, Theibaud and Remington, a boutique firm in downtown Dallas that focuses on the healthcare industry.
Just a few months later, as fate would have it, I received a call from good friend Kyle Etter (another of the founding partners) telling me that he and a few others were thinking of starting a locum tenens company and they wanted me to be a part of it. Flattered, but hardly interested, my wife (who was nine-months pregnant at the time) and I decided to accept the meeting out of respect for our friendship with Kyle and his wife Lauren. A week or two later, and after much prayer and contemplation, Trudy and I decided to take a leap of faith and join this group that eventually became Consilium Staffing. The rest, as they say, is history.
We're always bombarded by how great it is to pursue your passion, etc – but we've spoken with enough people to know that it's not always easy. Overall, would you say things have been easy for you?
The answer to that would be a definitive "NO." That being said, it has been a great ride, and I am grateful for the entire experience – the times of smooth sailing and the major potholes we ran over along the way. A few years ago, I read a book called The E-Myth, the central point being that most people believe being an entrepreneur and starting your own business means you get to kick your feet up, tell people what to do and count your money all the way to the bank. In reality, as the book and my own experience readily demonstrate, starting a business from the ground floor is very, very difficult.
The challenges have been plentiful. From the get-go there were many who doubted us, and even some who went to great lengths in attempts to tear us down. Beyond the external doubts and threats, one of the biggest challenges has been maintaining strict focus and remaining disciplined as we grow. Our country faces an extreme shortage of physicians, which means there is a tremendous need for our services. While it is great to be needed, the challenge is that we can't help everyone all at once – no matter how much we may want to do so.
I can remember in the early days, our Client Consultants (who develop relationships with hospitals and healthcare clinics) might bring in requests for a primary care physician in Texas, a surgeon in Florida, a psychiatrist in New York, an anesthesiologist in Tennessee, and so on. The challenge was that our physician recruiting team was being forced to run all over the country (figuratively speaking, luckily) chasing these numerous different physician specialties, and they simply couldn't keep up. We had to be disciplined enough to narrow our focus, geographically and in terms of specialty, to ensure that we could build a strong foundation, become true experts in these chosen areas, and thus become a truly valuable partner to all of our clients, whether healthcare facility or healthcare provider.
The other significant and ongoing challenge we face comes in maintaining our culture and values as we continue to grow so quickly. I remember the first real "growth hire" we made after we opened for business in 2011. I told our team that we were going to start searching for a hire, and one of our team members said something to the effect of, "I don't want us to hire anyone… I don't want this to change; I don't want us to lose who we are right now." Not growing was clearly not an option, and my response then is the same thing I tell our people today: "Remember this feeling, remember what you love about this company. Consilium is as much your company as it is mine, and as you lead new team members and new teams, it will be your job to ensure that we maintain the company culture you love. Always remember: You Are Consilium."
We'd love to hear more about your business.
We help to address the shortage of healthcare providers by connecting quality physicians, physician assistants, and nurse practitioners with understaffed healthcare facilities in need of their services. Providers work at these facilities as independent contractors for as short as a day or week up to a year or even longer, depending on the needs of the facility. The term for our line of work is "locum tenens," a Latin word that roughly translates to "one holding a place."
Consilium, which opened in 2011, initially focused almost exclusively on primary care needs in a handful of states from Texas to the East Coast. Since then the company has experienced tremendous growth—both in terms of the specialties we offer and geographic regions we serve—and is quickly emerging as a leader in the field. Today Consilium offers locum tenens services nationwide, catering to the most in-demand physician specialties in the United States, including but not limited to: primary care, psychiatry, hospitalists, anesthesia, emergency medicine and more.
The vision when we set off to start this company was simple: we wanted to create a better locum tenens experience to meet the escalating demands of an evolving healthcare system. The founding partners believed that the increasing physician shortage in the United States—further exacerbated by healthcare reform—provided an opportunity to offer a better locum tenens solution, one based on customer service and attention to detail. To achieve these results, we decided to build our foundation upon the simple, old-fashioned values of hard work, family, personal attention and faith. The goal was to create a company focused on true service to others while also offering meaning and opportunity for its team members. The people of Consilium would be dedicated to serving their clients, their community, and one another.
The founding members of Consilium—who had built highly successful careers and become leaders in the industry—soon took this shared vision and completely restarted their careers…in little bitty ol' Valley View, Texas, of all places. Though maybe not fully appreciated at the time, this humble venue was the perfect place to start Consilium. The small-town personal service and charm; the solid work ethic of ranch-hands; the integrity found in a place where a handshake is your word; the comforting and inviting experience of everyone in town knowing your name… Those principles became an integral part of who we are as a company and what we continue to bring to the locum tenens industry: a small-town feel with big-time experience and capabilities.
I am proud to say that we have not forgotten our humble beginnings: sitting in our office this very day is our original Valley View mailbox…which just so happens to be painted in the pattern of a Holstein cow. Undoubtedly unique, that mailbox serves as a daily reminder of where we started and—more importantly—why we started.
We are tremendously proud of our growth, all of the physicians and healthcare facilities we have served, and ultimately, all of the patient lives we have impacted. But for me personally, I am most proud of the people of Consilium. Each team member has a unique story about his or her path to our company – and every story is awesome. Taken together, those stories make up the fabric that is Consilium. I could talk all day about numbers, revenue growth and future expansion plans, but really and truly, the reason I get excited to come to work every day is the people who are here. I love seeing the way everyone comes together to encourage, push and challenge one another to achieve greatness. I love seeing them grow both personally and professionally, and I love watching their families grow and witnessing how our success impacts Consilium spouses and children (we're a family-oriented company, so it is commonplace to meet each other's children along the way). What can I say, I love the people of Consilium – they really are building something special here and I feel honored just to be a part of it.
In addition to our people, what really sets Consilium apart is that we are a faith-based company. Our founding partners have a shared belief in Christianity, and upon coming together decided that we wanted to build a company based on Biblical principles. In essence, we set out to use the Bible as a business plan, looking to Jesus Christ as the ultimate example of who a leader should be. The related principle of "servant leadership" guides every aspect of how we do business: this is part of why our partners are out on the floor working hard to grow this company, just like everyone else.
I would like to emphasize that we absolutely do not discriminate in our hiring or promotion processes, whether based on religion or any other factor: it is not a requirement to be a Christian to work here, we do not ask about faith background or preference in the interview process, and we do not force religion on anyone in any way, shape, or form. Instead, we provide an environment where team members can feel comfortable speaking about their faith or holding Bible studies together if desired. We do ask that people conduct themselves in a way that aligns with the moral and biblical principles upon which we were founded, however, such as operating with honesty and integrity, treating all others with respect, and working for the genuine good of our clients and each other.
Has luck played a meaningful role in your life and business?
I don't believe in luck—I believe in hard work. Basically, I believe you create your own "luck," good or bad. I also don't believe in failure: instead, I believe that every experience can be considered either a victory or an opportunity to learn – as needed, you then apply those lessons and try again for victory. This is a cycle that repeats itself until you win or give up—and we don't give up.
That being said, I must also say that more than anything, I believe in God and His plan for me and for Consilium. I believe that He has a plan for us – one that I certainly don't completely understand, but one that I trust. It is through my faith in Him that I am able to find confidence and comfort in situations that others may view as "bad luck." No matter the circumstances, I trust that He "has plans to give hope and a future" as promised in Jeremiah 29:11, a verse that I find very personally meaningful.
Regardless of the situation, we just keep making the most of the talent and opportunities with which we have been blessed and do our absolute best to serve others, always guided by our faith, dedication, and service to God and each other.
Contact Info:
Getting in touch: VoyageDallas is built on recommendations from the community; it's how we uncover hidden gems, so if you know someone who deserves recognition please let us know here.