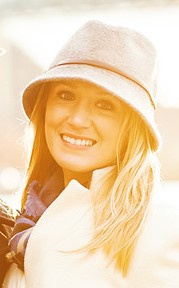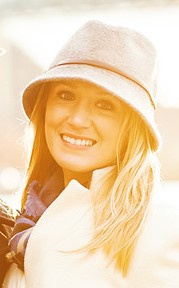 Today we'd like to introduce you to Meg Bartos.
Meg, let's start with your story. We'd love to hear how you got started and how the journey has been so far.
It was over a decade ago that I first stepped foot on African soil. As an aspiring young career woman on one of my earliest business trips, the people, landscapes, smells, colors, and vitality that I encountered enveloped me and seemed somehow entirely new yet familiar, capturing my heart, my youthful ambition, and my imagination. On that trip, a local client offered to take me to a Nigerian arts and crafts market. Out of the stalls spilled carvings, textiles, and paintings, and I was reminded of endless childhood days spent with my beloved grandmother combing markets and trade shows for decor, materials, and trinkets for her interior design business here in Texas. I purchased my first African artworks, a few small carvings and three paintings, and I was hooked. Over the next several years working on projects across the African continent, I visited local markets and artisans whenever possible and it became a ritual and a great joy to collect special pieces for myself, family, and friends. To tell you the truth, although I adored art and creation and design as a child, I never thought of it as a career. I was a rather adventurous tomboy type growing up and as I aged was more inspired by professions which I thought of as rugged and serious—science and business, primarily. But as I matured and entered into a science and business-based career path, what I found was that in fact I was inspired by the same elements in these fields as those that drive my curiosity and aesthetic for art and design… beautiful natural materials and landscapes, including earth's awe inspiring geologic structures, flora and fauna, and the mystical draw of discovering and knowing other peoples, cultures and ways of interacting with the world. Curio and, later, fine art and interiors collecting became, for me, a physical expression over time of the same adventures and experiences I was seeking through my earlier science and business career experiences. Now, all of these elements and experiences seem to have collided together for me in kanju. The business side of kanju is often more challenging than just about any business endeavor I've ever been a part of, but there is a very pure, endless joy in sharing the magic of the greater natural and cultural world and of my experiences with African art and people through sharing their treasures and designs. That sense of joy, purpose and vision quickly binds you to the people and artists across the African continent with whom you share it, and from there the sky is the limit.
Overall, has it been relatively smooth? If not, what were some of the struggles along the way?
Kanju has set out to do something incredibly ambitious, working with a part of the world that is incredible in so many ways, but still often difficult in terms of logistics and accessibility. Working across 18 countries, thousands of miles, limited technology resources, and a small team, the challenges have been many and at times potent. Planning is a challenge. You have to be flexible, you have to be willing to change tacks, you have to stay motivated in the face of many things that are outside of your control and that can feel devastating to a new company, in terms of budget shocks, delivery delays, and the realities of new product development and consistency when working with multiple groups with limited resources. None of this is smooth! But, having said that, we've been unbelievably blessed by the people we have worked with who have made all of these challenges surmountable and lifted us up far beyond what we would have dreamed at this stage. There is a saying in Xhosa, umntu ngumntu ngabantu, which means "you are who you are because of other people." In English, we might say, no man is an island, but it's really deeper than that. It is the idea that none of us succeed or fail alone, that none of our accomplishments are ours alone, that our struggles are not ours alone. So many people, both our partners in Africa and our supporters and extended team here in the US, have embraced our vision as their own, stepped in to give us a chance, to offer advice, and to help us overcome these struggles in a way that is deeply humbling… mind boggling really! Looking at what we've faced and how much others have contributed, I have to say overall, considering what we've been up against and how we've beaten the odds, it actually HAS been pretty smooth, because we've been able to share it with so many incredible and capable people who have believed in us and offered their talent and support along the way.
Alright – so let's talk business. Tell us about kanju Interiors – what should we know?
Kanju is a contemporary interiors, fine art, decor and gift company that co-designs and sources a full range of home and lifestyle goods of the highest quality from the most refined artists and artisan groups across the African continent. We have collections that span lighting, decor, pillows, soft goods and textiles, decor and tableware, custom pieces, fine art and one of a kind finds. We travel across the continent and work closely with local artisans and trade groups to curate the most unique and highest quality pieces across a range of decor, and we are also a co-designer within many of our collections, working increasingly on exclusive products and lines by leading collaborations between different artisan groups. We are completely hands on, and we are particularly proud to be able to say that such a broad, bold, and finely curated body of fine African contemporary art, interior goods, and furniture has never before been shared in the US at this scale. Kanju's collections include discerningly selected contemporary artworks, heritage pieces reformatted into one of a kind blankets, pillows, and interior decor, and furniture as well as fine antiques from over 17 countries in Africa and counting. Plenty of companies work with African interior goods and African inspired designs in the US, but none offer a collection so comprehensive, so broadly representative of countries, styles, cultures and materials, and so contemporary. Our clients often remark that kanju's pieces don't appear African upon first encounter because they're accustomed to a stereotype of African art that only represents a fraction of the work produced in the many countries and cultural groups across the continent. Our products are African because they're made in Africa by African artists. Kanju conveys a contemporary African vernacular that is unexpected and transcends the traditional approaches that have come to signify African art to a global consumer—masks, tribal textiles, fine wood carvings. We curate the best of those pieces as well as unexpected contemporary pieces, but kanju's products are entirely exclusive and we've committed ourselves to working with only the very finest artists. From the penultimate Yoruban beaded throne artists in Nigeria and foremost mud cloth producers in Mali, to Africa's pioneering contemporary artists in South Africa and Swaziland, kanju is a direct link between our discerning and uncompromising clientele and the most brilliant and breathtaking African works in the world. While it is undeniably true that many patterns, items and aesthetics of African art and design are currently trending in the US and globally, African art and design as a whole is not a trend. It is just the beginning of a true African renaissance – or more correctly, a global renaissance and awakening to Africa – that is here to stay. Africa has a hugely rich variety of landscapes, histories, traditions, techniques, materials, inspirations and collaborative innovation, and kanju, as comprehensive as its inaugural collection this year already is, has barely begun to scratch the surface. New designs and artistic collaborations for 2018 and beyond are already underway at kanju, and the breadth of territories, materials and talent still awaiting inclusion into and recognition by global collections and clients is very vast indeed. African artists, art and design, and African brands, are here to stay because they are more than a collection of trends, they are breakers of boundaries and makers of trends. They are ready to take their place in the sun, and the discerning global luxury client should take note. Our view about what sets kanju apart is the breadth of our vision combined with our commitment to working closely on ground, providing a level of access and possibility that is genuinely unique.
Contact Info:
Address: 154 Glass Street Suite 102 Dallas, Texas 75207
Website: kanjuinteriors.com
Phone: 214-732-9200
Email: sales@kanjuinteriors.com
Instagram: kanjuinteriors
Facebook: kanju interiors

Image Credit:
Robby Hirst and Johnny Fratassi, all others would be internal kanju team snapshots (Meg Bartos or Blair Halkett).
Getting in touch: VoyageDallas is built on recommendations from the community; it's how we uncover hidden gems, so if you know someone who deserves recognition please let us know here.