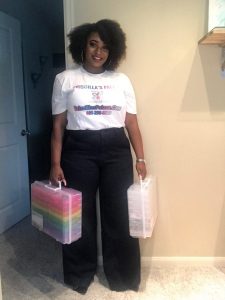 Today we'd like to introduce you to Priscilla Walker.
Priscilla, before we jump into specific questions about the business, why don't you give us some details about you and your story.
At age 10, I told my mom that I was going to be a well-known hairstylist when I grew-up so I have to practice my art. That year for Christmas I received a life size" Bratz Dolls Head" with long pretty hair. I played with that doll for days and nights, weeks and months doing all types of different hairstyles. It never became boring and just like that doing hair became my passion.
I was definitely still determined to reach my 10-year-old goals. From elementary to senior in high school, I was doing everybody hair, braids, silk press, trims and updos. After high school, I did hair on the side while also teaching myself how to do nails all with a full-time job.
My co-workers at the time basically begged me to attend beauty school. They always said how good I was, boosting my self-esteem. I will forever be grateful to them because they help me push past self-doubt and recognize that I had the skills and the talent even though I did not feel this way. Eventually, I enroll in cosmetology school. I graduated at the highest level " Designer Cosmetologist."
That was the boost in my life that I needed. Not only did I graduate at something I didn't feel confident about, but I aced the test. It was the start of "my story." One of my favorite quotes is "confidence is key" I always say this to myself and to others, to help us move past self-doubt and negativity. Regarding nails, I never saw it as a passion, I just wanted to stop asking my dad to pay for my nails! And it was a great hobby and another way to be creative. One day, my mom asked me to do her nails for an event. Everyone loved her nails. And from that point on hair and nails were my career choice it was no longer just a hobby it is my destiny.
Has it been a smooth road?
As much as I enjoy what I do, the last time it was stress-free for me was elementary school when I was charging $10 to braid my classmate's hair and all I needed was a comb and "blue magic." My struggles, in the beginning, were wondering if people are going to like my work, so I became a perfectionist. It took me FOREVER to complete a hairstyle on clients and seem like days for me to complete nail sets. I would refuse to let people see my nails because I thought they were ugly or not finished. I let my overthinking get the best of me when the entire time those could have been clients in my chair.
Building a clientele wasn't hard in the beginning since many of my clients followed me from beauty school after I graduated. But then I moved, so I had to start from scratch. I'm very shy, so sharing about what I do and building my brand was extremely hard. It's not easy going up to strangers handing them my card.
The best thing I've ever done for myself and my company when I turned to retail work, was developing my marketing strategies. As a semi-hostess, I basically was a "welcome sign," nails always done, hair always laid, feet polished, and makeup set. People approached me for my business card and being shy just didn't matter.
Tell us more about the business.
Finding a name that fits is the most difficult part. I have changed my company name so many times. Priscilla's Palace is what has stuck with me the most. I am an in-home cosmetologist. I work from home or I will travel to my V.I.P clients. I do nails, hair, makeup, special effect makeup, pedicures, waxing, bridal parties, lashes, fashion design, make custom glitters, press on nails, personal organizing. I am trying to do it all!
I have additional income streams because I feel like a woman can do it all I don't sell myself short: Beautiful Queen Bundles: I sale bundles, customize wigs and do weaves. Royal Cilla: My YouTube channel. It's small but growing. Cilla Got the Juice: I sale homemade juice and an exercise guide. Everything that I do is from home. My home is my palace and it makes me feel confident to try anything. I'm always adding to the list of things that I know I can do, I want my brand to be a one-stop shop.
How do you think the industry will change over the next decade?
My industry is constantly growing always changing. People stay coming up with quicker ways to do nails and hair etc. I think its scary and amazing all at the same time. Scary because new ways of doing things can sometimes break or make you, and amazing because if you get the hang of it, its something that you can offer your clients and that can build your clientele too. If your okay with change and ALWAYS learning something new and it's your passion my industry is for you.
I love going to hair events and shopping for nail supply and going to a friendly cosmetology gathering, my community is always fun. I don't see my industry stopping or dying out anytime soon. Always a new trend. Or the next best thing. And your clients become "like" your best friends.
I have already seen a big shift in my industry and that's the price point. Pricing is something I see changing more over the years.
Pricing:
Feet • Basic Pedicure:$25 Deluxe Pedicure:$40
Nails • Short Set: $30 • Medium Set: $45 • Long Set: $55 • X-Long Set: $65 • XX-Long Set: $75 • Solar White/Color Set: $45 • White/Color/ Glitter Tips: $40
Hair • Shampoo,Trim,Style: $35 • Shampoo Style: $25 • Relaxer:$60 • Touch up Relaxer:$ 35 • Natural Hair: $45 • Traditional Sew-in: $180 Closure Sew-in:200
Waxing • Eyebrows: $10 • Full Arms:$25 • Upper Lips: $7 • Chin:$7 • Legs:$40 • Under Arms: $20 • Toes & Hands:$15
Makeup • Face Beat: $30 • Face Beat w/ Lashes:$35 • Hair & makeup: $150 Halloween/Glam/Special Effect:$ 200
Specials • Senior Discount :10% off any service • Military Discount: 15% off any service • Nails: $5 off Referral a friend • Pedicure:$5 off Referral a friend • Hair Styling:$5 off Referral a friend • Bundles Promo code: Spring • 10th Service : get a custom crown bracelet
week plans • 1 weeks- juicing for breakfast lunch and dinner $70 • 2weeks- juicing for breakfast lunch and dinner also includes peanuts $130 • 3 weeks-juicing for breakfast lunch and dinner included peanuts with rechargeable snacks$180 • 4 weeks-juicing for breakfast lunch and dinner included workout plan and peanuts & case of water $200
Contact Info:

Image Credit:
Priscilla Walker
Suggest a story: VoyageDallas is built on recommendations from the community; it's how we uncover hidden gems, so if you or someone you know deserves recognition please let us know here.