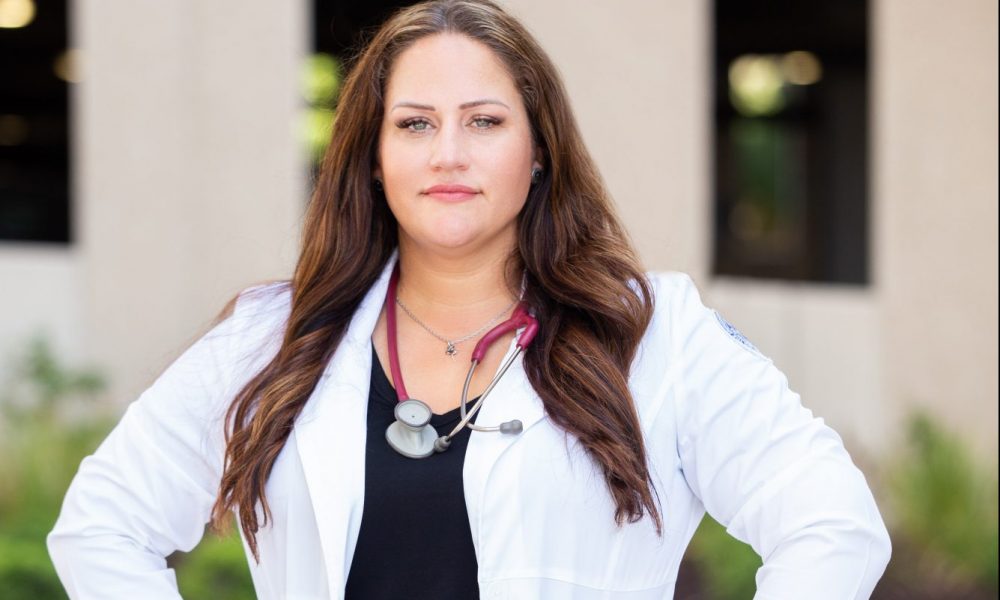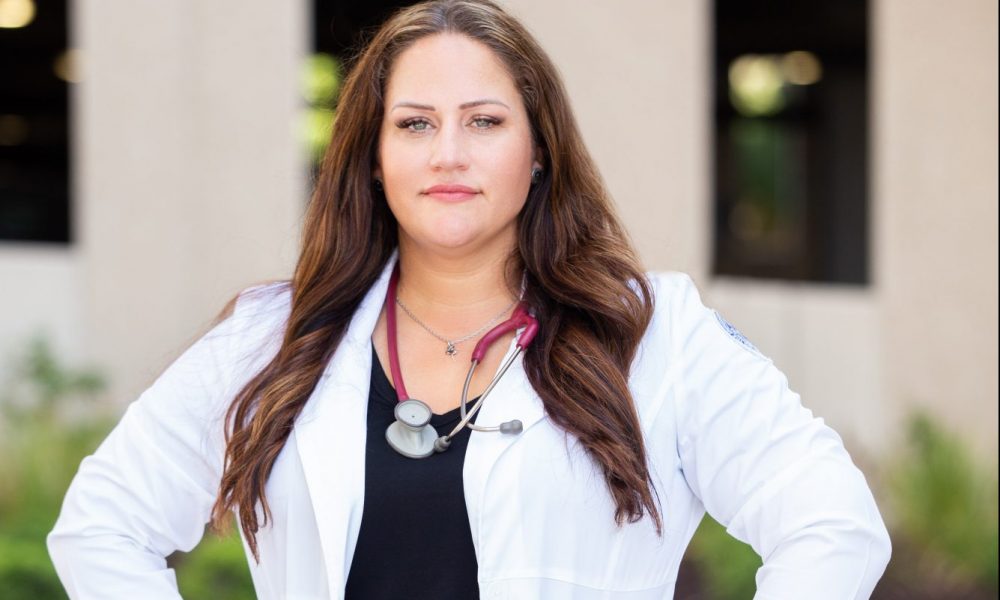 Today we'd like to introduce you to Rachel McKeel.
Rachel, before we jump into specific questions about the business, why don't you give us some details about you and your story.
I am currently the Founder and President of The SYS Foundation – "Share Your Stethoscope" a 501(c)3 non-profit organization dedicated to helping motivated economically disadvantaged women earn degrees in healthcare, as well as give them the tools to be successful women in the communities they live in. I share the mission and vision of the organization below but first I would like to share how it all started.
I grew up in Temple, Texas, born and raised and relocated to the DFW area almost 12 years ago after becoming a registered nurse. I did not always want to be a nurse growing up. I grew up very poor. I began working at the age of 8 years old with my brothers and my mom, throwing newspapers at 2 am. I would go home to take a nap and then get back up for school every day. By the time I reached high school, working a real job benefited me more than going to school. When dropping out of high school in the 10th grade, pregnant, and at the age of 16, I went to test for my GED, so that I could avoid being in trouble legally for truancy. I took this test and passed in December of 1994. I spent the next five years, being a teen mom, working multiple jobs and having three more children. I was exhausted. I was repeating generational poverty and teaching my kids the same.
I decided to go to nursing school after having a life-changing experience with a nurse giving birth to my daughter. Unfortunately, my experience was not pleasant, the nurse assigned to care for my daughter and I lacked compassion, empathy, and failed to connect with me or my newborn baby. I remember laying in my hospital bed crying, feeling like I had no one, and unable to understand why she did not care or chose to treat us so horribly. In that moment of despair, I knew I had what it took to be a nurse and I wanted to spend the rest of my education and career treating my patients and their families not only like I wanted to be treated, but how they wanted to be treated. I knew that this would require me to go to college and being a high school dropout, I was not quite sure how I would get to that point being a single mom. I looked at four little faces one day and realized I had to do better for myself and them, and whatever I had to do I would do it to get there. Growing up poor, divorced parents, no history of education in my family, and now a teen mom, I sat out to change the generational curse.
Of course growing up in the small town of Temple, Texas, there weren't many choices for schools or programs around and most others were in about 30 minutes away from Temple. But I wanted better for myself and my children, and the next step in my future was to enroll in my hometown community college. At that time, I took the TASP test to get into college in Fall 2000. I met every challenge you could think of being a single mom of four kids. I failed every class that very first semester. Four F's. I was devastated. I didn't think I could do this. How? I was a single parent, I needed to work, I have four children to take care of, missing one day of work was detrimental to our livelihood. I quit. I was placed on academic probation and did not go back to school until Summer 2002 when I worked up enough courage and resilience to try again.
I began taking classes again, this time more determined and more motivated. After applying and getting accepted into the nursing Associate Degree Nursing (ADN) program, I reached a moment where I had to quit my full-time job and go to school full-time. This nursing program did not have a part-time option, or evening and weekend hours. It was Monday through Thursday, all day. This was extremely scary for me. I had flashbacks of the semester I failed, I envisioned losing everything, being homeless and not being able to take care of my kids. However, it was now or never for me though and this was my opportunity. Over 500 students apply a year for this program and only 55 are accepted. I got in and I was willing to miss this opportunity waiting another year. I quit my full-time job, I started working part-time jobs, 3 to be exact. Working three part-time jobs 7 days a week, nursing school full time, and a single mom of 4 children, the next 3 years were some of the most difficult but rewarding, trying and yet eye-opening years of my life. I finally graduated in 2008, as an Associate Degree RN, took my state board test and was ready to begin my career.
I and the kids moved to Dallas, as I received a graduate nurse position at Children's Medical Center Hospital in Dallas, Texas. A new life, new town, new career and endless opportunities. I began my career as an Acute Care Pediatric nurse. A few years after receiving my ADN, I enrolled in an RN-BSN program at the University of Texas at Arlington, graduating in 2013. One year later, I went back to school for my Masters in Nursing Administration, graduating in 2016. After having accomplished my Masters, it meant more to me to get my terminal degree. It was almost as if, I needed to finish what I started. This terminal degree means something different to me. I currently attend the University of Texas at Arlington full-time working on my DNP – Doctorate of Nursing Practice. I am beginning my final scholarly project now and I will graduate in 1 year, August 2020. I also currently work as a nursing leader full-time for John Peter Smith Hospital, Tarrant county hospital in Fort Worth, Texas. Besides my full-time job, I spend most of my free time working on The SYS Foundation.
I have spent the last decade inspiring and encouraging other women with my story and empowering them to accomplish everything they set out to do. We will all face challenging times in life, and there will always be something we tell ourselves that hold us back. I truly understand the value of education both personally and professionally, as well as the economic barriers we face along the way. From this story and my experiences and lessons learned in getting to this place today, birthed The SYS Foundation. With the gracious help of my wonderful and supportive husband, Nyjul McKeel, and my best friend, Colleen Guillory, who is also a nurse, we began forming The SYS Foundation – "Share Your Stethoscope" in November 2018. We officially received our IRS 501(c)3 designation in July 2019. So our non-profit organization is fairly new, but in such a short amount of time, it has had a great impact on those we share our mission and vision with. I have had women from all areas of healthcare join me in our efforts to help women in communities all over the DFW and surrounding areas. We will have a Launch Party in November 2019 to bring awareness, begin our fundraising efforts and continue to share our mission and vision with all that attend.
The mission of The SYS Foundation – "Share Your Stethoscope" is dedicated to helping motivated, economically disadvantaged women achieve their desire to become medical professionals by providing stipends, as well as program assistance with uniforms, stethoscopes, shoes, testing expenses, and any additional required supplies or services necessary to ensure the success of the individual.
The vision is to create opportunities for the development, education, and empowerment of women in the healthcare industry by helping to remove the economic barriers to success, one woman and one community at a time. Our program will not only provide stipends to economically disadvantaged women, but we will provide opportunities for serving the communities we live in, provide development and education in areas such as financial stewardship, resume writing, interviewing techniques, and the empowerment of both personal and professional growth throughout their time in the program.
In addition to our fundraising efforts and grant funds, we offer the opportunity for individuals to "Share Your Stethoscope." While some may not feel that a stethoscope is a huge burden for students, a decent one can cost anywhere between $75-$150. For a new student, a single mother, a person only working a part-time job this expense could have a great impact. The SYS Foundation – "Share Your Stethoscope" is a component that allows healthcare professionals to donate a new or gently used stethoscope to a student. We encourage those donating stethoscopes to attach a story that will inspire the recipient. We all have a story that can inspire someone. Whether it be about work, school, family, marriage, or life in general, and how it impacts your education or career, your story can empower another! We "share your stethoscope" and a story. We give the donated stethoscope and story to a woman in school, to help inspire, encourage and motivate them as they complete their degree. If you would like to "Share Your Stethoscope", you can mail a new or gently used stethoscope with a story, inspirational or motivational quote or message. Mail your stethoscope donation to The SYS Foundation, P.O.Box 1692, Burleson, Texas 76097.
Please visit our website for more information on how you can be apart of our mission, support, upcoming events and to "Share Your Stethoscope."
For the students reading this or the person contemplating going back to school: This is for the healthcare professional student, for the nursing student, for the woman student, for the single parent student, for the high school dropout student, for the first-generation college student, for the socio-economically disadvantaged student, this is for ALL of YOU! It may be hard at times, but if you don't quit, you WILL make it through. School at any level and for any profession will require commitment, effort, and perseverance. School and life will take balance, time management, and discipline. It will mean saying no to things you love and prioritizing requests to ensure your success. Nothing in life worth having will ever be easy but it will be worth it! Thank you,
Rachel McKeel, MSN, RN
Founder and President, Executive Director
The SYS Foundation – "Share Your Stethoscope"
Has it been a smooth road?
This was answered in the previous story.
We'd love to hear more about your organization.
However, we are proud to be in place to help women in the DFW area. What sets us apart is the program itself. We do not just want to provide stipends to individuals but we want to help them grow personally and professionally. Our stipends are not isolated to only tuition and books, but we want to be able to help with other economic barriers that may impede their success. We want to help them become more educated around financial stewardship, and help them get involved, serve and give back to the communities they live to in turn help the next woman who needs them.
Is our city a good place to do what you do?
Yes, the DFW is full of opportunities for not only businesses but those seeking educations, careers, personal and professional development. Growing up in a small town with very little, it was beneficial to both my children and me to move to the DFW area because of all it has to offer. For instance, I had one community college to choose, but here they are many options, with a wide variety of programs, hours, and days to accommodate the working individual or the single parent.
Contact Info:
Image Credit:
Jazzella McKeel Photography
Suggest a story: VoyageDallas is built on recommendations from the community; it's how we uncover hidden gems, so if you or someone you know deserves recognition please let us know here.